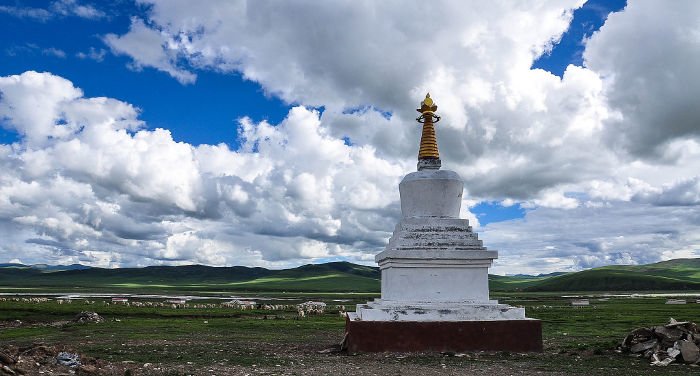 In this travel guide, we will describe what there is to see in Sichuan Tibetan Kham. Further, we will present some tour itineraries and provide you with the opportunity to get a free quotation for your tour in this beautiful region.
Where is Sichuan Tibetan Kham?
When people talk about Tibet, they usually refer to the Tibetan Autonomous Region (TAR), a province of the People's Republic of China. However, Tibet is a much larger area, and includes all the areas of the Tibetan Plateau, where Tibetan people are native of.
So, in reality Tibet spreads across five provinces of China including the whole TAR, most of Qinghai province, the Southwest part of Gansu province, the Northwest corner of Yunnan and the Northern and Western portion of Sichuan Province.
In a traditional and historical way, the greater Tibet cultural area includes three main regions: U-Tsang (Central Tibet), Amdo and Kham.
U-Tsang is also known as Central Tibet, and is the area of the current Tibetan Autonomous Region (TAR). It is the cultural heartland of Tibet and the beginning point of the Tibetan civilization, where you can visit the first palace amd monastery of Tibet, the Yongbulakang Palace and the Samye Monastery, the world's highest peak, Mount Everest, the universal center of Buddhism and Hinduism, Mount Kailash, and the masterpiece of Tibetan architecture – Potala palace.
In order to visit Central Tibet (TAR), foreign passport holders need to apply for an additional documents, the Tibet Permit, and take part in an organized tour.
The region of Amdo is located across the Northeast region of Tibetan Plateau, in Qinghai province, Southwest Gansu and Northern Sichuan. Amdo is best known for its high altitude grasslands and some top scholars in the Tibetan history. Amdo is the best place to experience the Tibetan nomadic life and enjoy the beautiful grasslands.
Beyond that, Amdo also boasts some top natural and cultural sites including Qinghai Lake, Amnye Machen Muntain, the traditional Thangka painting town of Rebkong (Tongren), Jiuzhaigou National Park and the Four Sisters Mountain (Mount Siguniang). Amdo is easily accessible from Xining and Chengdu. No special permit are required to visit most part of Amdo region.
Kham, is also called Eastern Tibet, and includes the Eastern parts of the Tibetan Autonomous Region (TAR), Western Sichuan, as well as a small portions at Southern Qinghai and Northwest Yunnan. It is a geographically diverse region where you will see high snow capped mountain peaks, beautiful deep river valleys, vast high altitude grasslands and the primitive alpine forests along with the distinctive Khampa culture.
While the area of Kham that is inside the Tibet Autonomous Region (TAR) is called Chamdo Tibetan Autonomous Prefecture, and is currently closed to foreign tourists, but the rest of the Kham region in Sichuan, Yunnan and Qinghai is open to foreigners and no special permit is required. In this article we would like to give you a complete guide about how to travel to the Western Sichuan Tibetan Kham. [Read more…]