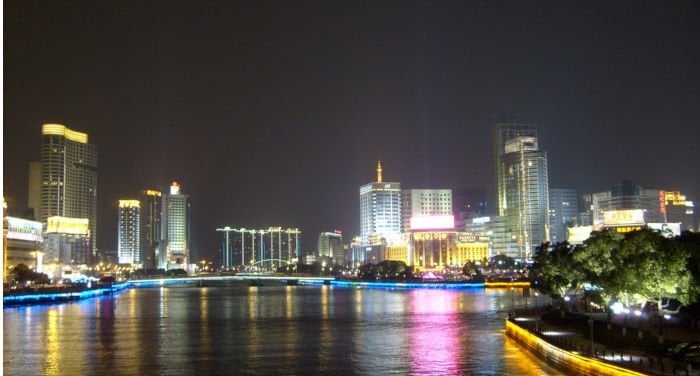 Traveling to Ningbo – Index
Located in Zhejiang Province, southeast of the famous city of Nanjing, an ancient imperial city where even today you can admire its beauty and historic past, as well as the main city of Jiangsu Province (more specifically the eastern coast), Ningbo is one of the oldest cities in China and owns its fame mostly due to its port, which is among the most important and well-known.
In fact, after the First Opium War (1839-42), with a stipulation in the Treaty of Nanjing in 1842, it was listed among the five ports open to international commercial traffic. We also know that Ningbo has a history going back more than 2,000 years thanks to its frequent commercial exchanges along the Silk Road, which especially intensified during the Tang (618-907) and Song (960-1279) Dynasties.
According to recent statistics, the city of Ningbo stands out as 16th place on the national classification of the best economic cities list of 2018, and at the same time, it's considered one of the 30 cities that have the highest rate of innovation and creativity.
How to get to Ningbo
There are various options to get to Ningbo (depending on where you're leaving from). If you're leaving from Nanjing, just take a gaotie 高铁 (high speed train) or a dongche 动车 (the predecessor of the gaotie) and in 2h30-3h you'll arrive at your destination for a price that goes from 149 (if traveling with the dongche) to 188.50 Yuan (if you prefer to travel by gaotie).
If instead you're in the nearby city of Shaoxing, known as the birthplace of the most famous Chinese writer of the twentieth century, Lu Xun 鲁迅 (1881-1936), as well as one of the most important and influential Chinese politicians, Zhou Enlai 周恩来 (1898-1976), your trip, will be noticeably less since it takes between 32and 50 minutes (this too depends on the type of train you take).
It's also cheap and affordable for everyone, costing between 39 Yuan for the dongche to 51.50 for the gaotie.
Where to stay in Ningbo
Don't worry, finding a hotel or hostel in China is child's play. Just look around to see how many of these there are, from family run establishments to those a little chicer.
In any case, depending on the type of hotel/hostel you decided to stay in, you'll be well received, because it's known that the waiguoren 外国人 or laowai 老外 (as they love to call us) always have a certain fascination that definitely doesn't go unnoticed.
For one or two nights I recommend the 99 Inn (Ningbo Railway Station South Bus Station), 99 旅馆 (宁波火车站汽车南站店) in No. 121-125 Hengchun Street, 恒春街121/125号, near the train and bus station (exactly 1 km) and just 380 m from the closest metro station, Yunxia Lu 云霞路 on line 2.
Nearby you'll find a little of everything: fruit sellers (who are impossible to avoid in China), supermarkets, pharmacies, typical restaurants where you can taste local delicacies, and much more. The average price for a single room with a double bed and private bath goes from 60 to 70 yuan a night, breakfast not included.
To book both transportation and a reservation at a hotel/hostel, you can use one of the many convenient and useful apps or Chinese websites. My first suggestion would be on the very popular Ctrip or Xiecheng 携程, which are starting to become well known in Europe and also have mobile versions.
Valid alternatives are Tongcheng Yilong 同程艺龙 accessible from the WeChat Pay section, specifically services offered by third parties, and also Feizhu Luxing 飞猪旅行, an app that has gained ground in recent years.
What to see and do in Ningbo
Even though it's not a popular destination to spend a vacation for many, in my opinion, Ningbo is a city that is absolutely worth visiting.
If you don't have a lot of time available, no problem; I'll propose an easy itinerary that will allow you to visit the best places (of a historic or natural nature) in Ningbo in one or two days.
The Tianyige Bowuguan 天一阁博物馆 (Tianyige Library)
With more than 400 years of history, the Tianyige Library has the largest and rarest collection of books in all of China – possibly even Asia – and is among the best in the world for the quality and accurate conservation methods used for books and manuscripts, which are still kept in great shape after some 13 generations.
Who would have said so? Incredible. It's said that the sophisticated system of conservation essentially consists of keeping the books in a ventilated area and using stones and special herbs to absorb the humidity and keep away moths.
After arriving at the central train station, Ningbozhan 宁波站 (Ningbo Railway Station), getting to the library is quite easy: you can go by foot (it's 1.2 km) and you'll get there in 15 minutes.
Or for the more "lazy" you can take the city bus numbers 26 or 371 from the north square of the station and get off after one stop at Tianyige – Yuehu jingqu 天一阁-月湖景区, and from there go on foot for just 150 m.
Please note: the ticket costs 30 Yuan, but if you have the xueshengzheng 学生证 (student card) you can take advantage of a 50% discount. In the winter it closes at 17:00, while during the summer it closes at 17:30. Don't miss the chance to let yourself be intoxicated by so much culture and wisdom in one place, especially for fans of reading and Asian literature which could send you into ecstasy.
The Laowaitan 老外滩 (the foreigners Bund)
If you're tired of always eating Chinese food and want to take a break, this is definitely the right place for you.
With cobblestone streets, bars, and restaurants in the style of the Temple Bar in Dublin, chic London areas or the Bund in nearby Shanghai (sticking with the Chinese theme), the laowaitan is perfect for those who love the nightlife and want to relax and listen to good music with a river view, since it falls right at the intersection of the following three: the Yongjiang 甬江, Yuyao 余姚 and Fenghua 奉化.
To reach the aforementioned neighborhood, you can comfortably take line 2 of the metro, getting off at the Waitan daqiao 外滩大桥 stop and taking exit B.
Xikou fengjingqu 溪口风景区 (Xikou National Scenic Spot)
Drum roll, please! This is the city of Ningbo's strong point. It's a tourist attraction that was given the highest rating of 5 (AAAAA), which corresponds to our stars, and is located about 40 km from the center of Ningbo, so it's a little bit in the outskirts, right in the district of Fenghua 奉化.
The quickest and most convenient option to get there is to get on city bus number 988, which departs from the south square of the central bus station. A ticket costs 5 Yuan (one way) and you'll have to wait a good 13 stops.
The trip will keep you pinned to your seat on the Chinese bus – as we all know – for about 50-60 minutes until you have to get off at the end of the line at Xuedoushan youren zhongxin 雪窦山游人中心 and from there go on foot for just 200 m.
Entrance tickets are priced a little high, but it is absolutely worth it and you won't regret it; furthermore, if you're a student you'll pay half price, and the total will be 75 Yuan (the equivalent of 10 Euro) which includes both round trip transport on the shuttle and entrance to all the attractions in what I would define as an "immense amusement park".
I recommend that you get up early in the morning so as to get there when it opens (8:00-17:00 during the summer season) so as to avoid the confusion at the ticket counter and fully enjoy the fascinating and entrancing scenic area that is worth dedicating a whole day to see.
In my opinion, the ace up the sleeve of this mystical place is the gigantic Mile Dafo 弥勒大佛 (Buddha Maitreya) whose imposing figure will without a doubt make your jaw drop. 56.74 m high and made up of more than 500 tons of bronze, it is the world's largest example of an open-air Buddha Maitreya (seated position).
To go see it, you'll have to take the shuttle (included in the ticket) – as soon as you cross the usual security controls – which will drop you off a few hundred meters away to be covered on foot. The Buddha is located atop the Xuedousi 雪窦寺 (Xuedou Temple) which is named after the mountain it's located on, Xuedoushan 雪窦山, which is itself inside an enormous scenic area.
In addition I suggest that you pay your respects (you'll have to pay a supplement of 20 Yuan) and touch – as is usually done – the feet as a sign of good luck by the Chinese bao fojiao 抱佛脚.
After having rested a bit to regain your energy, you can continue your jitney outdoors on another side of the mountain where you can admire a breathtaking panorama to say the least: the Qianzhangyan pubu 千丈岩瀑布 (Qianzhangyan Falls) and Tingxiahu 亭下湖 (Tingxia Lake).
Have you ever heard of San Yintan 三隐潭 (Yintan Ponds)? Don't worry, I'm here to provide you with some useful information about it. It's basically three levels of waterfalls (upper, middle and lower) on a path – which can only be traveled on foot – which winds down from the peak area to the foot of the last waterfalls for more than 1600 m and will keep you occupied for more than an hour.
At certain places there's the risk of falling and the walls are very steep, almost like a cliff; so it's good to be careful, stay on the trail and lastly, good athletic abilities are recommended!
Legend has it that three dragons live there, and after having been loaned the water of the Milky Way and having killed a nine-headed bird, they were punished by the jade emperor and confined to each waterfall respectively: the blue dragon in the upper falls, the yellow dragon in the middle and the purple dragon in the last one.
Typical dishes
For those who would like to taste typical dishes, my suggestion is to try the restaurants in the Nantang Laojie 南塘老街 where you can try a little bit of everything. To get there, the quickest options are to go on foot or by bicycle (Mobike, Ofo, Hello Bike) – leaving from the central bus and train station – and takes about 15-20 minutes.
Personally, the first dish I would suggest is the hei doufu 黑豆腐 (black tofu): these are little cubes of tofu covered in what looked to me to be black seaweed, then fried in a frying pan of boiling oil for a few seconds. It has a crunchy consistency but the taste though is not as good as mapo dofu 麻婆豆腐.
For fans of sweets – unfortunately, there's nothing like a good tiramisù – I recommend that you try the Ningbo tangyuan 宁波汤圆 (there's a small difference compared to traditional Chinese ones), which are little balls of nuomi 糯米 (sticky rice) which are first boiled, then stuffed with a sweet filling of black sesame and lastly, served in bowls of hot cooking water similar to a soup.
Just as tasty are the liang nong da gao 梁弄大糕, little cakes of rice flour stuffed with red beans and ma ci 麻糍 made with the usual nuomi, white sugar, egg and a type of Chinese herb (wormwood) that gives them a traditionally green color.