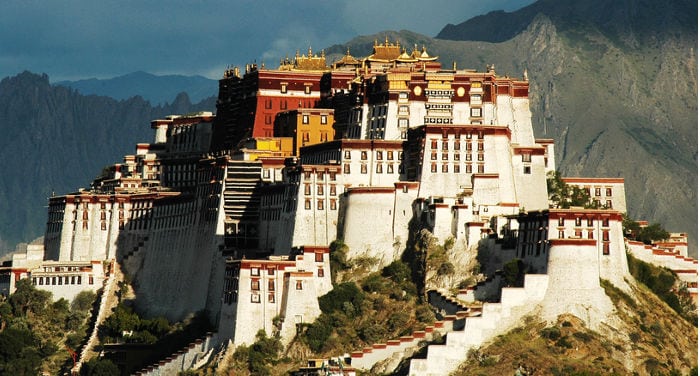 We have personally taken multiple Tibet tours over the years, so the information you'll find here comes from our personal experience.
When it comes to other regions in China, taking a tour is optional, but Tibet is an exception.
Currently, if you wish to visit Tibet, a "Tibet Entry Permit" is required, and only a licensed travel agency can obtain it for you. Additionally, independent travel in Tibet is not permitted; you must be accompanied by a travel guide. Therefore, joining a tour with a licensed travel agency is the only legal way to travel to Tibet.
.
What documents you need to visit Tibet?
In order to travel to Tibet, you need a Chinese visa and a Tibet Entry Permit. Any decent travel agency will provide you with an invitation letter (so you can easily get a Chinese visa) and a Tibet Entry Permit. While you'll have to apply for your visa by yourself (it's better to do it in your country), the agency can apply for the Tibet Permit on your behalf so you don't have to worry about this second document.
If you want to visit the Everest Base Camp you'll also need a PSB Permit (also called Alien Travel Permit). This is a special permit for foreigners that want to visit "protected" areas and, like the Tibet Entry Permit, can be easily arranged by your agency.
To summarize, you'll need:
Chinese Visa: You need to apply by yourself but your agency can help you by providing an invitation letter.
Tibet Entry Permit: Your agency can arrange it in Lhasa. You can't apply for it by yourself.
PSB Permit (you only need it if you want to visit the Everest Base Camp): Your agency can arrange it in Shigatse (a city on the way to the Base Camp). You can't apply for it by yourself.
What kind of agency should you choose in order to travel to Tibet?
We always recommend local agencies that specialize in Tibet and, ideally, have an office in Lhasa, the capital of Tibet. There are three main reasons why:
Mainstream tour operators that are able to sell you a tour for any part of the world usually focus most of their attention and resources on popular touristic destinations such as Phuket (in Thailand), Bali (in Indonesia) or the Caribbean. Sure, they may be able to send you to Tibet but they're probably outsourcing your trip to a local company and don't know much about the specific needs of people that are going to travel up to 5,000 meters of altitude.
You can only obtain your Tibet Entry Permit in Lhasa. Don't you think it's better to deal with an agency that has an office in Lhasa, knows the Chinese officers that provide the permits and has already gone through this procedure thousands of times?
The best way to travel around Tibet is to have a local guide that knows Tibet in and out and who speaks both the Tibetan and English languages. An agency that specializes in Tibet tours will surely be able to provide you with a local guide.
If you want to know how to spot an honest travel agency you can read our Guide to China Tours.
What is the difference between a private and a group tour?
A group tour may be cheaper but you'll travel in a big bus with twenty to forty other people. This means that you'll have zero flexibility, as the itinerary will be the same for everybody. Also, you'll probably spend a lot of time waiting for retarded people that get lost, are late or decide to go to the toilet at the very last moment. You can't choose your travel companions so there isn't much you can do to avoid this problem.
If you book a private tour, you'll travel by car (or minivan, depending on how many people are traveling with you) and you'll be able to plan your route and pace much better. Also, you'll only have to wait for your friends.
Keep in mind that if you are traveling with at least two other people, the price of a group or private tour become pretty much the same. So in this case, I suggest that you go for a private tour. However, if you're less than three people, a group tour will be cheaper.
What is the best period to visit Tibet?
You can visit Tibet during any season. However, the best time periods to travel there are spring and autumn. The reason is simple: summer is the rainy season and winter is bloody cold.
What are the most popular Tibet tours and how many days will you need?
Here are the most popular itineraries in Tibet:
Notice: None of the prices that you see on this page includes the flights.
Lhasa-Everest Base Camp-Lhasa
Duration
: 8 days.
Price
(per person):
Private Tour (2 people)
: 8,200 CNY – 9,700 CNY (1,150 USD – 1,400 USD).
Private Tour (6 people)
: 5,000 CNY – 5,600 CNY (700 USD – 800 USD).
Group Tour
: 5,950 CNY – 7,310 CNY (840 USD – 1,000 USD).
Description
:Almost all Tibet tours start from Lhasa because both the airport and the train station are located there. After visiting Lhasa you'll travel along the
China-Nepal Friendship Highway
where you'll visit several lakes, monasteries, towns and glaciers before arriving at the Everest Base Camp.
Lhasa-Everest Base Camp-Kathmandu
Duration: 7 days.
Price (per person):
Private Tour (2 people): 9,500 CNY – 11,900 CNY (1,300 USD – 1,700 USD).
Private Tour (6 people): 5,400 CNY – 6,600 CNY (750 USD – 900 USD)
Group Tour: 6,530 CNY – 7,790 CNY (910 USD – 1,100 USD).
Description: This tour is similar to the previous one. The difference is that, instead of coming back to Lhasa and leave Tibet from there, you'll cross the Nepalese border and end your trip in Kathmandu (the capital of Nepal).
Lhasa-Shigatse-Lhasa
Duration: 6 days.
Price (per person):
Private Tour (2 people): 5,200 CNY – 6,600 CNY (700 USD – 900 USD).
Private Tour (6 people): 3,400 CNY – 4,200 CNY (450 USD – 600 USD).
Group Tour: 5,000 CNY – 5,880 CNY (700 USD – 800 USD).
Description: This tour is shorter because you only travel along the first part of the Friendship Highway and then go back to Lhasa. You'll also head to Northern Tibet and visit the wonderful Namtso Lake. This tour is your best option if, you only have one week vacation.
Lhasa – Yamdrok Lake
Duration: 5 days.
Price (per person):
Private Tour (2 people): 4,100 CNY – 5,000 CNY (550 USD – 700 USD).
Private Tour (6 people): 2,700 CNY – 3,400 CNY (390 USD – 480 USD).
Description: If you have little time and/or a tight budget, this tour is ideal, as you will be able to see the capital of Tibet and enjoy nature while visiting one of the sacred lakes located at 4,500 meters altitude.
Mount Kailash and Lake Manasarovar
Duration: 15 days.
Price (per person):
Private Tour (2 people): 17,600 CNY – 20,900 CNY (2,500 USD – 2,900 USD).
Private Tour (6 people): 10,000-10,900 CNY (1,400 USD – 1,500 USD).
Group Tour: 12,800-14,200 CNY (1,800 USD – 2,000 USD).
Description: This is the tour of my dreams. You'll arrive in Lhasa, move to Shigatse and then keep going until you reach the western extremity of Tibet, where the sacred Mount Kailash is located.
How can you minimize the symptoms of altitude sickness?
The best way to avoid, or at least to reduce, altitude sickness is to let your body adapt gradually to the high altitude. How can you do it? It's simple: instead of taking a plane to Lhasa and switching abruptly from 200 to 3,500 meters of altitude, you can take a train from your Chinese departure city (Beijing, Shanghai, Chengdu or whatever city you'll choose to start your trip) to Lhasa. This will definitely help your body adjust to the altitude.
Traveling by train comes with a drawback: the journey from Beijing or Shanghai takes about 45 hours. A way to shorten the train trip is to take a flight to Lanzhou (the capital of Gansu province) and then a train to Lhasa (Lanzhou is half way to Lhasa so you'll only spend 24 hours on the train).
The other suggestion that I have for minimizing altitude sickness is to drink a lot of water, as the symptoms basically come from the fact that your brain gets dehydrated.
Frequently asked questions
Can I travel to Tibet on my own?
As we have stated in this article, unless you have a Chinese passport, the only way to travel to Tibet is as a part of an organized trip with an approved travel agency. Even so, good agencies will offer you customized tours and will give you a certain degree of freedom.
Can I enter Tibet from the border with Nepal?
While it can be done, it's a lot harder to get permits if you enter via Nepal than through China. The majority of tours of Tibet start in Lhasa and end in Nepal.
What's the best way to get to Tibet?
If you have the time, the ideal way to get to Tibet is by train, so that you give your body time to adapt to the altitude.
Where can I find a cheap tour to Tibet?
Traveling to Tibet requires permits and as a result, tours are somewhat more expensive than normal. To reduce costs, it's best to travel in small groups (4-6 people) or to go on set tours. It also helps to hire local agencies in order to avoid intermediaries that may increase the price.
How can I go hiking in Tibet?
Tibet is a harsh land that is home to certain dangers for inexperienced travelers. Combine this with altitude sickness and extreme temperatures and hiking in Tibet becomes a risky activity. Because of this, the majority of travel agencies don't let you go hiking (as you are their responsibility). Good local travel agencies specialized in Tibet are familiar with the area and are therefore capable of offering hiking without putting travelers at risk.
Are you looking for a travel agency?
If you've already decided to book a Tibet tour but you aren't sure what travel agency to choose, we can suggest a reliable agency to you. Just contact us using the form below:
Cover Photo Credits: Photo by bbbbar on Depositphotos©