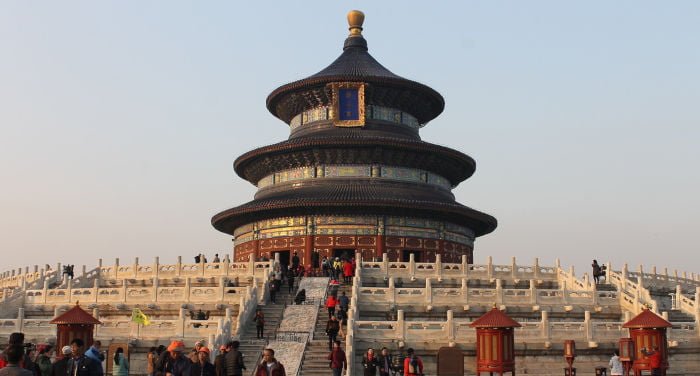 Top Travel Destinations in China – Index
China is a popular travel destination thanks to its size, old history, distinct cultures, food, and beautiful landscapes. Truth be told, it's probably one of the most culturally diverse countries in the world, traveling to China is one of the most memorable experiences among foreign travelers.
Yet, before you travel to China, you must do research, deciding where to go and making an itinerary. Most people don't spend more than a month when traveling a China, a reason why you should do thorough planning beforehand.
After many years of starting this website, we decided that we should write an article that lists some of the best travel destinations for China. Let's get started and review one of the biggest and oldest cities in the world, Beijing.
1. Beijing
Beijing has served as China's capital for 700 years and has 3,000 years of history. You cannot leave China without visiting this cultural melting pot that doesn't only have the most UNESCO World Heritage sites nationwide, but modern skyscrapers and shopping districts.
Locals and foreigners continue coming back to Beijing due to a simple reason: You will never get bored here! Stroll around the bar streets in Sanlitun or visit the old Hutongs, which date back to the 13th century. Some of the most renowned constructions in the world are located in Beijing, including the Great Wall, the Forbidden City, the Summer Palace, the Temple of Heaven, and the Ming Tombs.
The cuisine is also one of the best in China and foreigners visit Beijing just to get a taste of some Peking Duck, Jiaozi, noodles, or shredded potatoes. Beijing is a highly lively city with many local markets as well, the Silk Market is one that you probably haven't gone unheard of.
With the upcoming Winter Olympics in 2022, Beijing is set for the second round of transformation and it couldn't be a better time to visit this capital now.
2. Shanghai
One of the top picks among foreign travelers in China is Shanghai. Despite not having as many old artifacts and cultural heritage as Beijing, Shanghai is one of the main financial centers in the world and has served as an important city during China's history.
Shanghai has a unique culture in terms of clothing, food, buildings, and language, which even has its name among Chinese: Hai Pai Culture. The city is truly majestic and one of its kind.
You should not leave Shanghai without paying a visit to places like the Bund, French Concession, East Nanjing Road, Yu Garden, and the bustling financial district of Pudong. I also recommend you to visit some of its best tailor-markets where you can make a suit for as little as 600 RMB (85 US dollars).
Being the biggest city in China with more than 26 million people, you can find many kinds of Chinese food in Shanghai, but also acclaimed restaurants serving Western food, Japanese food, and the list goes on.
The best time to visit Shanghai is during the spring or autumn as it becomes very hot during the summers, while temperatures can drop down to 0 degrees Celsius during Winters.
3. Chengdu & Leshan
If you want to enjoy some of the most beautiful parts of China and with a high density of UNESCO World Heritage Sites, then Chengdu and Leshan are your places to go.
Chengdu is the provincial capital of Sichuan province, the "home of pandas", and is well-known for having the best cuisine in China. Despite being one of the biggest cities in China, Chengdu has a relaxed culture and atmosphere.
Leshan, on the other hand, is famous for its Giant Stone Buddha (71 meters tall), Mount Emei (one of the most beautiful and sacred mountains in China), temples, and waterfalls
One of the benefits of visiting these cities is that you can visit many cultural sites that are located in the vicinity, including:
That said, Chengdu and Leshan are located close to other popular provinces among travelers, such as Qinghai, Tibet, Yunnan, and Guizhou. These all have unique cultures and beautiful landscapes that cannot be explained by words.
4. Xi'An
Xi'an might not be as famous as Shanghai and Beijing, but has played a vital role in China's history. Here, you can experience China's 5,000 years old history, visiting mausoleums, ancient palaces, and more. It was the capital over 13 of China's dynasties, has many cultural and historical sites, and great cuisine.
Importantly, the Silk Road starts in Xi'an, which has made the city into a cultural melting-pot. Here, you'll find local Muslim and Chinese cultures and a great variety of tasty food. Some of the cities' most well-known dishes are Rou Jia Mo (almost like a burger with pulled-meat), Lamb soup with bread, Xian Gourd Chicken, Xian noodles, and Liangpi.
Xi'an is mainly known for being the home of the Terracotta Army, which is a collection of clay sculptures illustrating the army of Qin Shi Huang, the first Emperor of China. The sculptures were buried underground to protect the emperor in his afterlife.
If you plan to visit China, I recommend you to pay a visit to Xi'an to experience some of China's oldest cultures and customs.
5. Tibet
Located in the Western parts of China, Tibet has become one of the most popular travel destinations in the world. It's located just next to Sichuan, thus, you might want to visit both provinces during your itinerary to 'hit two birds with one stone'.
Tibet is the home to sacred lakes, mountains, and has a magnificent nature and interesting culture. The provincial capital of Tibet, Lhasa, is widely visited by travelers who wish to see the Potala Palace. Here, the Dalai Lamas spent their Winters from 649 to 1959, which has been a museum since.
Other popular sites include the Mount Everest Base Camp, Shigatse, Lake Yamdrok, and more. Worth mentioning is that visiting Tibet requires a bit more preparation compared to other Chinese provinces.
Foreigners need to join local travel agencies due to stricter surveillance in the area. Many sites on Tibet are also located on high altitudes, sometimes reaching above 5,000 meters, and travelers often experience altitude sickness. We recommend you travel by train, as that can alleviate the problems with altitude sickness, it's cheaper, and you'll get a nice experience.
6. Guilin & Yangshuo
Guilin and Yangshuo are two other travel destinations that you should visit if you want to see some of China's most beautiful nature and landscapes. The two cities are located in the northern parts of Guangxi Autonomous Region and widely popular among foreign and Chinese travelers.
The cities are most famous for having unique stone formations, beautiful river deltas, and rice paddies. Even if some claim that it's not worth visiting Guilin and you should go directly to Yangshuo, it can be beneficial to stay in Guilin for a day or two as:
It's a transportation hub and you'll arrive here first, before continuing your journey to Yangshuo. The train stations, airport, and bus stations are all located in Guilin.
The Li River cruise starts from Guilin, it can be worthwhile to stay in Guilin the first day and night and take a cruise to Yangshuo the next morning.
Most travelers who visit the province of Nanning go to Yangshuo though, either directly or after spending a day in Guilin. It offers some of the most spectacular views in China, being the home to many ethnic minority groups.
7. Dali & Lijiang
Dali and Lijiang are located in Yunnan Province, Southwestern China, which borders Tibet. Both cities offer astonishing views and cultural experiences, where Dali is mainly famous for its Ancient Town and Erhai Lake. It offers a unique local culture and experience that rarely leave travelers untouched.
Lijiang, on the other hand, is most famous for its Ancient Town, which is one of the biggest in Asia, having thousands of old buildings. The Ancient Town is located in the foothills of the Qinghai-Tibet plateau and referred to as Dayan in Chinese, where you can listen to troubadours while sipping on a beer or coffee. Many travelers also check-in to one of the many cozy hostels located in Lijiang Ancient Town, which normally don't set you back more than 50 RMB to 100 RMB per night.
Close to Lijiang, and on the way to Shangri La from the city, you can find many heritage sites and mountains, including Jade Dragon Snow Mountain. It's a mysterious mountain with a peak that's more than 4,000 meters above sea level.
Shangri La is often the last stop for many travelers, while some continue to Sichuan or even to Tibet from here. The typical travel itinerary in Yunnan is often as follows:
8. Zhangjiajie
Zhangjiajie National Forest Park is located in Hunan province, central China, and probably has some of the most beautiful scenery in the world. Being famous for the Stone Forest, you'll find 8,000 rivers and 3,000 stone peaks that spectacularly rise from the ground.
The main reason why the park became even more popular among travelers is that it was the prototype for various elements in the movie 'Avatar', which kind of speaks for itself. Since then, travelers from China and all around the world have visited Zhangjiajie to experience its magnificent views.
I recommend you to set aside at least 4 days when going to Zhangjiajie. That will include: A day in the national park, one day for Tianmen Mountain, one day for the Grand Canyon with the glass bridge, and one more day for resting and local traveling.
You should also visit the Furong Ancient Town, which is an ancient town with over 2000 years of history. Here, you can enjoy beautiful sceneries of the local nature and Tujia ethnic folk culture attractions. More than 80% of the people living here are Tujia people.
9. Jiuzhaigou
Jiuzhai Valley National Park is located in northern Sichuan and opened in 1984. It's one of the most renowned areas in Sichuan, famous for its crystal clear lakes, snow-covered peaks, and multiple-level waterfalls. The highest elevation of the park is 4,500 meters, while the total area covers 72,000 hectares.
Previously, it was difficult to visit the area due to its isolated location. Over the years and since it was inscribed as a UNESCO World Heritage Site in 1992, more travelers have visited Jiuzhai Valley, which is holy among Tibetan and Qiang people (a local minority group).
Visiting Jiuzhaigou will most likely be part of a 2-3 week trip to Sichuan, where you will arrive in Chengdu first, and perhaps continue to Leshan after that (see above). That said, you shouldn't leave Sichuan without seeing the great wonders of Jiuzhaigou, which is on the top of many travelers 'wish-lists' in China.
Just keep in mind that the area can be crowded, especially during national holidays. In October 2019, only 5,000 persons were allowed to visit the park every day, and it became fully booked quickly. Thus, be sure to book tickets to the park, before actually going there.
10. Hainan
Hainan is a large island located in Southern China and has become a popular tourist destination among the Chinese and foreigners. Simply put, Sanya, which is the main city on Hainan, is China's equivalent to Phuket in Thailand, offering nice weather and white beaches.
Sanya has a 22km-long shoreline from Sanya Bay to Yalong Bay, here, you'll find many luxury hotels and plush areas. At the same time, you can visit the hiking trails of Yanoda Rain which are located outside of Sanya, passing over waterfalls and suspension bridges.
That said, Hainan cannot compare itself with places like Koh Samui, Phuket, Nha Trang, but is mainly to cater to local Chinese and Russian tourists. Thus, it can be worth visiting Hainan once, but you will probably not go there frequently.
Hainan offers the best weather during the spring, but it can also be worth visiting the island during the summer or before or after the Chinese National Day in October, as prices tend to go down. I usually recommend people to avoid traveling in China during its national holidays as famous cities and sites tend to be crowded, at the same time as prices go up.
Do you want more? You can also read this complete study from The China Guide, where they analize the top destinations in China during the 2019
Photo Credits: Photo by György Simon on Pixabay