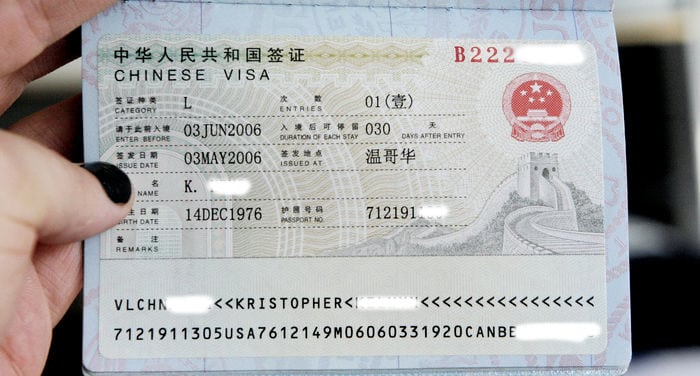 Effective March 15, 2023, China will resume issuing all types of visas, including tourist L visas. Travelers may be required to provide a negative Covid-19 test taken within 48 hours prior to departure, but quarantine will not be necessary upon arrival.
If you need information about how to obtain a tourist visa (or L visa) for China, you've come to the right place.
If instead, you're interested in another type of visa (work, student, business, etc) then you canread our complete guide on Chinese visas.
Do I need a visa to visit China as a tourist?
When should I apply for a Chinese visa?
The best time would be about a month before departure. Don't apply for it too far in advance because the visa is valid between three and six months (after which it expires, even if you don't use it).
Where can I apply for a Chinese tourist visa?
In your country
In many countries visas are by now handled by the CVASC (Chinese Visa Application Service Center).
As far as the United States goes, you need to contact the Chinese Consulate in your state of residence (here you'll find a list of consulates).
If you're not a US resident and your country isn't on the CVASC list (see the link above), then you'll have to contact one of the Chinese Consulates in your own country.
Note that, aside from rare exceptions, it's not possible to send your passport and request a visa through the mail; you have to show up in person at the CVASC or at the Chinese Consulate.
If for some reason you don't want to, or you can't show up personally, you can use an agency to get your Chinese Visa. This will have a supplementary cost, but it may still be cheaper than the cost of the trip to the nearest CVASC or Chinese Consulate.
In this case, you'll have to send your passport (and other necessary documents) to the agency and they will handle everything. To apply for a visa service through an agency you can use the form above on the right.
At the moment we recommend Visa HQ, a reputable agency that charges 79 USD for its Chinese Visa service. Click here to learn more!
Online
From 2016, in some cases, you can also apply for a group visa online. You can click on the previous link to learn more.
Elsewhere
Even if in theory you can only apply for the visa in your country of residence, in practicality you can also get it elsewhere, so long as it's a country that holds diplomatic relations with China. The easiest place to get one is certainly Hong Kong. You can check out our complete guide to applying for a Chinese visa in Hong Kong to learn more.
How long will a Chinese visa last?
Generally, the single entry tourist visa lasts a maximum of 30 days while the double entry lasts a maximum of 30 days per entry (or a maximum of 60 days with the obligation to leave China after the first thirty).
Beginning in 2014, American citizens can also apply for a multiple-entry visa valid for 6 months, a year, or ten years. Note that the fact that you can apply doesn't mean for sure that they'll give you one; the decision is at the discretion of the embassy.
How much does a Chinese visa cost and how long will it take to get one?
The cost for a visa varies between 30 USD and 140 USD, depending on your nationality (for American citizens it costs 140 USD).
In general, obtaining a visa will take four business days. To get a visa in 2-3 business days you can apply for the Express Service (it costs an additional 20 USD); while to get a visa within one business day you can apply for Rush Service (which costs an additional 30 USD). Note that the Rush Service is granted only in documented cases of extreme urgency.
What documents will I need to get a visa?
You will need:
A passport valid for at least six months (that is it will not expire in less than six months and has at least two empty pages);
Photocopy of your passport (both the photo page and pages with Chinese visas);
A properly filled-out visa application (you can download it here);
Two passport photos;
A return air ticket to and from China (click here to read our guide on flights to China) plus your intended itinerary during your stay in China;
Your proposed itinerary for your stay in China. Even if, in my opinion, it's a formality since I've never heard of anyone getting in trouble for not having followed the itinerary presented during the visa application process (obviously so long as you don't go to Tibet – or in other limited access areas – without having the necessary permits);
Receipt from the hotel, which must be reserved before applying for the visa and contain the full names of all people that will apply for the visa (click here to read our guide to reserve a hotel in China).
As an alternative to a hotel receipt, you can also present an invitation letter from a Chinese citizen or a foreigner with a residence permit. The letter should contain information about the applicant (such as your name, gender, and date of birth), information about your stay in China (itinerary, length of stay, etc), and information about the person that is inviting you (name, telephone number, address, signature and copy of their Chinese identity card, or if the person isn't Chinese, a copy of their passport pages containing their photo and residence permit).
How do you read a Chinese visa?
Validity
The visa is valid for three or six months from the date of issue. If for example you have a visa valid for three months, the visa will become unusable if you don't enter into China within three months of the issue date (this is the reason that you don't want to apply for a visa too soon).
Number of entries
The number of times you can enter and exit China with the same visa. If you have a single entry visa, this will expire automatically once you leave China (note that visiting Hong Kong or Macao counts as leaving the country).
Stay
The number of days you can stay in China (starting from the day you enter the country). For a tourist visa the stay is a maximum of 60 days.
Can I extend the length of my Chinese visa?
You can request an extension from the PSB (Public Security Bureau Entry and Exit Administration Office) from the city of your stay at least seven days before the expiration of your visa. There is however no guarantee that the extension will be granted (the decision will be made by the representative, who will decide according to the situation).
Photo Credits:

Chinese Visa by kris krüg