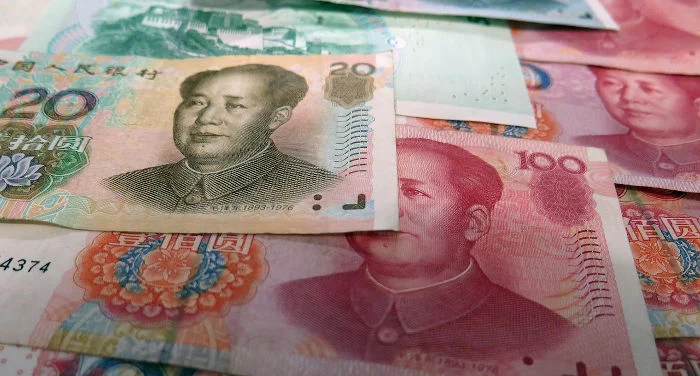 If you live in China, click here to fill out the questionnaire and help us to better our estimation of prices in the city of your residence.
Cost of living in China – General reflections
The cost of living in China depends on the city in which you live (Beijing and Shanghai, for example, are much more expensive than secondary cities such as Chengdu or Kunming, which in turn are more expensive than smaller cities and countryside) and your lifestyle (if you like drinking whiskey and cola in the elegant bars of Shanghai and buy extra virgin olive oil at the City Shop you will spend more than those who shop at Perry's – a bar for students on Huai Hai Road where a bottle of Tsingdao beer will cost you 10 Yuan – and those who only eat Chinese food).
Expect to pay at least 2,500-3,500 Yuan a month for a room in a shared apartment in Beijing or Shanghai (at least if you don't want to live in the deep peripheries). In other cities, the rent is much more economical but it depends on the individual case. You'll also have to pay for electricity, water gas and internet. According to our data, you shouldn't spend more than 400-600 Yuan a month. The expenses are for the entire apartment so if you live with others you should pay just a portion.
You'll also need a cell phone. In general, 100 Yuan a month should be enough (also counting the internet) but it depends on your use.
A meal could cost you only 10-15 Yuan for a plate of jiaozi (ravioli) or of lamian (noodles). If however, you want to eat meat and fish regularly and visit elegant restaurants, prices rice quickly. It depends on your diet.
The subway and buses are still economical; let's say 5 yuan a day (or 150 yuan a month). Taxis are becoming expensive, especially in Shanghai and Beijing, but are still much cheaper than those that you'll find in Europe or the United States.
Let's review: Rent (at least 3,000 Yuan) + utilities (at least 200 Yuan) + telephone bills (100 Yuan, with internet) + food (at least 2,100 Yuan for a high-quality diet, at least 1,100 Yuan for a diet that includes a lot of rice, pasta, and potatoes) + transportation (at least 150 Yuan) = 4,500-5,500 Yuan a month.
Let's say, therefore that the starting point is 4,500 Yuan a month in Beijing or Shanghai. Clearly you should add expenses for entertainment (travel, dining out, alcohol, cigarettes, some tea), clothes, health insurance, visas, international flights, and unforeseen expenses.
Keep in mind that in China it is very common to perceive different benefits beyond just salary. This can go from 5 Kg of rice for the Spring Festival up to total reimbursement for rent, transportation within the interior of the country (even taxis), health insurance, visas and an international flight a year.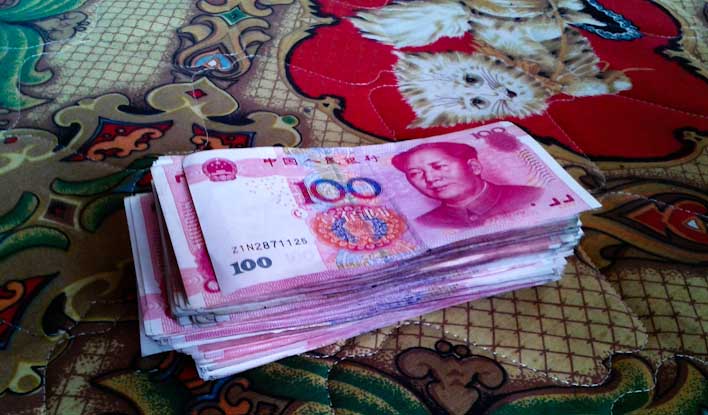 Price tables for the largest Chinese cities
Take the survey and help us to calculate the cost of living in your Chinese city!
Beijing
Shanghai
Shenzhen
Guangzhou
Monthly expenses (according to your profile)
In the table below we've listed expenses for three profiles that, even if they're imaginary, reflect an accurate enough representation of three different lifestyles.
The first profile, which we have called "the Prude", is the one that tries to save money in all possible ways: he has a room rented in a shared apartment far from the city center, uses only public transport, rarely frequents clubs, and instead of eating in restaurants cooks at home.
The second profile, which we've called the "Average expat", is one who concedes a few "luxuries" without going to extremes. The average expat has a shared apartment in the center of the city, hits the clubs 2-3 times a week, every once in a while (especially at night) takes a taxi and often eats out, even if he often settles for a cheap Chinese restaurant.
The third profile, the so-called "Party animal", is someone who doesn't care about expenses: he lives in a studio in the center of the city, without roommates to break his balls, gets around exclusively by taxi, goes out often, eats almost only in "expat" restaurants, indulges in two massages a week, etc.
| | the Prude | the Average expat | the Party animal |
| --- | --- | --- | --- |
| Beijing | 5,970 CNY | 10,937 CNY | 22,668 CNY |
| Guangzhou | 5,621 CNY | 10,814 CNY | 24,570 CNY |
| Shanghai | 6,431 CNY | 12,312 CNY | 27,450 CNY |
| Shenzhen | 5,952 CNY | 11,381 CNY | 25,241 CNY |
Is it expensive to live in China?
According to the information on Expatistan.com, the cost of living in Shanghai is 5% lower than that of Rome, 6% higher than Madrid, 45% lower than London, 41% lower than New York, 26% lower than Los Angeles, 45% more expensive than Bangkok and 77% more expensive than Hanoi.
Note that the data considers only the costs, not salaries. Therefore, for example, if you live in New York and earn three times what you could earn in Shanghai, despite the higher prices your quality of life in New York would be higher.
The reasoning also works conversely: it's useless to decide to live in Hanoi, in Vietnam, just because it's cheaper if they only pay you a third of what they would pay you in Shanghai.
Salaries in China and minimum wages for foreigners
Salaries have risen much in China in the past years and many foreigners don't necessarily need to wait for their companies to offer them lucrative expat-contracts. You see, if you possess skills and have experience that Chinese companies see as valuable, you can earn substantial amounts of money.
Besides, along with development and as the local workforce gets more skilled, we see a smaller demand for high-paid expats compared to a decade ago. We also see this trend in Hong Kong where increasingly more foreigners take up local positions.
To give you a better understanding of the salary levels in China, let's review how the salaries differ depending on where you live in China.
Salary differences between Chinese cities
Below I have listed the biggest and most popular cities in China, where most foreigners move to take up local positions. Let's start and review the salaries in Shanghai.
Shanghai
As of 2017, Shanghai had some of the highest expat-salaries in the world, averaging at around USD 202,200. That was more than twice as much globally and higher than cities like Singapore, Hong Kong, and Tokyo.
Worth mentioning is that rents are significantly high in Shanghai as well and companies reimburse expats for rents most of the time.
Looking at salaries for locals, the click here to fill out the questionnaire and help us to better our estimation of prices in the city of your residence." rel="noopener" target="_blank">Shanghai government informed that the average monthly wage, after deducting tax and social welfare contributions, was RMB 7,200 (USD 1,047) as of 2018. As you can see, the gaps are significantly big.
Yet, bear in mind that salaries differ much according to professions.
Persons that work in banking, for example, earn around RMB 36,100 (USD 5,157) per month, which is considered high. The lowest salaries start from RMB 20,400 (USD 2,914) and reach up to RMB 66,800 (USD 9,542).
Persons working as clinical pharmacists, on the other hand, earns around RMB 32,166 (USD 4,595) on average per month.
Beijing
In 2018, Beijing had the highest salaries on average and where we saw a significant gap between persons working in non-private sectors and in private dittos.
According to China Daily, salaries in the non-private sector averaged at RMB 145,766 (USD 20,823), while salaries in the private sector averaged at RMB 76,908 (USD 10,896) yearly.
Expat salaries are similar to those in Shanghai and foreigners can easily earn USD 100,000 – 200,000 while working as expats.
According to Payscale.com, locals earn the following salaries depending on the profession:
Software Engineer: RMB 228,000
Human Resources (HR) Manager. RMB 384,000
Project Manager, (Unspecified Type / General) RMB 234,000
Marketing Director: RMB 495,000
Shenzhen
Shenzhen is a tech-hub where high-earners make 10 times more than the lowest-paid. According to government data, professionals in tech and finance earn the most, while manufacturing jobs and catering are ranked in the bottom.
The median salaries in the top paying sectors were RMB 25,274 (USD 3,610) per month in 2017, an increase from RMB 24,305 (3,472) in 2016.
I'd say that you should earn at least RMB 20,000 if you want to live in a 1-Bedroom apartment in the central areas and save some money every month. Rents have increased much in Shenzhen over the years, even if it's still cheaper than places like Shanghai and Beijing.
Chengdu
Living costs are fairly low in Chengdu, at least compared to the other big cities. Thus, salaries are lower there as well. Having said that, Chengdu is one of the fastest-growing cities in China and we see a greater demand for foreigners and expats.
As such, don't be surprised if you can land a job that pays you equally as much as in Shanghai.
According to Numbeo, local salaries average at around RMB 5,567 (around USD 800), which seems reasonable. That said, you can, of course, earn more than this.
Salarayexplorer.com claims that the median salary is RMB 29,694 (USD 4,242) per month, where the lowest salary is RMB 4,187 (USD 598) and the highest salary is RMB 136,967 (USD 19,566).
Even if you've got a general understanding of the salary levels in China, bear in mind that salaries can vary greatly depending on your experience and profession. It's not rare to find jobs on job boards with salaries reaching up to USD 150,000 to 300,000 per year.
Working as a factory or quality director in Dongguan can easily pay you as much as USD 300,000 a year, according to job ads on LinkedIn and on Robert Walters for example.
Personal tax regulation for foreigners
The personal income tax is comparably low in China by European standards and increases progressively. Below you can see how the tax increases, according to your salary. The rates are issued by China's State Administration of Taxation (SAT):
RMB 0 – 3,000: 3%
RMB 3,001 – 12,000: 10%
RMB 12,001 – 25,000: 20%
RMB 25,001 – 35,000: 25%
RMB 35,001 – 55,000: 30%
RMB 55,001 – 80,000: 35%
RMB 80,001 and above: 45%
However, foreigners can also enjoy a monthly standard deduction of RMB 5,000.
The tax year is the same as in most other Western countries and from January 1st to December 31st. However, you need to file your tax declaration to the State Administration of Taxation latest by March 31st.
This is normally managed by your employer.
Besides, you need to file a tax return if meet any of the following conditions:
Your income is greater than RMB 120,000
You've earned money in China but where taxes were not withheld
You have more than one Chinese employer
China's new income tax law
On January 1st, 2019, China issued the individual income tax (IIT) law which impacted foreign workers. In short, the law had the following impact:
Foreigners working in China for more than 6 months (183 days) are treated as regular residents for tax purposes and have to declare their worldwide income in China
Foreigners can resolve this issue by leaving China for 30 days every 6th year
The law follows the example of many other countries, including the UK, US, France, and Australia. Thus, we can say that China has become more internationalized from a taxation point of view.
The previous term was one year and China has, therefore, cut the time in half. However, this will probably not be a big issue as long as you are aware of the new regulations. As mentioned, you simply have to leave the country for 30 days within 6 years to avoid taxation on your worldwide income.
I know it looks a bit complex. If you think this could affect you, I suggest you contact an accountant.
Frequently asked questions
How do you gather and work out the data of the cost of living in Chinese cities?
We gather the data through
this questionnaire
, which we ask to be filled out from our readers who live in China.
Each time a reader fills out the questionnaire, the data is automatically updated, making the average of all data that has been sent in available.
Why do you only offer the cost of living in four cities?
Because at the moment these are the only cities with enough data to calculate a "real" average. Little by little when we receive more data, we can add new cities.
What is the most expensive city in China?
At the moment it's Shanghai, even though
Beijing comes close when it comes to rent
. Note that, in general, the further you get away from the coast and/or the large cities, the more the cost tends to go down.
How much money do I have to earn to have a decent standard of living in China?
This is a very common question but it's also very difficult to answer since it not only depends on the city in which you're living but also your habits. To get deeper into this subject, I recommend you read the section of this article "Monthly costs (profiles)".
Is living in China expensive?
The cost of living is relatively low, although it greatly depends on your lifestyle. Prices are reasonable and you can get by comfortably with a low salary. Living in the most modern cities such as Beijing and Shanghai is almost twice as expensive as living in smaller cities such as Qingdao, Dalian or Jinan.
What is the average monthly salary in China?
The average monthly salary in China varies from one city to another, but in general, it can be appealing, even in the worst-rated cities, even exceeding that of some European cities. Shanghai is in first place, with an average monthly salary of 1,100 USD, followed by Beijing with 980 USD and Shenzen with 930 USD.
Is there a minimum wage in China?
The cost of living changes quite a bit depending on the city, and China does not have a minimum wage established for the entire country. This task is delegated to local governments, because of which each province, municipality or region establishes its own minimum wage based on its specific conditions.
How much does a meal cost in China?
It depends on where you choose to eat. A simple breakfast costs around 10-20 RMB in the majority of cities, and can even be cheaper than that. Lunch or dinner can cost from 10 RMB to thousands. The price of a combo with a hamburger, fries, a drink and fried chicken costs around 40 Yuan (6 USD).
Do you tip in China?
Tipping is not a common practice in China or a part of the culture. People are not used to leaving tips. In the tourism sector, because people are in contact with international travelers, it's possible that people will expect a tip as a way of thanking them for the service provided. In any event, it is still optional.
Conclusion
Our intention is to gather data on the cost of living – and salaries – of all large Chinese cities. When we have enough information we'll be able to publish statistics not only on the cost of living in various Chinese cities, but also in the quality of life (economically speaking, or rather the relationship between expenses and salaries for the most common trades among expatriates).
How can you help us?
Click here to fill out the questionnaire with prices and salaries about your Chinese city!