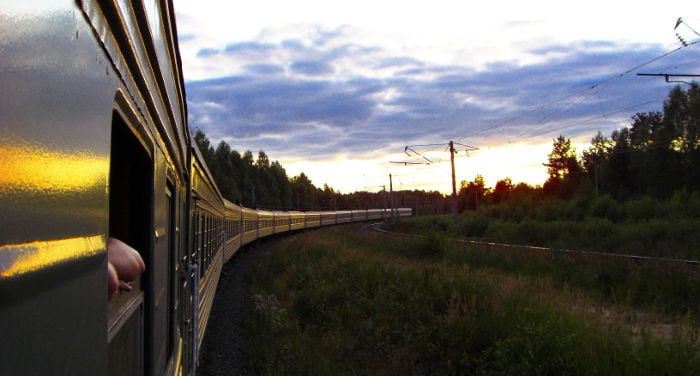 This article is aimed to provide all the necessary information to organize your tour with the mythical Trans-Siberian and is based on my personal experience as a traveler and resident in Beijing. In this article you will find (you can click below to read directly the section that you are interested):
If you have already decided that you want to travel on the mythical Transsiberian Railway but aren't sure which travel agency to choose, we can put you in contact with a trustworthy agency. Click here to get budget for your Transsiberian Tour.
How much does a Transsiberian trip cost?
It's impossible to give an exact or even approximate number, because this depends greatly on the itinerary, lodging, the train class you choose and the freedom you have on visits. What I can tell you is that if you want to take a standard Transsiberian tour, don't expect to pay less than 1,800 USD. Anything less than this is surely a scam. Obviously if you want the agency only to get the train tickets and the accommodation, the prices you can get would be much cheaper (about half).
To give you a clearer idea of prices, I have listed below the most popular itineraries and the approximate price for different types of tours.
Important: If you are thinking on traveling during the months of June and July of 2018, due to the World Cup, prices can be significantly increased.
The most popular routes
In this section, you will find the price of the most popular tours for two people. The price includes all train tickets in third class (open compartments) or second class (four bed close compartments), standard accommodation (guest house or 3 star hotel) and for different types of tour: tour low cost (only includes trains and accommodation), basic tour (includes all transfers, some organized tours and accommodation).
Notice that prices shown here are approximate if you want to know the price for a full tour (including guided tours, entrance fees to attractions, diets, etc.) or customized you can contact us by clicking here and a reliable agency will make you a budget adequate to your needs.
"Classic" Transsiberian
With this tour you will cross the whole Siberia from Moscow to the port city of Vladivostok. The total train travel time is a bit more than 5 days. In addition to being the actual Transsiberian route, the main advantage of this tour is that you only need to obtain one visa (the Russian one). The two most popular options are:
Moscow to Irkutsk
Route: Moscow – Kazan – Yekaterinburg – Novosibirsk – Irkutsk
Duration: 12 days
Price: 1,800 USD per person
Moscow to Vladivostok
Route: Moscow – Yekaterinburg – Irkutsk – Lake Baikal – Vladivostok
Duration: 14 days
Price: 2,100 USD per person
Transmongolian
This is without a doubt the most popular route and, in my opinion, the best one to see the large contrast between European Russia, Siberia, Mongolia and China. The most common options are the following:
Moscow to Beijing
Route: Moscow – Beijing
Duration: 11 days
Price: 1,900 USD per person
Route: Moscow – Yekaterinburg – Irkutsk – Baikal – Mongolia – Beijing
Duration: 17 days
Price: 3,200 USD per person
St-Petersburg to Beijing
Route: Saint Petersburg – Moscow – Yekaterinburg – Irkutsk – Baikal – Mongolia – Beijing
Duration: 19 Days
Price: 3,500 USD per person
Note: The cost of international flights is not included in the prices shown on this page. Click here to read our tips to get the best deal on your international flight.
When to take a tour to travel on the Transsiberian train and when not to
If you are an experienced traveller, are travelling on a tight budget and have sufficient time, you should definitely do the Transsiberian trip on your own. In this case, you can read our complete Transsiberian guide, where you will find all of the necessary information for your trip. If, on the other hand, you don't mind spending a little more money to avoid any problems or unnecessary wastes of time, we recommend you take a tour.
Reasons for choosing a tour
Language barrier: Russia, China and on a lesser scale Mongolia are not famous for their English level, as the large majority of the people in Russia and China can't speak English. Having a guide who can speak Russian (or Chinese) and English will help you avoid many problems.
Time: By taking a tour, you will save a lot of time, most of all in cities such as Beijing, where it's easy to get lost, or in hard to access places such as Baikal Lake in Irkutz, the Great Wall of China or the national parks close to Ulan-Bator. You will also save a lot of time in preparations.
Cost: Even though travelling on your own definitely cheaper, if you are not an experienced traveller, with the Transsiberian Railway you may end up spending more money than if you were on a tour. A good travel agency will know how to find the best deals on train tickets, which hotels offer a good quality-to-price ratio and will make sure that you aren't scammed on visits or transportation (a common practice in Russia and most of all, China).
Comfort: After a long train or plane trip, you will definitely want to go to a hotel without fighting with illegal taxi drivers and scammers, waiting in line to get a taxi or figuring out how to arrive on public transport. A decent travel agency will send someone to pick you up at the airport or train station, and will take you directly to your hotel without complications.
Reasons for not choosing a tour
Cost: One of the two reasons for travelling on your own is to save money. If you know how to organize your trip, it will definitely be cheaper than taking a tour.
Flexibility: Even though a good agency will offer you flexibility in your itinerary, once you have contracted them, they won't allow for any changes (without a good reason). Travelling on your own will allow you to adapt your trip as you go along.
What type of agency should you choose for the Transsiberian trip?
Organizing a Transsiberian trip tour is no easy task; it requires good logistics and a very good knowledge of the routes and places which this mystical train passes by. Personally, I would recommend choosing a specialized agency rather than a large tour operator for the following reasons:
Large tour operators are able to sell you a tour to go to any part of the world, but in general, they focus all of their attention on very popular tourist destinations, such as the Caribbean, Thailand and India. Many of them are also able to organize a Transsiberian trip for you, but it's likely that they will subcontract a specialized agency who will in turn subcontract various local agencies (especially if you are travelling across more than one country). The result is that they won't offer you any flexibility and the price will be inflated due to the large number of intermediaries.
Travelling the Transsiberian Railway is a unique experience and in general, offers very particular problems for travellers. A specialized agency will be well acquainted with the problems which may arise and will know the best way to inform you of how to avoid them. An example: Russia has nine time zones. Do you know which time zone is used on train tickets? Do you think that a travel agent who has never been to Russia will know how to answer your question?
As I have said before, the Transsiberian Railway is a very particular trip, and many people may want to give up a bit of comfort to have a more authentic experience. Like, for example, by travelling in third class to be in contact with locals or by sleeping in the tents of Mongolian nomads (the only form of lodging possible in some parts of the country). A good agency has to be able to organize your tour to go along with your needs.
Choosing a good agency can be complicated. If you want us to recommend you a trustworthy travel agency, you can click here to send us a message.
What is the best season for taking the Transsiberian Railway?
Even though you can take the Transsiberian Railway any time of year, notice that Siberian and Mongolian winters are long and bitter (temperatures may reach -40ºC); also, trains may suffer delays due to heavy snowfall.
Even though Siberian winter may have its appeal, in my opinion, the best time is the period between May and September, because the days are long and the climate, except in China, is not excessively hot (it may even be cold at night, especially in Mongolia).
What you need to prepare before your trip
Visas: Applying for visas for Russia, Mongolia and China may take one or two months. Make sure you start the process early enough.
Ask your doctor if you need any vaccines.
Are you looking for a tour along the Transsiberian railway?
That's all! If you have already decided that you want to travel on the mythical Transsiberian train but aren't sure of which agency to choose, we can recommend you a trustworthy agency. Just contact us through the form below:
Photo Credits: Photos by Sapore di Cina