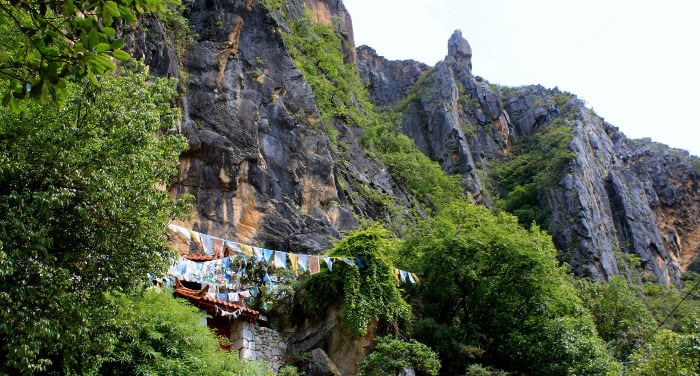 Tiger Leaping Gorge – Photos by Kristen Ng
This article will discuss my two day hiking experience on the Tiger Leaping Gorge (虎跳峡, Hǔtiào Xiá) during the summer tourist season, setting out from the tourist mecca of Lijiang, staying at a guesthouse on the gorge and returning back to the city.
Suggested Itinerary
Day 1
Lijiang to Qiaotou;
Hike from Qiaotou to Halfway House, stay overnight.
Day 2
Hike from Halfway House to Tina's Guesthouse;
Tina's to Lijiang Bus Station;
Lijiang onwards to Dali.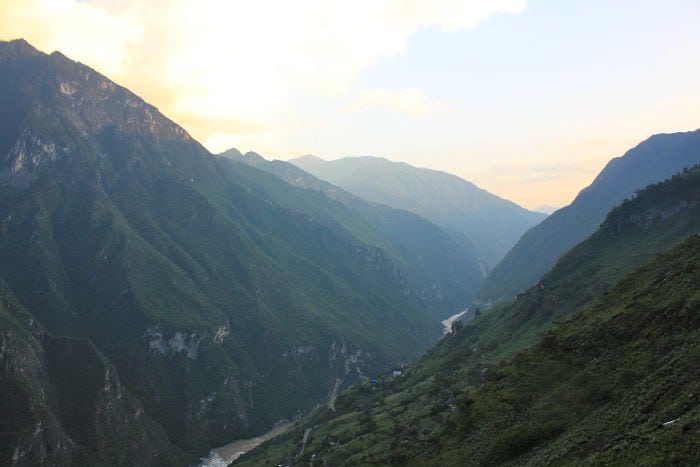 Tiger Leaping Gorge
Lijiang
Lijiang gets a tough rap these days. With the allure of Shangri-La to the north and the famed hippie mecca of Dali to the south, Lijiang is the Malcolm in the Middle of the northern Yunnan family. Uttering the word 'Lijiang' to Chinese people is unlikely to inspire confidence, and is often met with head-shaking sighs and stories about how it used to be. One of my Chinese friend's favourite insults is "she looks like a stupid tourist straight out of Lijiang." Enough said.
Lijiang Ancient Town is home to dozens of backpacker inns, hostels and shopping lanes, and is where I would spend my one night stand with Lijiang – at the delightful, affordable and cat-friendly Mama Naxi Guesthouse. A basic dorm bed with shared bathrooms was 50 Yuan, average for the tourist season. The living area and inner courtyard is pleasant to chill in. The Mama Naxi restaurant is open for breakfast, lunch and dinner, with many Western and Chinese options available at reasonable prices.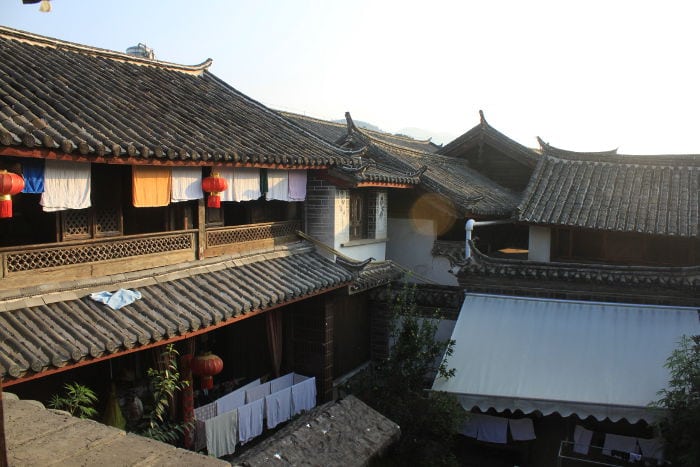 Mama Naxi Guesthouse in Lijiang Ancient Town
Designated as a must-see tourist destination, Lijiang's Ancient Town has obligingly transformed into the antithesis of its own name – with a bustling KFC on the corner, chain clothing stores blasting loud club music into the streets, and swarms of snack-eating, selfie-taking tourists. Lijiang Ancient Town is the mental image that springs to mind when imagining China's 'old town' cultural tourism traps.
"This is like the Chinatown of China," I thought, walking through the brightly lit lanes, – the renovated allusion to an ancient civilization, kitted out with all the hallmarks of modern consumerism.
In August, the pedestrian paths and footbridges form slow-shuffling conveyer belts of domestic and international tourists, flanked by the same factory grade trinkets, souvenirs and vendors that can be found throughout China's key tourist destinations. Nanluoguxiang in Beijing came to mind.
However, once one retreats from the main arteries of town, the foot traffic becomes less condensed, the novelty bongo drums fade away, and the whole environment begins to resemble something a lot closer sanity.
There is plenty of food available in the Old Town, ranging from elaborate seafood dishes to walk-and-eat snacks, to a good old bowl of noodles. I went for a 12 Yuan Naxi fried rice (纳西炒饭), which after a long bus ride from Shangri-La, definitely hit the spot.
Unfortunately with such a tight itinerary, I was unable to stay in Lijiang longer to explore beneath the surface. I've heard that the outskirts are home to stunning mountains and hills.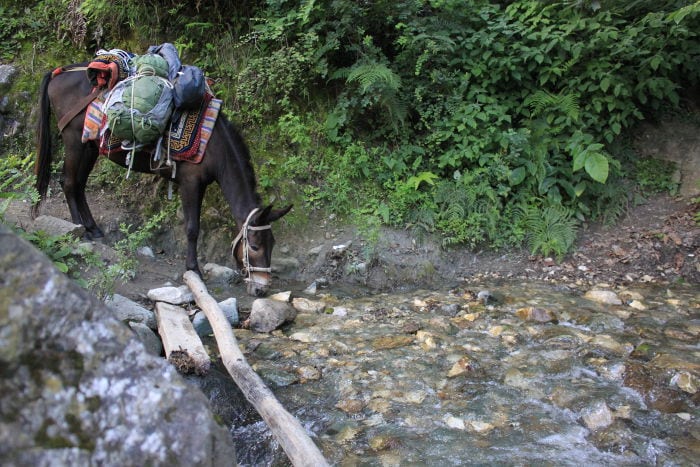 Tiger Leaping Gorge
The Tiger Leaping Gorge is a scenic canyon of the Jinsha River located between Shangri La and Lijiang, which is considered by many to be one of the best hiking areas in Yunnan, if not China.
Compared to the famous climbing destinations such as the monkey kingdom of Emei Shan (峨眉山) or the colossal 50 km stairway to heaven of Huang Shan (黄山), the Tiger Leaping Gorge seems to be relatively untouched by domestic Chinese tourists, meaning the ticket price is a bargain (65 Yuan general, 32 Yuan student with ID), the tracks are unrefined and there are no crowds.
What to prepare for the hiking
While one does not need to be an athlete to hike the Tiger Leaping Gorge, it is certainly advisable to wear sturdy, appropriate sports/hiking footwear and various layers of clothing. Pace yourself.
I advice you to bring a bottle of water and some energy food, such as chocolate or nuts. There are a few small shops (小卖部, xiaomaibu) selling drinks and limited munchies on the flat bit before the incline begins. Locals also sell a small range of drinks and snacks at points dotted along the gorge trail, but sometimes it can seem like a lifetime of hiking till you reach the next one, so best be prepared!
You should also bring cash for food, accommodation, 5 Yuan baggage storage, and the return trip.
Finally, you need some time. The trail along the gorge is not paved or lit at night, and does not have any safety barriers. Give yourself enough time to get to your chosen guesthouse to avoid dangerous climbing at night.
A typical stall on the gorge selling various homegrown produce
What can I buy on the gorge?
Snacks along the gorge are a little higher than standard prices and rightfully so, seen as the vendors haul their goods up the gorge to sell them. Expect around 5-15 Yuan for water, soft drinks, chocolate bars, cucumbers, crackers, etc. Bamboo walking sticks are also on sale.
Hot meals at guesthouses and inns along the gorge vary in prices throughout the tourist seasons. For cheaper alternatives, the shop just before the 28 Bends sells cup noodles and also provides hot water. Dried mountain-grown weed, pipes and lighters are for sale along the gorge. Jah man, bargain hard.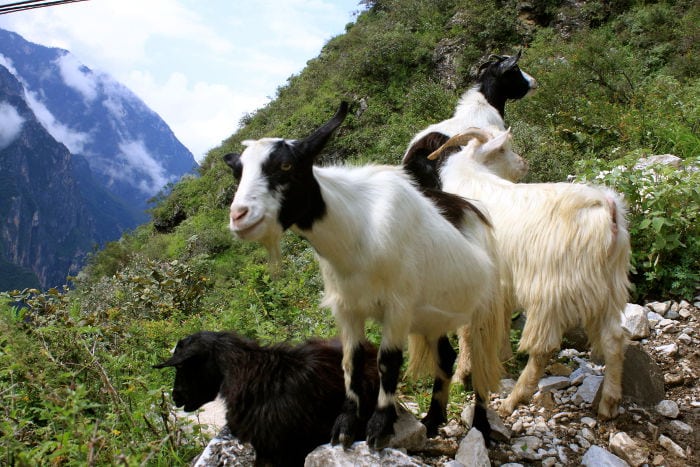 Where can I stay on the gorge?
There are several guesthouses at different points along the gorge trail. We opted for the Halfway Guesthouse for its location – yep, you guessed it, at the halfway point! There are mixed reports on how much it costs to stay here. We managed to get a private room with two single beds for 80 Yuan all up, because the dorm beds (30 Yan per person) were full. We used the shared bathrooms. Bargain wisely and it always helps if you can speak Mandarin.
Getting to Qiaotou, the start of the hike
While there are public bus options for getting to Qiatou, my friend Georgia and I opted to book our spots in the trusty Mama Naxi minivan the night before, a one-way trip to the Qiaotou entrance at 9 am every morning.
For 30 Yuan per person, the convenience was well worth it. Free of the need to rush about, I enjoyed a generous plate of delicious banana pancakes at the hostel that morning.
The breakfast menu at Mama Naxi puts on a formidable spread of Chinese and Western options, sure to please the majority of hungry travellers. As we planned to leave for Dali via bus straight after getting back from the, we took all our bags with us and packed a small backpack for the trek.
Arriving at Qiaotou
The Mama Naxi minivan stopped at Jane's Guesthouse on the stretch before the entrance to the gorge where you buy tickets. We stored our big bags in the baggage storage for 5 Yuan per piece.
The van then rolled up to a much more modern looking building, which had counters inside to buy tickets (门票, menpiao). With the flash of a student ID, the price was a measly 32 Yuan each! Certainly compared to some other natural attractions around China, this is very cheap.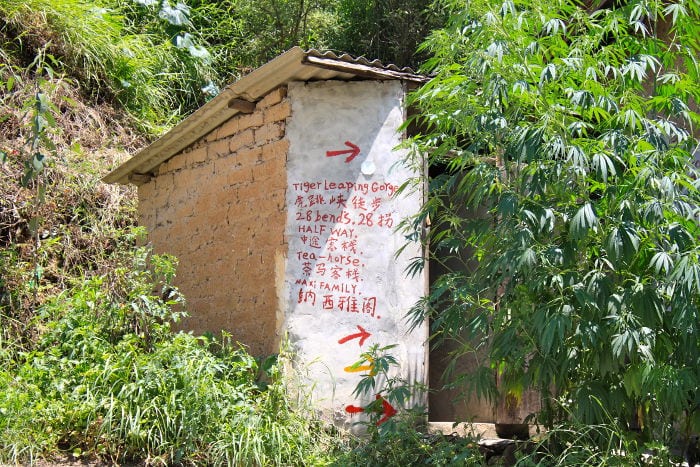 The hike begins
My body was still adjusting to the hot August humidity of Yunnan, having just left the high mountain altitude of south-west Sichuan two days before.
The first part of the hike from Qiaotou to the upper ridge of the gorge is steep, sweaty and unforgiving. We had to get up the canyon, about 1.5 km up a lumpy dirt track along the face of the hill. Regardless of your fitness levels, this part is pretty tough slog!
The area is peaceful and farm like; a few donkeys grazing on some tall grass, a few chickens clucking about on the dirt track.
Once we reached the track at the upper ridge, an old man picked up a pair of horses and began clopping up behind us, asking if we would like to ride. We politely declined, but realised he wouldn't be giving up that easy.
For the rest of the day, he would be clip-clopping behind us, the sound of the jingly bells around the horse's neck slowly breaking my soul, like a vulture waiting for his prey to collapse.
The Upper Ridge
The track itself was extremely varied in terrain. Up steep jagged rocks, through bamboo plants, past roosters and chickens, over ridges, flatlands, through deep crevices in the land trodden by years of horse hooves, past rock faces, over and under waterfalls. Beautiful.
Throughout the hike, we encountered little tables with sweets, fruit, cucumbers, water, Red Bull and occasionally other mountain produce.
I'd heard that weed grows freely on the gorge, rumours that confirmed themselves at the first cliffside table beneath a tarpaulin shade cloth.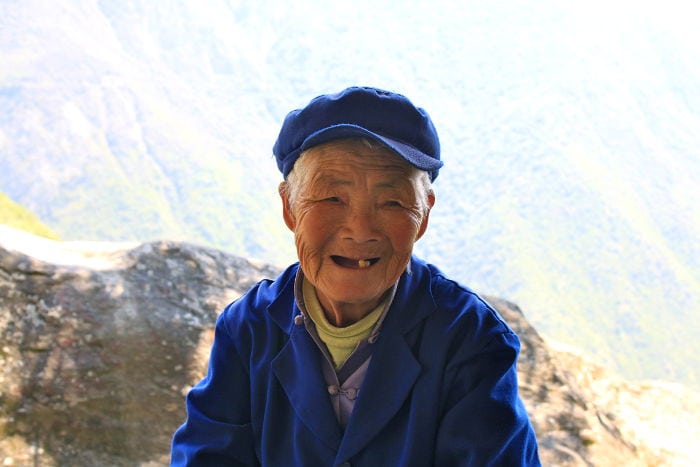 "要不要 ganja?" (do you want some ganja?) is not something I would ever expected to be asked by a wrinkled, 70-year-old woman. All day, we would come across bags of stalky, mountain weed being sold next to apples and on tables attended by little old ladies. 
We passed through cooler, shady areas of track, with sweeping views of the nearby village, even passing a small school with a basketball court.
It was hot. I'm not fit. Having to rest quite a bit, my friend eventually went ahead at a quicker pace. My sequence photos of her at the gorge is hilarious, they start with close ups and get further and further away until she becomes a tiny dot on the hill ahead.
Several sweaty hours in, we reached the mouth of the 28 Bends. A Swiss guy I'd met in Lijiang said it seems like you have started the 28 Bends about 30 minutes before you actually begin, so while we were hauling ass up the steep tracks, we were also bracing ourselves for the worst. Georgia went ahead and I rested at the little pit stop that sold drinks, snacks and cup noodles, being sure to utilise the 1 Yuan stone long drop.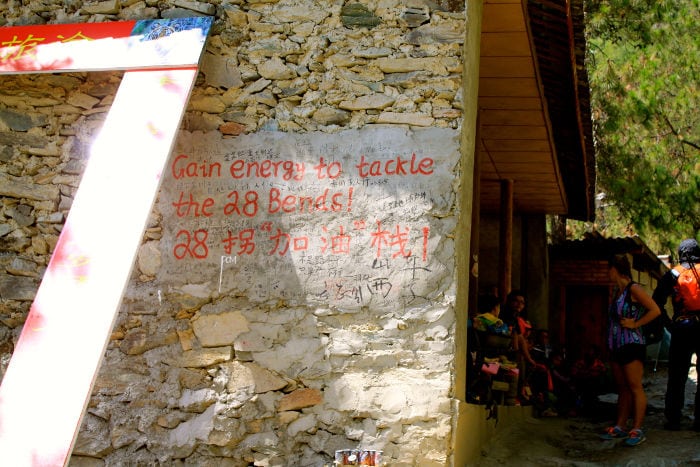 The 28 Bends
The 28 Bends are notorious for being the toughest part of the hike, a sign will notify you of the beginning at the foot of the hill. Deep, uneven and almost vertical grooves in the earth, which zig-zag twenty eight times up the canyon to the top.
Some Dutch girls from the minivan to Qiaotou passed ahead, saying I should've eaten some noodles down at the Naxi Guesthouse, which we'd passed several hours ago. That's when I realised I hadn't eaten anything since breakfast, and suddenly started to feel very empty. My bag was the lightest I'd ever taken on a hike, learning lessons from my past treks of Hua Shan, Emei Shan and Yading – the crucial oversight being no food!
Struggling with the never ending uphill battle and resting every two slow and laboured steps, my mind spun out into a 'oh my god, what if I pass out and nobody is here to save me' scenario, as I stared down the barrel of what seemed like an endless trail.
The sun was beating down. I only had quarter of a bottle of water left and no food. There was nobody else around.
Salvation
I collapsed on a rock and encountered two Chinese trekkers, who commented on me being lihai (厉害, hardcore) for climbing alone. They offered me a dry oat bar and told me to eat it slowly with water. Further along, I met a lovely Taiwanese woman who was also climbing alone. She urged me to eat the rest of her blueberry bread while we sat on a rock and caught our breath.
Two American runners were descending as we rested, saying there was only another 10 minutes to go! An exhausted climber trudged by with his bag mounted to the horse behind him. A plump, elder Chinese couple were slowly struggling up to the peak too, fanning themselves with trail maps and exchanging breathless bouts of "jiayou!" (加油, keep it up!)
The small number of people on the hike was astonishing, as it is a seriously beautiful place. I gained familiarity with several other climbers, all of whom were supportive and friendly – we would say hello and share words of encouragement, then continue through the track where no one else was around.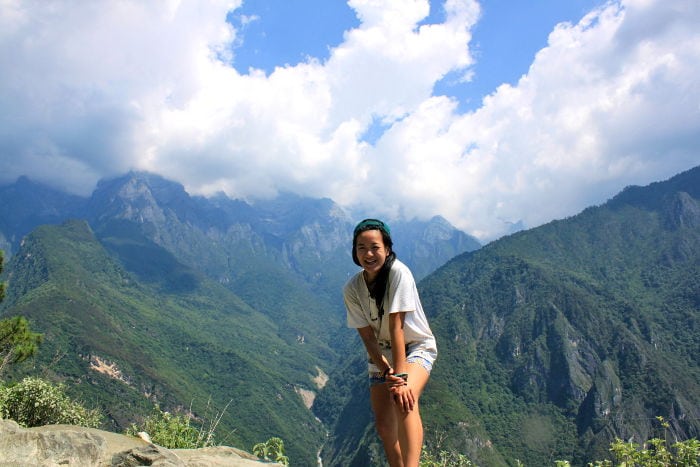 Me at the peak
The Peak
Arriving at the peak was joyous and totally worth it. The views of awe-inspiring hills, snowy mountains wearing cloud veils, and raging waters slithering through the canyon. Staggered steps of vibrant green crops lead down to the water and villagers tended to their gardens below. An enthused mountain businessman was encouraging people to take photos for 8 Yuan on the rock viewing area, which he claims to have built himself, precariously protruding off the side of the cliff. Once I weighed it up and paid him, he suddenly took on the airs of a fabulous fashion photographer, taking my camera and shooting from different angles on different rocks. Gotta hand it to him, the guy knows his shit.
Onwards to the Half Way House
We set out for the Half Way House where we would crash for the night, hoping to reach our destination before dark. The trail became a lot more forgiving after the peak, more downhill and clad with bamboo, trees and low lying bush scrub. Conscious of nightfall with several kilometres to go, we picked up the pace to avoid falling over on the slippery rocks and mud underfoot, or worse, off the side of the cliff.
We encountered a few people every hour, especially local gorge people along the way. A small girl ran home down the track with a bunch of fresh spring onions, while an old lady with a woven basket strapped to her back laughed at me dragging myself up another steep rocky incline.
These last few hours through to the hostel were gruelling – my tank was empty. The second half involved a long flat track stuck to the side of the cliff, where we encountered waterfalls streaming down the mountains and off the side of the cliff. Beautiful, and quite easily lethal.
Be careful and steady footed!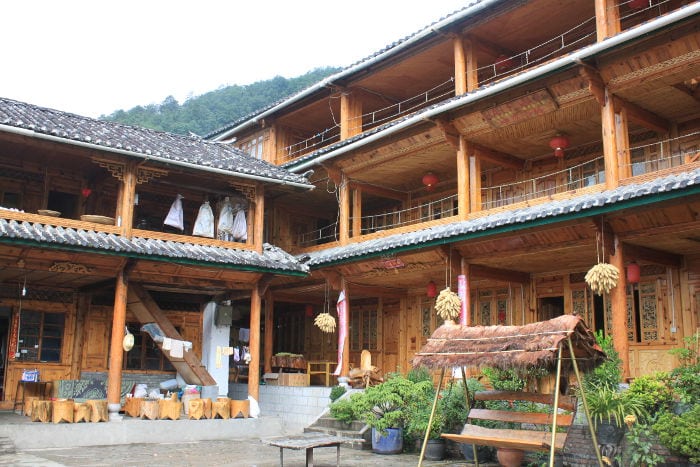 Half Way Guesthouse
Arriving at Half Way House was a dream. Some travellers have mixed reviews of this place, favouring some of the other guesthouses along the trail, but I was very happy with it, especially after a whole day of hiking. The hostel itself has an open courtyard in the centre and is rather pretty to look at.
Lodgings: We were able to get a cheap double room without booking in advance for 80 Yuan. The room was simple, the beds were comfy and we were able to recharge our batteries (electronic and otherwise).
Amenities: The shared showers and bathrooms are not exactly glamorous, but they will do the job. The toilets at Halfway were half open air and provided some of the best views I've ever seen in my life. Strangely enough.
Food: Good. The menu houses the usual line-up of Chinese chaocai (stir fried dishes) for around 20-25 Yuan per dish depending on if you order meat or not. Includes stir fried local veges (清炒白菜), kungpao chicken (宫保鸡丁), egg and tomato (番茄炒蛋), etc. Breakfast range also available.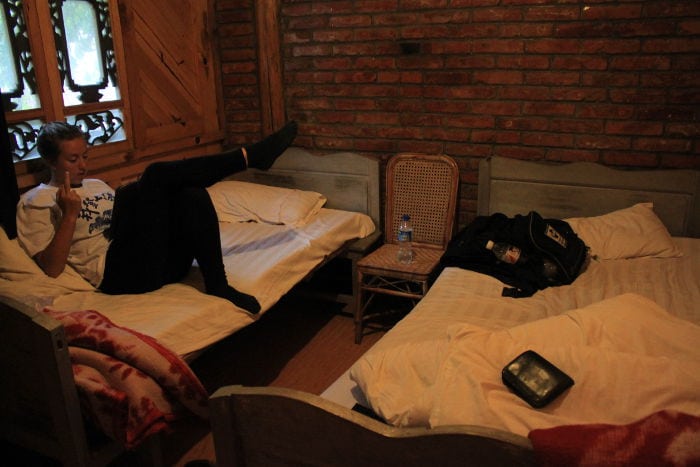 Balcony: The hostel is home to an incredible wooden balcony, perched above the gorge and planted in the centre of the mountains, furnished with wooden chairs, tables and swinging chair sets.
Atmosphere: Good vibe. People from all over China and the world just hanging out, having a beer, staring out across the mountains, with a few rolling up their herbal purchases from the gorge.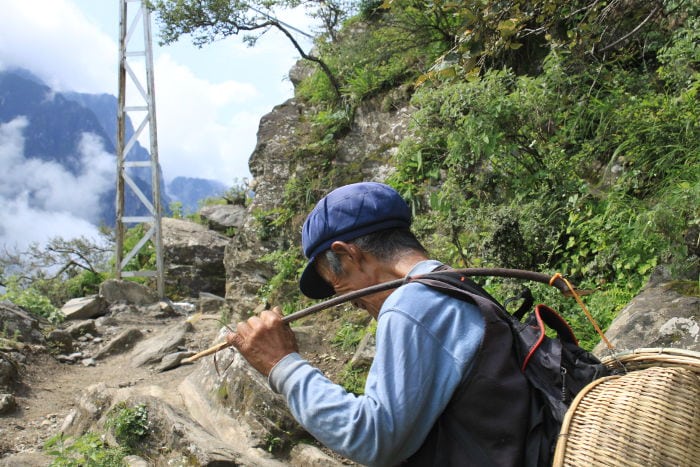 The second day of hiking along the Tiger Leaping Gorge
Day 2 – the trek to Tina's
It had rained early that morning, so we were glad we'd slept in and could trek to the end without having to trek in the mud. The remainder of the hike was a lot shorter than we expected, yet involved a river crossing, climbs up large rocks in the earth and a hike through the bush to get to Tina's, the end of the road. Wild goats shuffled about on the trail.
The driver who had brought us to the gorge had given us his card, so we called him upon arriving at Tina's to arrange a ride back to Lijiang. This is where speaking Chinese is especially useful. We managed to wrangle a middle-aged Aussie couple and a Portuguese chick and a Brazilian guy to split the van with us back to the city, equalling out to about 40 Yuan each.
Arrived at Tina's!
Back to Lijiang
The driver took us back past Jane's Guesthouse so we could grab our bags. The road back was long and winding. I've found that when the driver takes a phone call on the road, it usually means a whole bunch more people are gonna get in or a whole bunch of people will be rallied to try and sell you shit. Unsurprisingly, it was the former. Back to Lijiang we went, packed like sardines as three women from the village piled in to the van.
We asked him to drop us at the Lijiang Bus Terminal, where we bought tickets to Dali and headed south.
Conclusion
The Tiger Leaping Gorge is a beautiful hiking trail and travel destination. The gorge is full of diverse terrains and local people, and so far has not been developed into a mainstream tourist attraction. Those with more time could even stay several nights there, or explore further past Tina's Guesthouse. Highly recommended.
Photo Credits: Photos by Kristen Ng