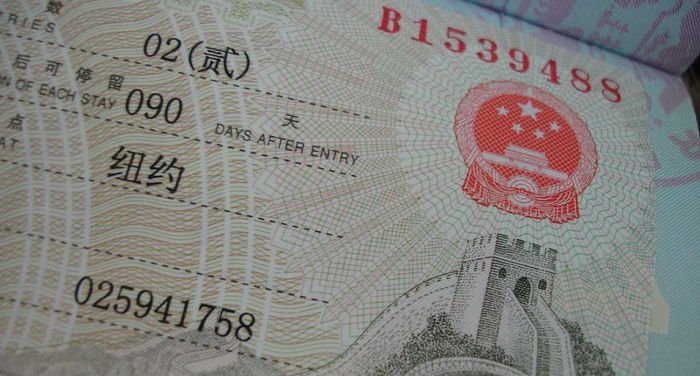 If you have a passport from a European country, USA, Canada, New Zeland or South Korea it's possible to get a business or group tourist visa directly online at Here Shanghai (former Chinese Visa Direct), a platform authorized by the Ministry of Public Safety of the People's Republic of China.
This means you can get a visa without going to the consulate or mailing your passport.
Important: Emission of Chinese Tourist Visas has been resumed since March 15th, 2023.
The advantages of online visas
The Tourist eVisa is cheaper than getting an ordinary visa in a CVASC because there aren't any other intermediaries or consular fees;
You won't have to go to the consulate or mail your passport, saving time and worrying about losing your precious document.
The eVisa is valid for 30 days from the date of entry in China (before it was valid for 30 days from the date of visa approval, and thus you could stay in China for fewer days).
Disadvantages of online visas
You must enter China within 15 days of visa approval. This means that if, for example, your visa is approved on July 5, then you must enter China before July 20, as the day of approval (July 5 in this example) will also be counted. If you don't enter China within 15 days, your visa will automatically expire.

Note that this is not a big issue: as long as you know what day you arrive in China, you can simply apply for the visa around 20 days before. You can also apply months before, as you visa will only be processed 15 days before departure.

If you apply for the group tourist visa, you will get only a visa for the whole group, thus you can't separate from your group (this visa is good if, for example, you're planning on visiting China with relatives or friends);
The Business e-Visa is a Visa-Upon-Arrival (VOA) and can only be applied for by individuals entering China for business purposes via Shanghai-Pudong International Airport.
e-Visa is only available for business or tourism. If you need a work or student visa, etc (or a multiple entry visa) then you'll have to go through the conventional procedure. Click here to learn how to get a Chinese visa through conventional channels.
How can I get a Chinese visa online?
First of all, this type of visa is meant primarily for those traveling to China for business or as a group for tourism purposes.
If you're thinking of using a tour operator, then all you have to do is explain to the travel agency that you intend to apply for your visa online so as to spend less and not have to mail your passport. It will be the agency to handle things directly after registering on Here.
Here is the complete procedure for applying for an online visa:
Click here and register with the platform online;
Choose your type of visa (Group Tourist Visa, Business Visa, Urgent Visa, etcetera);
Insert the personal information of all the people that are taking part in the trip to China;
Upload a scanned copy of the photo and information passport pages of all the people that are taking part in the trip to China (note that all passports must be valid for at least six months from the date of return);
Upload a photo for each person that is taking part in the trip to China (the photo must show the full face, have a light color background, and have the same dimensions as a passport photo);
Upload a copy of the round trip airline ticket and a copy of the hotel reservation for the entire stay in China for the people that are taking part in the trip;
Upload an invitation letter (only business visa)
Pay the fee by credit card (Visa or MasterCard), PayPal, or bank transfer;
Here is an online visa fac-simile, provided by Here Shanghai: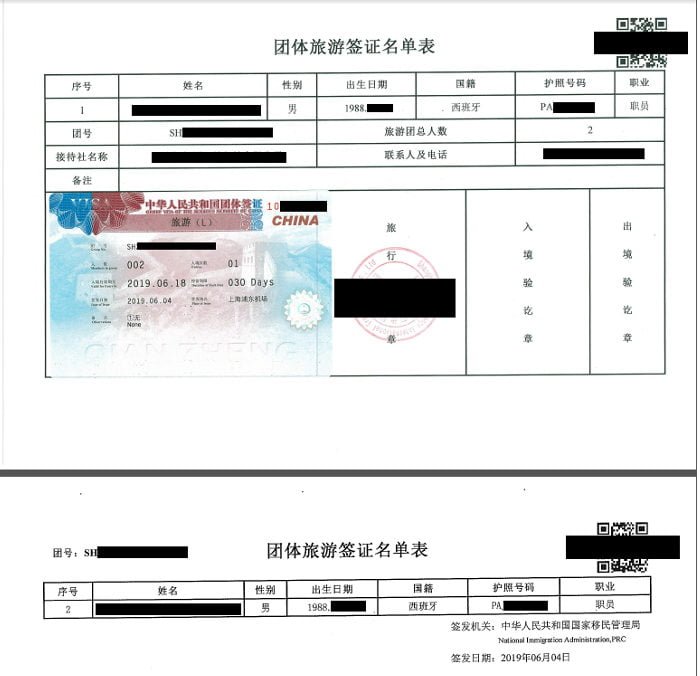 How much does an online visa cost?
Business eVisa: The basic price is 249 EUR (the price may be higher, according to your citizenship and the urgency).
Tourist Group eVisa: The price starts at 165 EUR per person (excluding USA 215.00 EUR and UK 195.00 EUR). 157 EUR with our exclusive discount.
Click here to see the list of prices for all admitted nationalities.
Can I trust Here Shanghai (former China Visa Direct)?
As for today, what we can say is that we got a positive testimonial from Michele Serra, which works for Mistral Tour Internazionale, a reputable Italian Travel Agency.
In short, he told us that they are using online visas for their clients since February 2016, and so far they are satisfied with the service.
We also got some positive testimonials from some of our readers, which we don't report here as we can't verify the identity of the readers.
Besides this, we're not aware of any specific Chinese law that explicitly claims that you can get a Chinese visa online (but neither that you can't). So far, the only information we could find is that The Exit and Entry Administration Law of the People's Republic of China, which came into force on July 1, 2013, states the following:
"Travel agencies that organize inbound tourism in accordance with relevant State regulations may apply for group tourist visas from port visa authorities."
As you can see, the law is rather vague.
Further, note that all the information presented in this article was taken from China Visa Direct's website (and not from websites belonging to the Chinese government).
Thus, our recommendation is that, before to apply for a Chinese visa online, no matter the agency you choose to use, you contact your flight company and make sure that they are familiar with the online visa, so that you won't have any problem at the moment of boarding your plane.
When should I apply for the visa?
The agency suggests that you apply for the visa at least 20 days before the departure date. They also say that if you apply for the visa too in advance, the system will process it so that it arrives at most 15 days before departure. So this is fine too.
Note that the visa will expire if you don't enter China within 15 days, from the day of your visa's approval.
When and how will I get my visa?
Once the application is approved by the Chinese Ministry of Public Security, the tourist visa will be sent by international courier (DHL) to the address, you specified on your application.
The visa consists of a single stamped page (we recommend making at least one photocopy for each member of the traveling party once you get it) that will be endorsed on arrival to China and given back when you leave China.
The Bussiness eVisa will be emitted once you arrive at the Shanghai Pudong International Airport. A worker from Here Shanghai Agency will be waiting to help you in the process.
Can I require an online visa if I travel alone?
Generally speaking, the online visa is only available for groups of travelers.
You can apply for a single business visa if you arrive at Pudong Shanghai airport.
How long does my online visa last?
The visa is valid for 30 days from the date of entry.
As was already mentioned, you must enter China, and thus use your visa, within 15 days of visa approval, or the visa will expire.
What happens if, for some reason, I can't leave China before my visa expires?
In this case, you'll have to alert the local authorities and apply for a visa extension, which cannot however surpass 30 days. You'll have to present your application, directly or through an authorized agent at the Office for the Exit and Entry Administration of the local Public Security Bureau.
How many entrances are permitted with an online visa?
One. The online visa will be withdrawn when you leave China.
Can I apply for any type of visa online?
No, as I already said the online visa is almost only good for those to visit China for tourism or business (and for periods of 30 days maximum). If you intend to apply for a visa for different reasons, with a longer duration or more than one entry, then you'll have to go through conventional channels.
Notice that the business visa is only available if you arrive at Pudong Shanghai airport.
If I'm part of a group, can I choose an itinerary that's different than the other members of my group once we arrive in China?
No. That would be illegal. All members of a group must travel together and stay in the same hotels for the entire length of the trip.
Can two people with different nationalities apply for a group visa?
Yes, as long as both people have passports from one of the countries enumerated on the list.
Note that for the visa application, it's the passport, not where you live that count. For example, a Russian with a British passport can apply for a visa online, while a British with a Russian passport cannot (since Russia is not on the list of admitted countries).
What if someone in my group can't go?
The group visa will be updated accordingly and all other participants can enter China without worry.
Photo Credits:

VISA for entry into China by Heidi Strean