Review of the e-Book "Xinjiang: A Travelers' Guide to Far West China"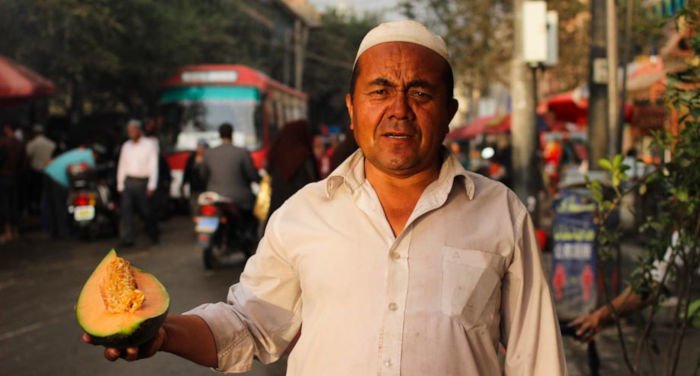 Xinjiang is one of the biggest provinces in China and located in the located in Northwestern parts, bordering to nine countries and three Chinese provinces. Being the home to many ethnic minorities, especially Uyghurs, Xinjiang has played an important role throughout China's history, mainly as the Silk Road passes through the province.
The province is rich in mountains, lakes, deserts, and steppes, offering splendid sceneries to travelers. If you plan to travel to Xinjiang, don't look any further. In this article, we explain all the details of how you can get there, which cities and sites you should visit, what to eat, and much more.
Key Information
Chinese Name: 新疆
Location: Northwest of China
Provincial capital: Urumqi
Area: Around 1.66 million square km
Population: Around 21 million and where 60% are ethnic minorities
Ethnic groups: 47 (examples: Uygur, Han, Kazak, Hui, Mongolian, Russian)
Famous Cities: Urumqi, Turpan, Kashgar
Borders to: Tibet (province), Qinghai (province), Gansu (province), Mongolia, Russia, Kazakhstan, Kyrgyzstan, Tajikistan, Afganistan, Pakistan, India
Is it safe to travel to Xinjiang?
Although there are many checkpoints around Xinjiang and travelers are often asked to show their passport for verification, as far as we know travelers generally don't have any issues when visiting Xinjiang and interacting with the locals. The issue is mainly related to the stricter surveillance and controls that were implemented since 2009.
That said, you should be prepared to be stopped by police officers for questioning and to show your passport. It can be somewhat time-consuming and frustrating to some travelers, but generally not an issue if you really want to experience what Xinjiang has to offer.
Nevertheless, we still advise that you check the news or with your embassy to get the latest information about travel warnings and advisories for Xinjiang as things can change from time to time.
Do I need a special travel permit to Xinjiang?
This question is asked by many foreigners who plan to travel to China and wish to visit Xinjiang. In short words, there's no official special permit for foreign travelers to visit Xinjiang. But you should keep in mind that the "freedom of movement" is more restricted compared to most of the other provinces in China.
Thus, be careful to visit rural and off-the-beat areas. You should preferably contact a local travel agency and see what recommendations they have.
Another question asked is whether you should put Xinjiang in your travel itinerary when applying for a tourist visa, as it happens that foreigners get rejected a visa. With the increased surveillance in Xinjiang, some claim that it's better to avoid including Xinjiang in the itinerary.
Yet, it's not common that Chinese police officers asked why you didn't include Xinjiang in your itinerary after arriving. Do what you think is the best and what makes you feel most safe.
How to get to Xinjiang?
Travelers often prefer to reach Xinjiang by plane or by train (if staying in China). Below you can find more information about your best travel option.
Going to Xinjiang by flight
Even if Xinjiang has international airports, travelers from overseas usually change flights in some of China's biggest cities, such as Beijing or Guangzhou. It's also far more common that travelers start in any other of China's provinces and cities, like Beijing or Sichuan, before continuing to Xinjiang by domestic flights.
At the moment. there are only two international airports available in Xinjiang, one in the provincial capital Urumqi (Urumqi Diwopu International Airport) and one in Kashgar (Xinjiang Kashgar Airport), which is the second-largest airport.
Urumqi's airport has developed much over the years and 40 airlines now have around 150 routes for persons traveling abroad or within Xinjiang.
There are 12 airports available (both domestic and international) located in the following in cities:
International
Domestic
Qiemo
Hotan
Aksu
Yining
Tacheng
Burqin Kanas
Turpan Jiaohe
Kuca Qiuci
Karamay
Bole Alataw
As Xinjiang is located far away in the Northwestern parts of China, you better take a flight if you depart from China's East Coast. If you're traveling in provinces like Tibet, Sichuan, or Qinghai, going by train might be a more memorable experience, unless the travel distances are too long.
Going to Xinjiang by train
Traveling by train to and within Xinjiang will allow you to see some of Xinjiang's most beautiful sceneries. On top of that, it's cheap.
You'll reach Xinjiang from Lanzhou (Gansu province) if you take the Lanzhou – Xinjiang High-Speed Railway, which connects Lanzhou with Urumqi. It costs around 550 RMB for a ticket and takes you 11 hours to reach Urumqi.
You can also take the train from major cities, such as Shanghai, all the way to Xinjiang. The price for a soft sleeper is around 150 USD and the ride will take you 40 to 44 hours.
In the past years, Xinjiang's railway system has developed quickly and you can even find so-called "tourism trains", offering entertainment, gyms, and bathrooms.
Just keep in mind that Xinjiang is one of the biggest provinces and the travel distances sometimes long. Below I've included a summary showing the travel-times for various destinations from Urumqi:
Kashgar: 20 to 23 hours
Turpan: 1.5 hours
Yining: 10 hours
Hotan: 31 hours
Kuqa: 11 hours
Beitun: 12 hours
Hami: 5 hours
Tickets cost between 23 RMB and 318 RMB, according to the distance and the class. If you think that some of the travel distances are too long, you better go for a domestic flight.
What's the best time to visit Xinjiang Province?
The best time to visit Xinjiang is during the autumn, which normally stretches from August to September. At this time, the climate is cooler, the wind is not so strong, and the vegetation being fragrant and lively. Many local and foreign travelers go to Xinjiang during this time due to the many ripening fruits.
Temperatures fluctuate in Xinjiang and evenings can be cold, while the weather is comfortably warm in the daytime. During the winter, there's a lot of snow in the region, while temperatures can reach up to 30 degrees over the summer.
The hottest period is from June to August with temperatures ranging between 20 to 25 degrees. Thus, the summers tend to be more comfortable compared to the Southern and Eastern parts of China.
Accommodations in Xinjiang
Xinjiang is not short of hotels, but it can be a challenge to find a hotel that suits your budget, needs, location preferences, especially in smaller cities and remote areas. Truth be told, there aren't as many options compared to the bigger cities.
Despite the many travel guides and online portals available, I recommend you to check Agoda, Trip, and Booking. They have plenty of options available and with great discounts.
Agoda
Agoda provides the best offers for hotel-bookers in Asia. It has a wide hotel network in China, which is generally better than that of Booking. The only drawback of using Agoda is that the coverage can be scarce in some parts of China, especially in smaller cities and remote areas.
Booking
Booking is one of the biggest and most popular hotel-booking websites in the world. But, its coverage and hotel-network is smaller than that of Trip and Agoda. You should still have a look at the website as they offer great deals from time to time.
Trip
There are a bunch of hotel booking websites in China where Trip is regarded as one of the best. It's also one of the few decent websites in English where you can manage payments with non-Chinese banks. Trip offers the best coverage in China among these three websites.
One of the drawbacks of using Trip is that you often see hotels that cannot cater to foreigners and they don't display many international hostels.
Hotel prices in Xinjiang
Looking at prices, 3-star hotels will set you back 48 USD per night on average according to Booking.com. 4-star hotels are slightly more expensive at 51 USD per night. 5-star hotels aren't that expensive and you can get a room for as little as 129 USD per night.
What to see in Xinjiang?
Xinjiang is famous for its spectacular views with lakes, nature reserves, deserts, wildlife, and mountains. These provide great opportunities for hiking and memorable photographs.
Below I've listed some places that you should consider visiting while in Xinjiang.
Urumqi
Urumqi is the provincial capital of Xinjiang and has an abundance of artifacts and history as it was one of the main stops on the Silk Road, which connects China with Central Asia and all the way to Europe.
Most travelers arrive in Urumqi and start from here, as it serves as the province's "hub" and transportation center. You can reach Urumqi by international flights, domestic flights, buses, and trains.
Even if the majority of its people are Han Chinese, it's a cultural melting pot with oriental flavors and a central-Asian culture. You'll most likely spend your days absorbing this new atmosphere and indulging in its local cuisine, but there are also a few spots that you see before leaving Urumqi.
Grand Bazaar
The Xinjiang International Grand Bazaar is the biggest bazaar in the world, covering almost 40,000 square meters. Simply put, it's a place that you must see when visiting Urumqi.
The bazaar has more than 3,000 booths selling oriental products such as nuts, fruits, garments, carpets, pots, jewelry, and instruments. Here, people cram to view the spectacular colors and enjoy the exotic smells, mixed with domes and arches.
There's also a food square within the Bazaar, being more than 3,000 square meters big. Everything from local kitchens to franchise stores offer delicious food, including local noodles, sheep, and fruits.
Some claim that the area has become touristy over the years with high prices, but it's a place worth visit.
Xinjiang Regional Museum
You cannot leave Urumqi before visiting the Xinjiang Regional Museum. You can find more than 50,000 items, including mummies, historical relics, and artifacts, created in the last millennia.
The museum covers 7,800 square meters, so be prepared to spend at least a couple of hours there. The opening hours are currently as follows:
Apr. 15 – Oct. 15: 10 AM – 6 PM
Oct. 16 – Apr. 14: 10:30 AM – 6 PM
There's no entry after 5 PM. Be sure to double-check the opening times before visiting, to assure that you won't arrive when it's closed.
Heavenly Lake of Tianshan (if you have the time)
Heavenly Lake of Tianshan is located around 110 km away from Urumqi, as such, it takes some time to get there. The lake is shaped like a half-moon, around 3 kilometers long, and 700 meters wide. It's a great scenery as you'll see the lake with its crystal-clear water being surrounded by mountains with snowy hill-tops.
Sadly, we've seen a great influx of Chinese tourists over the years, a reason why it has somewhat lost its reputation. It can be worthwhile visiting the lake if you walk away from the tourist groups, further down the lake, to more quiet areas.
Buses depart every 10 minutes until 8 PM Beijing time, taking you back to the main gate.
The entrance fee is 95 RMB for adults.
Altai Mountains (Kanas and Hemu)
Xinjiang has many tall mountains (K2 is one of them) where the Altai Mountains is one of the most popular destinations among travelers. It's located 670 kilometers from Urumqi in the northern tip of Xinjiang and Kazakhstan, Mongolia, China, and Russia cross over the mountains.
The highest elevation is 4,506 meters, located in the Russian part of the mountains. The mountains offer spectacular views and should preferably be visited with a travel agency.
Turpan
Turpan is a city located in the Eastern parts of Xinjiang, having around 630,000 people. It's mainly famous for its unique Uyghur culture, great scenery, food, history, and old monuments.
Nowadays, you can visit the city within just one day thanks to the high-speed railway system.
If you visit Turpan, you should visit the local food and night markets, trying out dishes and drinks like local kebab, noodles, and tea. It offers a relaxed atmosphere with less tourists.
You should also pay a visit to the surrounding vineyards and the well-known Emin minaret. It's the tallest minaret in China with a height of 44 meters.
Jiaohe and Gaochang, two ancient cities, are located 10 and 46 kilometers away from Turpan respectively and worth visiting. Jiaohe is smaller in Gaochang, but has more preserved ruins. Thus, Jiaohe should be your choice if you only plan to visit one of them.
Kashgar
Kashgar was an important stop on the Silk Road with a history that stretches back more than 2,000 years. Being a cultural epicenter, the city has become an important part of Xinjiang's economic expansion.
One of its most famous attractions is the Live Stock market, one of the biggest and most colorful in Xinjiang. You should also pay a visit to the local mosques, where Id Kah with its yellow colors stands out the most. It's the biggest in China and the third biggest in the middle of Asia. Thousands of visitors go to the mosque every day.
Visiting the night markets and old town should also be on your to-do list, which is a unique experience on its own.
Karamay
Karamay is located in Northwestern Xinjiang and the richest city in China, thanks to its oil reserves. Yes, you heard that right. As a result, the streets are clean and wide, the sparkling neon and tidy parks also bring a feeling that it's more well off.
Karamay has many spots worth visiting, including the Ghost Town, which is located around 100 kilometers away. The area covers 100,000 square meters with wind-erosion physiognomies, one of a few in the world. You can hear the wind howling over the landscape and it's famous for the unique shapes.
You should also pay a visit to the Baiyang River Canyon, which has become a popular sightseeing spot.
Korla
Korla is located 200 kilometers Southwest of Urumqi and the second biggest city in Xinjiang. It has 800,000 inhabitants that mainly consists of Han nationals, Uyghurs, Mongolian nationals, and Hui nationals.
Korla offers spectacular views with vast forests, lakes, mountains, and hills. The climate is comfortable and the land fertile which makes it a good place to grow tomatoes, fruits, and cotton.
One of its most well-known fruit is the bergamot pear which has a strong flavor and fragrance, thus being called the king of fruits.
Some locations you should visit in Korla include the Iron Gate Pass, the Ancient City of Loulan, Bosten Lake, and Bayanbular Grasslands.
Hotan
Hotan is located in Southwestern Xinjiang and with a population of 300,000 people. It's a big oasis north of the Kunlun mountains. Hotan played a vital role in China's trading industry and was one of the main stops on the Silk Road.
You can find many historical sites here, including the Ancient City of Mallikurwatur, Ancient City of Niya, and the Ancient City of Yoktan.
Food in Xinjiang
The food in Xinjiang is similar to the Turkish and central-Asian cuisine. A clear difference to the eastern parts of China is that locals eat more bread and dishes (such as noodles) are made of wheat instead of rice.
You'll also find many fruits, such as grapes, peaches, melons, and figs. Common spices used when cooking include red pepper flakes, cumin seeds, raising, salt, and black pepper.
Some of the most characteristic dishes you should try are:
Kawap (Roasted mutton kebabs)
Da pan ji (chicken soup)
Laghman (noodles)
Liang Mian (Cold noodles)
Mutton soup
Polu (fried rice with mutton)
Naan (flatbread)
If you want to read more about and see pictures, I recommend you to read our separate article that is dedicated to food in Xinjiang.
Photo Credits: Photos by Sapore di Cina