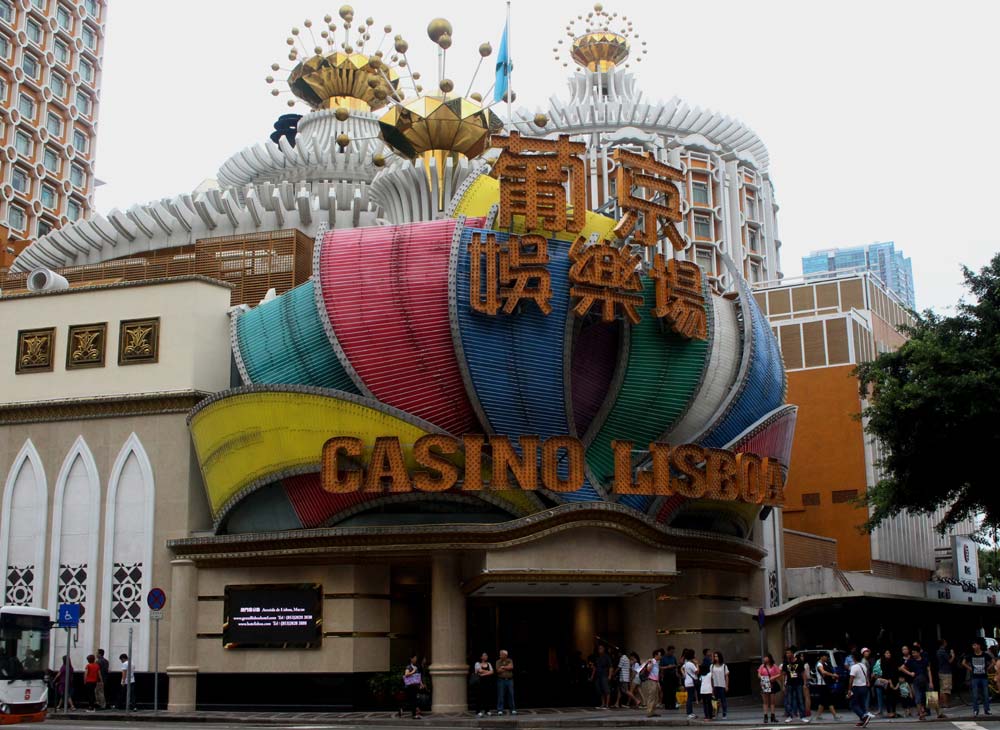 The Lisboa, Macau
The gambling Mecca of Macau is located at the mouth of the Pearl River Delta. It is joined to mainland China at the border with the coastal city of Zhuhai. Macau became a colony of Portugal in 1557. As an ancient city port, it became a major oriental trading post and is steeped in rich history. It was finally handed back to China in 1999 and is now a "special administrative region" and recreational haven for Chinese and international tourists.
Tiny Macau is actually growing as a result of an extensive land reclamation program. Three small islands have become two, with Taipa Island joining sleepy Coloane via a massive landfill project. Macau Island is no more. A large sandbar has expanded into a strip of land that has joined mainland China with the original island of Macau, transforming it into "Macau Peninsula".
There is much to see in Macau aside from the casinos and luxury hotels. Sadly it seems to me that its heritage and culture has been neglected in favor of these large entertainment resorts that dominate the islands. Macau was awarded with UNESCO World Heritage status but this has a lot more to do with its colorful past history than its current day association with gambling!
Personally, I was a little disappointed, although I did enjoy walking around the historic center and I marveled at the glitzy casinos with their neon lights and unusual facades. Hotel Lisboa is definitely worthy of a photo or two.
If you love gambling then Macau is for sure the Las Vegas of the east. You can choose to stay at either the older hotels and casinos on the peninsula or the newer, larger casino and entertainment resorts on the Cotai Strip, the area of reclaimed land on Taipa Island.
In this guide you can find information about: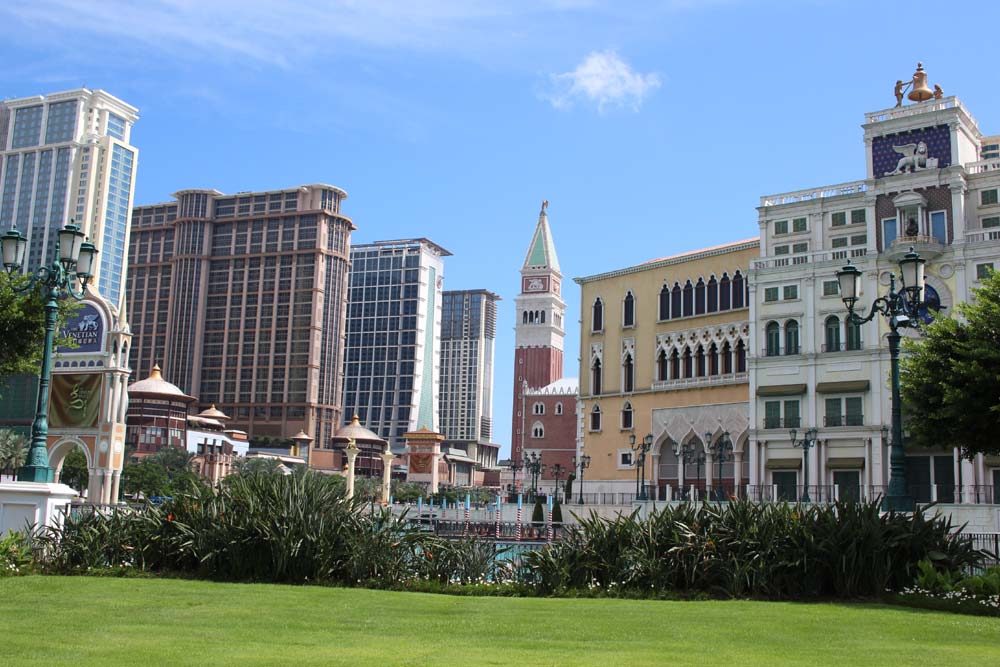 Modern hotel complexes along the Cotai Strip on Taipa Island
Where to stay in Macau
Macau isn't a cheap place to stay, but you can find hotel offers online. We stayed at the 4 Star Harbourview Hotel in Fisherman's Wharf – it's a new Chinese run hotel, and our western faces earned us an instant upgrade to a deluxe room with a seaview. The extensive buffet breakfast was included in our $100 USD per night, along with free in room Wi-fi(no VPN required in Macau), and access to a quite luxurious indoor pool area.
The hotel is a twenty minute walk to the historic area but there's a bus stop, taxis and free shuttle buses right outside the entrance. Sands Casino is just across the road and the ferry terminal only a little further along the coast to the east. All very luxurious and very convenient!
For other places to stay, check out our earlier guide to the "Best Hotels in Macau"
If you're visiting to experience the history and culture of Macau, then stay on Macau Peninsula in one of the smaller hotels. You should spend a couple of days exploring on foot to really experience what Macau has to offer. Stroll around the narrow streets and meander through the small lanes in the historic district. You'll get a much better feel for the Portuguese influence and its past contribution to this small area of China.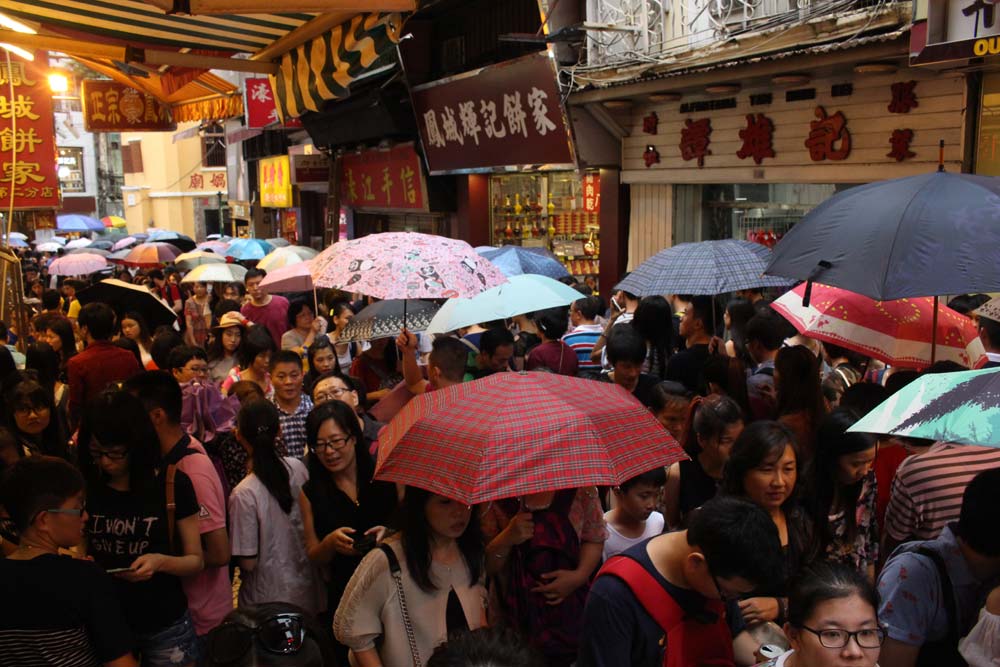 The narrow streets of the Historic District
When arriving in Macau, I would strongly suggest you pick up a really useful walking guide called "Step Out". It's free, written in English and comes with a separate map showing all the routes. It can also be downloaded as a useful app for your phone.
Having a map really makes a difference to orientation here in Macau, especially if you are short on time. We collected our guides after passing through the border – just look out for the tourist information kiosks at the Border Gate, Airport or Ferry Terminals.
The Macau Tourism website is also a great source of up-to-date information – all available in English.
Currency in Macau
The currency of Macau is the Macanese Pataca or MOP and it is subdivided into 100 avos. The abbreviation MOP $ is commonly used. However, in most places you can also use Hong Kong Dollars or Chinese Yuan for payment.
The MOP is pegged to the Hong Kong Dollar. So, where purchases are priced in MOP and you decide to pay with Hong Kong Dollar, you will be charged a 1:1 rate. This means you will pay more by using Hong Kong Dollar due to the exchange rate. We got the best value by paying in Chinese Yuan.
There's a good article at this link here. It explains more about which currency is the better choice and where you can use Hong Kong Dollar or Yuan in Macau.
Visa Requirements
Like Hong Kong, Macau has its own immigration policies separate from mainland China and you will need to check the visa requirements. However, nationals of 75 countries do not need a visa for tourist visits or short term business trips.
Nationals from other countries can usually obtain a visa on arrival. For the latest information on visas you can check the government website here.
Getting to Macau
The most popular entry points are by air to the international airport on Taipa Island, by ferry to either Macau Peninsula or Taipa Island, or by foot across the border with mainland China at Gongbei, in the city of Zhuhai.
Macau International Airport
This small airport with its runway built out to sea on reclaimed land, serves domestic and international flights into and out of Macau. Departure tax is currently (2015) $110 MOP. Transfer times to anywhere in Macau shouldn't take more than 30 minutes. There are free shuttle buses to most hotels on Taipa island or you can choose local buses or taxis.
By ferry from Shenzhen
Reaching Macau from Shenzhen by ferry is easy. It takes an hour from Shekou Port and costs 200 Yuan each way. You can arrive in Macau Peninsula at the Macau Outer Ferry Harbour, or you can travel to Taipa Island to the ferry port close to both the airport and the newly developed Cotai strip. Ferries run throughout the day at half hourly intervals (except over lunch) and it takes about an hour.
By ferry from Shenzhen, via Zhuhai
If you're on a budget or would like the option to combine your trip with a second Chinese city, you can take the ferry from Shenzhen to the mainland coastal city of Zhuhai and cross the border into Macau at Gongbei. The ferry ticket costs only 115 Yuan each way.
On arrival you can catch Bus 3A outside the Zhuhai ferry terminal (walk left out of the port and then cross the road at the bus stop), which will take you to the bus terminal at the Gongbei border crossing for just 2 yuan. Once across the border, take a bus or taxi to your hotel, or wait for the free shuttle buses.
This option adds around 1.5 hours to the trip, but if you haven't visited Zhuhai, you do get to see another city on the way to Macau. It is worth considering as an overnight stop as there is plenty to do here. Read my previous article for more information: "Travel to Zhuhai – a coastal gem in southern China"
By ferry from Hong Kong
This is the only way to get to Macau from Hong Kong, unless you can afford a helicopter! It takes around 90 minutes and costs around $120 HK. You can catch TST ferries from Shun Tak in Kowloon, or Turbojet ferries from Hong Kong Island. From Hong Kong, ferries run from 7.00am until midnight every 15 minutes.
If you want to arrive at Taipa Island Ferry Terminal for easy access to the Cotai strip, there are now regular routes with Cotai Water Jets. You'll be only 10 minutes drive from all the new casinos and entertainment venues such as The Venetian, City of Dreams and Studio City.
Routes can change and timetables do get updated, so check out the up-do-date details at this website which provides links to all the ferry companies servicing Macau.
Macau Peninsula – Main Attractions
It's on Macau Peninsula that you'll find the Historic Centre and many of the old Portuguese colonial buildings, churches, museums and gardens. You'll find a mix of old and new, as well as some of the original 1970's casino hotels like the famous and striking Hotel Lisboa. The Macau Outer Ferry Port and the mainland border crossing from Zhuhai are both entry points to Macau Peninsula.
There are many bus routes that will take you to points of interests and these can all be found listed on the tourist map. Alternatively you could use a taxi.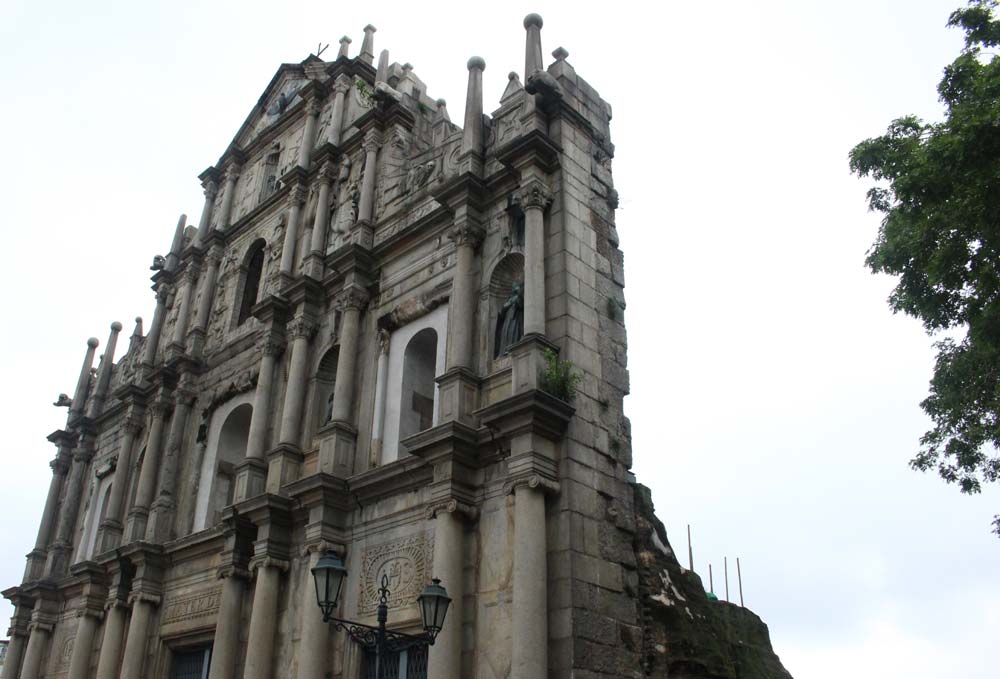 St Paul's in the historic center of Macau
The Ruins of St Paul's
In the heart of the city stands the stone carved facade of St Paul's. This is all that remains of the first Church of the Jesuits in China, after a fire destroyed the rest of the building in 1835. The facade itself is spectacular – it dominates the hill at the end of the main tourist drag that leads up through small food and novelty shops.
You'll be offered (without pressure to buy) no end of free samples of Chinese beef jerky and small almond biscuits. We munched happily as we were swept along with crowds of Chinese tourists making their way up and down this narrow street to and from the ruins.
Mount Fortress & The Macau Museum
Built by the Jesuits at the same time as St Paul's, the fortress provided effective protection against the Dutch back in 1622. It later became the Governor's residence, and it now houses the museum. There's a small admission charge that gives you access to three floors of arts and crafts, antiques and other local artifacts.
Senado Square and St Dominic's Church
Macau's main square is now pedestrianized and paved with a wave patterned mosaic, created by experts from Portugal. It extends all the way form Senado Square to St Paul's, although it's hard to see beneath the sea of tourists that filter into the square from the nearby shopping area.
At the far end of the square stands St Dominic's Church, with it's baroque architecture built by the Dominican friars in the 17th century. It is famous for its altar, decorated ceiling, fine statues and other sacred art which is mostly displayed in the old belfry.
Guia Fortress and Lighthouse
Located on the highest point on the peninsula, the Guia Fortress was built in 1622 and the area provides some great panoramic views across Macau and beyond. The lighthouse was built in western style and is the oldest of its kind on the China coastline. It's still used as a beacon of light for ships passing by Macau.
A-Ma Temple
This is the most famous temple in Macau. It has four levels of prayer pavilions and it is set into a hill that rises from the waterfront of the inner harbor. The pavilions are linked by winding paths and moon gates, and they are dedicated to the Taoist Goddess of A-Ma (also called Tin Hau), and the Buddhist Goddess of Mercy (or Kun Lam).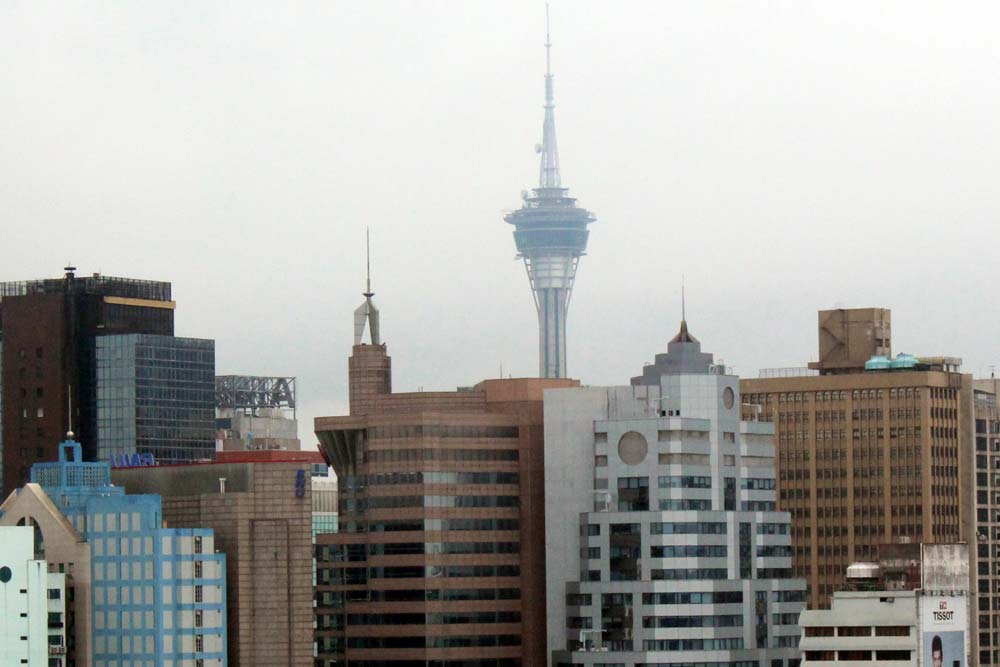 Macau Tower in the distance
Macau Tower
Opened in 2001, the Macau Tower is 338 meters high and it provides views over Macau and much of the Pearl River Delta. You can visit the observation deck and revolving restaurant, but probably one of the most exciting activities on Macau is the opportunity to "skywalk" around the outside of the tower.
Alternatively you can experience the world's highest bungy jump at 233 meters, or take an hour or two to climb (harnessed of course) to the top of the tower point. Finally you have the option to "skyjump". Simply step off the platform and enjoy the flight all the way to the ground.
None of these options seemed particularly appealing in 34 degrees of heat, but I'd certainly like to return to take the "skyjump" sometime in the future. It isn't cheap at 3000-4000 Yuan upwards, but it is a once in a lifetime opportunity! All of these activities are operated by A J Hackett and you'll find all the information you need at their website
A selection of churches
With its European influence, there's no shortage of churches dotted around the Historic Centre on the Macau Peninsula. They include:
St Lawrence's Church
St Joseph's Seminary
St Augustine's
St Anthony's
St Dominic's (Senado Square)
All of these churches can be found in the "Step Out" guide mentioned earlier. There's also a cathedral which was built in 1622, and a quite interesting Protestant Cemetery, where some of Macau's most famous residents are buried. One of these departed residents is the English artist George Chinnery.
Moorish Barracks
Built in 1874 to accommodate an Indian regiment from Goa who were appointed to reinforce Macau's police force.
Lilau Square
There was a natural spring here that used to be the main source of water for the whole of Macau. It is also one of the first Portuguese residential areas.
The Mandarin's House
A traditional Chinese residential compound home, displaying a mix of Chinese and Western architectural detailing. It's the former home of the prominent Chinese writer Zheng Guanying. In 1886 he wrote his acclaimed masterpiece, Shengshi Weiyan (Words of Warning in Times of Prosperity).
Taipa Island, Cotai and Coloane – Main Attractions
There are two bridges connecting Macau Peninsula with Taipa and you can travel easily between the two islands, by bus or taxi. Taipa Village maintains some original charm, but for the most part the newly developed Cotai Strip (the Las Vegas of Macau), now dominates this part of the island.
You'll find yourself dwarfed by huge casino and hotel complexes like The Venetian, City of Dreams and Macau MGM, to name but a few. This is world class day and night entertainment with glitzy shows, designer shopping, restaurants and of course, the casinos.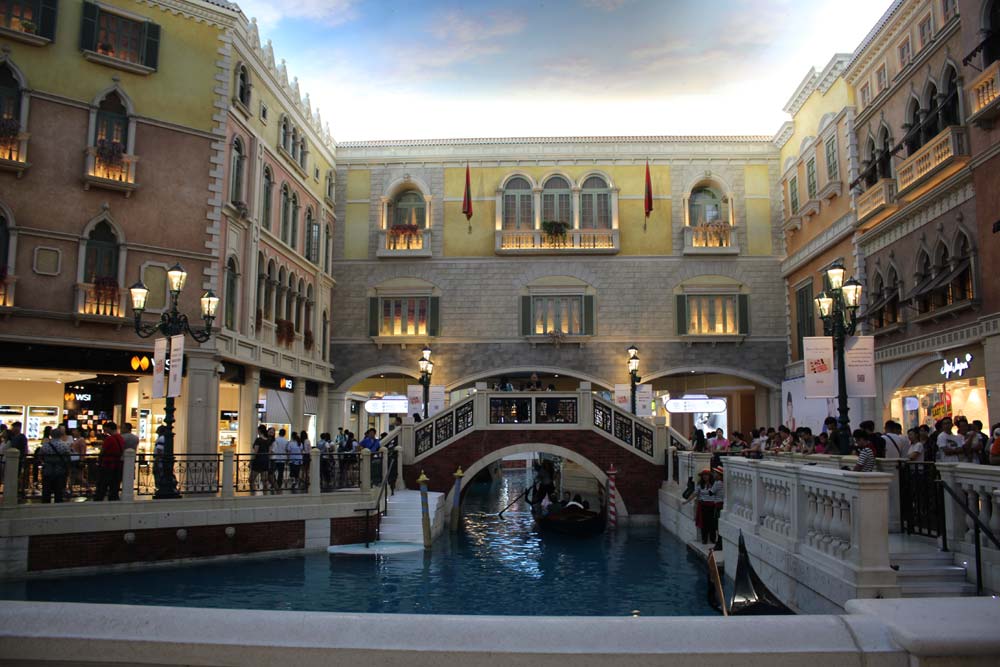 Inside The Venetian's replica of Venice
If you have any issue with hoards of people, over bearing commercialism or gambling on a massive scale then be warned – you may find this disturbing. Whilst impressive, The Venetian bothered me – once inside this huge replica of parts of Venice, I lost all sense of where I was. It's a clever ploy to keep you in the building spending your money. It was like venturing into the set of the movie the Truman Show – the sky looks real, there are no visible wall or ceiling boundaries, but finding your way out is like negotiating a very sophisticated maze.
On the other hand these places were filled with people obviously enjoying the excitement, the buzz and the glamour. I guess it just isn't for us all.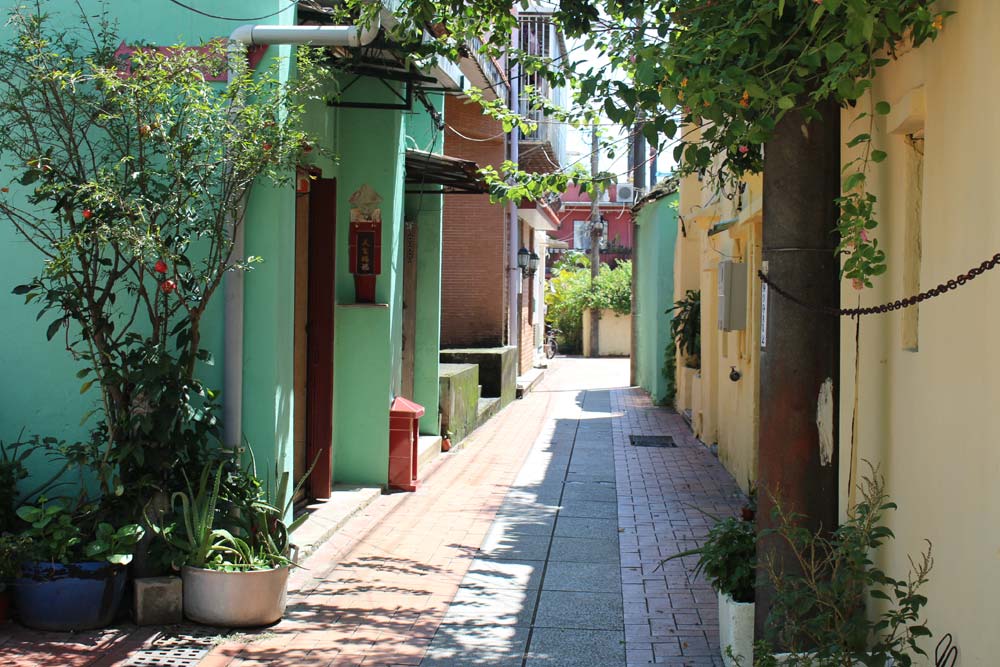 The backstreets of Coloane Village
Coloane is much quieter – I guess you could call it the countryside of Macau. The former fishing village with its shops, square, temples and church is also where you can buy the small egg tarts directly from the ovens of the Lord Stow Bakery.
It's a quiet backwater with little to offer the ardent tourist, but it does provide a glimpse of Macau's original heritage. We took the bus on a round trip to see the beach at Hac Sa, where small food kiosks offer BBQ lunches. Unfortunately, neither the beach or the sea looked very inviting!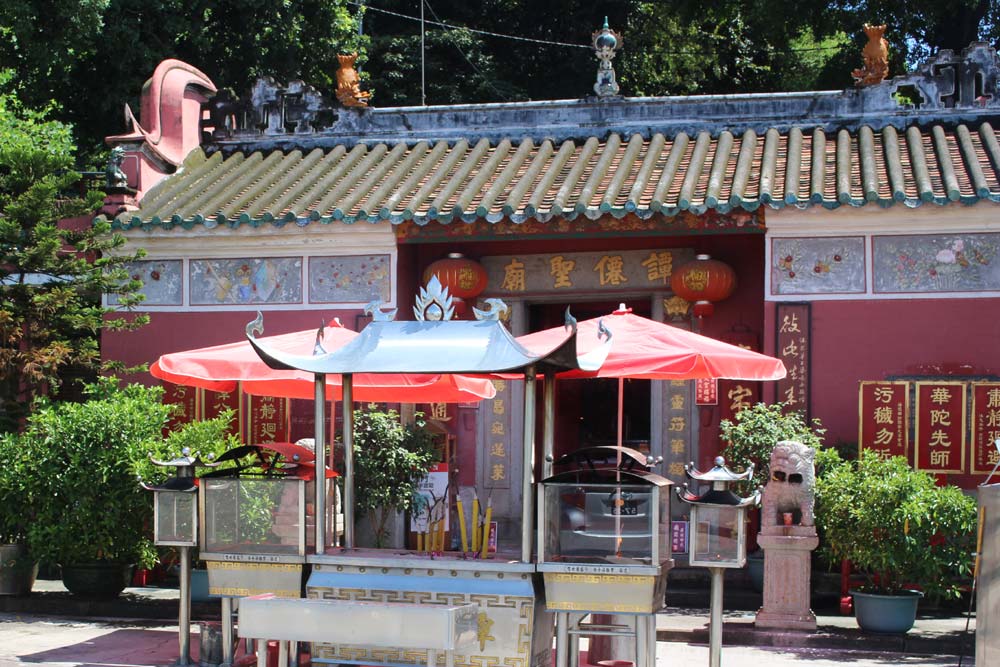 Tam Kong Temple in Coloane Village
Taipa Village
A visit to Taipa Village is less of an onslaught on the senses. Here there are small shops, restaurants and the famous green painted villas that were built by the wealthy families of Macau back in the 1920s.
You might also visit the Po Tai Un Buddhist Monastery. It's located behind the Regency Hotel, this is a place of pilgrimage and has an area reserved for visiting monks. There's a very beautiful prayer hall and a popular vegetarian restaurant.
In the same area of the village you can also visit the Tin Hau Temple dedicated to the Goddess of Seafarers.
The Taipa Houses Museum, Taipa Village
See the full description below in section on "Museums of Macau". This is definitely a must see and it will give you plenty of background history about Macau before exploring other areas.
St Francis Xavier Chapel, Coloane Village
In the center of Coloane Village stands a small chapel which was built in 1928 to enshrine a relic bone of the saint (which has since been removed). Apparently it still attracts pilgrims although they are mainly from Japan. The chapel is on a European style square in an area of ancient banyan trees that provide shade for the small restaurants serving Chinese lunches.
Seac Pai Van Park and Macau Giant Panda Pavilion, Coloane
Situated at the north western end of the Alto de Coloane, this is a large public park with a walk in aviary, a zoo and the Macau Giant Panda Pavilion. There are indoor and outdoor living enclosures modeled on the natural terrain of the panda's habitat. There's also a panda information center.
If you can't make it to mainland China to see the pandas in Chengdu, then this is a great place to see them in a natural environment. Combine a trip to the Panda Pavilion with a quick tour of the Agrarian Museum (Museum of Nature). Entry is free and twenty minutes is plenty of time to see everything on show in the two small museum buildings.
There is an entry fee for admission to the Panda Pavilion – more information can be found at this link.
On top of Alto de Coloane hill stands a huge 20 meter statue of the goddess A-Ma. In the A-Ma Cultural Village close by, there is a temple, offering pilgrims (and tourists) a place of quiet retreat.
Museums of Macau
There are many museums in Macau – the best of them are listed here. All of them, unless stated, charge admission although most are free for children under 10 and seniors over 65. Average charges between $5 and $15 MOP.
Macau Museum
Located in the Mount Fortress, this is a historical and cultural museum showcasing exhibits over three floors.
It's closed on Mondays but is open 10am to 6pm every other day of the week and public holidays.
Macau Museum Website
Maritime Museum
This building is in the shape of a sailing ship anchored in the Inner Harbour on Macau Peninsula. You can learn about the history of Macau's fisherman and about the legend of the Goddess A-Ma in the theater. There's plenty to see here and it might be more interesting for children, with its aquariums and life size maritime exhibits.
It is closed on Tuesdays but open 10am to 6pm on other days.
Macau Maritime Museum Website
Taipa Houses Museum (Taipa Village, Taipa Island)
Built in 1921, these were the original residences for the high superiors and their Macanese families. The houses have now been transformed to exhibit the Macau style of furniture and household objects from the early 20th century.
You can learn about how the residents lived their daily lives, as you visit each of the well preserved historical homes with their pretty green exteriors. Each house is a small museum giving a different perspective on the history of Macau and how it was colonized. It's a great place to learn about the history of Macau and is probably a good starting point for any tour of the islands – it provides an appreciation of many of the other historical buildings you are likely to visit.
It is open every day except Mondays, from 10am to 6pm with FREE admission on Sundays.
Wine Museum
A museum dedicated to explaining the history of wine and its importance in Portuguese culture, traditions and daily life. There are more than 1000 different Portuguese wines on display including an extremely old bottle of port from 1815. Entry is currently free but you will have to pay for the optional wine tasting.
It is open every day except Tuesdays, from 10am to 8pm
Grand Prix Museum
This museum was officially opened in 1993 to commemorate the 40th anniversary of the Macau Grand Prix. Every November in Macau, hundreds of racing drivers compete in different categories, including the annual FIA Formula 3 Intercontinental Cup. The city's streets become part of the Macau circuit, which is considered to be one of the most demanding in the world. It includes tight challenging corners and fast straights where cars can reach up to 275km an hour. The museum contains 30 exhibits made up of some of the most unique Formula 3 cars and motorbikes together with their related memorabilia.
It is open every day except Tuesdays, from 10am to 8pm (in the same building as the Wine Museum)
Macau Museum of Art
This is the only art museum in Macau and it has five floors of galleries dedicated to Chinese calligraphy, ceramics, and artist collections from Macau and around the world. There are also many historical pictures and temporary exhibitions. There is a library, free internet services and a workshop for various art courses.
It is open every day except Mondays, from 10am to 7pm
Macau Museum of Art website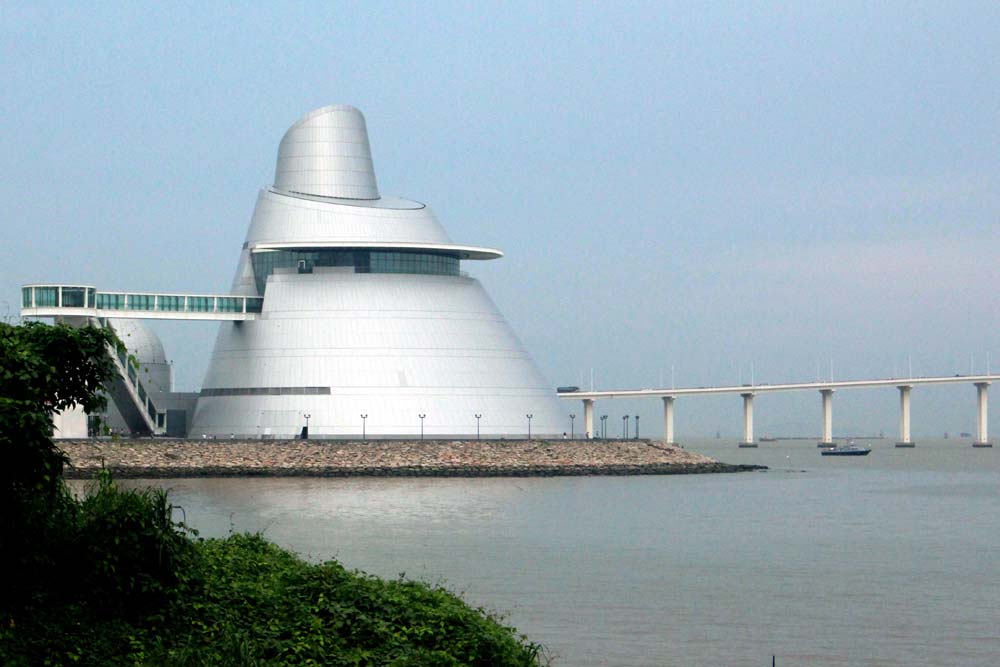 The Science Museum building on Macau Peninsula
Macau Science Museum
A modern, space age building not far from Fisherman's Wharf, with permanent galleries covering topics such as Science for Children, Technology, Environment and Lifestyle. It's a "hands-on" space in which you are encouraged to explore science in a physical way. This makes it more fun if you have kids. There is also a Planetarium equipped with some ultra high density 3D projectors where you can watch astronomical dome movies!
It is open every day except Thursdays, from 10am to 6pm.
Macau Science Museum website
Shopping in Macau
There's plenty on offer for shoppers in Macau and luxury items are cheaper here than in neighboring cities. You'll find clothing, jewellery, electronics, Portuguese wine and Chinese food delicacies. Dried meat is really worth trying, a sort of Macanese style beef jerky (but better in my opinion). The small shops will let you try the different flavors – a great lunch option if you haven't the time or inclination to stop at a restaurant!
We took the opportunity to buy a new computer in Fortress, the electronics store popular here and in Hong Kong. It's virtually impossible to buy a computer with the English language installed on mainland China due to Windows restrictions, so a visit to Macau provides the opportunity to buy replacement computers at reasonable prices.
There are many shops selling authentic antiques and good reproductions all over Macau and in Coloane village. The best choice is in the area around St Pauls at the bottom of Mount Fortress.
The area around Senado Square is one of the newer shopping areas and it is good for clothes, shoes and accessories.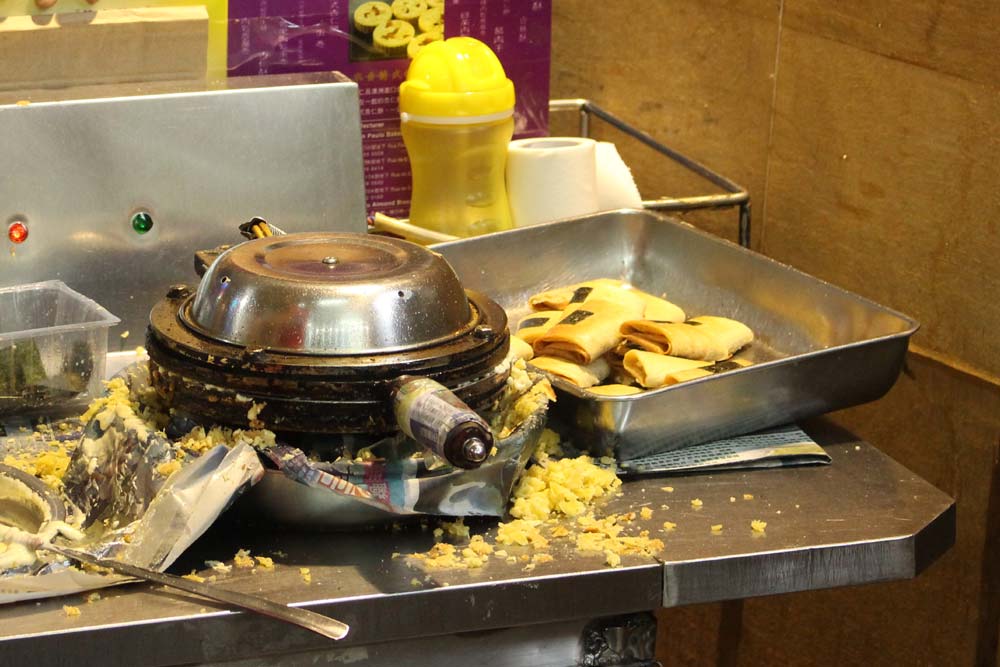 Tasty snacks in the busy shopping area
You'll experience more adventurous shopping if you can find your way to "Felicidade", which was once a thriving red light district. This is a great place to browse the shops selling everything from jewellery and dried beef to live snakes!
The Red Market is located on the corner of Avenida Almirante Lacerda and Avenida Horta e Costa, in the direction of the border gate to Zhuhai. This is a market where you will find food of every type possible!
Finally, for high end designer brand clothing, accessories and gadgets simply browse the shops close to all the major casinos and five star hotels. If you want to get lost in a maze of up market shops simply head to The Venetian on the Cotai Strip. But be prepared to queue for up to an hour to get the free shuttle buses back to the Peninsula as you'll be one of thousands of other Chinese shoppers!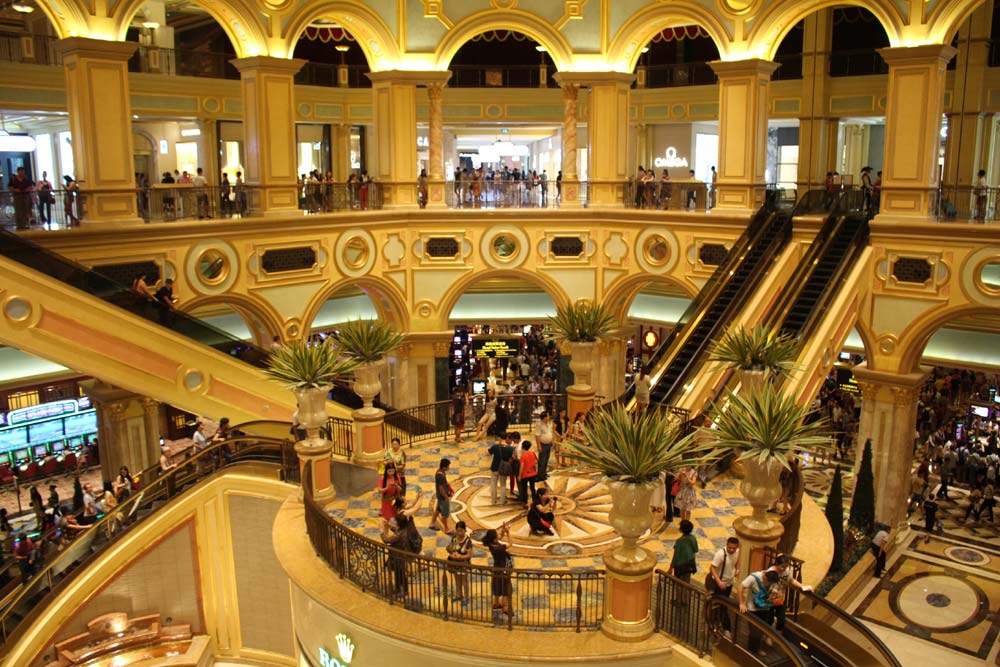 The glitzy casino inside The Venetian's huge entertainment complex
Conclusion
The new bridge that traverses the sea for almost 30 Km between Hong Kong and Macau, is scheduled to open in 2016. This will make Macau even more accessible to holidaying visitors. But if you think that Macau is only about gambling, casinos and luxury hotels, then you would be mistaken. It is a colorful mix of the historical old and the luxurious new, and in that sense it has something to offer everyone.
For whatever reason you are visiting, I would urge you to first spend some time to indulge in the atmosphere of old Macau, before you are swept away into the world of poker and baccarat. Once ensnared you may never make it out again to experience the true essence of this small peninsula.
I'd love to hear about your experiences in Macau – it's changing all the time, so any new information is most welcome!
Photo Credits: Photos by Vanessa Anderson