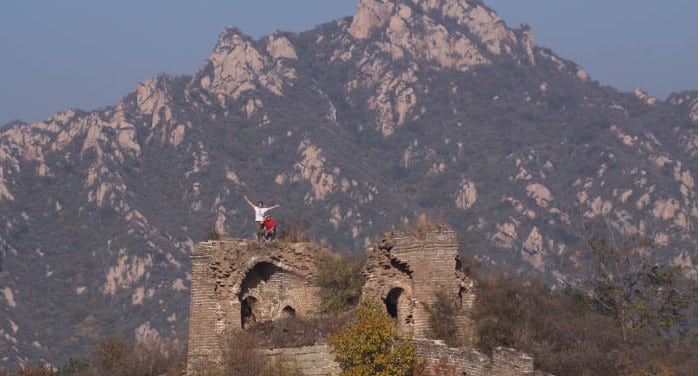 If you find yourself in Beijing and want to visit a section of the Great Wall of China, you'll only have the burden of choosing: from the most famous and touristy in Badaling to the wall in the water of Huanghuacheng, passing by the wild wall of Gubeikou.
But which section to choose?
Today we'll speak about the Wall at Mutianyu which, after the section in Badaling, is certainly the most famous.
Reasons to visit the Wall at Mutianyu
I recommend the section at Mutianyu for the following reasons:
It is not extremely crowded, especially compared to Badaling. Obviously, we recommend avoiding weekends and Chinese vacation periods;
It offers numerous tourist services, such as shops, restaurants, cable cars and lifts;
It offers the longest stretch of restored wall (more than 2 kilometers);
With only a 20-minute walk it connects with different sections of the original wall that still haven't been restored;
It offers what is likely the best-conserved stretch of the Great Wall of China. The walls are of granite, 6-7 meters high and 4-5 meters wide. The section has blackbirds on both the outside and inside, which is almost unique to the Wall;
Getting there is relatively easy.
That said, it is however a very touristy section. If you'd like to enjoy the Wall in complete solitude, then I recommend you visit other areas, such as the already mentioned Gubeikou, where two sections meet – both unrestored – of the Wall: the sections of Panlongshan and Wohushan.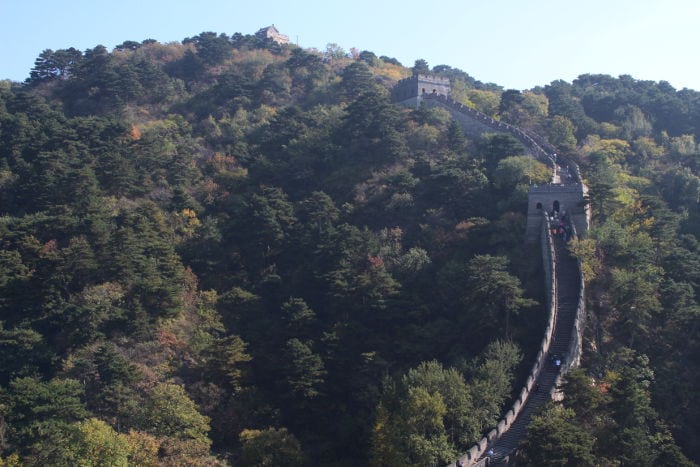 How to get to the Wall at Mutianyu
To get to Mutianyu, which is about an hour and a half away from Beijing, is relatively simple: all you have to do is take bus 916 快 or 916 Express (the ticket costs 12 Yuan, be sure to make sure that it's the official bus which leaves every 15 minutes) from the bus station in Dongzhimen (reachable by metro lines 2 or 13). The difference between the two buses is obviously a matter of time – the express is quicker.
Go down to Huairou Beidajie (柔北大街). There you'll find numerous minibusses and several private cars that will wait for you to offer a ride to the Mutianyu section of the Wall.
These minibusses and unofficial taxis are the only way to get to the destination. For a car with four seats available, you shouldn't have to pay more than 60 Yuan, 15 per person. If you're alone, or a couple, group up with other tourists and negotiate the price, starting with 10 Yaun per person to then get up to 15.
Be careful because during the bus ride on 916 or 916 Express, at every stop you'll see people get off, even with blue uniforms of bus drivers, telling you that you've already arrived at Huairou Beidajie and that it's time to get off. Don't be fooled! These are minibus drivers that want you to get off earlier in order to ask you for more money. Count the stops and get off at Huairou Beidajie.
If in doubt, ask the driver, showing him the ticket with Chinese writing 柔北大街. For the return, do the same in reverse.
There is also a direct touristic bus that departs every day from the same place at 8:30 and returns from Mutianyu at 4:00 pm. The bus ticket costs 30 Yuan per person.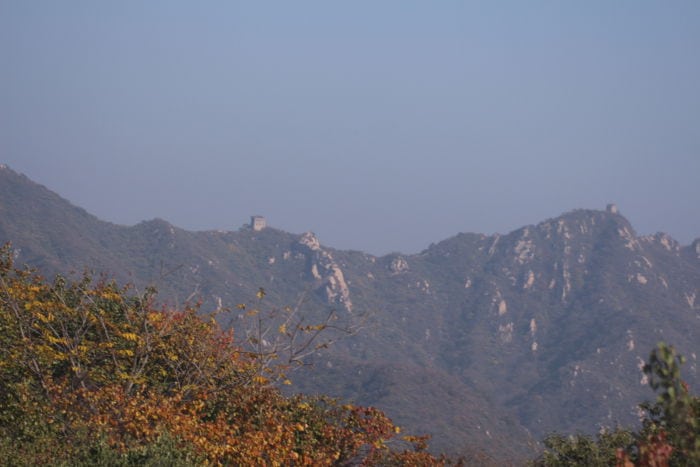 Options and entrance ticket costs for the Mutianyu section
Arriving at the entrance, you will have to pay a single entry of 40 Yuan (or 20 Yuan for children under 12) and then you can choose between several additional options:
Shuttle bus (one way): 10 Yuan;
Shuttle bus (round trip): 15 Yuan ;
Cable car (one way): 100 Yuan (or 50 Yuan kids under 12 years old);
Cable car (round trip): 120 Yuan (or 60 Yuan for kids under 12 years old);
Ascent by lift and descent by toboggan: 120 Yuan (or 60 Yuan for kids under 12 years old);
Descent by toboggan: 100 Yuan (or 60 Yuan for kids under 12 years old).
Note that there are two distinct companies: one for the cable car and one for the lift and toboggan. So changing your cable car ticket for the lift and toboggan is not possible. If you bought a ticket for the lift or toboggan (two trips) you can use the lift once and the toboggan once.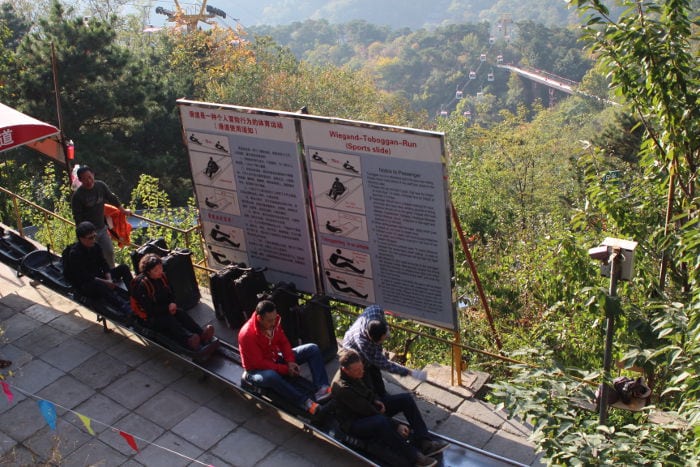 Our choice: Cable car and toboggan!
We chose to go up with the cable car and go down on a toboggan. Believe me, it was worth it! The cable car offers a unique spectacle and above all allows you to avoid the more than 1,000 steps necessary to get atop the wall. We're not lazy or slackers, but the Wall at Mutianyu has some parts with noticeable slopes and for this reason, is tiring enough as it is. Saving yourself the 1,000 steps to get there is therefore not a bad idea if you really want to fully enjoy the Wall.
The toboggan on the return is a lot of fun. The course is 1,580 meters long and is characterized by different turns and zig-zags. Steering the toboggan is very easy and you regulate the speed with a simple lever. We recommend however that you wait before taking off so as to space between you and those ahead of you. Those last ones, if they're particularly slow, could totally ruin your experience.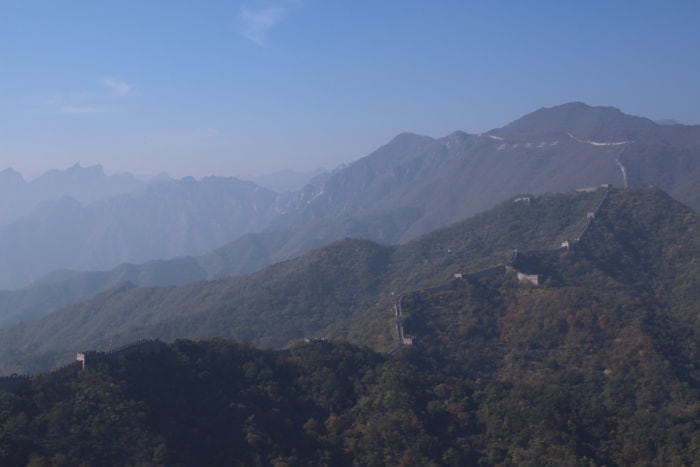 How to go: Our route
Once you get up top don't follow the Chinese tourists; instead, go toward the east (toward tower 1) where you can enjoy the splendid panorama offered by the restored wall, and in about 20 minutes, get to the non-restored section of the wall.
The restored part is exceptional, but the silence and peace that you find in the stretches of the non-restored parts of the wall are unique. Walking here you'll find yourself alone among the ruins of a defensive wall that for centuries has seen attacks by the Mongolian hordes from the cold north.
Obviously take the necessary precautions because here, in the non-restored parts, you will have to walk among large shrubs, steeply sloping paths, and crumbling towers. Moreover, remember that theoretically access to this area is prohibited.
I close this section of the article with curiosity: it is said that the towers were positioned at a distance of two shots of an arrow, so that the entire area between towers would be protected.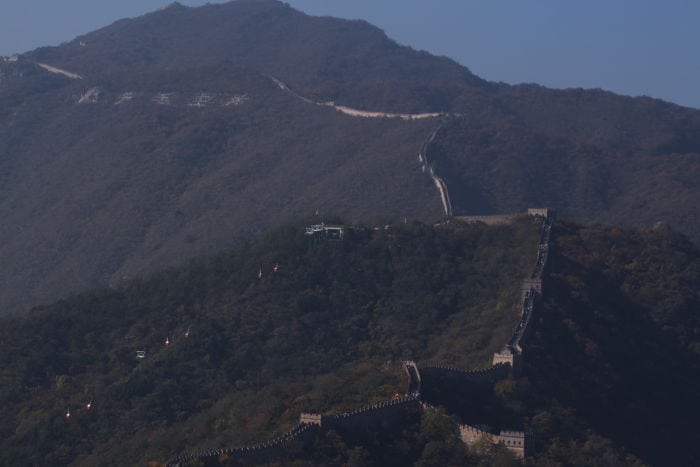 Other useful information
Hours of operation: from 8:00 a.m. to 5:00 p.m. (from November to March) and from 7:30 a.m. to 6:00 p.m. (from April to October);
At Tower 14 it is now possible to leave your signature on a wall specifically installed for that purpose;
Remember to go to the bathroom before going up the wall because there facilities are scarce;
At the entrance you'll find plenty of shops and restaurants;
The growth of tourism in this section is destined to explode in the coming years. The services offered are unique and we are convinced that much of the tourist masses are destined to switch from the famous Badaling section to here. For this reason, if you can, hurry up and visit it now;
The Jankou section is situated after Tower 15, that is to the west, in the opposite direction of where I suggested you go. If you have the time I absolutely recommend that you go there.
Have a good time on the wall!
Bio
Marco De Stefano is a fan of politics, rock, and joyriding around the world. Don't ask him anything about pirates unless you want to hear dozens of true stories about the most incredible travelers in history. He sees his travel blog as a tool to support travelers that helps provide practical and up to date information. If you know some English here is his blog: Daytripandmap.com.
You can also contact him on Youtube.
Photo Credits: Photos by Marco De Stefano