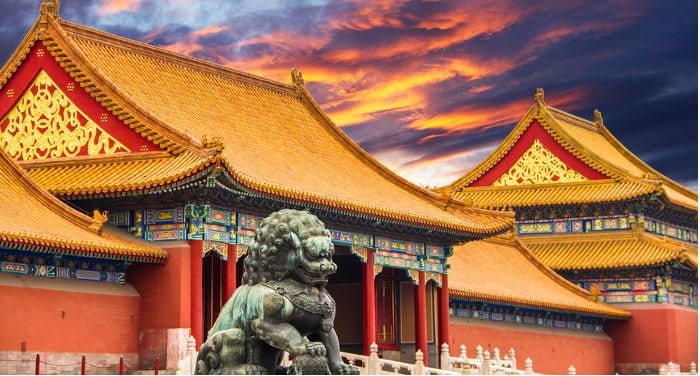 In this article you'll learn:
In the past, I have bought two China tours (in 2008 with a French travel agency and in 2010 with a Chinese travel agency, when I went to Tibet). I've also been invited to join two "free" tours (from a local Chinese government and a local travel agency, who were both seeking feedback from foreign tourists).
IIf you've already decided to book a China tour but you aren't sure what travel agency to choose, we can suggest a reliable agency to you. Click here to contact us and we'll get back to you as soon as possible.
What are the most popular China tours?
"Classic China" Tours (Beijing-Xi'an-Guilin-Shanghai)
Unless you have specific wishes (such as seeing Everest), if this is the first time you're visiting China, I suggest you start in Beijing, which I compare to Rome because everywhere you go, you'll stumble upon something interesting. Here are the most common tours that start in Beijing:
Only Beijing (4-6 days): This is the tour that I took in 2008. You'll visit the Great Wall, the Forbidden City, the Summer Palace, the Hutong, Tian An Men Square and much more.
Price range: 400-500 USD per person (private tour).
Notice: none of the prices that you see on this page includes the international flights.
Beijing-Xi'an-Shanghai (8-10 days): You'll visit Beijing, then the Terracotta Warriors and the Muslim neighborhood in Xi'an, and finally move on to Shanghai, which may not offer any Warriors or Great Wall sections, but nowadays it's probably the most vibrant and exciting city in the world (and, for what it matters, my favorite city to live in).
Price range: 1050-1400 USD per person (private tour 2-4 people, the more you are the cheaper the tour).
Price range: 1050-1400 USD per person (private tour 2-4 people, the more you are the cheaper the tour).
Beijing-Xi'an-Guilin-Shanghai (12-14 days): Besides Beijing, Xi'an and Shanghai, you'll enjoy the Li River's cruise, which is probably one of the most spectacular cruises in the world.
Price range: 1300-1800 USD per person (private tour 2-4 people, the more you are the cheaper the tour, the price also depends on the season).
Click here to find out your best options for a group tour!
Tibet Tours
Lhasa-Everest Base Camp-Kathmandu (7 days): You'll start your trip in Lhasa (the capital of Tibet), then visit the lakes and temples between Lhasa and Shigatse. You'll then arrive at Everest base camp and, finally, cross the Nepalese border and end your trip in Kathmandu (the capital of Nepal).
Price range: 900-1200 USD per person (group tour), 800-1600 USD per person (private tour 2-4 people, the more you are the cheaper the tour, the price also depends on the season).
Lhasa-Everest Base Camp-Lhasa (8 days): This tour is similar to the previous one. The difference is that instead of ending your trip in Nepal, you'll come back to Lhasa after reaching Everest base camp.
Price range: 800-1000 USD per person (group tour), 900-1500 USD per person (private tour 2-4 people, the more you are the cheaper the tour, the price also depends on the season).
Lhasa-Shigatse-Lhasa (6 days): TThis is the tour I took in 2010. Unfortunately, I didn't have enough time to reach Everest base camp, so I stopped in Shigatse. Besides visiting Lhasa, you'll still enjoy plenty of lakes, temples and amazing landscapes.
Price range: 700-800 USD per person (group tour), 500-1000 USD per person (private tour 2-4 people, the more you are the cheaper the tour, the price also depends on the season).
Mount Kailash and Lake Manasarovar (15 days): This is the tour of my dreams. You'll arrive in Lhasa, move to Shigatse and then keep going until you reach the western extremity of Tibet, where the sacred Mount Kailash is located.
Price range: 1700-2000 USD per person (group tour), 1600-3000 USD per person (private tour 2-4 people, the more you are the cheaper the tour, the price also depends on the season).
p.s. We published a complete travel guide on Tibet, click here to read it.
Sichuan Tours
Chengdu-Leshan-Mount Emei-Chengdu (5-6 days): You'll arrive in Chengdu (Capital of the Sichuan Province), visit the Giant Pandas Center, then go to Leshan to see the biggest Buddha's statue in the world. Finally, you'll climb Mount Emei, one of the four sacred Buddhist mountains.
Jiuzhaigou and Huanglong (3-5 days): You'll visit the wonderful parks of Jiuzhaigou (which is a UNESCO Natural World Heritage site) and Huanglong, in Northern Sichuan. You can either fly or arrive by car from Chengdu.
Yangtze River Cruise (5-12 days): The Yangtze River is the longest river in Asia. I put 5-12 days because usually nobody travels to China only to cruise the Yangtze. You'll find all kinds of tours that also include the cruise, such as the Beijing-Xi'an-Yangtze Cruise-Shanghai tour or a similar one.
Kungfu Tour: Visit to the Shaolin Temple
Click here to read our complete guide to the "Kungfu Tour"
How to spot an honest travel agency?
Here what I suggest to looking at:
Does the agency provides a "safe" payment method?
Sure, Western Union is awesome because the payment arrives in a few minutes. However, you can't track the transaction. This is the reason for which many scammers ONLY accept payments through Western Union or an offshore bank account (Hong Kong, Cayman Islands and so on). This is true for any international transaction, and not only for tours. Therefore, ask your agency if you can pay through wire transfer or Paypal.
How does the agency's website look like?
Generally speaking, scammers have a short-term view. In addition, they need to close their website and start a new one every time somebody takes the time to legally pursue them. A great website doesn't guarantee that the agency is honest, however, if an agency has invested time and money into building a beautiful and functional website, it's probably honest and long-term focused.
Is the sales manager pushy?
An agency that has a decent turnover and many customers doesn't need to be pushy. Watch out for pushy sales managers!
Are the guides honest?
The first time I came to China with a tour, our guide kept bringing us to overpriced shops in the hope that we would buy something (The vendors pay a commission to the guides that bring customers. Now I know that this is a typical "scam" in China).
And most importantly… What does previous customers say?
While you can judge some of the points I listed by yourself (Is the sale manager pushy? Can I pay with wire transfer or Paypal?), the only way to know if the guides are honest is to read the referrals that previous customers have left on the website of the agency you chose. Every reputable agency will have a referrals page with the feedback of previous customers.
Also, check the Facebook and Twitter accounts of the agency. Do they have any followers? Most importantly, do they interact with them? What are other people saying? What are the comments of the previous customers on social networks?
What should I look before to book a China tour?
Besides the overall honesty of the agency, I would consider the following points:
Can the agency help me obtain a Chinese travel visa?
Getting a visa for China is extremely tricky. Any decent travel agency will help you get a travel visa (also called L VISA).
Do I have any flexibility in my itinerary?
A good agency will usually offer some flexibility in itineraries or will at least have a large number of tours to choose from. If the agency only offers two to three itineraries, it's probably new and has limited resources and experience.
Will the agency send someone to pick me up at the airport?
The main reason for booking your trip with a travel agency is to minimize hassle. The first hour in a new country is always the worst because you'll feel lost – especially if you've never been to Asia – and airports are full of scammers (especially at the moment of getting in a taxi). A good agency will send someone to pick you up at the airport.
Will the agency organize my internal trips?
China is huge. If you're planning to visit more than one city, make sure that the travel agency of your choice will handle domestic flights/train rides for you.
What does the tour's price include?
In my experience, the basic requirements are a guide, domestic plane/train/bus tickets, hotels fees and attraction tickets (example: will you have to pay the entrance ticket for the Forbidden City or is it included in the tour price?). Food, international plane tickets and visa fees are usually only included in the price when clearly specified.
What will be the overall quality of the hotels?
This is tricky because it depends on how much you're willing to spend: if your total budget for a tour is 600 USD, you can forget about four stars hotels. However, even among two to three stars hotels, there may be large differences. I've slept in quite decent and clean two star hotels in China. Nonetheless, I've also slept in completely shitty two star hotels.
Again… What does previous customers say?
Where should I buy my tour?
I suggest that you buy your tour from an agency based in China. There are two main reasons:
First of all, an agency that is based in China will, most likely, specialize in China tours. I strongly suggest avoiding huge tour operators that offer tours in any part of the world, as they won't be "China experts." It's a bit like the difference between a local restaurant and a global fast food chain: from which one do you expect the best quality? The same goes for tours.
Moreover, a travel agency that has offices in every city will have to deal with huge overhead costs (the rent of the offices, the travel agents' salary and so on). An agency that only has offices in China will have less expenses and will probably be in a position to offer you a better deal.
If you live in China, this is different, as you may find the office of a local agency in Beijing, Shanghai and Guangzhou. In this case, there is little difference between buying the tour online or in a physical agency.
When shall I book a tour and when shall I travel by myself?
I suggest you to book a tour if…
You want to visit Tibet
Nowadays the ONLY way to visit Tibet is through a licensed travel agency that will provide you with a TTB Permit (Tibet Tourism Bureau Permit, necessary everywhere in Tibet) and a PSB Permit (also called Alien Travel Permit, necessary to visit "special" areas such as Everest base camp).
Note that the cost of your Tibet tour should include the mentioned travel documents as part of the fee. Finally, if the agency has an office in Lhasa, you'll be less likely to have problems with your TTB or PSB Permit.
You have more money than time
Organizing a trip to China takes time. You have to get a visa, choose a rough itinerary, book the hotels, book the domestic flights and so on. Also, if you only have 7-10 days to spend in China and want to visit several cities or provinces, getting on a tour will allow you to see many more destinations as you won't get lost and you won't have to figure out where the train station or the hotel is and so on.
Clearly, if you have time and you love to get lost (I do), then a tour isn't the best option for you.
You have never traveled outside your country
Once you can drive a Volkswagen Golf you can easily learn how to drive a truck. The same applies for traveling: if you've already traveled around the world, a trip to China shouldn't scare you.
Sure, the culture is different. And yes, outside Shanghai very few people will speak English. However, the internet offers a ton of information (you can start by digging into the articles of this website). Besides Tibet where you can only travel with a tour, if you already have some experience, it shouldn't be too difficult for you to travel around China alone (as long as you are patient and open to the unknown).
However, if you have no travel experience or you don't think you can adapt to something completely different from your country, booking a tour may be your best bet.
Should I book a private or a group tour?
A group tour is often cheaper while a private tour gives you much more flexibility. It's up to you. Keep in mind that if you are at least three to four people, it's possible that the price for a group or a private tour will be the same. Ask the agency!
How to prepare my trip and what to bring to China?
Get a VISA
We published one of the most comprehensive articles that you can find on the web on getting a Chinese VISA. Click here to learn the details. Keep in mind that a good agency will help you get the VISA by providing you with an invitation letter.
Get travel insurances and the right vaccines
Again, we published a whole article on the topic. Here you'll find all the info you need to know about travel insurance and why you need it.
There are no compulsory vaccines for visiting China. However, I recommend that you check with your doctor to see if you're vaccinated for diphtheria/pertussis/tetanus (DPT), polio, typhoid, hepatitis A and hepatitis B. If you aren't vaccinated or your vaccines are out of date, I suggest that you update your vaccines.
Book your international flight
Click here to read our complete guide on China flights.
What shoul I bring to China?
This is a question that I receive often. My answer is that you don't need to bring anything special besidse some medicines (I recommend aspirin, antibiotics, anti-inflammatory and anti-diarrhea drugs), warm clothes if you're a coming in winter and a couple of books if you like to read.
Other frequently asked questions
What are the recommended tours for China?
China is an enormous country, and because of this, there are a variety of tours adapted to the needs of every type of traveler. Even so, if it's your first time in China, I recommend that you choose one of the "classic" tours suggested in this article. If you want more suggestions, you can check out our article on itineraries in China
What's the best tour agency for China?
There are a large number of tour agencies operating in China and many of them offer quality tours. Nonetheless, there are also a lot of agencies of doubtful quality and some that are even scam artists. Before choosing a tour agency, I recommend that you read the section of this article on the things to keep in mind. Also, you can contact us and we will suggest a local agency offering quality tours to you.
Do I need a tour to travel in China?
Except for a few regions of China such as Tibet, it's not necessary to hire a tour. However, as we mention in this article, in some cases it's recommendable to take a tour to make your trip easier.
Is it necessary to give tips while on a tour in China?
In China, tips are rarely given, whether in restaurants, hotels or other services. Even so, many services oriented at foreigners have become accustomed to receiving tips, so drivers and tour guides are likely expecting a tip for their work.
What's the best time of year to take a tour in China
Due to the size of the country, China's climate varies greatly, and different parts of the country can be visited during different times of the year while enjoying a pleasant climate. Still, the best time to visit China is the month of September and October, when it isn't too hot and there isn't excessive rain. However, you should avoid the first week of October, during which a national holiday takes place, which means that tourist areas are saturated with domestic tourism.
Can I drink the tap water?
In the majority of the country, in theory the tap water is drinkable and not too many precautions have to be taken when brushing your teeth or even rinsing food. However, Chinese people never drink tap water unless it has been boiled beforehand, which means that it's recommended that you only drink bottled water or water that has been boiled. Restaurants tend to offer hot water or tea, which means you don't have to worry about this aspect.
Can I pay with dollars or euros in China?
The official currency of China is the Chinese Yuan and the majority places don't accept other currencies. There are places where they are accustomed to dealing with tourists, such as counterfeit markets, where they will also accept other currencies, but it's obvious that the price will be a lot higher than if you pay in the local currency.
Are you looking for a travel agency?
If you've already decided to book a China tour but you aren't sure what travel agency to choose, we can suggest a reliable agency to you. Just contact us using the form below:
p.s. Notice that we receive hundreds of emails every day and, sometimes, we can't reply fast. At the same time, we assume that you want to get this info ASAP, so we'll also forward your message to the agency we recommend. In this way they can get in touch with you much faster!
[Cover Photo's Copyright: Depositphotos.com]