Other Destinations
General Information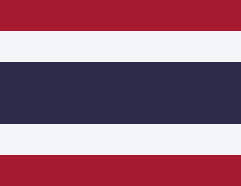 Official name: Kingdom of Thailand (ราชอาณาจักรไทย, Ratcha-anachak Thai)
Population: 69,799,978 (2020)
Capital: Bangkok
Currency: Thai Baht (฿, THB)
Time zone: GMT +7
Official language: Thai
Country code: +66
Traveling to Thailand
International Tourism
Thailand comes in 9th place globally in terms of international tourists, with almost 40 million annual visits.
Infrastructure
Although the infrastructure in Bangkok is relatively decent and modern, outside the capital, infrastructure is old and somewhat lacking in certain regions.
Tourism Industry
Tourism is one of the largest sectors of the Thai economy and is well-developed. However, the growing number of Chinese tourists has left some infrastructure saturated at times.
Safety
In general, Thailand is a safe country for international tourists. Taking certain precautions to avoid thefts and scams is recommended.
Main Problems Faced by Tourists
Especially in Bangkok, scams are one of the main problems faced by international tourists. Prostitution and sexual tourism can also be problematic for some.
Visas
The citizens of a number of countries can visit the country for up to 30 days without needing a visa.
Featured Articles
Living in Thailand
Cost of Living
There are big differences between the cost of living in Bangkok and other regions of the country, but in general, the cost of living in Thailand is quite low.
Job Market
Thailand doesn't offer many job opportunities. However, good job opportunities can still be found in certain sectors, such as education.
Wages
Wages in Thailand don't tend to be very high compared to other more developed countries in Asia.
Health Insurance
Foreigners who are residents of Thailand are excluded from the universal health care system. Private medical care in Thailand can be expensive. Because of this, it's recommendable to have a good health insurance policy.
Visas
Getting a visa to work in Thailand is difficult, as the majority of sectors are restricted for foreigners. For sectors allowing access, companies must demonstrate that the job opportunity cannot be filled by a local employee. However, retiree and student visas exist, and are much easier to obtain.
Featured Articles