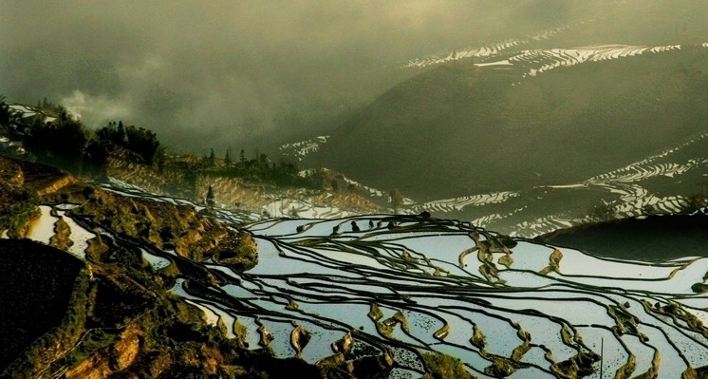 This article is a travel guide to Yunnan Province, in the South West of China. It was written by Harley Greenberg, who works with a local travel agency (WindhorseTour) in China.
Yunnan Province is famous for its diverse scenery and for being home of a third of all China's ethnic minorities. It has lots to offer any traveler!
Yunnan basic travel facts
A trip to Yunnan province realistically takes at least one week. However, if you want to cover all the highlights I encourage you to spend twelve days or longer.
A trip to Yunnan is a breathtaking view of some of the most spectacular and overwhelming scenery within China. You can watch the sun rise and set on the magnificent Yuan Yang rice terraces; escape the crowds and enjoy the days exploring the less visited Lugu Lake, or get lost among the canals and cobbled lanes of Lijiang ancient town or Dali Cang Mountain.
Yunnan's climate is diverse as its terrain, for many places such as Dali there is an ideal temperature – an eternal spring – that attracts tourists all year-round. The northwestern region around Shangri-la is situated on the Tibetan plateau and can be very cold during winter.
I find the best time and also peak season for traveling Yunnan is from April to October, when the vegetation is a lush green and flowers are in bloom.
Yunnan can be easily accessed by air, bus and trains from most cities across China. Kunming, the capital, is served by all Chinese airlines and has daily flights to most cities.
Other popular attractions such as Lijiang, Dali and Shangri-la also have airports with connecting flights offered from Kunming and other major cities in China. Another option is to take the train – or the bus – that goes from Kunming to Lijiang (via Dali).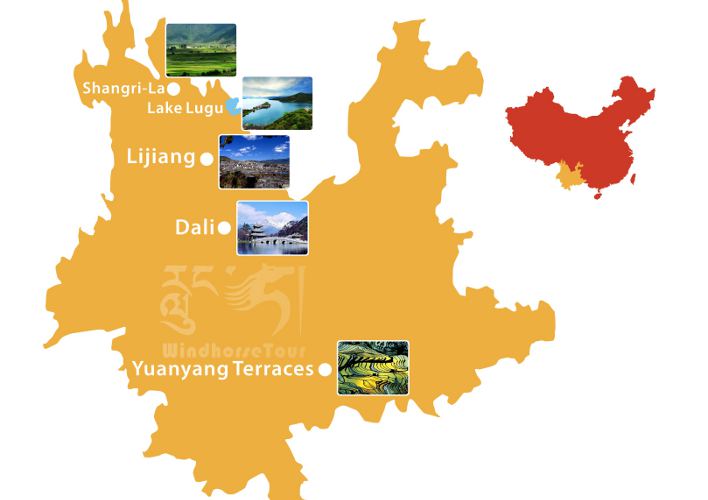 A touristic map of Yunnan Province.
Itineraries
Here some possible itinerary to visit Yunnan Province:
Kunming – Stone Forest – Dali – Lijiang – Shangri-La and then back to Kunming or up to Sichuan.
Kunming – Stone Forest – Dali – Lijiang -Lugu Lake and then back to Lijiang or up to Sichuan.
Kunming – Yuan Yang and then back to Kunming, East to Guanxi Chinese Province or South to Vietnam.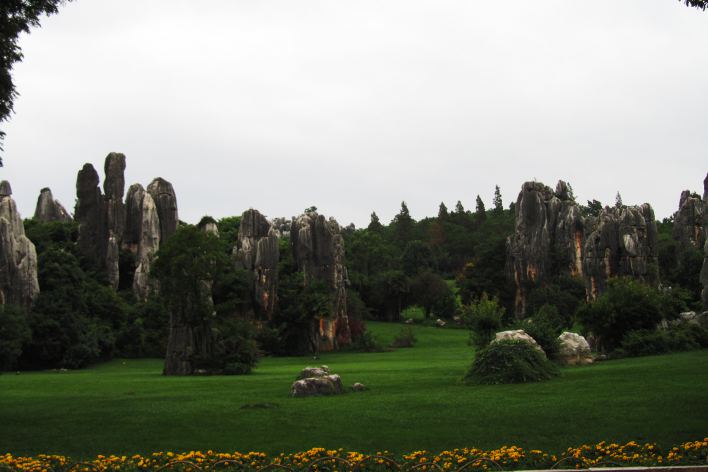 Shilin, The Stone Forest near Kunming.
The Stone Forest
The Stone Forest (or Shilin, in Mandarin) is a beautiful park composed by limestone formations.
You can get there by private car, taxi or taking the bus that leaves from Kunming every hour (the trip takes about ninety minutes). The Stone Forest is quite popular, especially among Chinese tourists. This means that most days by nine am it will be jam packed, this is one reason why clients that visit the forest tend to don't recommend it. However when asked if they are glad they went the answer is "yes". So there you have it.
A hint on how best to enjoy the Stone Forest is to travel there with an agency that brings you early on or head to Lunan – the near by town – the night before so you can wake up early and visit it before the buses from Kunming start to arrive (normally around nine am). For more info you can read this story published here on the site longtime ago.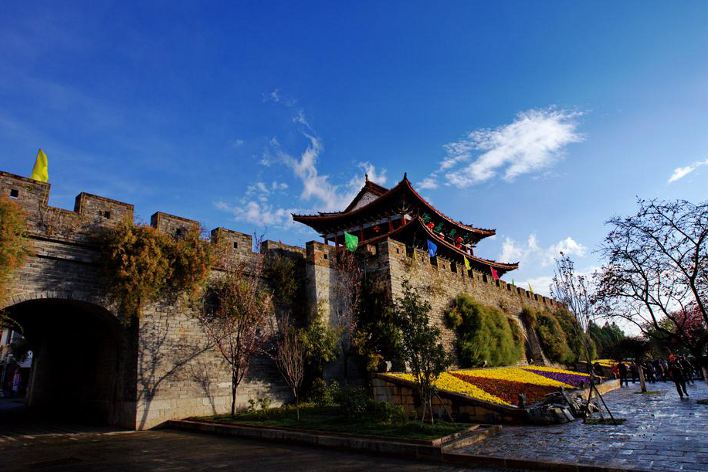 The North Gate at Dali Ancient Town.
Dali Ancient City
Dali is one of those few places in China with an infectious ambiance, an environment that seem to attract many Chinese backpackers. Don't be surprised when you find some of them sitting around strumming their guitars and telling tales of their travels.
With over 2,000 years of history, Dali shares a glorious past of being the former capital of the Nanzhao Kingdom, a powerful entity separate from China. It lies on the western edge of Erhai Lake at an altitude of 1,900 m (6,234 ft.), with a backdrop of the imposing 4,000 m (13,123 ft.) tall Jade Green Mountain (Cang Shan in Chinese). You can climb it using the stairs but be careful to do not lose yourself.
Flights are probably the most popular transportation to get to Dali. You can also choose an overnight sleeper train from Kunming or take a bus, always from Kunming, that will take around four hours.
Within the heart of Dali still lives the ancient city that retains a historical atmosphere that is hard to come by in other parts of China.
A short distance northwest from the old town stand the Three Pagodas (you can walk till there). Like 3 guardians this landmark is a definite "can't miss" attraction in the city. The tallest of the three has 16 tiers, reaching 72 m. (234 ft.), and was originally constructed in the 9th century.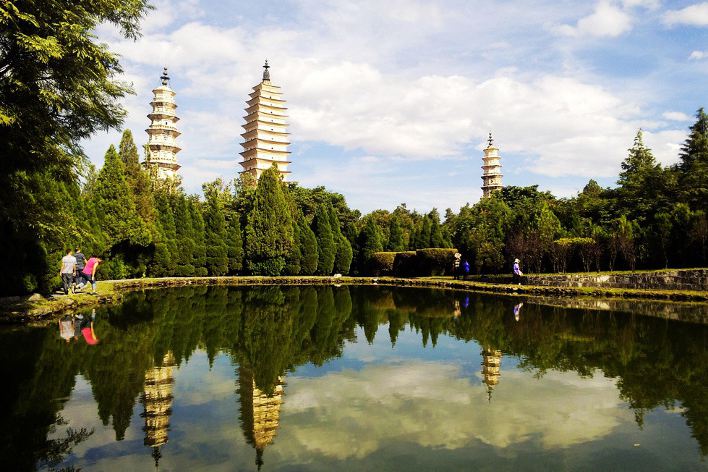 The Three Pagodas, Dali.
The countryside around Dali can also be dazzling, with small fascinating temples, and the occasional village showcasing exquisite traditional local architecture.
A good start is to visit the Zhonghe Temple. You can climb the paths that snake their way up and see the marvelous views of Erhai Lake.
Other way to explore Erhai Lake is by either renting a bike or zipping across the water on the many ferries that crisscross the lake. Roads now encircled the lake so it is possible to do a loop of the lake by mountain bike. There are some small villages dotted along the way for you to buy food and water.
24 km. (15 mi.) north of Dali, the old town of Xizhou is a must-see to extend your cultural trip in Dali. Much of the original Bai architecture is well preserved. Here you will witness the local courtyards with children play, chickens squawk, dogs fight, and all the rhythms of family life play out.
When the night falls, find a bar at the Foreigner's Street, sit back with foaming cappuccinos and banana pancakes, there is another singer telling his stories in Dali.
Click here to read SDC's hotel recommendation in Dali.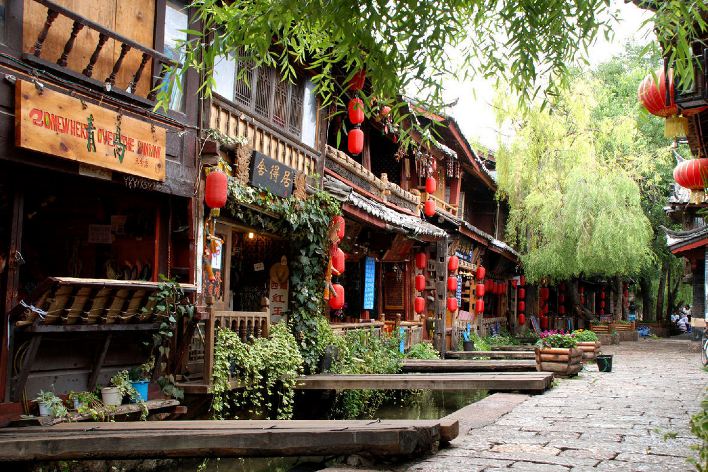 Lijiang Ancient Town.
Lijiang Ancient Town
In the foothills of Qinghai-Tibet Plateau lies Lijiang, a splendid little town that is home to the Naxi people. Filled with a maze of cobbled stone streets, rickety old wooden buildings and gushing canals makes it one of the most visited sites in northern Yunnan. Here you will find the stunning Jade Dragon Snow Mountain that presents a splendid backdrop viewable from across Lijiang.
Beyond Jade Dragon Snow Mountain lies one of the most popular backpackers destination in Yunnan, Tiger Leaping Gorge. Most travelers will spend two days hiking within Tiger Leaping Gorge.
Lijiang can be easily accessible by air, bus and trains from Kunming and other big cities in China.
A visit here requires at least two days to take a glimpse of the highlights this town has to offer. However, I would suggest you arrange a local guide either local or along with a private tour. This will help your to better understand the rich culture of the region and history of the nearby Baisha and Shuhe Villages.
Here the most popular attractions in Lijiang:
Dayan ancient Town: It is one of the main draws for people coming to Lijiang. The whole town is crisscrossed by canals, bridges and a maze of narrow streets. Dayan is full of traditional Naxi architectures that still today fills the town. As you walk through the narrow street you will observe the many wooden doors that are left open to reveal the interiors of both Naxi and Western restaurants.
Black Dragon Pool: As you head towards the north you will reach the Black Dragon Pool. One of the most popular vantage points of Jade Dragon Snow Mountain.
Dongba Culture Museum: If you fancy museums stop and visit the Dongba Culture Museum dedicated to the Shamanistic Dongba religion.
Jade Dragon Snow Mountain: A visit to the Jade Dragon Snow Mountain is a must-do in Lijiang. 34 km. (21 mi.) north of Lijiang, this mighty mountain rises raggedly above the ancient town. The mountain's summit soars to 5,596 m. (18,354 ft.), encrusted with snow and set against a sharp, blue sky.

Located at 4,506 m (14,784 ft.), Cloud Fir Meadow is the highest point you can ascend to at Jade Dragon Snow Mountain. The walkways provided to help protect the environment lead you to some awesome glacier views.

Be warned that the elevation here can make some people feel uncomfortable. Mind your health and tell your guide immediately if you start feeling queasy.
Tiger Leaping Gorge: For further exploration in Lijiang, head over to Tiger Leaping Gorge. A hike here is a "can't miss" experience of Northern Yunnan.

The gorge is considered one of the deepest in the world. With Jade Dragon Snow Mountain in the back, the Jinsha River flowing through the gorge and later swelling into the Yangtze River it offers a dramatic and thrilling journey to travelers.
The nightlife in the ancient town is lively! Chinese people believe this is one town filled with romance. Also, there are many bars and western cafes in the old town. With a cold beer in your hand and exotic music in the air, it offers you a great place to experience the Lijiang nightlife and perhaps find your true love.
Click here to read SDC's hotel recommendation in Lijiang.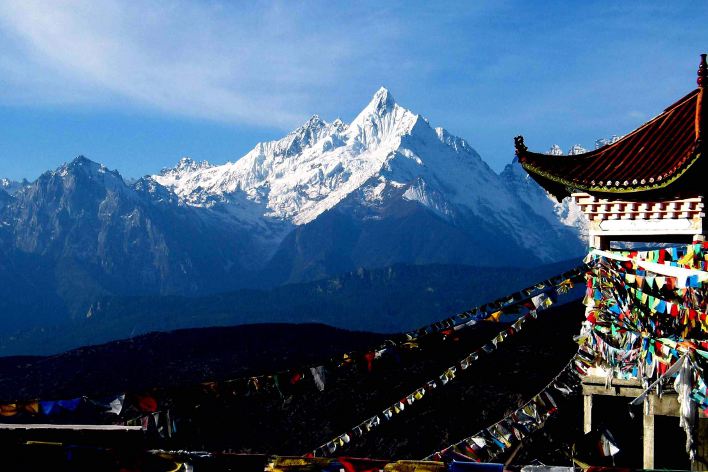 Mount Meli, Shangri-la.
Shangri-la
Traveling along the northern route of Yunnan, Shangri-la is the last stop for most travelers. It is home to several remote temples, rugged scenery and is the start of the Tibetan world.
Originally called Zhongdian, this place has attracted travelers since it was declared the location described on the novel The Lost Horizon written by the British writer James Hilton.
While we cannot confirm or deny James Hilton intention, the real Shangri-la exists today. The real scenery you will witness here is awe-inspiring, and the people are some of the warmest heartiest in the world.
If you cannot make a Tibet tour, Shangri-la is a pretty popular runner up to get a taste of Tibetan cultures. However, I would still suggest a trip into western Sichuan if you are craving Tibetan culture and cannot travel into the Tibet Autonomous Regional.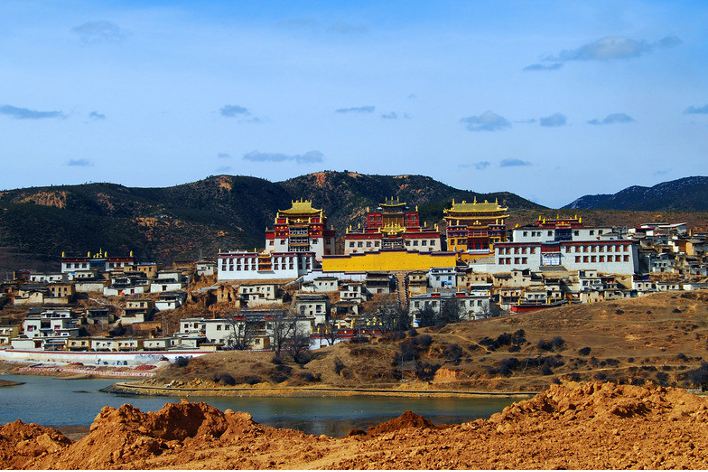 The "Little Potala Palace," a Tibetan monastery in Shangri-la, Yunnan, Tibetan Plateau.
Within Shangri-la there are Tibetan towns, named Gyeltang or Gyalthang, where you can experience the daily life of Tibetan people.
About an hour's walk north of the town is the Ganden Sumtseling Gompa. One of the main reasons people to come here is to see the little Potala Palace. This monastery was built based on the layout of the Potala Palace in Lhasa, and is home to countless Tibetan Buddhist treasures.
The view of town from the top of Ganden Sumtseling is gorgeous. A sunset from here is particularly picturesque among the tinkling bells and fluttering prayer flags.
Shangri-la is a wonderful place to get off the beaten track.
I encourage you to spend some time trekking or horse riding to explore the surrounding areas. There are many less visited monasteries and villages.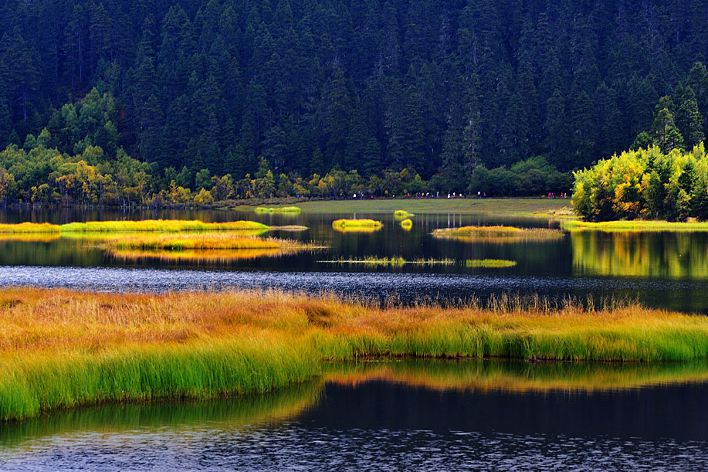 Shangri-la's Pudacuo National Park.
There is a severe lack of reliable public transportation in these remote areas, so be prepared to hire a local driver for a couple of days or consider organizing a private tour with a local guide who will share with you the intricate details of her culture.
When visiting in Shangri-la, I suggest you spend a day at Pudacuo National Park, which is composed by two beautiful lakes, Bita Hai and Shudu Lake.
Fed by small streams from the snow mountains encircled, Bita Hai Lake resembles a trumpet shell. The picturesque scenery of the pure green water with snow mountains and trees reflecting in it will offer you a great photography chance. The Shudu lake is home to lush plants and various wild animals.
Shangri-la is also popular for being the "backdoor" access to Yunnan Province from Sichuan (the main and easier route being the train Chengdu-Kunming). Be aware that for enter (or exit) Yunnan from Shangri-la you'll have to travel by bus through the Tibetan Plateau, which isn't always opened to foreigners and it may take up to two days.
SDC's cheap hostel recommendation in Shangri-la: Shangri-La Lamtin Youth Hostel.
SDC's hotel recommendation in Gyalthang (it's not that cheap but it's were I slept and it's awesome, check the pics of the bedrooms!): Shangri-la Gyalthang Dzong Hotel.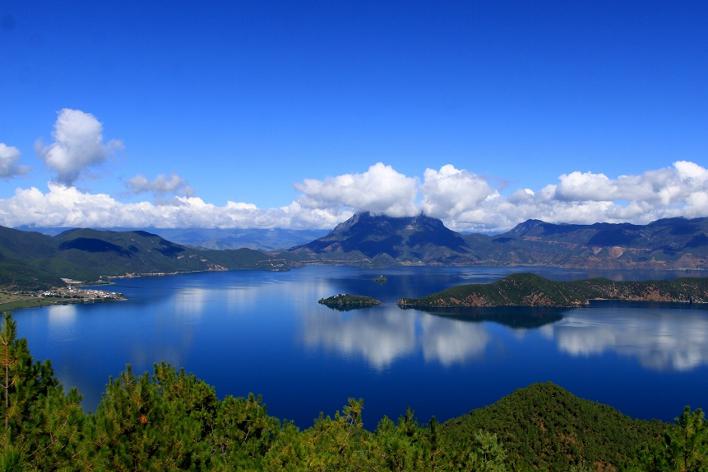 Lugu Lake.
Lugu Lake
This forest lined lake overlaps the remote border between Yunnan – Sichuan provinces. It is home to several Tibetan, Yi as well as Mosuo minority villages.
The stunning scenery and ethnic cultures are two main features that attracts thousands of visitors.
A visit to the Lugu usually can be started from Luoshui. The lake, was formed by two sinking faults, and this high alpine lake sits 2,685 m. (8,809 ft.). Most people say it is shaped like a horse's hoof – long from north to south, and narrower from East to West.
The lake which is surrounded by hills is filled with inviting clear water, that makes it easy to see the fish swimming within. The forest that protects the lake if full of dense trees and fresh mountain.
Lugu Lake is a place that has not been disturbed by the other economic developments and pollution; its' natural beauty has been retained.
The weather is pleasant – it is cool in summer and warm in winter.
From Luoshui you can visit several islands on the lake by dugout canoe: Liwubi Island is the largest island where you can practically wade across to a spit of land in Sichuan; Heiwawu Island is in the center and has a variety of birds living on it; the smallest is Nixi Island, an oblong rock covered with shrubs and moss.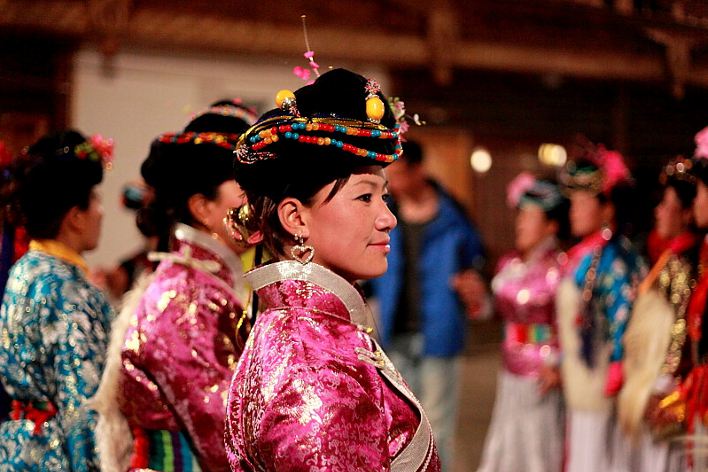 Mosuo women.
One of the main reason Lugu Lake has maintained its' mystery and charm is because the Mosuo people who live here. The Mosuo are the last practicing (almost) matriarchal society in the world.
Mosuo women never marry and never cohabit, instead they are free to choose as many lovers as they like throughout their lives.
Children are brought up by women, and use the surname of their mothers. Families are composed of the members of the matrilineal kind. Women hold the principal positions in the society, forming a modern day 'woman's kingdom', which adds mystique to this magical place.
The best time to visit Lugu Lake are April to May, and September to October, when the weather is dry and mild.
In order to reach Lugu Lake you'll have to take a bus or private minibus from Lijiang (it should take around seven hours to arrive here).
p.s. You can enter Sichuan also through Lugu Lake. You'll have to take a bus till Xichang (the trip takes about seven hours) and then a train till Chengdu (you may want to stop at Emei Shan, one o the holy Buddhist mountains and Leshan, where you can admire the biggest statue of Buddha in the world).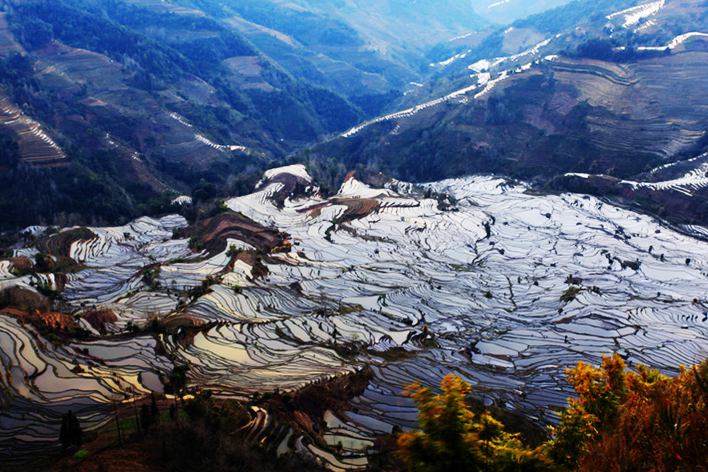 Yuan Yang Rice Terraces
Yunnan is a destination that is never lacking of natural beauty. However the last place I want to recommend to you is famous for its spectacular man made sights.
The famed rice terraces are slopes claimed from nature for cultivation in these hilly and mountainous areas. Some are hundreds or even thousands of years old.
Yuan Yang, located in the south of Yunnan, is one of the two most popular places to capture this unique sight in China. Fashioned over hundreds of years by the ancient Hani people, Yuan Yang Rice terraces cover roughly 125 sq. km. (48 sq. mi.).
A proper trip to the rice terraces can be done in two days when driving from Kunming. For those willing to spend more time a three days visit offers a chance to explore deeper into the local culture.
The scenery here is amazing and each year Yuan Yang attracts numerous photographers who flock here to capture the spectacular sunrise and sunsets that convert the terraces into pools of gold, red and silver.
Even in poor weather the views can still be breathtaking! When the fog rolls into the terraced valleys leaving only the hilltop village visible, the effect is dramatic. Many describe it as islands floating in the clouds.
Xinjie is the traditional starting point near Yuan Yang to reach the rice terraces. It is the recommended place to start any trip.
The terraces around each of the dozens of villages that you will find here have their own special characteristics which vary from season to season. Having a local guide helps to determine which terrace matches with your interest and helps to find the best ones given the time of year you visit.
To help you plan your trip, here are several popular photography places within Yuan Yang Rice Terraces:
Duoyishu, about 25 km. (16 mi.) from Xinjie, has the most spectacular sunrises and is one you should not miss.
Bada and Laohuzui are two of the best places to capture the sunsets. The scenery can be mesmerizing.
Longshupa Scenic Spot is famous for its closest views of the terraces, while Mengpin is splendid for the bird's eye view of the terraces.
Besides these landscapes, the unique mushroom-shape Hani houses and Hani costumes are also great for photography.
The rice harvest will traditionally occurs in early September and the fields will remain dry till December when flooded again. The fields are then again filled with water in December.
I advise you to plan your trips from January to March, when the seas of clouds above the terraces are most likely to be witnessed. In early spring according to the Chinese lunar calendar (from late February to March), the terraces are filled with wild flowers, including pink peach blossom and white pear blossom.
Yuan Yang lies on the Tropic of Cancer, so the climate is neither extremely hot nor cold.
However, it is cooler in morning and evening, and the sun is very strong at noon. So pay attention to the sun and wear proper protection. Moreover, T-shirts and shorts can be worn all year round, but you are advised to take a jacket.
In addition to capturing the picturesque scenery, exploring the unique Hani ethnic cultures at the surrounding villages is also an interesting experience not to miss. Participate in a local country fair, during which the entire minority people dress in colorful ethnic costumes, you will find it is very lively.
p.s. Here you find all you need to know to book your hotel (or hostel) in China.
Frequently asked questions
What should I bring to Yunnan?
The temperatures can drop much on higher altitudes and during evenings, even during summer nights. As such, you should have a couple of comfortable long pants, thin, long sleeved sweaters (long sleeved T-shirts), thicker long sleeved sweaters (for example knitted) and comfortable shoes, like sneakers.
Also, bring some sunblock and sunglasses as the sun is strong. You should also try to buy a hat or a cap beforehand or when arriving. Preferably, you should also buy medicine which prevents high-altitude disease and also oxygen, if you're to ascend the mountains.
Can I speak English in Yunnan?
Not really, unless you go to a high-end hotel or a tourist tour. The locals speak Mandarin and their own local dialect.
Do I need to tip in Yunnan?
No, Chinese people don't expect any tips in massage joints, restaurants, hotels and more.
How's the food in Yunnan?
Yunnan has a great diversification of food, thanks to its many ethnic minority groups. The food is often fresh and spicy having mushrooms, many vegetables and meat. Some of the most famous dishes in Yunnan are: steamed chicken, Yunnan hot pot, Yunnan Bridge Noodles, Pineapple with rice, Rubing (cheese), Yak meat and Fresh mint salad. Keep in mind that you should drink a lot of water, eat fruits and vegetables in Yunnan due to the high altitude, so the cuisine is very suitable for travelers.
What is Yunnan known for?
Yunnan has an astonishing nature with many mountains, hills and much vegetation. Here, you'll be able to find many ethnic minorities, old towns, great cuisines and plenty of tourist attractions. As mentioned above, Yunnan is famous for having a comfortable climate referred to as "Eternal Spring". The culture resembles the one in Tibet, a reason why many tourists and Chinese like to go here.
Is Yunnan safe?
Yes, Yunnan is considered to be comparably safe, especially in the major cities in the province.
How do you get to Jade Dragon Snow Mountain?
You can take a car or bus from Lijiang (around 15km away) and then take a cable car to the mountain. Don't forget to buy oxygen in advance as it tends to be more pricey while there.
How long does it take to drive from Lijiang to Shangri La?
It's common to start in Kunming, then go to Dali, Lijiang and finally to Shangri La. It takes around 5 hours to drive from Lijiang to Shangri La.
Photo Credits: Photos by Harley Greenberg