Other Destinations
General Information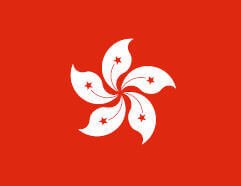 Official name: Hong Kong Special Administrative Region of the People's Republic of China
Population: 7,496,981 (2020)
Country: China
Currency: Hong Kong Dollar ($, HKD)
Time zone: GMT +8
Official languages: Chinese and English
Country code: +852
Traveling to Hong Kong SAR
International Tourism
Hong Kong SAR alone receives approximately 29 million international tourists annually, making it the most visited city in the world. When considered independently from Mainland China, Hong Kong comes in 13th place globally.
Infrastructure
Hong Kong SAR has modern and efficient infrastructure, although it can get saturated at peak times.
Tourism Industry
Hong Kong SAR has a well-developed tourism industry directed at purchasing international products.
Safety
Hong Kong SAR is relatively safe for international travelers.
Main Problems Faced by Tourists
Accommodations tend to be expensive. Scams when purchasing certain products are also a common problem.
Visas
Many nationalities don't need a visa to visit Hong Kong SAR for tourism. Tourist visa exemptions range from 7 to 180 days depending on your nationality.
Featured Articles
Living in Hong Kong SAR
Cost of Living
The cost of living in Hong Kong SAR is high, especially for accommodations and certain basic products.
Job Market
Hong Kong has good job opportunities in sectors such as finance, international trade and tourism.
Wages
Wages in Hong Kong SAR are competitive, especially in the finance sector. However, the high cost of living means that some salaries may not be enough.
Health Insurance
Hong Kong SAR public health system is generally good but tends to be quite saturated. Thus, many foreigners choose to purchase private health insurance.
Visas
Although there are multiple types of work visas for Hong Kong SAR, it's hard to get them. Normally the minimum requirements are a bachelor's degree, relevant experience in the position, a minimum wage in line with Hong Kong standards and the ability to demonstrate that the position can't be filled by a local employee.
Featured Articles
Business in Hong Kong SAR
Market Openness
Hong Kong is one of the main ports of entry into the Asian market for international companies, and currently a relevant part of China's foreign trade is routed through Hong Kong. The simplicity of opening and managing companies, low taxes and a highly liberal economy make Hong Kong an appealing place to do business.
Legal Certainty
The legal system in Hong Kong SAR has been significantly influenced by the English system and therefore has a high level of legal certainty.
Setting up a Company
Setting up a company in Hong Kong is simple and cheap, and you can even do so from abroad with the help of an agency.
Featured Articles
Language
Languages Spoken in Hong Kong
Even though English is an official language, currently less than 5% of the population uses it regularly. However, almost half of the population speaks English as a second language. Chinese (Cantonese) is without a doubt the most-spoken language, as it is the mother tongue of 95% of the population. Many people can also speak Mandarin.
Features
Traditional Chinese characters are used in Hong Kong SAR, and the majority of the population speaks the dialect variant of Cantonese. Cantonese is unintelligible for native speakers of Mandarin (the official dialect of Mainland China).
Featured Articles