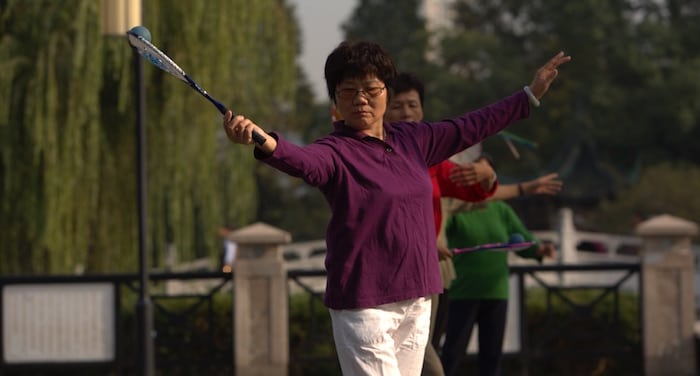 A lady practicing Rou Li Qiu
If cell phones have made the newer generations lazy, the older age group has decided to make up for lost time during their youth. Chinese medicine recommends it, so a good Chinese person follows through: the need to 锻炼身体 (duanlian shenti), or physical exercise, keeping oneself in shape.
Whatever your movements or ability to continue may be, it doesn't matter. So long as you can get to the square or park every day and join in with one of the collective activities that are seen pretty much everywhere in China.
The choice is between various sport classifications, for which even the least capable can find something they can do in their circumstances.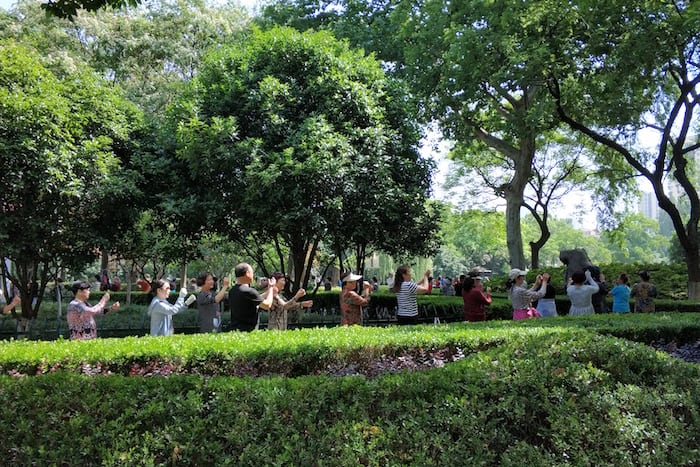 Dancers in single file
Dance
As couples, in an orderly formation, with fans, scarves, or hands like flowers: dancing rigorously to music blasting at full volume from amplifiers stronger than those used by Iron Maiden, is something the Chinese really like. Little matters if you go in single file because there's no space of movement, if you're going down the sidewalk, dodging pillars; in front of the bank blocking access to the ATM; at the entrance to the metro the mob of the curious will even make you late. Wherever there's a little space, dancing will break out!
Taking a walk
Why just walk when you can include some arm exercise or an ear massage to stimulate I don't know what energy point so that your qi can benefit. Otherwise, clap your hands: for shoulders, chest, legs, back, trapezoids, biceps, triceps and even the sternocleidomastoid! [Read more…]