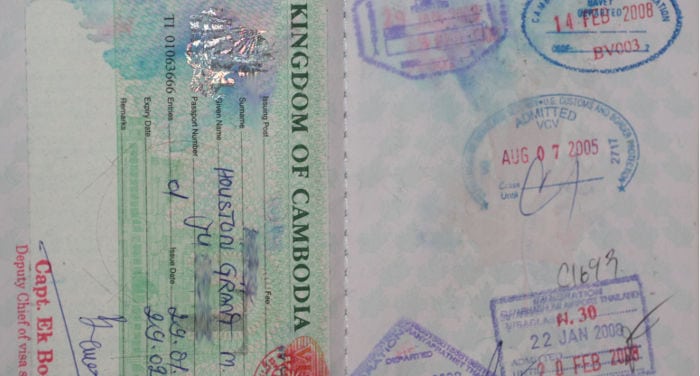 Cambodia is a region with an extraordinary cultural tradition that has no reason to envy nearby Thailand, Laos and Vietnam. However, having undergone decades of war and isolation, the country has suffered instability and at times its name is associated with the words "atrocities" and "persecution".
Today these words are slowly giving way to tourism, and the country has become a destination for thousands of tourists that especially flock to the temples of Angkor.
Besides a visa "on arrival" you can also get a visa at one of the Cambodian embassies or consulates abroad (for America it's handled in Washington and in Europe in Brussels, Paris, London and Berlin), or online.
What documents are needed to enter Cambodia
First of all you'll need a passport valid for at least six months from your date of entry in Cambodia.
Make sure that you have at least two blank pages in your passport, one for the stamps and another for the visa. If you go directly to the embassy, you should also attach a photocopy of the passport page with your photo and information.
You'll also need an application filled out and signed for each passport (the form can be downloaded online on the site for Cambodian world embassies) and a recent passport style identification photo.
Some embassies require proof of a round trip air ticket and sufficient funds.
Lastly, you'll need the money to pay for the visa.
A tourist visa for Cambodia: Costs and time it takes to get one
If you intend to visit Cambodia for a short vacation, you can get a tourist visa right at the land borders or upon arrival at one of the international airports. [Read more…]