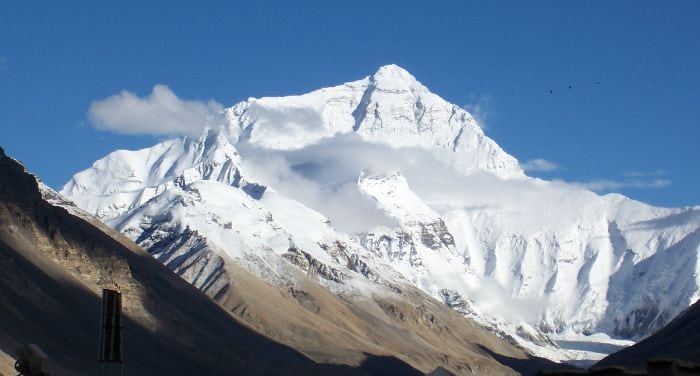 This article, a complete guide to visit the Everest North Base Camp, was written by Harley Greenberg, who arrived in China in 2008 as a Peace Corps Volunteer. When not teaching he would always crisscross the country and his first visit to Tibet was in 2009. Today Harley is a manager at WindHorseTour.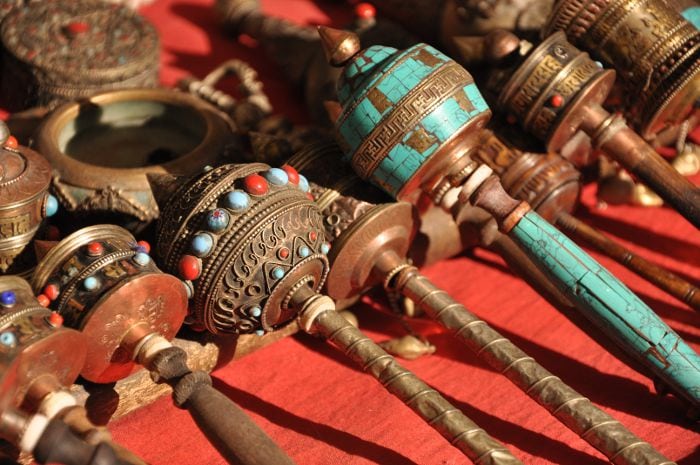 Tibetan prayer wheels for sales in Shigatse
Can you visit Tibet on your own?
No. Sorry, but you cannot go alone. Chinese law is pretty strict about this. The only way to visit the Tibet is to arrange a trip with a licensed travel agency that can provide you the required Tibet Permits.
In particular, a trip to Mount Everest Base Camp requires a TTB Permit (Tibet Tourism Bureau Permit) and a PSB Permit (also called Alien Travel Permit).
The TTB permit is issued by Tibet Tourism Bureau Office in Lhasa before you start your trip. This is often referred to as your "Tibet Entry Permit" and is required to board your train or flight to Tibet.
The PSB Permit or Alien Travel Permit is a special permit for foreign tourists to visit "unopened" areas, such as Mount Everest Region, and can easily be arranged in Shigatse (a town on the half-way between Lhasa and the Everest) by your guide. The process is very quick and it only takes about 1-2 hours, so normally it won't affect your sightseeing in Shigatse.
Most of this will appear transparent to any traveler, except that when you are getting closer to the mountain there will be a few check points where passports, photos and permits will be checked by local authorities.
The cost of your tour should include all the required travel documents as part of the fee. Notice that when you are applying for your Chinese Visa, it's better if you DO NOT mention that you are planning to visit Tibet.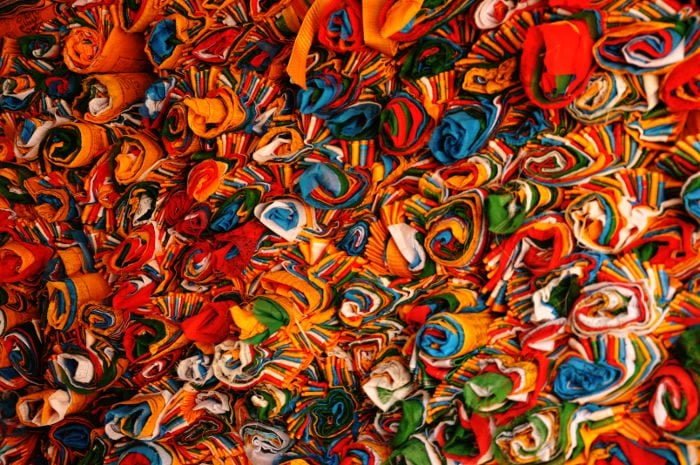 A wall of Tibetan prayer flags in the Shigatse open market
When to visit the Everest Base Camp
Everest can be visited all year long but the best time of year is the middle of April to early June and the middle of September to middle of October. Both of these times are most likely to offer you clear skies and an unobstructed view.
Many people are dying to watch the sunrise over Everest but the sun does not rise over the mountain. It does however set and offers a spectacular view.
I personally have been there in the morning and evening. No matter the sunrise or not, it is breathtaking to watch the mountain appears from a silhouette outlined by stars to the tallest obstacle before us. However it is cold all year so please dress warmly.
What to bring?
You don't need any special gear to visit the Everest Base Camp. Just get a good jacket, decent shoes and sunglasses.
How many days are needed to visit the Everest Base Camp?
People ask me all the time "How many days would you recommend for a trip to Everest Base Camp?" to which I will reply that eight days is enough. This includes your arrival and departure days in Lhasa, along with stops at the most popular attractions.
However I recommend that you plan at least ten days. While a two days difference may seem small, it offers a couple of tremendous benefit to you:
You are traveling at over 3,000 m. (10,000 ft.). Unless you are a marathon runner or conditioned high altitude hiker you are not going to be operating at full steam. A 10 days trip allows for a slower increase in elevation from the 3,650 m. (11,975 ft.) of Lhasa up to the 5,150 m. (16,896 ft.) of the North Base Camp.
All routes to Everest from Lhasa will travel via the China – Nepal Friendship Highway. With the extra time on the return you can venture through Daktuka cross the Bramaputra River and the Shuege-la Pass at over 5,300 m. (17,389 ft.). This allows for a peaceful drive through a less visited portion of Tibet, which includes several remote valleys that are dotted with traditional Tibetan villages and connected by the scenic grasslands.
Stopping at one of my favorite places in the world, Namtso Lake, that is one of the three holy lakes within Tibetan Buddhism and a spectacular place to photograph the sunrise.
Last and perhaps most important. Rushing on a vacation isn't cool. You traveled a long way to reach Tibet, let's enjoy your time!
Tibet Airlines is now offering flights in and out of Shigatse three times per week. You could then depart Tibet from Shigatse reducing the trip by one day. I would not advise you to fly into Shigatse and go right to Base Camp: there is way too much risk of High Altitude Sickness.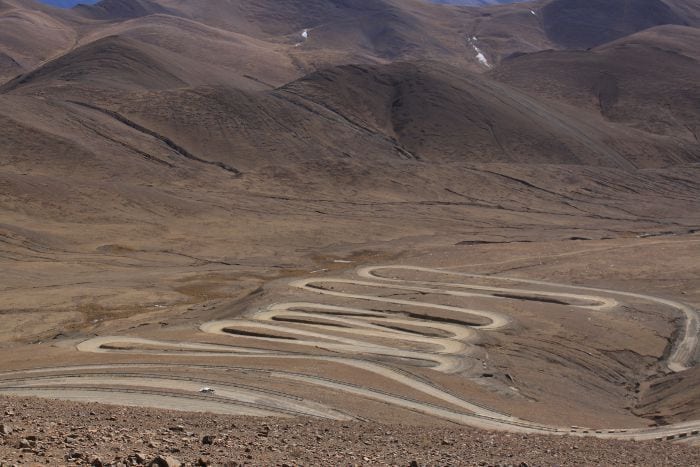 The road down from Gawu-la Pass
Private or Group Tour Choice
When planning your trip one of the bigger questions you will need to answer is to go on a private tour or group tour.
A group tour offers the advantage for individual travelers to share costs but it limits your ability to adjust the route. The tour company where I work offers group tours to Everest with the options to return to Lhasa or continue on to Nepal.
A private tour gives you complete control over your route. If you are traveling in a group of three or more people I would strongly encourage a private tour. With a group of this size, the price will be about the same.
Or if you are a more social person, there are ways to build your own private tour and sell seats to help fill up the vehicle. This helps you to get the best of both worlds, but does require more effort.
One mixed approach is to join a group tour but arrive or depart Lhasa later than the scheduled date. Most travel agencies will be happy to support this request. It will allow you more time to explore the capital and perhaps take small private trips to some other nearby attractions.
A word of warning: please don't expect to visit any monastery, temple or other attraction within or outside of Lhasa on your own. Per current travel policy for foreign tourists, a licensed guide is required.
No reputable agency will knowingly allow this and the consequences when you get caught are severe. You will lose your permit and immediately be taken to the airport to leave Tibet. In addition the travel agency and staff that applied for your permit will be faced with troubles. Yikes! Not the way you wanted to enjoy your trip.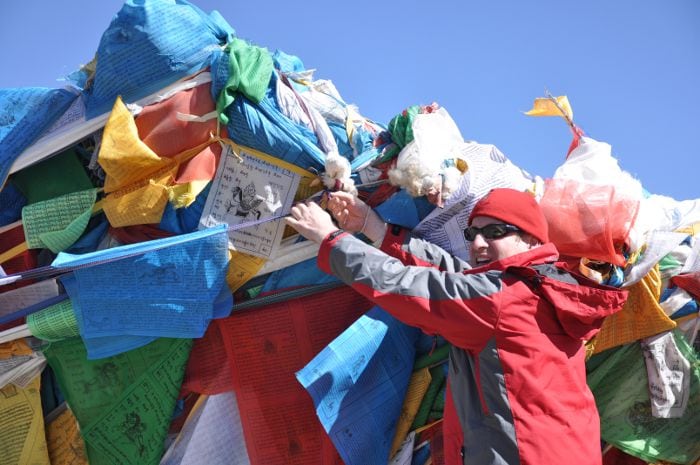 Harley hanging prayer flags at Gawu-la Pass
How To Get To Everest Base Camp
There are three ways to reach the Mount Everest and, more in general, Tibet:
By train from cities such as Beijing, Shanghai, Chengdu and others. Most routes will take about two days. The train travel is a spectacular landscape along the Qinghai-Tibet Railway and warrants another article alone.
By plane from any major cities within China or Kathmandu in Nepal.
Overland from Nepal through the border at Zhangmu.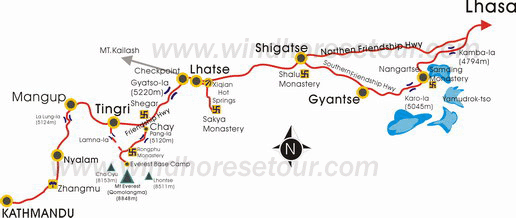 The most popular route: Lhasa to Kathmandu via Everest Base Camp
The most popular route goes from Lhasa to Kathmandu via Everest Base Camp. Both the 8 and 10 days options discussed above will travel along this route. The road condition are very good. Joined with several historical and cultural attractions along the way makes it an obvious choice.
Upon arrival at Gyato-la Pass at 5,220 m. (17,126 ft.) you will have your first glimpse of Mount Everest. You will then continue another 2 to 3 hours to reach Gawu-la pass where the first true breathtaking view can be seen of Mount Everest and its high peak neighbors across the magnificent Himalayan mountain range before you.
If you are heading directly to Base Camp, you will reach Gawu-la Pass the afternoon of your second day out of Lhasa. That is to say if you leave Lhasa on Monday morning you will spend the first night in Shigatse and late the second day cross Gawu-la Pass.
You will certainly stop to celebrate the view offered and if you are lucky and there will be no clouds, the astonishing view will have an all star lineup of 8,000 m. peaks from left to right, which includes Mount Makalu, Mount Lotse, Mount Everest, Mount Cho Oyu and Mount Shishapama. Toward late afternoon you will arrive at Everest Base Camp.
Food and Guest Houses at Base Camp
When you arrive at Base Camp, one of the first spots you are likely to see beyond the massive Mount Everest just a few kilometers down the valley is Rongbuk Monastery. Rongbuk Monastery and its guest house is one of the only structures that support tourists and climbers.
Food choices are thin at Everest Base Camp. The monastery has a small restaurant, but calling it a restaurant is very generous. They have instant soup, pancakes and other snacks. I would suggest to bring some food with you that can easily be bought in Shegar/Old Tingri, which is the last town from before Base Camp, about 100 km (62 mi.) away.
Lodging at Base Camp does offer both private and dormitory style, but all the bathrooms are shared. Bathrooms are not exactly 5 star, not even 4 star… I hope you are seeing the trend: the bathroom facilities are all latrines!
If you are planning to spend the night at the Base Camp, then be certain to bring your own sleeping bag, or you should be able to borrow one from your travel agent. But please don't pay to rent a sleeping bag, it should be included!
There are three options for those that choose to sleep here. All of them are very simple accommodations so please do not set the bar too high:
Rongbuk Monastery Guesthouse is open all year round. They offer double rooms, triple rooms, a dormitory and other style arrangements. The beds are a bit hard so if you have any back problems plan ahead.
Everest Tent Guesthouse is only open in the summer. The location varies each year to help reducing erosion from the tents that are set up along with supporting elements like the outhouse and cooking. The tents here are fairly large, not circus size but you can easily walk within them.
Zhufeng Hotel is only open during the summer months. Be certain to check with your agent to confirm if it's available during your trip.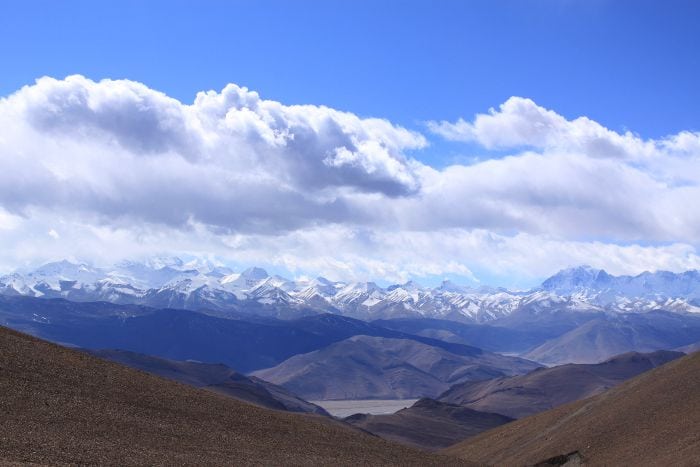 View of the Himalayas from Gawu-la Pass
What to do at the Everest Base Camp?
Perhaps the most unanswered question yet is "How close can I get to the mountain?"
The answer lies about 8 km. (5 mi.) south from Rongbuk Monastery. Here you will find the only signs marking the Base Camp and it will not mention Mount Everest. It will simply say "Mt. Qomolangma Base Camp," written in Tibetan first, Chinese second and lastly English.
This sign marks the further point that visitors can go, except for those who have a summit permit. Here you can enjoy the best view of the mountain, feel the wind blow down from the glacier fields, take all kinds of photos and marvel at the massiveness of Mount Everest.
The visitors' Base Camp is relatively clean and peaceful, I like to remind all clients to protect and not disturb the environment. Be respectful to ensure all future travelers can enjoy the same experience.
There are two ways to get from the guest house area to the Base Camp. The first is to travel by car or bus depending upon the season. In the summer the government will run a public bus to help reduce pollution, road congestion and erosion (the fee is 15 RMB). In the winter tour vehicles are permitted to drive directly to the Base Camp.
The alternate way is to walk along the road. The short hike will take about one hour. Personally speaking, there is nothing spectacular about walking along a dirt road, so unless you really wanna tell friends and family you hiked at Mount Everest, take the bus!
There is plenty of great hiking in Tibet and not far from Everest but we will let this topic for another time.
Most people will spend less than thirty minutes at the Base Camp. This includes waiting their turn to take photos or perhaps wait for a break from the clouds to see the summit.
When you are ready, your guide and driver will head off back toward Old Tingri.
Frequently asked questions
Where is Everest Base Camp, in Tibet or Nepal?
There currently exist two Everest base camps: the north camp in Tibet and the south camp in Nepal. You can climb Everest from both base camps, but the south camp tends to be the most popular, because the permits are usually easier to get.
Is it possible to trek at Everest Base Camp?
Unless you have a special permit, you aren't allowed to go very far away from Everest base camp. However, good travel agencies can organize hikes of the areas around Everest, which can be very interesting.
What is the cost of visiting Everest Base Camp?
What is the temperature at Everest Base Camp?
There is a large difference between daytime temperatures, which tend to be around 0 all year round, and nighttime temperatures, which can reach -20 degrees in the winter.
Are you looking for a travel agency?
If you've already decided to book a Tibet tour but you aren't sure what travel agency to choose, we can suggest a reliable agency to you. Just contact us using the form below:
Photo Credits: Photos by Harley Greenberg