This page is dedicated to my favorite Chinese movies.
Ocean Heaven (海洋天堂, Hǎiyáng Tiāntáng)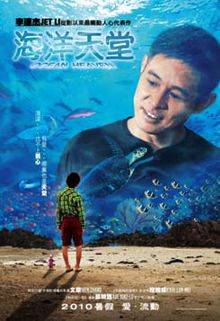 Ocean Heaven is a 2010 Chinese-Hong Kong drama directed by Xue Xiaolu.
Sam Wong has a terminal sickness and is going to die soon. Even if he has accepted it, he's worried for his son, Dafu, who is a 21 year old autistic guy. Sam works in an aquarium and, since his wife died fourteen years before, he has to look after his son alone.
Sam's deepest fear is that Dafu won't be able to look after for himself after he will die. Hence he's trying to teach to his soon how to learn the essential everyday tasks so that he will be able to survive once he will be alone.
An important part of the story is devoted to show the help that Sam and Dafu get from their community. In China there isn't the state welfare that you can get in Europe or Japan, so people learned how to take care of each other.
This is one of the few movies in Chinese that I was able to completely understand without English subtitles. The reason is that there isn't much dialogue going on. It's all about body language and face expressions.
Even if it's a sad story, Ocean Heaven does end up with an optimistic view of the future. But you have to watch the movie to discover it ; )
The Story of Qiu Ju (秋菊打官司, Qiū Jú dǎ guān sī)