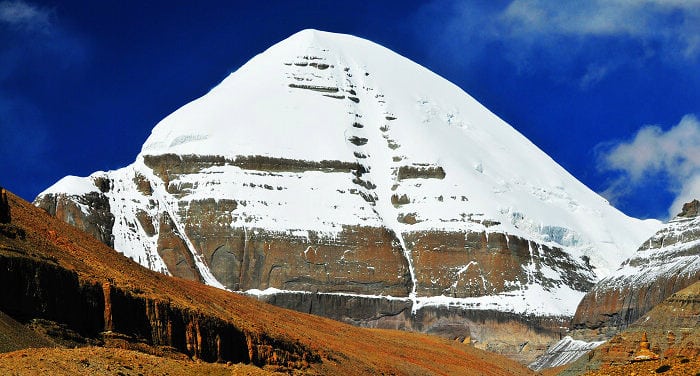 This article was written by Harley Greenberg, manager at WindHorseTour.
In this article, I would like to share all you need to know before you plan your trip to Mount Kailash.
P.s. If you are just looking for a tour quotation, you can click here and head directly to the tour form. We will put you in touch with a tour agency based in China, which specializes in tours in Tibet.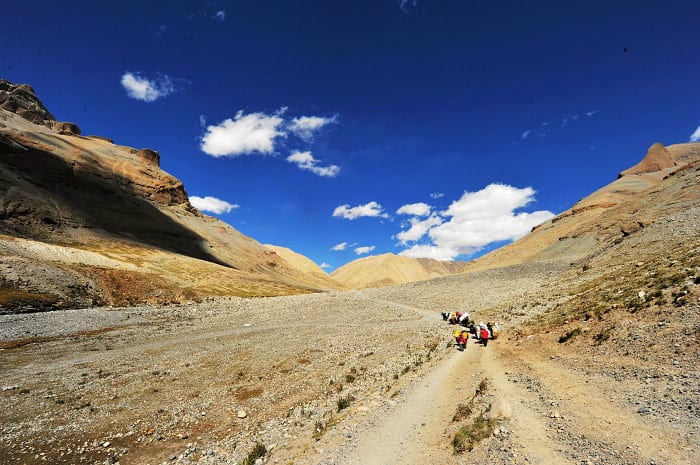 An introduction to Mount Kailash
A trek to Mount Kailash offers a unique travel experience: spectacular landscapes, incredible culture, faithful pilgrims.
Mount Kailash, or Kang Rinpoche in Tibetan, is located in the remote far west of the Tibetan plateau, and has an elevation of 6,714 m (22,030 ft.). It rises from the Barkha plain, near Lake Manasarovar and a basin that gives life to four of the greatest Asian rivers: Yarlung Tsangpo (Brahmaputra River), Karnali (a major tributary of the Ganges River), Sutlej River and Indus River.
Mount Kailash is a sacred mountain in four religions: Hinduism, Buddhism, Jainism and the followers of the indigenous Tibetan religion of Bön. For Hindus, Mount Kailash is the home of Shiva, the Destroyer and Transformer, and his consort Parvati. To Buddhists, Mt Kailash is the abode of Demchok and his consort Dorje Phagmo, it is also believed that Mount Kailash is a natural mandala representing the Buddhist cosmology on the Earth.
The Jains believe this is the place where their religion's founder was spiritually awakened, and Bonpos believe Mount Kailash to be the place where the founder of the Bon religion landed when he descended from the Heaven.
Lake Manasarovar (or Mapham Yum-tso in Tibetan) means the "eternal and invincible jade lake", and lies only 32 km southeast of Mount Kailash, with an altitude of 4,560m (14,960 ft.). The lake covers an area of 412 square km, and it is the highest freshwater lake in the world.
Lake Manasarovar is one of the three holy lakes in Tibet by followers of Hinduism, Buddhism, Jainism and local Tibetan religion of Bön. A lot of Hindu pilgrim groups will take a bath at Lake Manasarovar after the devote Mount Kailash Kora (the famous pilgrimage) to clear away the sins.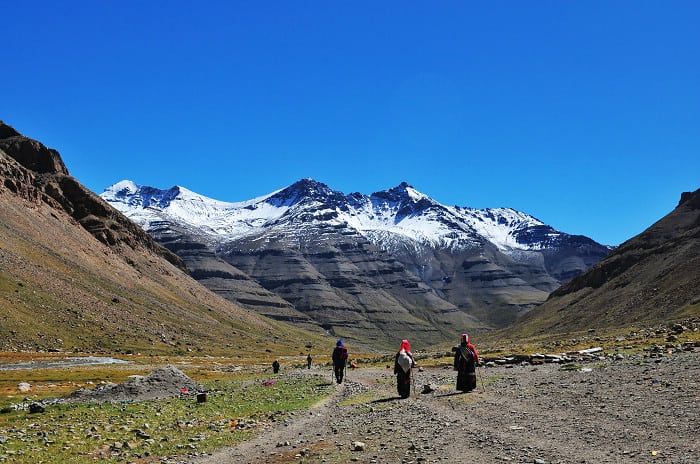 How to get to Mount Kailash
The first question you shall ask yourself is where and how you would like to enter Tibet? From Mainland China, or Kathmandu, in Nepal?
First, the only international flight that arrives in Lhasa, the capital of Tibet, departs from Kathmandu, in Nepal. So, if you're considering to take the flight to Tibet, then you need to transit from one city in Mainland China or get to Kathmandu, and fly from there to Tibet.
There are trains and direct flights available from some big cities in Mainland China such as Beijing, Xi'an, Chengdu, Chongqing, Shanghai, and others, to Lhasa.
There are also daily flights operated from Kathmandu to Lhasa. Land travel by crossing the border from Nepal to Tibet is also possible now, as the border Kyirong was just opened to foreign passport holders a few months ago.
Once you decided how to enter Tibet, then the next question will be how to travel to Mount Kailash.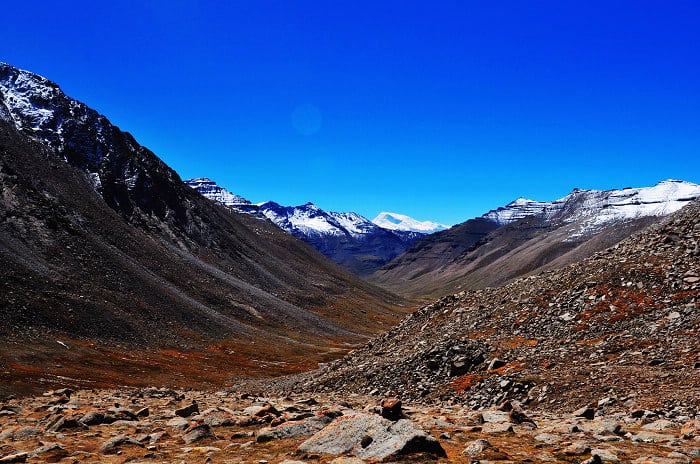 Travel by land from Lhasa to Mount Kailash
There are several ways to get to Mount Kailash from Lhasa. The most popular and fast is to travel along the Nepal-Tibet Friendship Highway to the town of Lhatse, and from there take the National Road 219 to Mount Kailash. It is a good paved road and normally it takes about 4 days to reach Mount Kailash from Lhasa with stops at Gyantse (or Shigatse), Sakya (or Lhatse) and Saga Town.
If you want to include a visit to Mount Everest Base Camp, then another extra day is required. Normally travelers will take the same road back to Lhasa after finishing the Kailash Kora. If you want to include a visit to Guge Kingdom Ruins in Zanda, you must consider 2-3 additional days.
The National Road 219 is also called the Xinjiang-Tibet Highway, one of the highest, most remote and most spectacular roads in Asia.
Therefore, it also possible to continue the overland trip to Xinjiang, after a stop at Mount Kailash. It takes roughly about 5-7 days from Mount Kailash to Yecheng, the border city of Xinjiang.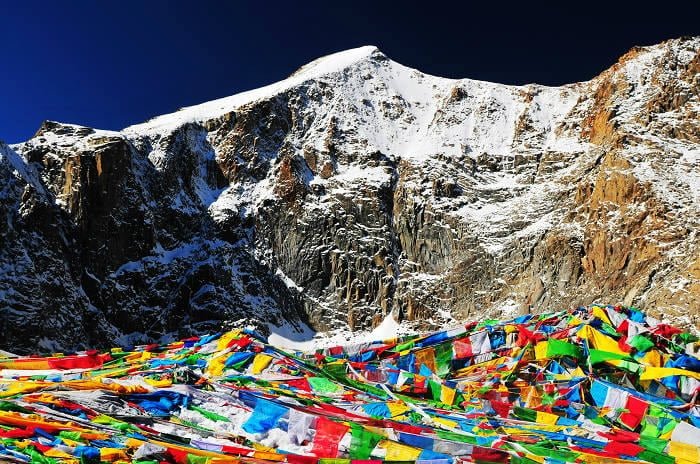 Flying from Lhasa to Mount Kailash
There is also a daily direct flight available between Lhasa and Ali, the capital city of the Nagri prefecture, which is the nearest big city to Mount Kailash (around 4-5 hours of driving away). If you have limited time or want to save 3 days of driving to go back to Lhasa, then you can consider to take the overland travel to Mount Kailash and fly back after the Kailash Kora, from Ali.
Generally speaking, we don't recommend you to fly to Ali at the beginning and start the Kailash Kora from there, as this won't give your body enough time to adjust to the altitude (we will discuss how to deal with the altitude later in this article).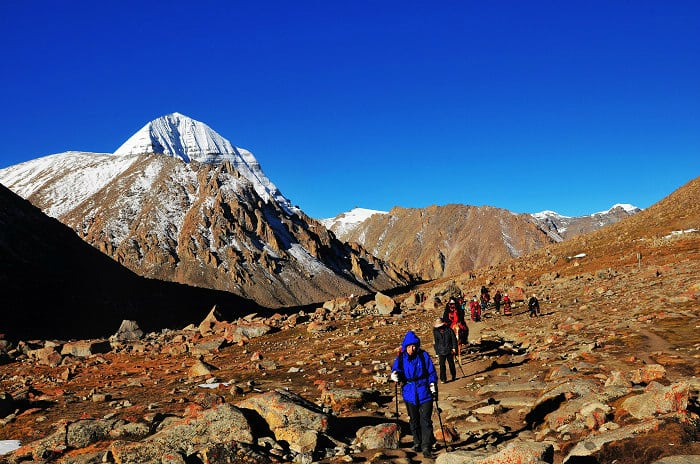 Travel by land from Kathmandu to Mount Kailash
Travelers can also head to Mount Kailash from Kathmandu by land, after crossing the border at Kyirong. This is another border check point between Nepal and Tibet, just opened for foreign travelers in september 2017 after the closure of the old border checkpoint at Zhangmu, since the April 2015 Nepal earthquake.
After crossing the border, you shall continue to Saga Town (it takes around 5 hours), with a stop at stunning Peiku Tso, where you can enjoy the great view of Mount Shishapangma. From Saga Town, it takes day to reach Mount Kailash.
If you are considering to take this approach to Mount Kailash, then I suggested that you spend at least 2 days in Kyirong Town, to adjust to the high altitude. Otherwise, there gonna be some challenges and risks to travel to Mount Kailash.
It is generally much safer to start your journey in Lhasa, spend some days acclimatizin,g and set out slowly to Mount Kailash.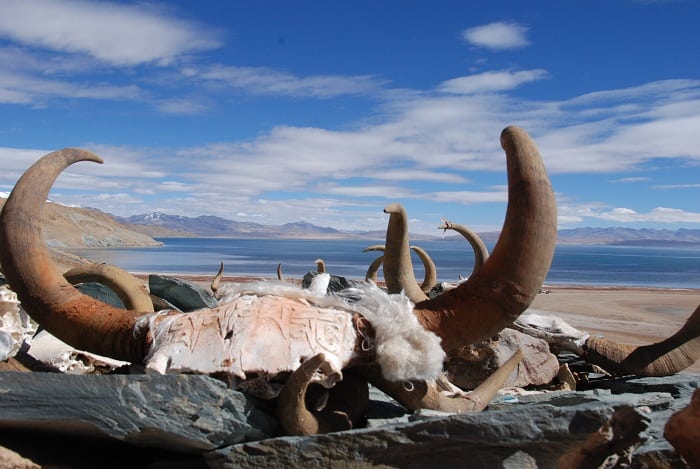 The best time to visit Mount Kailash
The best time for a Kailash tour/trekking is from mid-May to mid-October. However, snow could be encountered on the Drolma-la pass at any time of year. The temperature will often drop well below freezing at night, even during the summer months.
While some die-hard travels may try to do the Kora when the passes are covered in snow, I won't suggest it. Until early May, the pass tends to be snowed. If you just want to have an overland travel to Mount Kailash and other sites in far west of Tibet excluding the Kailash Kora, then you can consider to travel also in April or November.
A great time to meet the pilgrims at Kailash Kora is from June to September, during the Hindu pilgrims season.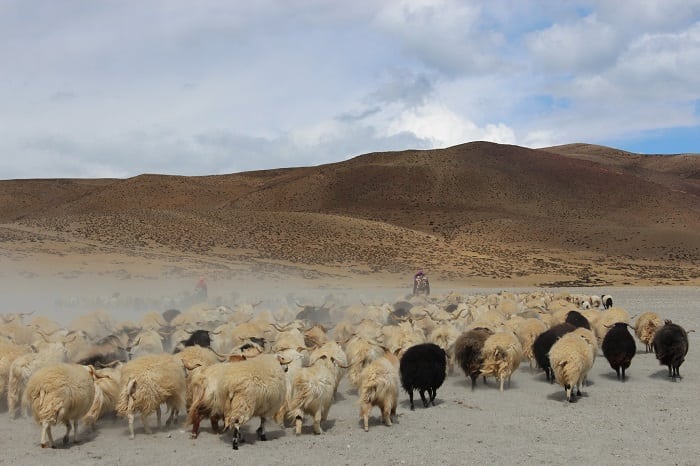 Suggested itineraries for a Mount Kailash Tour
An ambitious but rewarding alternative is to travel up to Ali, the capital city in Nagri prefecture, then get off the beaten for 1 or 2 days to explore the amazing Guge Kingdom ruins at Tsaparang and Tholing Monastery in Zanda. At Ali, there are two travel options you can consider to make your trip even more adventurous: one is to cross the vast and inhabited Northern Tibetan Changthang plateau for more wildlife, lakes, and mountains; the other is to head all the way to Kashgar, West Xinjiang.
If you are heading to Mount Kailash from Nepal, it's well worth taking the shortcut South via the stunning Peiku Tso, and its views of Mount Shishapangma.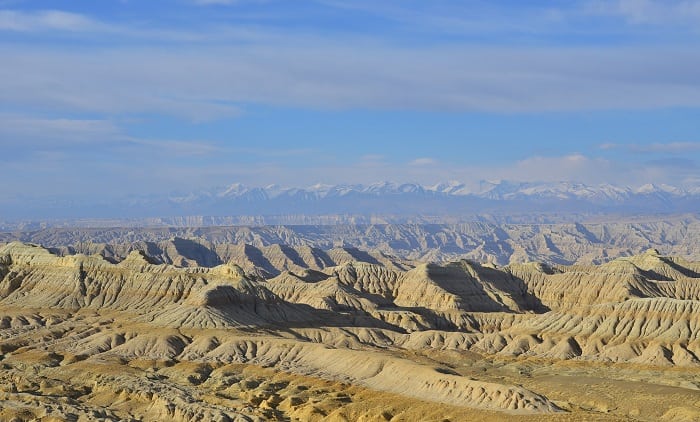 Tour 1: 15 Days – Mount Kailash and Mount Everest Base Camp Tour (The most popular one)
Day 1: Arrive in Lhasa
Day 2-3: Lhasa city sightseeing and acclimatization
Day 4: Drive to Shigatse via Gyantse with stops to visit Yamdrok Tso Lake, Gyantse, and Kumbum
Day 5: Drive from Shigatse to Shegar with a visit to Tashilhunpo Monastery
Day 6: Drive from Shegar – Everest Base Camp, enjoy the sunset at Everest Base Camp
Day 7: Travel from Everest Base Camp to Saga via Lake Peiku-Tso and Mount Shishapangma
Day 8: Travel from Saga to Darchen, prepare for the Kailash Kora (see below for more info on the pilgrimage)
Day 9-11: 3 Day Kailash Kora, stay at the lake side of Manasarovar
Day 12: Travel to Saga
Day 13: Travel from Saga to Shigatse (If you head to Nepal, then travel from Saga to the border Kyirong)
Day 14: Travel back to Lhasa (If you head to Nepal, then travel from Kyirong to Kathmandu)
Day 15: See off at Lhasa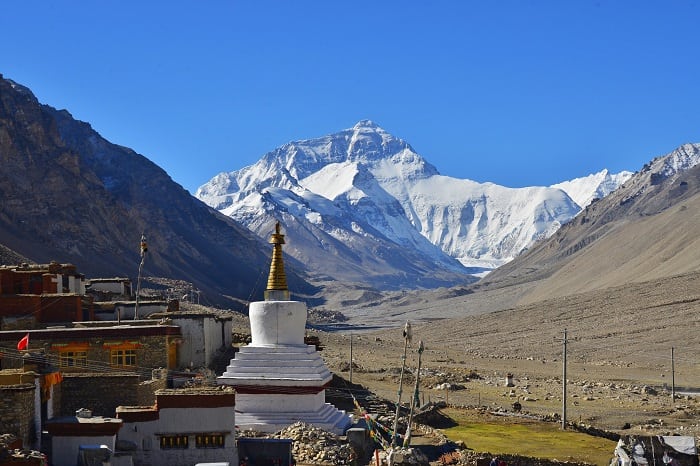 Tour 2: 17 Days – Mount Kailash, Mount Everest Base Camp and Guge Kingdom Ruins Tour
If you want to include a visit to Guge Kingdom Ruins, then another 2 days are required, for a total of 17 days. Here the itinerary:
Day 1-11: Same as Tour 1
Day 12: Travel from Darchen to Zanda
Day 13: Visit the Guge Kingdom Ruins and return to Darchen or Lake Manasarovar
Day 14: Travel to Saga
Day 15: Travel from Saga to Shigatse (If you head to Nepal, then travel from Saga to the border Kyirong)
Day 16: Travel back to Lhasa (If you head to Nepal, then travel from Kyirong to Kathmandu)
Day 17: See off at Lhasa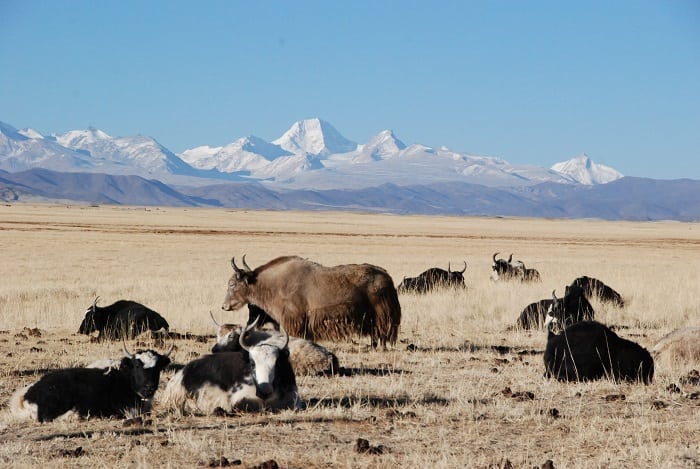 Tour 3: 22 Days – Mount Kailash and Crossing Tibet Changthang Tour
This tour itinerary crosses the vast and inhabited Northern Tibetan Changthang plateau for more wildlife, lakes, mountains:
Day 1-11: Same as Tour 1
Day 12: Travel from Darchen to Zanda
Day 13: Visit the Guge Kingdom Ruins
Day 14: Travel to Ali
Day 15: Travel from Ali to Gertse
Day 16: Travel from Gertse to Tsochen
Day 17: Travel from Tsochen to Wenbu Village (South)
Day 18: Travel from Wenbu village to Nima County
Day 19: Travel from Nima county to Bange County
Day 20: Travel from Bange county to Namtso Lake
Day 21: Travel from Namtso Lake to Lhasa
Day 22, See off at Lhasa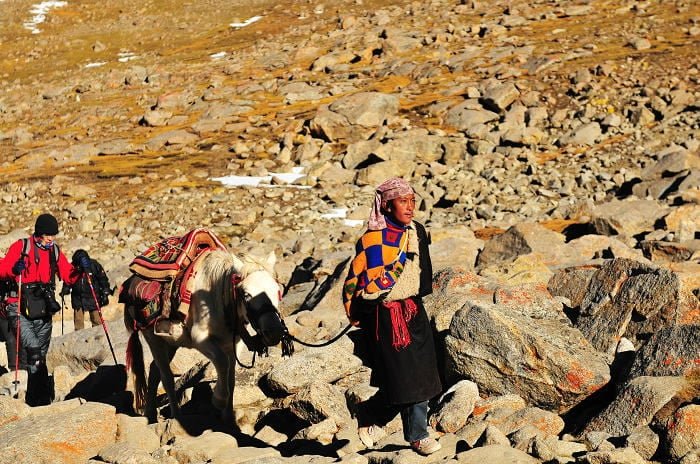 Mount Kailash pilgrimage (Kailash Kora)
The circuit (or Kora) of Mount Kailash is one of the most important pilgrimages in Asia. Buddhists believe that circumambulating Mount Kailash will wash away the sins (bad karma) of a lifetime and offre protection against evil spirits. It is said that a 13 times circuit around Mount Kailash will bring enlightenment within one lifetime, and 108 revolutions will bring instant enlightenment.
Kailash Trek (or Kailash Kora) is long 52 km, it starts from the village Darchen (4,675 m / 15,340 ft.), it crosses a plain, then head up a wide river valley, climb up and over the 5,630 m / 18,470 ft. Drolma-la Pass, head down another river valley, and finally cross the original plain to Darchen. The circuit is a straightforward natural circuit and easy for travelers to follow up. Hindus, Jains and Buddhists go clockwise while the followers of Bon go anticlockwise.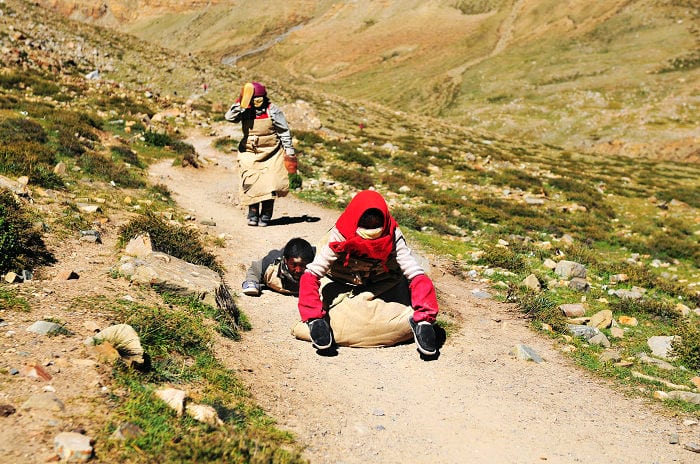 Here some more details:
Distance: 52 km trekking
Duration: 2-3 days
Trekking level: medium to difficult
Start/finish point: Darchen village (4,675 m / 15,340 ft.)
Highest Point: Drolma-La Pass (5,630 m / 18,470 ft.)
Accommodation: Camping or Monastery guesthouses
Food: Local restaurants
Most pilgrims and tourists take 3 days to complete the Kailash Kora, starting and ending at the village of Darchen. Here the itinerary:
Day 1: Darchen – Dira-puk Monastery, 6 hours trekking, 20 km, 200 m / 656 ft. ascent
Day 2: Dira-puk Monastery – Zutul-puk Monastery, 7/8 hours trekking, 18 km, 550 m / 1,800 ft. ascent / 600 m / 1,970 ft. descent
Day 3: Zutul-puk Monastery – Darchen, 3/4 hours trekking, 14 km, 150 m / 500 ft. descent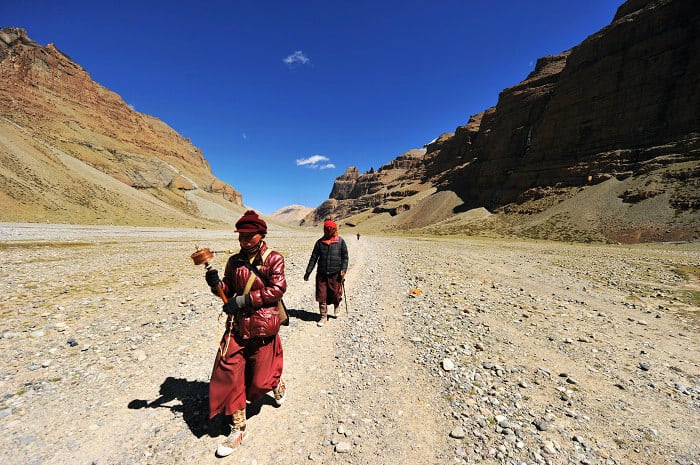 However, there are still a lot local Tibetan who finish the whole circuit in one day (roughly 14-16 hours), which requires a very good physical condition, with a depart in the early morning and finish in the evening. Furthermore, some local Tibetans who are seeking special merit take the full body prostrations for the Kora, which could take weeks to finish one circuit. Most of pilgrims and tourists only come to complete one single circuit, while some local Tibetans make 3, 13 or even 108 circuits.
I always suggest to travel light. As the Kailash trek is only 3 days long and there are tea houses and basic restaurants available along the circuit, you really don't need carry too much gear. I suggest you just bring a 50 – 80 liter backpack to carry one warm sleeping bag, some snacks, basic toiletries and some extra clothes such as socks, underwear and fleece.
For those that want to soften the load a bit, there is an option of hiring a porter or pack animals in Darchen village, your local guide in Tibet can help you to arrange it. I would suggest to tell your guide one day before you arrive at Darchen. There are also horses available to be hired for riding for the Kailash Kora, but please note you will not be allowed to ride the horse down the steep back side of the Drolma-la Pass (about 3 km long) as it is too risky for both you and the horse to get injured. During the peak months of the Hindu pilgrim season (June to September), horses could be at a shortage, as there is a greater demand.
Here is the price charged in the moment I'm writing, for a 3 days trek:
720 Yuan per yak for 3 days
630 Yuan per porter for 3 days
1710 Yuan per horse for 3 days
780 Yuan per animal keeper (Yak-man or horse-man) for 3 days
Note that normally one yak man can take care to up to 3 yaks, however one keeper is required for each horse.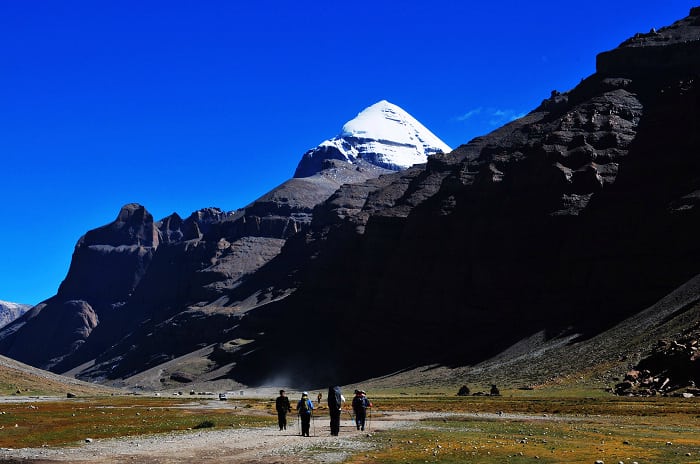 Cost of a Mount Kailash Tour
As we will explain in the next section, all foreign passports holders are required to be in one organized tour to visit Tibet, based on the current policy.
For budget and solo travelers, join in one group tour is the best choice, as the price is much cheaper than getting a private tour. For a group tour of the 15 Day to Mount Kailash and Mount Everest Base Camp, the cost will be around 11,500 CNY to 12,600 CNY per person (1.770 USD to 1,940 USD), based on the month of choice for the trip.
The cost includes the basic lodging, permits, English speaking guide service (local Tibetan), land transportation by minivan or minibus, personal entrance tickets and government tax.
The food, porters for the trek and personal expense is excluded from this quotation. Normally the size of the group tour will be of maximum 12 travelers. It could be fun as the people you are traveling with are from different parts of the world. The main con about joining a group tour is that you cannot choose the exact dates you want, although there are tours that depart often.
If you are traveling with more than 4 people or seeking a more comfortable experience, then a private tour could be a better choice as the itineraries can be customized based on the needs, the guide/vehicle is only for you, and you will spend less than what you would spend with a group tour.
Here a rough estimation of the costs, based on a private 15 days tour:
Group size – Cost (May-June / July- Oct)
Solo traveler in one private tour – 30,700 CNY (4,700 USD) / 33,000 CNY (5,100 USD) per person
2 Travelers in one private tour – 17,400 CNY (2,700 USD) / 19,000 CNY (2.900 USD) per person
3 Travelers in one private tour – 13,000 CNY (2,000 USD) / 14,000 CNY (2,150 USD) per person
4 Travelers in one private tour – 11,000 CNY (1,700 USD) / 11,700 CNY (1,800 USD) per person
5 Travelers in one private tour – 9,800 CNY (1,500 USD) / 10,500 CNY (1,600 USD) per person
For more than 5 travelers in a private tour, the cost per person would be the same as for 5 travelers private tour.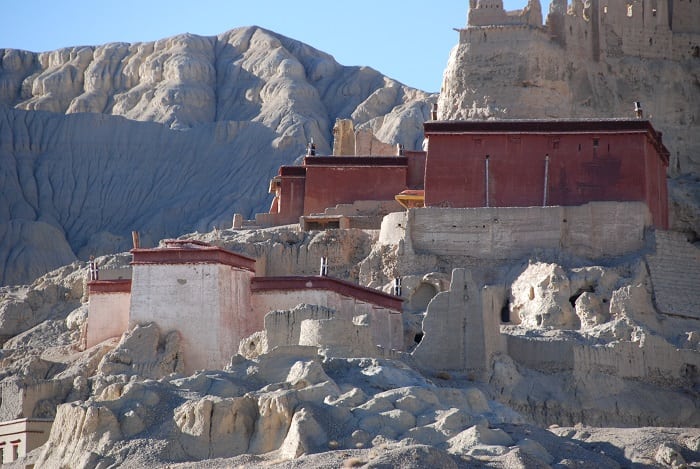 Travel regulation, China Visa and Tibet Permit to Mount Kailash
Foreign passport holders are required to be in an organized tour (either a private or group tour) to visit Tibet, including Mount Kailash. The travel agency of your choice shall help you to arrange all required Tibet permits.
To visit Far West Tibet and Mount Kailash, there are several permits required for foreign passport holders including the Tibet Tourism Bureau Permit (TTB Permit), the Tibet Alien Permit (PSB permit), the Military Permit, along with the papers from the Foreign Affair Office in Lhasa.
Based on the current travel policy, it takes about 3-4 weeks to obtain all the permits and papers needed for a Mount Kailash tour. Therefore, it is advisable to book your Kailash tour at least 1 and an half / 2 months in advance.
To apply for the Tibet Permit, the copies of your passport and China visa are required, when you enter Tibet from Mainland China. If you travel from Nepal to Tibet, then only the copy of your passport is required for obtaining the permits, but you will need to stay several days in Kathmandu for your Group China visa application.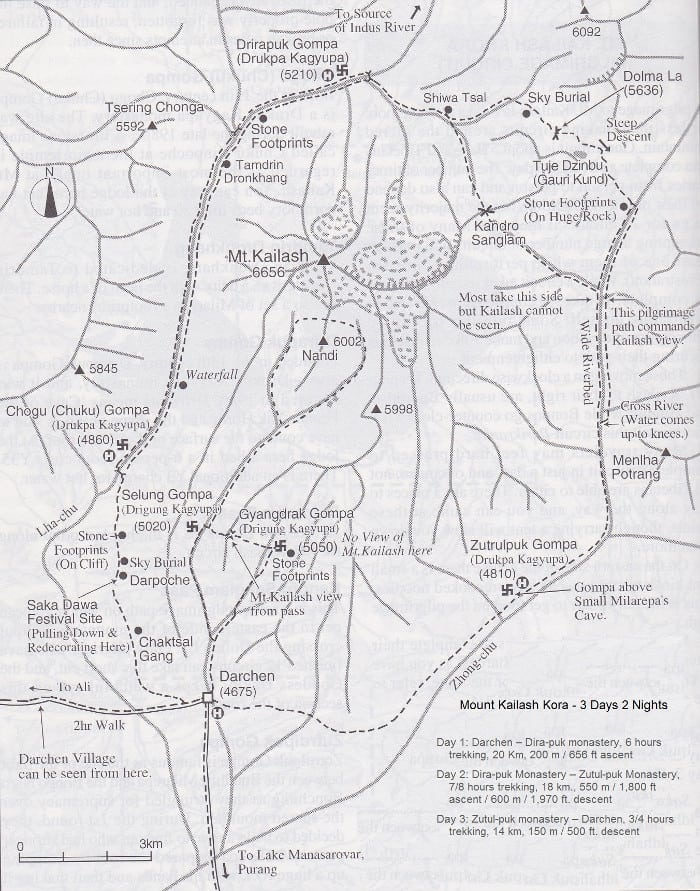 In order to get the China Tourist visa, you will need to apply at the CVASC (where available) or the Chinese consular office in your country. Normally it should take about 1 week up to 10 days, to get the visa. Click here to learn more about the Chinese tourist visa.
If you plan to enter Tibet from the Nepalese side, you don't need to have any individual China visa in advance, you can instead get a Group China visa at the Chinese embassy in Kathmandu. Normally the travel agency of your choice will help you with that.
Based on the current policy, the Group China visa application can only be required by submitting your original passport, and takes at least 3 working days. So, you will need to spend at least some days in Nepal Here the fees charged for the Group China visa in 2017 (the cost and process time could change next year):
US Passport holders: 160 USD for a regular application (4 working days required), 175 USD for an urgent application (3 working days)
Other nationalities: 70 USD for a regular application (4 working days), 85 USD for an urgent application (3 working days)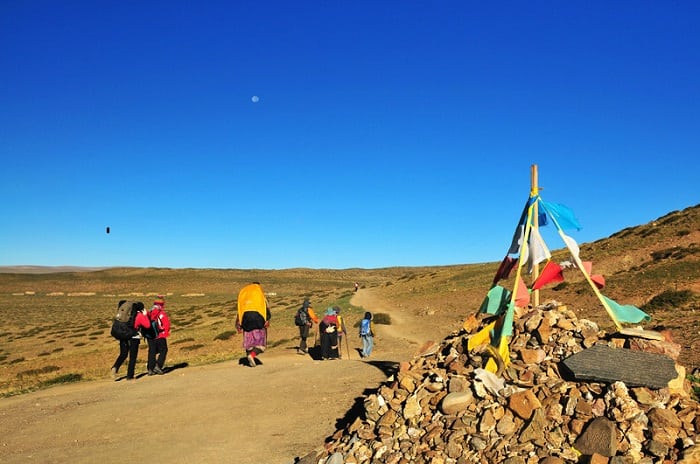 Packing list for your Kailash trek
The temperatures can be quite low during the Kailash Kora, even in summer. The mornings and evenings will always be cold (the lowest could be 0/5°C in the mid-summer and -5/-10°C in the months of May and September), while when the sun is high in the afternoon, it could be warm (the hotter it gets is 16/18°C in the mid-summer, or 8/10°C in the months of May and September).
The wind can be also very strong at the Kailash Kora especially at on the top of Drolma-la Pass. Thus, you need to be able to easily take off or add a layer when the temperature changes. It is very important to pack the correct clothing for this 3 days trek:
A good sleeping bag rated for -15°C
A 50-80-liter backpack
Comfortable hiking boots
A pair of water/wind proof hiking pants
One water/wind proof down jacket with hood
One pair of thermal tops and bottoms
1-2 moisture wicking t-shirts
One water proof rain shell
One thick fleece
2-3 pairs of wool trekking socks
2-3 pairs of trekking underwear
Gloves
A warm hat
A ball cap
A pair of sunglasses
Trekking poles
An headlamp
1-2 water bottles
A quick dry towel
Personal medications
Personal toiletries including strong sun block, lip balm, blister kit for your feet, toothbrush/paste and toilet paper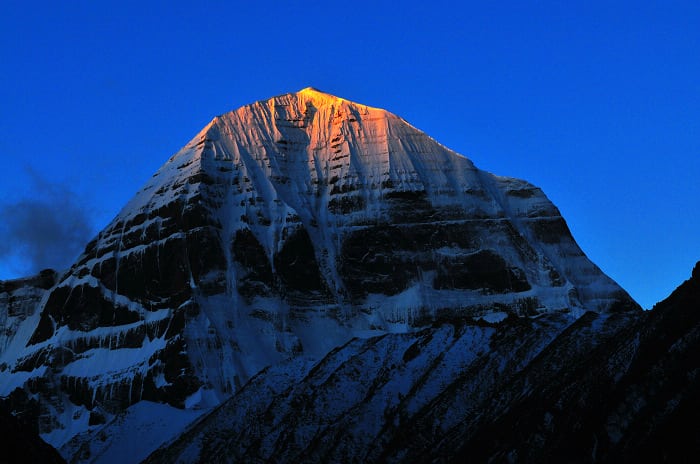 Accomodation at Mount Kailash
The accommodation condition has been improved in West Tibet in the past years, due to more travelers demands, however it is still quite basic compared to larger cities. In Saga, Darchen, Zanda and Ali you can find local 3/4 star hotels, which provide rooms with private bathroom and hot shower, but at the village near Lake Manasarovar and the ones that you will encounter while crossing the Northern Tibetan Changthang plateau, expect only dormitory bed available at the local guest houses.
The lodging during the Kailash Kora will probably be a camping or a monastery guest house.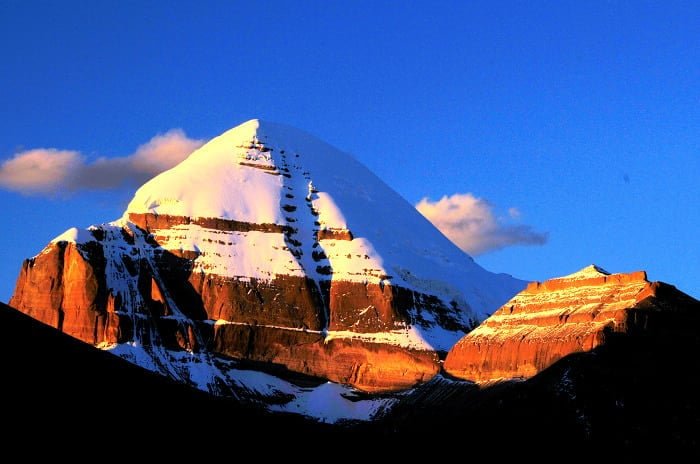 Food on a travel to Mount Kailash
My personal advice is to don't expect gourmet meals when you come to Tibet, specially to Mount Kailash. Only in Lhasa and Shigatse you will find some international restaurants that serves some western food, as well as Nepali and Indian thali sets. In the order places you will only be able to find local Tibetan and Chinese food.
Generally speaking, traditional Tibetan food is quite basic, Tibetans used to subsist on Tsampa (barley flour) and butter tea, but now many Chinese dishes have been introduced to their diet. Many small restaurants on the way to Mount Kailash serve typical dishes like yak momo (steamed dumplings with yak meat), Tibetan soup noodles, fried rice with eggs (or vegetable with meat), braised yak meat with potatoes and some other fried Chinese vegetable dishes with/without meat (chicken, pork or yak meat, etcetera).
You may need to tell the restaurants that you don't like too much oil or chili, when you order your food. Some guest houses, such at the ones at Everest Base Camp and Darchen Village, may offer some western style breakfast (pancakes and omelets).
During the Kailash Kora, there are small tea houses along the road selling snacks, drinking water and instant noodles. The guest houses also offer very basic noodle and rice dishes. My suggestion for the 3 days Kailash trek is to prepare your favorite snacks in advance, and get some fresh fruit while in Darchen Village (quite limited though).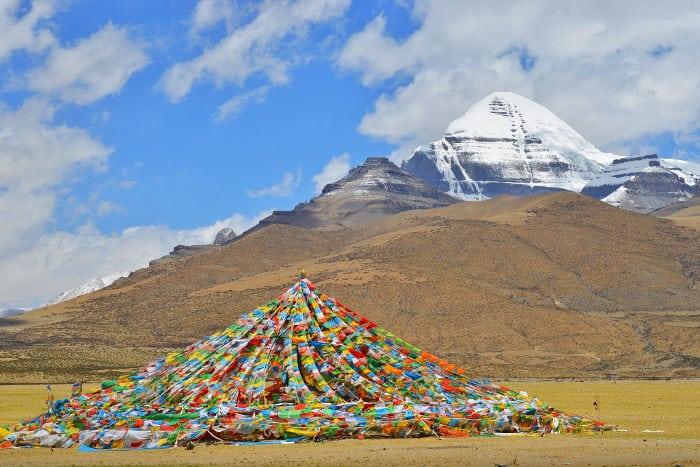 Staying healthy and avoiding altitude sickness
The biggest safety concern during your travel to Mount Kailash is the AMS (Acute mountain sickness), as most of the places you will be visiting are located over 4,000-4,500 m of altitude (roughly 13,000-15,000 ft.).
Generally speaking, most visitors to Tibet will suffer from at least some symptoms that will generally disappear through acclimatization (which may take from several hours to several days, according to the person). Symptoms tend to be worse at night and include headache, dizziness, lethargy, loss of appetite, nausea, breathlessness and irritability. Difficulty sleeping is another common symptom.
To lessen the effects of the AMS, here are some tips I would like to share:
First, you shall choose an itinerary that allows your body to acclimatize gradually to the high altitude. Then, you will need to stay hydrated, which means you will need to have water available to drink all the time, and avoid alcohol in the evenings. Third, you shall keep your immune system strong by dressing warm, consuming enough calories and taking vitamins.
Medication also helps to prevent AMS: the two most popular medication are the Diamox and the Hongjingtian Tibetan herbs. If the medication doesn't relieve the symptoms, go to a hospital or evacuate immediately to a lower (and safer) altitude.
In the case that you are struck with AMS on the road or during the Kailash Kora, I suggest you to immediately tell your local guide or the agency you book the tour with: they should have a backup plan for this case.
Finally, always get an health travel insurance, when traveling to Asia!
Frequently asked questions
Can I climb Mount Kailash?
It's now forbidden to climb to the summit of Mount Kailash, as it's a sacred mountain. Interestingly, Mt. Everest is more than 2,000 meters higher (8,848 m), but has been climbed by around 4,000 persons.
No one has climbed Mount Kailash. Some people claim that it's impossible due to its terrain and steep slopes. It's said that people tried to climb Mount Kailash before it got prohibited, but had to turn back.
Does Lord Shiva reside on Mount Kailash?
Yes, it's said that Mount Kailash is the abode of Lord Shiva that still resides on Mount Kailash.
What's the best month to visit Mount Kailash?
The best time is between mid-May to mid-October. Temperatures are higher during this time and the visibility better. Keep in mind that temperatures can still drop down to zero or below during nighttime.
What are some mysteries about Mount Kailash?
There are a number of religious and spiritual mysteries of Mount Kailash, which entice many travelers and worshippers to visit Mount Kailash. For example, a theory says that the position of the mountain keeps changing, which makes it impossible for people to know the route and how to climb it.
According to Buddhism, Hinduism and Jainism, Mount Kailash can be the gateway to heaven. Not to forget, Russians have expressed that it can be a big man-made pyramid.
Can I see Mount Kailash with a helicopter?
Yes, there are helicopter tours available from Kathmandu in Nepal, for example. These tours are particularly popular among Hindus.
Is Mount Everest and Mount Kailash same?
No, Mount Everest and Mount Kailash are two different mountains.
Get a free quotation for your tour to Mount Kailash!
If you've already decided to book a Tibet tour but you aren't sure what travel agency to choose, we can suggest a reliable agency to you. Just contact us using this form:
Photo Credits: Photos by Harley Greenberg