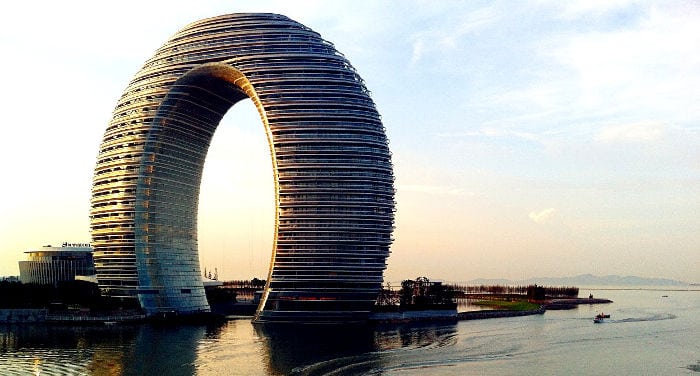 Before you begin
The purpose of this guide is to show you how and where to book a hotel in China. If you're interested on booking a hotel in a specific Chinese city, you can head directly to our hotel reviews.
Before going on, you need to be aware of these points:
Chinese hotels must register all of their customers with the police station. So, you will always have to show your passport when you arrive at the hotel.
Not all hotels in China have a license to lodge foreigners. Because of this, I recommend that you make a reservation in advance and avoid having to try several hotels before you find one that you can stay at.
In order to obtain a tourist visa for China, remember that you'll need an invoice of the hotel/hotels with the full name of all the people that will stay at the hotel and need a visa as well (unless you have a letter of invitation). Below, in this article, we explain how to get this document.
What online portal do you have to use to book a hotel in China?
There are a variety of online portals to book hotels, but in my opinion, for China, the three best are: Agoda, Booking and Trip.
Why shouldn't you use multiple-comparison websites?
While Booking and Agoda are included by the majority of multiple-comparison websites, such as Trivago, both Booking and Agoda offer exclusive deals to users who book directly on their website.
Agoda
Agoda is one of the best portals for Asia both for the number of hotels and their deals.
Pros: Agoda is normally the portal that offers the best deals on hotels in Asia. In addition, its network of hotels in China is much better than more widely-known international portals such as Booking.
Cons: Agoda's coverage in some parts of China is still scarce.
Booking
Booking is one of the most widely-used platforms to book hotels in the world.
Pros: It offers a good selection of hotels, it has good deals and is one of the most popular platforms in the world.
Cons: Its selection of hotels in China is much smaller than the other two.
Trip
Trip is one of the main travel agencies in China and one of the few Chinese travel agencies that has a good website in English (and other languages) that allows payment with non-Chinese banks.
Pros: It offers very good hotel coverage in the whole country.
Cons: Many of the hotels displayed on it don't have the necessary permits to lodge foreigners and it is missing some of the international hostels.
Comparison between the different platforms
Number of hotels:
If we consult the Agoda website, we see that in Shanghai, there are 6,341 possible hotels, on Booking 3,095 and finally Trip 4,152 hotels.
If we use Beijing as an example, Agoda offers 6,596 hotels, Booking 2,283 and Trip 4,325.
More on in general, while Agoda and Booking offer a good selection of hotels in large cities, in second and third-tier cities without tourism, Trip is the only one that offers a decent selection.
However, keep in mind that Trip includes many hotels where foreigners can't stay, and it is because of this that there is such a large difference in numbers.
Prices:
We are going to compare the prices in USD of my three favorite hotels in Beijing (for three nights starting December 1st, 2018), one of them budget (Peking International Youth Hostel), one mid-range hotel (Beijing Double Happiness Courtyard Hotel) and one high-end (The Peninsula Beijing).
As you see, usually Agodo is the cheapest option (although often the prices are similar).
How to get a hotel booking valid for the visa application process?
To get a tourist visa for China you are going to need to provide documentary proof that you have a hotel booking for the days you will be staying in China (in general, for the complete duration of your trip), except if somebody is inviting you to their house.
Below, we detail how to get proof of your booking through the three portals we recommend.
Important: Remember that on the booking, the names of all of the people who will be staying at the hotel must appear (if they all need the visa). If only the name of the person making the booking appears, you won't be able to use it for a visa for the people that don't appear on the booking.
Agoda
When you book a hotel on Agoda if the booking is only for one person, you can get your booking proof for the visa easily by printing the confirmation email that you will receive a few minutes after booking.
If your booking is for more than one person, it's important that you add the names in the Remarks section in the text box available, in the following way:
"Additional Guests Names": [Names of the other people who will be staying at the hotel in addition to the person who is making the booking]
Once you have done so, simply print the confirmation email for the booking (ensure that all of the names appear on the booking).
If you forgot to add the names in the Remarks section, or if they don't appear correctly, you can contact Agoda's bookings center at [email protected]
P.S. It's better if you print the invoice in English language (although the local language – that is the language of the country where you're applying for the visa – shall also be fine).
Booking
As for Booking, if there is more than one person staying at the hotel who needs a visa, make sure to add them in the Additional Guests Names, which can be done during the booking process (before paying).
Once done, simply print the confirmation email for the booking (make sure that all of the names appear on the booking).
If you forgot to add the names of all of the guests who need a visa, you can always edit the names of the guests from your Booking's account (log in, then go to My Bookings – > View Booking and edit the guest names).
Trip
When you book a hotel on Trip, you can add the names of the additional guests by clicking on the symbol '+' near "Add Guests", which appears below the field of the name of the person doing the booking.
Once you complete the booking you'll receive an email with all the details. Just print it and ensure that all of the names appear on the booking.
If you forgot to add the names of all of the guests who need a visa, you can always edit the names of the guests from your Trip's account.
What type of hotel should I choose?
If you don't speak Chinese, I suggest that you book a room in a hotel with at least three stars or an international hostel.
At those places, you will normally find at least one person in the reception who speaks some English. The situation is different in cheap (and not so cheap) Chinese hotels, where often nobody speaks English.
Another important thing to keep in mind is that if you don't speak Chinese, organizing an excursion on your own (for example, visiting The Great Wall if you are in Beijing or the Stone Forest if you are in Kunming) can be difficult. Hotels of a certain category will help you do everything you need to organize the excursion. On the other hand, international hostels normally offer cheap one-day excursions (or even larger trips) to all relevant tourists destinations.
Internet connection in Chinese hotels
While four or more star hotels normally offer decent internet service, cheap hotels in general don't offer an internet connection (or a very bad one). While international hostels tend to offer internet, normally it is so slow that it is useless.
Another problem is that many websites such as Google, Facebook, Twitter and YouTube are blocked in China. The only way to access them is by using a paid VPN service.
If the internet is important to you, I recommend that you read the reviews on Agoda, Booking or TripAdvisor before booking it to find out if the internet connection works well and if the hotel offers free access to a VPN (some international hostels do it to make Facebook addicts happy).
Where to book your hotel
Chinese cities can be enormous. I'm not just talking about Beijing and Shanghai, but also include "small" cities such as Hangzhou, Tianjin, Suzhou, Kunming, Chengdu and Guangzhou, which have between five and ten million people.
While taxis are quite affordable in China, I suggest that you look for a hotel downtown or at least close to a subway station (almost all of the large cities in China have an efficient subway system).
Are Chinese hotels safe?
China is by far the safest country that I have visited (and I have traveled a lot). So, I'm not going to recommend any special precautions.
The best hotels in the top Chinese cities
The best hotels in other popular Chinese cities
The best hotels for your Transsiberian trip
Frequently asked questions
Do taxi drivers speak English in China?
Almost no taxi drivers speak English, so it's a good idea to write down the name, telephone number and address of the hotel in Chinese characters to be able to show it to the driver and avoid misunderstandings and lost time. Using automatic translators is not recommended.
It is common for hotels in China to ask for a safety deposit?
Yes. Larger hotels will charge an amount to your credit card as a deposit. Smaller hotels might ask for the deposit in cash. Make sure that you keep the receipt for the deposit in this case to get your money back when you check out.
How can I get help from the hotel staff?
You can ask the staff of your hotel if you need something during your stay. If you are looking for a taxi, you can ask them to call one via a Chinese app. You can also ask them to write the place you're going in Chinese for you so that the driver doesn't have problems. Make sure you always have a copy of the hotel's card with you.
Do hotels in China offer internet access?
The large majority of hotels offer a Wi-Fi connection. In some cheaper hotels, access is only available in the reception. The speed will vary depending on the quality and location of the hotel. Remember that some websites are blocked in China, and to be able to access them,
you will need a VPN
.
Is Airbnb a good alternative to hotels in China?
Even though it is available in China, the large majority of owners are operating illegally, because they don't register guests with the local police (which is obligatory). In addition, the apartment can be difficult to find, which means that it isn't the best option if you are traveling to China.
Photo Credits:

Starwoodhotels in Huzhou by 井浩泽