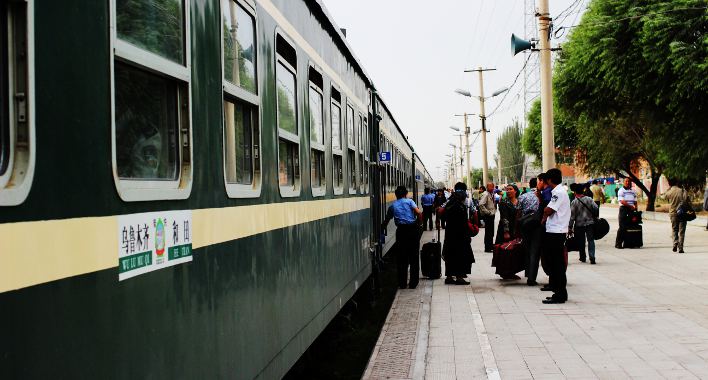 A Chinese class K train.

In this guide to traveling in China by train, you'll find out how to book and buy a train ticket in China, how to choose the right class of Chinese trains according to your needs, and some general travel tips.
How to buy a train ticket in China
First of all, it's important to understand that if you plan to buy your train ticket at the train station, or using the official China Rail website, you can only buy a train ticket starting from 28 or 30 days before your trip, respectively (even if for some trains of C and D categories the period is even shorter).
Reservations usually open 30 days before departure for online bookings and 28 days before departure for sale at stations, for most long-distance trains. Some overnight D-category sleeper trains only open 20 days ahead, some C-category trains only 10 days ahead. You cannot buy tickets before reservations open.
The problem is that, in particular during peak seasons – Spring Festival (in January or February), May Day (May 1st), National Day (October 1st) and Summer Holidays (from July to August) – you should buy your ticket as soon as possible or you'll risk that tickets will already be sold out.
For example, if you intend to travel on October 1st, you should buy your ticket around September 11-13 (it is not possible beforehand and if you wait longer, you won't find any tickets).
While if you live in China, this shouldn't be a problem, if you're coming to China as a tourist, then buying a ticket 30 days before your trip may be impossible for the simple reason that, at the moment, you aren't in China yet!
In this case, your best bet is to buy your tickets through an agency (as they use automatic systems to buy the tickets as soon as they are available), and thus maximize your odds to get a ticket, even during peak season and for the most popular routes!
There are three options for purchasing your train tickets in China: online, at the train station or in a booking office.
Buying your ticket online (recommended option)
There are hundreds of websites through which you can purchase your train tickets. Here are the best options (in our opinion):
China Highlights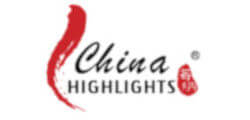 Using ChinaHighlights.com is probably the easiest way to buy your train tickets online. The website is in English and you can pay by credit card (Master Card or Visa) or PayPal.
In addition, you can book tickets whenever you want (you don't need to wait until 30 days before the date of departure). If you want, you can even book your train tickets right now using the widget on this page.
How does it work? You pay a fee of 5-15 USD (the more expensive the ticket, the more the fee will be, with a maximum of 15 USD) and the agency will buy the tickets for you.
This means that you don't have to be online exactly 30 days before to book your ticket (as I said, tickets may sell out fairly quickly).
The agency will receive your booking, buy them as soon as it's possible and then send the tickets to your hotel (or you house, if you live in China). If you prefer, you can also collect the tickets at the train station (remember to bring your passport!).
The fact that I'm allowed to collect my ticket directly at the train station is quite important to me because, when I travel, I prefer to have some flexibility in my itinerary and, sometimes choose my hotel only at the last minute.
There are other agencies that don't give you any choice other than to send the tickets to your hotel. The problem in this case is that, in order to receive the tickets, you'll have to know the hotel where you are going to stay a couple of days in advance of the day on which you're supposed to collect your tickets.
In short, China Highlights is the best option if you're a tourist who is going to travel during peak seasons or if you want to be sure of getting a train ticket (consider that, at least for the long distance lines, tickets tend to sell out pretty quickly, also during the low season).
China Train Booking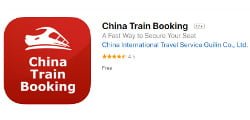 China Train Booking is an app available for both Android and iOS systems.
It allows you to check trains availability and book your ticket online in a simple way. You just need to search for the route, choose your seat, input passengers' info, and then pay. There is no need to register.
Usually you will receive your tickets pickup vouchers in the app, around 5 minutes after you paid. Showing the e-vouchers on your phones and your passports, you can easily collect your tickets at any train station.
Also, if you prefer, the app provides a delivery service that allows you to receive the train tickets at your hotel in China (or at your house), within 2 days.
The app supports multiple payment methods: foreign credit cards, Paypal, Alipay, and Wechat. This is quite important, as often the problem for foreigners in China is not the language when buying services online, but the fact that their credit cards are not accepted.
Finally, you will have access to English speaking customer service with quick responses to questions and queries, from 7 to 23 (Chinese time), every day of the week.
Click here to download the free app for your iOS or Android device.
Trip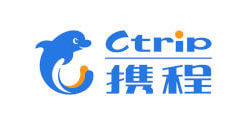 Just like China Highlights and China Train Booking, Trip.com has a website in English, and you can pay by credit card.
Even though its commission is a little less (40 Yuan, 5 Euros or 6.50 USD, plus 20 Yuan for each additional ticket), they can now send your tickets to your hotel or leave them for pickup at the station and you can book two months in advance, there's a drawback.
In the event of a problem, their after-sales service is practically non-existent. While this may seem like a minor problem, it can become a disaster if there are problems with your reservation, for example that the name on the passport does not match exactly with the reservation.
The official train ticket website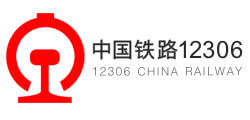 The advantage of buying your tickets through the official train ticket website is that there aren't any extra charges.
The disadvantages are that the website is in Chinese and you can buy the ticket only if you live in China, as you need a Chinese internet bank account and a Chinese cell phone number.
Also, take note that you can only book your ticket 30 days in advance and that the website crashes quite often. You can only pick up your ticket at the train station by showing your passport.
Take note that, with the new regulations, you'll have to use your name exactly as it appears in your passport (without spaces or other symbols) and you can only input a maximum of 20 letters.
If your name doesn't fit into 20 spaces or you make a spelling mistake, there is a possibility that you won't be able to pick up your ticket and you'll have to book your ticket again.
To sum things up, this option is possible only if you live in China, have a Chinese credit (or debit) card and, moreover, speak Mandarin.
High Speed Rail – MTR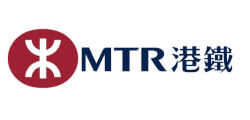 If your trip starts in Hong Kong, you can buy tickets on the official website of the Hong Kong MTR subway and train, where you can buy tickets for the high speed train that connects Hong Kong West Kowloon Station with Shenzhen, Guangzhou, Beijing, Shanghai, Kunming and Guilin, among other places.
Important: While the website lets you buy tickets with a starting destination in mainland China, you have to know that the only place where you can pick up or change tickets is at Hong Kong West Kowloon Station.
Buy your ticket at a train station
This option isn't the best, as Chinese train stations in the main cities are crowded and chaotic. If you want to purchase a ticket, often you'll have to line up for a long time and the tickets may have already sold out.
I only suggest this option for "short distance" lines for which there are several trains per day, so that you can go to the station, get your ticket and take your train on the same day.
I'm talking about trips like Beijing-Tianjin (there is a train every 20 minutes) or Shanghai-Suzhou.
Buy your ticket at a booking office
You are not forced to go to the station: you can buy the ticket in one of the tens (hundreds?) of booking offices that you find everywhere in big cities.
Even if sellers seldom speak English – they only do at the main train stations of the biggest cities – you will be fine if you write down your destination and the time you want to depart (in Chinese).
Usually, they will also let you check the screen and point at the train you want. Remember that, since the new regulations, foreigners can't collect train tickets booked online in these offices.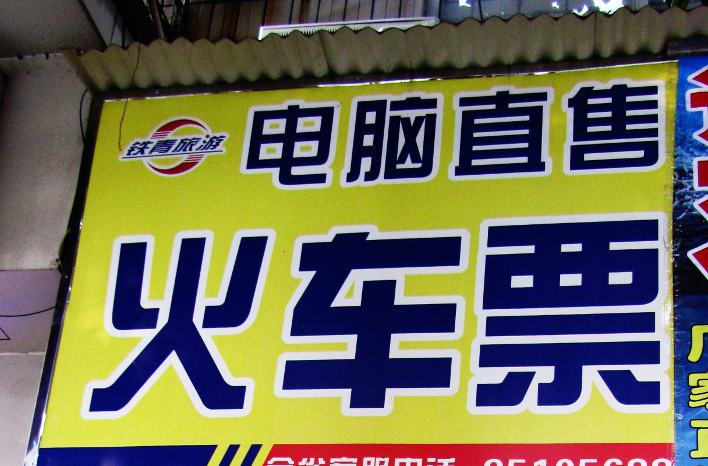 A booking office in Guangzhou. 火车票 (huǒchēpiào) means "train ticket", where 火 means "fire" and 车 means "vehicle." Hence, 火车 literally means "vehicle of fire," that is, "train."
Choose your train class for long distance trains
It's important to understand the difference between the different classes of Chinese trains, especially if you plan on taking a long trip.
High-speed trains
China is currently the country with the most extensive network of high-speed trains. Its trains are modern, comfortable and relatively affordable. However, you should take into account that these trains tend to only travel during the day; there are many places where they don't yet go; and that in the majority of cities, the high-speed train station is located far from the downtown center. There exist three types of high-speed trains:
G Class Trains (高铁, gaotie): These are the fastest trains (and also the most expensive). They reach 300 Km/h and connect main Chinese cities. Normally, as tickets are the most expensive, obtaining them is not usually a problem, although it is a good idea to buy them at least a week beforehand, especially if you want to travel on the lines with the most passengers (Beijing-Shanghai-Guangzhou).
D Class Trains (动车, dongche): These trains are slower than the previous ones because they make more stops, and as a result, "only" reach 250 Km/h. Tickets are a little cheaper than for G Class, but because they cover a lot more cities, they tend to sell out quickly.
C Class Trains (城际高铁, chengjigaotie): These trains only cover short distances between close urban centers, which doesn't give them time to reach high speeds.
Depending on the type of seat, you can choose between (from the least to most expensive):
Second Class Seat (二等座, erdengzuo): These seats are the cheapest and are recommended for the majority of situations. They are very similar to economy class on an airplane. There are five seats per row.
First Class Seat (一等座, yidengzuo): These seats are more spacious (there are four per row) and more comfortable, but they are between 20% and 40% more expensive.
Business Class Seat (商务座, shangwuzuo): These are not available on all trains and their prices tend to be almost double that of first class. The seats are similar to the business class on a plane, and there are three per row.
Conventional trains
Conventional trains have a big advantage in that they reach almost any corner of China, and are a lot less expensive than high-speed trains. The classes on these trains, from the most to the least expensive, are:
Hard seat (硬座, yìng​zuò): The longer your trip, the faster you need to run to try to get a seat as soon as check-in opens. You will seldom succeed and will often spend your trip in the aisle, trying to sleep between farmers smoking and spitting on the floor, students playing cards and children crying and looking at you as if you are E.T. The worst is when the girls that sell food/drinks/newspapers/bright balls/whatever decide to cross your carriage: you need to wake up, stand up and let them pass before they attempt to crush your legs with their trolleys. Even when you get a seat, you will usually lose it as soon as you go to the bathroom.
Soft seat (软座, ruǎn​zuò): This time, you are sure to get a seat, but there will still be hundreds of people in the aisle, so be ready to go through the people to get to the bathroom.
Hard sleeper (硬卧, yìng​wò): You share an open compartment with five people, you get a bed and the bathrooms are quite clean, as these carriages only host 120 people each. In my opinion, these are the tickets with the best quality/price trade-off.
Soft sleeper (软卧, ruǎn​wò): You share a compartment with three people and get a larger and softer bed than in the hard sleeper class. However, these tickets are much more expensive.
To give you an idea, if you book today a ticket from Shanghai to Guilin (1600 km in about 20 hours), the official prices are: 192 RMB (30 USD) for a Hard Seat, 351 RMB for a Hard Sleeper and 537 RMB for a Soft Sleeper.
How to pick up your tickets at the train station
If you booked your train ticket online, you will have to go to the train station to pick up your tickets. To pick them up, you will need the reservation number and must show your original passport. Below are some tips for picking up your tickets:
At many stations, the line may be quite long, so get there early.
Normally, tickets can be picked up at any one of the sales windows, although some stations may have a special window for picking up tickets (Ticket Collection, 取票窗口 or 取票专口).
If you booked tickets for multiple trips, you can pick them all up at the same time (this is the best option). However, any train tickets that don't have the station where you are as their origin will have a small commission of 5 Yuan per ticket.
Tips to travel by train in China
In order to buy your ticket at the train station or in a ticket office, you'll have to show your passport. Also, when you buy your ticket online, the agency will require a scanned copy of your passport. You'll also have to bring your passport every time you travel by train, as they may ask for it and refuse to let you on if you don't have it. Welcome to China!
Keep your ticket until the end, as they often check it at the arrival station.
You get free hot water on the train, so a thermos/flask may be useful.
Long distance trains have a restaurant carriage but it's overcrowded, expensive (by Chinese standards) and the food is awful (by Italian standards). My suggestion is that you buy some food before departing, which should be quite easy, as all the main train stations look like a huge food market.
Breakfast and lunch time are a bit dangerous, especially if you are sleeping in the aisle, as everybody will be walking around with a pot of instant noodles full of boiling water.
If you can't live without smoking, don't pay too much attention to the "no smoking" signs and go to the space between the carriages to smoke your cigarette, like the Chinese people do.
Book your train ticket now!