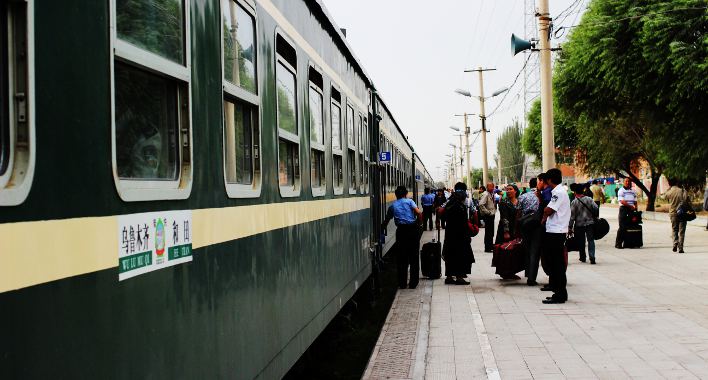 A Chinese class K train.

Trains are a primary form of transport and certainly the most widespread for extra-urban movement in China, by which you can reach just about every corner of this immense country.
How to buy a train ticket in China
First of all, it's important to understand that if you plan to buy your train ticket at the train station, or using the official China Rail website, you can only buy a train ticket starting from 28 or 30 days before your trip, respectively (even if for some trains of C and D categories the period is even shorter).
Reservations usually open 30 days before departure for online bookings and 28 days before departure for sale at stations, for most long-distance trains. Some overnight D-category sleeper trains only open 20 days ahead, some C-category trains only 10 days ahead. You cannot buy tickets before reservations open.
The problem is that, in particular during peak seasons – Spring Festival (in January or February), May Day (May 1st), National Day (October 1st) and Summer Holidays (from July to August) – you should buy your ticket as soon as possible or you'll risk that tickets will already be sold out.
For example, if you intend to travel on October 1st, you should buy your ticket around September 11-13 (it is not possible beforehand and if you wait for longer, you won't find any tickets).
While if you live in China, this shouldn't be a problem, if you're coming to China as a tourist, then buying a ticket 30 days before your trip may be impossible for the simple reason that, at the moment, you aren't in China yet!
In this case, your best bet is to buy your tickets through an agency (as they use automatic systems to buy the tickets as soon as they are available), and thus maximize your odds to get a ticket, even during peak season and for the most popular routes!
To buy a train ticket in China you have four options: you can do so online, at the station, in one of the many ticket offices around the city or by phone.
Buying your ticket online (recommended option)
There are hundreds of websites through which you can purchase your train tickets. Here are the best options (in our opinion):
China Highlights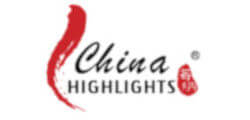 Using ChinaHighlights.com is probably the easiest way to buy your train tickets online. The website is in English and you can pay by credit card (Master Card or Visa) or PayPal.
In addition, you can book tickets whenever you want (you don't need to wait until 30 days before the date of departure). If you want, you can even book your train tickets right now using the widget on this page.
How does it work? You pay a fee of 5-15 USD (the more expensive the ticket, the more the fee will be, with a maximum of 15 USD) and the agency will buy the tickets for you.
This means that you don't have to be online exactly 30 days before to book your ticket (as I said, tickets may sell out fairly quickly).
The agency will receive your booking, buy them as soon as it's possible and then send the tickets to your hotel (or you house, if you live in China). If you prefer, you can also collect the tickets at the train station (remember to bring your passport!).
The fact that I'm allowed to collect my ticket directly at the train station is quite important to me because, when I travel, I prefer to have some flexibility in my itinerary and, sometimes choose my hotel only at the last minute.
There are other agencies that don't give you any choice other than to send the tickets to your hotel. The problem in this case is that, in order to receive the tickets, you'll have to know the hotel where you are going to stay a couple of days in advance of the day on which you're supposed to collect your tickets.
In short, China Highlights is the best option if you're a tourist who is going to travel during peak seasons or if you want to be sure of getting a train ticket (consider that, at least for the long distance lines, tickets tend to sell out pretty quickly, also during the low season).
China Train Booking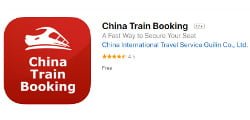 China Train Booking is an app available for both Android and iOS systems.
It allows you to check trains availability and book your ticket online in a simple way. You just need to search for the route, choose your seat, input passengers' info, and then pay. There is no need to register.
Usually you will receive your tickets pickup vouchers in the app, around 5 minutes after you paid. Showing the e-vouchers on your phones and your passports, you can easily collect your tickets at any train station.
Also, if you prefer, the app provides a delivery service that allows you to receive the train tickets at your hotel in China (or at your house), within 2 days.
The app supports multiple payment methods: foreign credit cards, Paypal, Alipay, and Wechat. This is quite important, as often the problem for foreigners in China is not the language when buying services online, but the fact that their credit cards are not accepted.
Finally, you will have access to English speaking customer service with quick responses to questions and queries, from 7 to 23 (Chinese time), every day of the week.
Click here to download the free app for your iOS or Android device.
Trip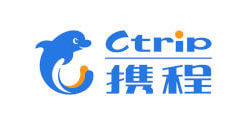 Just like China Highlights and China Train Booking, Trip.com has a website in English, and you can pay by credit card.
Even though its commission is a little less (40 Yuan, 5 Euros or 6.50 USD, plus 20 Yuan for each additional ticket), they can now send your tickets to your hotel or leave them for pickup at the station and you can book two months in advance, there's a drawback.
In the event of a problem, their after-sales service is practically non-existent. While this may seem like a minor problem, it can become a disaster if there are problems with your reservation, for example that the name on the passport does not match exactly with the reservation.
If you decide to have the train ticket sent to you (the service includes all major Chinese cities), check the box "Delivery" during your purchase. At the time of delivery, you'll be asked to provide a signature to confirm that you received the ticket.
If your ticket is delivered after the train you booked has left, Trip.com will completely refund what you spent using the same form of payment used for the initial purchase of the ticket.
The timing of the delivery is their strong point. If you book before 15:00, you'll be delivered the ticket within 24h, if you book after 15:00 the ticket will likely be delivered after the next 24h. In any event, Trip.com recommends that you book at least 3 days in advance to guarantee the best service.
It is possible to cancel or change online tickets only if you haven't already picked up the paper ticket, two hours before departure.
The official train ticket website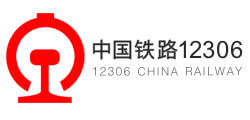 The advantage of buying your tickets through the official train ticket website is that there aren't any extra charges.
The disadvantages are that the website is in Chinese and you can buy the ticket only if you live in China, as you need a Chinese internet bank account and a Chinese cell phone number.
Also, take note that you can only book your ticket 30 days in advance and that the website crashes quite often. You can only pick up your ticket at the train station by showing your passport.
Take note that, with the new regulations, you'll have to use your name exactly as it appears in your passport (without spaces or other symbols) and you can only input a maximum of 20 letters.
If your name doesn't fit into 20 spaces or you make a spelling mistake, there is a possibility that you won't be able to pick up your ticket and you'll have to book your ticket again.
As a summary, this option is practical only for those who live in China, have a card from a Chinese bank, a Chinese phone number, and also understands Mandarin.
High Speed Rail – MTR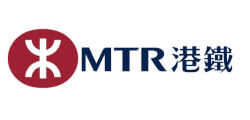 If your trip starts in Hong Kong, you can buy tickets on the official website of the Hong Kong MTR subway and train, where you can buy tickets for the high speed train that connects Hong Kong West Kowloon Station with Shenzhen, Guangzhou, Beijing, Shanghai, Kunming and Guilin, among other places.
Important: While the website lets you buy tickets with a starting destination in mainland China, you have to know that the only place where you can pick up or change tickets is at Hong Kong West Kowloon Station.
WeChat and Alipay
Another way to buy train tickets online is using the platforms WeChat and Alipay.
If you live in China, in fact all you have to do is enter one of the two Apps and go to the page with external programs:
WeChat: Go first to "IO" on the lower right, then to WeChat Pay and, lastly, scroll towards the bottom until you find the train and plane icon;
Alipay: You'll find the train and plane icons on the initial screen.
Once you are in the page for buying tickets, you'll be required to choose the day and time of your trip and enter all your information, which generally are: name and last name, Chinese address, passport number, Chinese cell number and e-mail.
In both cases the App will rely on a third party: WeChat uses Tongcheng yilong 同程艺龙, while Alipay uses Feizhu 飞猪. In this case too there's a small commission of about 20 RMB (about 2.50 USD, for now, only on WeChat) and you'll have to pick up your ticket at the station in one of the ticket counters in the city by showing the passport with which you bought the ticket and the booking code you received after the purchase.
Buy your ticket at a train station
This option isn't the best, as Chinese train stations in the main cities are crowded and chaotic. Anyway, if you plan on buying tickets at the station, get on the line by the ticket office (Shoupiao chu 售票处): it isn't rare to have to wait even 45 minutes or more to buy a ticket, especially in the major stations. If you're in a village you should be able to take care of it rather quickly.
In any event, you can buy tickets at the station starting from 28 days before departure.
We only suggest this option for "short distance" lines for which there are several trains per day, so that you can go to the station, get your ticket and take your train on the same day.
I'm talking about trips like Beijing-Tianjin (there is a train every 20 minutes) or Shanghai-Suzhou.
Bring your passport with you or a picture of it (and that of the other person if you're buying a ticket for them) and, if you don't speak Chinese or aren't in Beijing or Shanghai where someone might speak English, I recommend that you write all the information you need on a piece of paper (the station, times of arrival and departure, date of travel, train number, etc.) hoping that the officer at the booking counter understands it all. Bring cash with you or use electronic payments like WeChat Pay and Alipay because Chinese train stations don't accept international cards.
Important: Don't get on line for the automatic ticket counters (even if they're free) because these usually only recognize Chinese ID cards and "Green Cards" (they won't accept a foreign passport), even if there's the option of choosing English.
Often the available seating is booked up rather quickly, so I recommend that you prepare an alternative in advance.
Buy your ticket at a booking office
You are not forced to go to the station: you can buy the ticket in one of the tens (hundreds?) of booking offices that you find everywhere in big cities.
Even if sellers seldom speak English – they only do at the main train stations of the biggest cities – you will be fine if you write down your destination and the time you want to depart (in Chinese).
Usually, they will also let you check the screen and point at the train you want. Remember that, since the new regulations, foreigners can't collect train tickets booked online in these offices.
Bring your passport with you (and that of your friend if you have to buy their ticket as well) as well as cash, remembering that there will be a commission of 5 RMB (about 0.7 USD) per ticket. You can also pick up tickets that you bought online, by showing the booking code for your ticket.
Buying tickets by phone
There's a hotline reserved for booking train tickets. The number to call is 95105105 and should be active from 6 to 23. You can purchase tickets from 30 to 4 days before departure. All you'll need is to speak fluent Chinese (this service is only available in Chinese), a piece of paper and a pen to note the booking code to show at the station when picking them up and paying for them within 24 hours of departure.
If you speak Chinese this is a valid alternative when you don't have a data connection and can't get to the station or a ticket counter.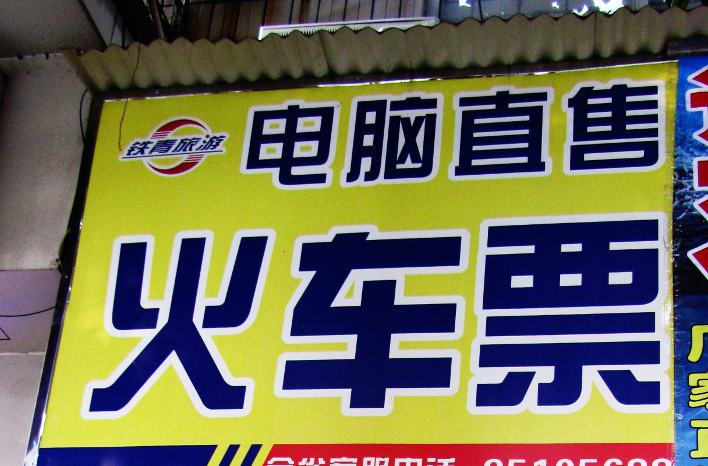 A booking office in Guangzhou. 火车票 (huǒchēpiào) means "train ticket", where 火 means "fire" and 车 means "vehicle." Hence, 火车 literally means "vehicle of fire," that is, "train."
Choose your train class for long distance trains
It's important to understand the difference between the different classes of Chinese trains, especially if you plan on taking a long trip.
High-speed trains
China is currently the country with the most extensive network of high-speed trains. Its trains are modern, comfortable and relatively affordable. However, you should take into account that these trains tend to only travel during the day; there are many places where they don't yet go; and that in the majority of cities, the high-speed train station is located far from the downtown center.
The immediate advantages are: speed, punctuality, convenience (both for seats and position, many train stations are directly reachable by metro) and security. According to recent information, by 2020 the high speed rail network will arrive at 30.000 km and by 2025 38.000 km.
There exist three types of high-speed trains:
G Class Trains (高铁, gaotie): These are the fastest trains (and also the most expensive). They reach 300 Km/h and connect main Chinese cities. Normally, as tickets are the most expensive, obtaining them is not usually a problem, although it is a good idea to buy them at least a week beforehand, especially if you want to travel on the lines with the most passengers (Beijing-Shanghai-Guangzhou). These trains only stop at the largest stations and generally don't have car with beds since these aren't night trains.
D Class Trains (动车, dongche): These trains are slower than the previous ones because they make more stops, and as a result, "only" reach 250 Km/h. Tickets are a little cheaper than for G Class, but because they cover a lot more cities, they tend to sell out quickly.
C Class Trains (城际高铁, chengjigaotie): These trains only cover short distances between close urban centers, which doesn't give them time to reach high speeds (for example, Beijing-Tianjin or Guangzhou-Shenzhen), what doesn't allow them to reach high speeds (about 200 km/h) and don't include night trips.
Depending on the type of seat, you can choose between (from the least to most expensive):
Second Class Seat (二等座, erdengzuo): These seats are the cheapest and are recommended for the majority of situations. They are very similar to economy class on an airplane. There are five seats per row (3+2 divided by the aisle). You'll have a small table, armrests (which are obviously in all the other classes but not on the hard seats of conventional trains) and a pair of electrical outlets to share with your neighbors;
First Class Seat (一等座, yidengzuo): These seats are more spacious (there are four per row, 2+2 divided by the aisle) is more comfortable than Second Class. They are between 20% and 40% more expensive than the others, but cheaper than seats in Business and Superior Class. You'll have a small table and a personal electrical outlet available;
Business Class Seat (商务座, shangwuzuo): These are not available on all trains and their prices tend to be almost double that of first class. The seats are similar to the business class on a plane, and there are three per row (1+2 divided by the corridor). These are much larger and more comfortable than seats in First Class with the option to completely recline the leather seat. Each seat has a reading light and private table. You'll also find a TV, a button to call a member of the crew and a personal electrical outlet. Seats in Business and Superior Class have personal bathrooms different than those in First and Second Class;
Superior Class or VIP (Tedengzuo 特等座): These are only available on some "Bullet Trains" and there are 3 seats per row (1+2 or 3+0 divided by the corridor). These are the best and are very similar to places in Business Class;
Soft beds (Ruan​wo 软卧): The beds on high speed trains (just a few have them, generally class D for the Beijing-Shanghai route) are found inside little cabins. There are three types of beds in these trains: traditional beds (4 per cabin, two on each side), modern beds (available along the corridor, two at a time with one above the other) and Deluxe beds (Gaoji ruanwo 高级软卧, 2 per cabin with a couch).
Conventional trains
Conventional trains have a big advantage in that they reach almost any corner of China, and are a lot less expensive than high-speed trains.
There exist 6 types of conventional trains:
Class Z trains (Zhidache 直达车): these trains reach a maximum speed of 160 km/h and directly reach the destination with very few stops, only in the most important stations along the route. They are the fastest among the conventional trains;
Class T trains (Tekuaiche 特快车): these are the second fastest trains of the conventional ones, with a maximum speed of 140 km/h. They make few stops along their route;
Class K trains (Kuaisu lieche 快速列车): also called "fast trains", they have a maximum speed of 120 km/h and make more stops than the Class T trains (including medium sized stations);
Ordinary trains (Pukuai 普快): these are ordinary trains usually marked by four digits, without any initial letter as are the other trains. These are very slow trains that go between 100 km/h and 120 km/h and stop at almost every station along the route, including the smallest ones;
L and Y class trains (Linshi keche 临时客车 and Linshi lüyou 临时旅游): these are temporary and touristic trains usually used during the high season and go to the stations of very popular tourist destinations. They reach a maximum speed of 100 km/h;
Class S trains (Shijiao 市郊): these trains connect the suburbs of the major cities to the urban center. They have a maximum speed of 100 km/h.
The classes on these trains, from the most to the least expensive, are:
Hard seat (硬座, yìng​zuò): These are very hard seats with the back almost completely vertical, without armrests and the option to recline. Generally, seats are numbered and are arranged 5 to a row (2+3, divided by the corridor with a table in front of you that also serves the row across). These are the cheapest tickets (tickets without a place to sit, a "standing ticket", wuzuo 无座, generally cost the same) and are usually booked up quickly. There's no air conditioning, so be prepared to face a trip in a car with a variety of smells ranging from smoke, to food, and if you're unlucky, the bathrooms;
Soft seat (Ruan​zuo 软座): these are more expensive than the hard seats, but be prepared to swim past people any time you have to go to the bathroom since the corridors will be clogged with baggage and those who don't have a seat. There is air conditioning and seats are arranged 4 per row (2+2 divided by the aisle). They are larger and more comfortable than the hard seats, and believe me, the difference is enormous (your back will thank you, especially if it's a long trip);
Hard sleeper (Ying​wo 硬卧): you have to share the cabin (there are no doors and it will be open to the corridor) with another five people (3+3), you'll have a bed all to yourself (including a cushion, "mattress" cover and blanket) and there will be two bathrooms at the end of each car (the longer the trip, the dirtier they become). In my opinion, these are the best value for the quality tickets for long trips.

They are divided into three categories:

Upper bed (shangpu 上铺): the cheapest is very tight because it's the closest to the roof of the train, and very uncomfortable because you can't be seated;
Middle bed (zhongpu 中铺): more expensive than the upper bed but cheaper than the lower bunks. Larger than the upper, if you're not tall you can even sit;

Lower bed (xiapu 下铺): the most expensive, comfortable and widest since it's on the "ground floor" and you don't have to use a ladder to reach it. However, it may be that the "residents" of the upper floors use it as a ladder for their beds or they sit on it because, besides the few seats along the corridor with just two power outlets to a car, it's the only place to sit.

The ladders are extremely tight and allow you to only use one foot at a time. You'll have a small table to share with the other 5 passengers. Generally the lights are turned off around 21.30/22;

Soft sleeper (Ruan​wo 软卧): You'll have to share the cabin (this time you have the option of closing it off from the corridor) with another three people (2+2), the bed is softer and more spacious than the "hard bed". Besides everything that's offered in the hard bed cabin, you'll also have a small reading light, an electrical outlet in the cabin, and sometimes a TV. The problem is that the tickets are more expensive, especially the lower beds because they're more comfortable. There are also Deluxe soft beds with private bathroom similar to those on the high speed trains that I spoke about before. The only difference is that it will be a more "vintage" couch;
To give you an idea, if today you bought a ticket for Shanghai-Guilin (1600 km in about 20 hours) the prices would be: 192 RMB (about 25 euro) for a hard seat or "standing ticket", 328 RMB (about 42 euro) for a hard bed and 515 RMB (about 66 euro) for a soft bed.
International trains departing from China
China is part of the International Union of Railways (UIC) so it's possible to get to some international destinations departing from China by using the train.
You can buy tickets for international trains directly at the Chinese departure station, but since there's the chance that they might be very crowded (it doesn't happen a lot), it would be best to use a travel agency that can buy your tickets well in advance.
It's possible to book tickets 30 days in advance (60 for groups of travelers numbering more than 6) and payment must be made within 7 days of departure for single travelers or 14 days before departure for groups (you might be required to give a deposit of 100 RMB for the booking that will be refunded once payment is made). In the opposite case, the booking will be cancelled (and the deposit unreturned). So plan well!
To buy the tickets you'll need to show a valid passport, the visa for the country you're looking to go to (if required) and a transit visa if you have to pass through other countries to get to your destination.
Generally you're allowed to bring a 35 kg bag free for each adult and a 15 kg bag free for children under 12 years old. The total measurements shouldn't exceed 200 cm, but we well know that the restrictions for baggage on Chinese trains (especially when it comes to size and weight) aren't so "restrictive".
At present, from China you can reach the following destinations by train:
Almaty and Nur-Sultan, or Astana up until 2019 (KAZAKHSTAN): the train K9795 is dedicated for the Urumqi-Almaty route, while train K9797 is for the Urumqi-Nur-Sultan (Astana) route;
Hanoi (VIETNAM): train Z5 is the Beijing West-Hanoi route, while train T8701 dedicated to the Nanning-Hanoi route;
Pyongyang (NORTH KOREA): train K27 runs the Beijing-Pyongyang route;
Ulan Bator (MONGOLIA): train K23 runs the Beijing-Ulan Bator route, while trains 4652/4653 are for Hohhot-Ulan Bator;
Moscow and Vladivostok (RUSSIA): trains K3 and K19 run the Beijing-Moscow route, while train K7023 goes between Harbin East-Vladivostok.
There are other international destinations that can be reached by train from China, some of which are under construction or planned such as: Myanmar by 2020, Thailand by 2021, Laos and Nepal by 2022 and Pakistan (one already exists but it will be expanded by 2030).
Fuxing hao 复兴号, the most modern and fastest train in China
The Fuxing hao 复兴号 (literally "renewal", "reinvigoration") is the latest in Chinese train technology (and international), developed entirely by Chinese teams. This is the fastest long distance train in the world (not considering the Maglev, which is faster, but only over a short distance). The first fuxing train left the South station of Beijing towards Shanghai in June 2017 and boasts an average speed of 350 km/h and a maximum peak of 400 km/h (allowing the two cities to be connected in a little more than 4 hours, less when compared to the 5/6 hours that the normal high speed trains take). The main routes of the fuxing train are Beijing-Shanghai, Beijing-Guangzhou, Shanghai-Kunming, Chongqing-Shenzhen, etc.
How to pick up your tickets at the train station
If you booked your train ticket online, you will have to go to the train station to pick up your tickets. To pick them up, you will need the reservation number and must show your original passport. Below are some tips for picking up your tickets:
At many stations, the line may be quite long, so get there early.
Normally, tickets can be picked up at any one of the sales windows, although some stations may have a special window for picking up tickets (Ticket Collection, 取票窗口 or 取票专口).
If you've booked tickets for multiple trips you can pick them up all together (this is the best option to save time). Nevertheless, tickets with a departure from a station other than the one you're in incur a small commission of 5 RMB per ticket;
Take a picture of the passports of those traveling with you as you can even pick up their tickets;
Don't use the automatic machines (Zidong shou qu piao ji 自动售取票机), foreigners without a "green card" can't use them.
How to read a Chinese train ticket
Reading a Chinese train ticket is very easy and today there are two types of tickets: a blue and a pink one. There's no real difference between the two: the price and trip information won't change.
The blue tickets are printed at the biggest, newest train stations, while the pink are from the smaller stations; moreover, the blue tickets are magnetic and automatically read at the time of check-in at the departure station and check-out at the arrival station, while the pink one has to be handled manually by railway personnel.
On a Chinese train ticket you'll find the following information:
Ticket number: in the upper left, it's a combination of numbers and a few letters, usually printed in red;
Boarding gate (Jianpiao kou 检票口): in the upper right, generally made up of numbers and/or letters (eventually accompanied with the indication on which floor you'll find the gate);
Departure and Arrival station: these are the biggest characters printed on the ticket. On the left you'll find the departure station and on the right the arrival one, usually connected with an arrow that further emphasizes the direction of the trip from left to right. You'll find the name written in Chinese characters, with their Latin pronunciation written below. After the characters composing the name of the station you'll find the indications bei 北 "north", nan 南 "south", xi 西 "west" and dong 东 "east" (they show the location of the station since there's usually more than one in a city. If there's no such indication, then it means the central station or the only one in the city), besides the indication zhan 站 which means "station";
Train number: made up of numbers and or letters, you'll find it printed between the departure and arrival station, and indicates the type of train (G, D, C, Z, T, etc. followed by numbers or just numbers);
Date and time of departure: generally placed underneath the name of the departure station, it has the year/month/day and hour/minutes (for example, 2019年/12月/12日 13:47 开, where kai 开 means "departure");
Car and seat/bed number: usually positioned under the arrival station, right after the departure date and time. First will be the car number (che 车) with a digit, and right after it the seat or bed with numbers and/or letters (followed by the character hao 号, "number"). For example, for a seat you'll see 03车 12A号, or car 3 seat 12A, while for a bed you'll see 16车 10号下铺, or car 16 and lower bed number 10;
Price (¥): located under the date and time of departure, the price is indicated in Yuan 元. For example, what you'll see will be ¥ 45.0 元. Under the price you'll find the phrase Xian cheng dangri dangciche 限乘当日当次车, or "Course limited to this date and train";
Class: you'll find information about the class you booked under the car and seat number. Here you can find all types of seats or beds that were mentioned in the previous paragraphs. For example, 二等座 or 商务座 (First Class or Business Class);
Passenger's name and document number: you'll find this information under the price. To the left will be part of the document number (generally they leave off the last two digits, which are substituted by *) with which you booked the ticket (a foreigner, therefore, will have part of their passport number), while on the right you'll find your name (usually, first and last name will be joined together);
Advertisement: you'll find a box under your personal information with advertisements for the Chinese rail system;
QR Code: you'll see an anti-fraud QR Code to the right of the advertisement that is used to check the train number and passenger information by means of a simple scan in the event of a fake ticket;
Place the ticket was printed: at the bottom you'll find the location of the ticket counter where your ticket was printed. For example, 北京站售 or "Ticket office of Beijing central station".

Lastly, you can find the rather long alphanumeric code, whose last few digits usually correspond with the ticket number I already mentioned. This code is found at the bottom just before the place the ticket was printed.
On international train tickets you'll find the same information basic information (arranged differently) and it may be that it's also in the language of your destination or transit country when you have to change trains during the trip.
Loss, change, refund and cancellation of train tickets in China
If you've bought a train ticket but changed your mind or plans, don't despair. For train tickets in China (like other countries) there are specific policies having to do with the refund, cancellation, change and loss of a ticket.
Refund and cancellation (Tuipiao 退票)
A refund of a train ticket can be requested at any Chinese railway station and online up until 30 minutes before departure and will have a commission of 0-20% of the total price of the ticket applied for the cancellation,
If you've already printed the ticket, you can request a refund in any station counter, but at some stations you can find counters dedicated to these procedures (Tuipiao chuangkou 退票窗口 "Ticket refund counter").
If you bought the ticket online, haven't printed it or haven't had it sent to you, you should be able to get your refund in a few minutes right from the platform or App you used to buy it.
Obviously the refund and cancellation can only be requested before the train's departure, not after (it might be possible to ask for a ticket refund after departure if you find the the station chief within the first two hours after the train's departure. But it's very difficult).
First ask for a refund less the commission you'll pay (required by the Chinese rail system). For example, if you ask for a refund:
ore than 15 days before departure, you'll pay no penalty;
From 15 days to 48 hours before departure, you'll pay a 5% commission (you'll be refunded 95% of the cost). The minimum is 2 RMB (about 0.25 euro);
From 48 to 24 hours before departure, you'll pay a 10% commission (you'll receive 90% of the cost);
Less than 24 hours before departure you'll pay a 20% commission (you'll get back 80% of the price).
Note that if you request a refund during the period surrounding the Chinese New Year there will be a 20% commission applied even if it's more than 15 days in advance.
After you pay the commission you'll be refunded the rest.
The refund will be made according to the method of payment you used and within 20 business days (unless it's cash, in which case it will immediately be refunded to you).
Attention: If you decide to buy the ticket with a travel agency, make sure of their policies about the cancellation and changing of tickets. Some don't allow it! If the agency allows for these procedures and you've already printed the ticket, give them the receipt you got from the station counter and get reimbursed. If it wasn't printed, they'll handle the refund that will come through the agency and they'll be the ones who will give you back your money.
To complete this procedure at the station, you have to show the passport you used to buy the ticket and the ticket you want to cancel (or the booking code if you haven't printed it yet). If you have to cancel a ticket bought by someone else, you'll also have to show your passport (as if you are playing the role of "delegate"). To cancel tickets online or through an App you don't have to show any documents because you've already entered all the necessary information at the time of purchase.
Changes (Gaiqian 改签)
If you want to change a train ticket, you can follow these directions if you act with more than 48 hours until departure:
Class;
Arrival station;
Departure station;
Date and time (before or after the initial information).
If you try within 48 hours of departure, you can't change the arrival city or move the departure date.
If you ask for a change after the train's departure, you can only modify the class, departure station and time.
You can NEVER change the departure station.
You can make a change online before departure only if you haven't already printed the ticket, otherwise you can change it at the station by showing your ticket (or booking number if you haven't printed it yet, but I recommend that you always bring the passport you used with you). If you have to change someone else's ticket, you'll also have to show your passport. At the station, go right to the counter reserved for changing tickets (Gaiqian chuangkou 改签窗口), but often you can handle it at any counter.
If the new ticket is more expensive than the first one (if for example you upgraded to a higher class), you'll have to pay the difference;
If the new ticket is the same price as the old one you won't have to pay anything;
If the new ticket is cheaper than the first (if for example you went into a lower class), you'll be refunded the difference from which a commission will be taken (equal to the ones I mentioned when cancelling).
Payment or refund of the difference will be according to the method of payment for the original ticket.
If you booked a train ticket through a travel agency, they will be the ones to handle all procedures. Note that there may be an additional fee charged by the agency itself.
Tickets can only be changed once. If you want to make a second change you'll have to cancel it and book a new one. You can ask for the refund of a modified ticket before departure.
Loss
If you should lose your train ticket, don't worry.
Equip yourself with the passport you used to buy the ticket, the name of the station where you picked it up and your trip information (train number, date and arrival station).
You might find yourself in one of the following situations when losing your ticket:
You lose your ticket before the departure:
Go to one of the departure station's counters at least 30 minutes before departure and buy (consider it a deposit that will be refunded) a substitute ticket with the same information and price of the original. The new ticket will be identical to the old one with a stamp indicating it's a substitution;
Get on board the train with the substitute ticket;
Once on board the train, inform the train staff, who will give you a voucher before the arrival;
Go to one of the arrival station's counters within 24 hours and get a complete refund of the substitute ticket bought at the first location by presenting your passport, the substitute ticket and the voucher. Pay 2-5 RMB (about 0.25/0.65 euro) commission. The voucher will not be given back to you;
Go through the check-out of the arrival station.
Generally, you should find a counter specifically for handling lost tickets;
You lose your ticket on the train:
Communicate to the staff that you lost the ticket;
If the staff manages to recuperate the purchase information, you'll be given a substitute ticket and a free voucher but you'll have to pay a 2-5 RMB commission. With these documents you can go to the arrival station's check-out through a manual control by the railway staff who will handle the voucher (the might also check your passport);
If instead the staff can't find your purchase information, you'll have to buy a substitute ticket (here too this is sort of a deposit and you'll have to pay the commission) and you'll be given a voucher. Once you arrive at the station, within 24h get a refund (after the staff confirms your purchase information) at one of the railway counters by paying a 2-5 RMB commission and showing your passport, the substitute ticket and the voucher (the latter will be kept);
Check-out of the arrival station.
You lose the ticket at the arrival station:
Inform the railway staff of the loss;
Get a free substitute ticket and pay the 2-5 RMB commission (after the staff confirms the payment information);
Check-out of the arrival station.
Main policies of the Chinese railway system
As in other countries, in China there are various policies that govern certain aspects of the state railway system. As a result, you can find the main policies connected to train travel in China.
Policies about train tickets in China
This section considers the policies about picking up your ticket, international trains, payments, lost tickets, changing tickets, as well as refunds and cancellations of train tickets in China that I explained in the previous paragraphs.
Make sure that the information on the ticket is exactly the same as those on the passport you used for the purchase. You're the one responsible for any error in the name (it should not have any abbreviations or omissions) or passport number, which would keep you from picking up and using your ticket, forcing you to buy a new one;
The passport should be the same at the time of purchase and when picking up the ticket;
Bookings are open from 30 days before departure if done online or 28 days before departure if done in person at the station or ticket counter. Some tickets can only be purchased just 20 days before departure;
You can't make a booking between 23.30 and 6.00 (Beijing time). Bookings (along with all other operations) can only be made from 6.00 to 23.30 (Beijing time);
The only applicable discounts on the price are for students who are Chinese citizens, not foreign students (even if they're studying in China).
Policies about children's tickets (Ertong piao 儿童票)
You might have a child with you during a train ride in China. In any case, I recommend that you don't bring a kid along with you for very long train rides, because it can become complex and very troublesome.
Below I will seek to list everything you need to know for a child passenger:
Children younger than 12 years old can't travel alone;
Children shorter than 1.2 meters and under 12 years old can travel for free so long as they don't occupy a seat (they'll share with the person accompanying them) and are accompanied by someone who paid for an adult ticket (Chengren piao 成人票). In this case you won't be given a ticket for the child. If you require a seat or bed for the child, you'll have to buy a reduced price ticket for them as well (as with children over a height of 1.2 meters);
Each adult can accompany only one free child under 1.2 m at a time. If there are other children shorter than 1.2 m and less than 12 years old, only one will travel for free while the others will have to buy reduced rate tickets and sit in a seat on the train. For example, a pair of parents with three children less than 1.2 m in height can only bring two children for free (one for each parent), with the third requiring a reduced price ticket and occupying a seat;
Children between 1.2 m and 1.5 m and younger than 12 years old will be eligible for a reduced rate train ticket in a seat for a 50% discount. For beds, the price for a child will be equivalent of 75% of an adult ticket. In these cases, there's no limit relative to the number of children traveling with adults.
Children over 12 years old and taller than 1.5 m will pay for a full price ticket (adult ticket);
If the ticket of the adult accompanying the child is changed, the child's ticket will be changed as well;
The class for the child's ticket should be the same as the accompanying adult;
There are no discounts for children in beds on high speed night trains;
You can bring a foldable stroller on the train if you can put it under the seat, bed or in the overhead bins.
Policies concerning baggage
The Chinese railways have specific policies about the baggage you can bring on a train.
Note that even though there are very specific rules, it's very rare that they will check the weight or size of the luggage. The rules exist but are not strictly enforced. Don't worry… but don't overdo it! If you bring a bag that clearly exceeds the rules, you will be stopped!
Below I'll try to summarize the main rules about baggage:
Each adult can bring a bag under 20 kg, children (including those traveling for free) can bring a bag weighing no more than 10 kg, While diplomats can bring with them a bag weighing no more than 35 kg;
On high speed trains each adult can bring a bag not exceeding a total of 130 cm, including length, depth and height. Long shaped objects should not exceed a length of 130 cm (there's no specific depth);
On conventional trains each adult can bring a bag that doesn't exceed a total of 160 cm, including length, depth and height. Long shaped objects should not exceed a length of 200 cm (there's no specific depth).
Obviously wheelchairs can be brought on board trains without any additional cost and aren't governed by the baggage policies. On high speed trains there's a dedicated area for wheelchairs, which generally don't exist on conventional trains, where you can ask for the help of the staff.
It is prohibited to bring onboard a Chinese train:
Live animals (even though sometimes you'll find nice chickens in a cage to keep you company), with the exception of guide dogs upon providing a valid document and medical certificate;
Bicycles (for more information, I invite you to read the section about transporting bicycles on Chinese trains);
Smelly foods (though you'll always find someone who'll be eating durian);
Toxic, corrosive, explosive, combustible or radioactive materials, dangerous or sharp objects, weapons and compressed gas;
Excessively magnetic material that could interfere with the train's signal.
In addition there are limitations on the following items:
No more than two lighters;
No more than two small boxes of matches;
No more than 6 bottles of 500 ml of alcohol to drink with a maximum content level of 50% (if greater, no more than two 500 ml bottles);
No more than 50 packs of cigarettes;
No more than 20 ml of nailpolish, hair dye or the like;
No more than 120 ml of spray (deodorant, hairspray, insecticide, etc.).
Limitations and restrictions are particularly enforced for routes connecting two major cities like Beijing-Shanghai (on this route I wasn't able to bring my bottle of spray deodorant).
Bicycles
It is prohibited to bring bicycles on Chinese trains unless they're dismounted and packed according to the weights and measures for baggage that I just explained, but sometimes even then the railway staff might refuse this procedure (it's always better to ask in advance). If not, you have two options:
Check the bicycle in at the baggage office (Xingli tuoyun chu 行李托运处):
Go to the baggage office in the departure station (often close to the entrance/exit of the train station) with your passport (the same one you used to buy the ticket) and the train ticket;
Fill out the form that they'll give you and the label for the package that will hold your bike (it will all be in Chinese; if you don't understand it, I recommend that you give your passport and ticket to the staff and they'll fill it out for you);
The bicycle will be weighed and you'll be given a receipt that you'll have to pay;
Get on the train and head to your destination;
Pick up the bicycle at the baggage office at the arrival station or baggage claim office (Xingbao tiling chu 行包提领处) by turning in the receipt and showing your passport. Your package will be held in this office for free for 3 days, after which you'll have to pay extra to get your bike back.
Note that high speed trains don't have a dedicated car for transporting baggage, and for this reason I recommend that you use a shipping company a few days before departure (or have it transported on a different train on the same day of your departure) so as to find your bike waiting for you at the station when you arrive (or, if you get there earlier, you'll be alerted by the railway staff when you can pick it up because the package contains your information).
Make use of a shipping service provided by the Chinese railway, Zhongtie kuaiyun中铁快运 (CRE, Chinese Railway Express):
This is a company that handles the shipping of packages and baggage for Chinese train passengers that is often located outside the railway station. The procedure for sending your bike is very similar to that of the baggage shipping office that I just spoke about. Check your bike in (I recommend that you do so a few days in advance of your departure) and pay the amount on the receipt you'll receive (this too will be on the basis of weight and the route). Once you arrive at the destination station, go to the CRE office, show your receipt and pick up your bicycle.
In addition, this company should be able to provide a "door to door" service (with a higher cost than "normal" service), picking up the bags from your house (or hotel) and bringing them directly to the address at your destination.
How to take a train in China
Buy a ticket for the train you're interested in, reading it attentively and paying particular attention to the departure station since there may be more than one in a certain city (see if the station will be to the north, south, east, west or center);
Pick up the ticket a few days in advance or on the day itself;
Arrive at the departure railway station (the entrance is marked as jinzhankou 进站口, while the handicapped entrance will be marked with the writing wu zhangai tongdao 无障碍通道) at least an hour and a half in advance. Carefully plan your route, especially if you need to take public transportation to get there. If the trip is during rush hours, make sure you're at the station at least 2 hours before departure;

If you want to take a taxi to the station, just show the driver your ticket and he will know where to go.

Attention: at times you might have to enter at a specific side of the station in order to move on to the next steps. Some stations have a north or south entrance (or east and west) that aren't connected. Read your ticket will or you'll lose a lot of time trying to get to the other side.

The majority of the Chinese will enter the station by scanning their documents, in which the train tickets are already uploaded. This is not possible for foreigners. There will always be at least one member of the railway staff on hand at the entrance. Head to him or her and show them the passport you used to buy the ticket and the ticket itself. At some stations they'll stamp the ticket (it's often very liquid, so be careful not to get yourself dirty), in others they'll just let you pass. In theory, guests are not allowed to enter the station (such as your partner or friend) without a ticket, but if you tell the staff that they're there only to say goodbye or help you with the bags, they'll let them through without a problem all the way to the gate (the person accompanying you might have to show their passport);
After checking your ticket, you'll have to go through security in the designated area (Anjian kou 安检口). As soon as you enter you'll find the belts where you have to put your luggage to go through the X-ray machine. While the baggage gets checked, you (and whomever is with you) will have to pass through a metal detector like those found in airports, and will be personally searched by the security staff. If there are no prohibited items (you're allowed to bring water on the train), take your bags and continue; otherwise you'll be asked to take those objects and leave them with the staff who will get rid of them for you;
Across from the security checkpoint you'll always find a big screen listing all of the day's trains. You can find your by looking at the train number (checi 车次) and departure time (kaidian 开点). On that same line they'll show the name of the arrival station (zhongdao zhan 终到站) and waiting hall for embarcation (Houcheshi 候车室. At some stations you'll see the actual boarding gate number since they don't have a waiting hall or the hall is so big that it has many gates). You'll also see the writing Zhuangtai 状态 which indicates the train's status (you'll see the writing Zhengdian 正点 if the train's on time, Wandian 晚点 if it's late, Zhengzai jianpiao 正在检票 if check-in is open, Tingzhi jianpiao 停止检票 if check-in is closed, and Zhengzai houche 正在候车 if the train is waiting. When it's fully calculated how late it will be, the arrival time will be immediately changed);
Figure out your waiting area and head for it (generally it will follow a logical sequence, so it should be easy to find). It could happen that in a single waiting hall, there are more than one gate. Sit closest to the gate with the screen that matches the information on your ticket. The halls are very large, but often all the seats are either already occupied or far away;
The gate (Jianpiao kou 检票口) will open about 30 minutes before departure (it will close 5 minutes before) and check-in will begin. People will start getting up very early so as to be the first ones to get onboard (especially those with a "standing ticket" or bulky luggage. The earlier they board, the more likely they'll find a "comfortable" place for themselves and their bags, so pay attention!), so get your ticket ready and get in line;
At the time of check-in (Jianpiao 检票), if you have a blue ticket you can insert it into the machine and the little gate will open automatically, while if you have a pink ticket you'll have to give it to the staff that will make a hole for you to pass (in newer stations you'll find two arrows for forming lines, one blue, one pink). On the screen you'll also find the track number (Zhantai 站台) where you can board your train;
Now you can go to the track where your train is. Follow either the rails or the stream of people who when through check-in with you. Often you'll have to climb steps (they don't always have escalators or elevators). Once on your track's level, you may find two: look at the screens above and find your train;
Once you've found your track, look for the exact car (you'll find it on the ticket). You might have to walk the length of the platform to get there, but you will find it;
When you get to the entrance of the car, there will be a member of the staff who will check the train and car number on your ticket. If all is well, they'll let you enter; if not, they'll give you further instructions. At new stations, the trains always stop at the same point (high speed). In fact, on the ground you'll find the car number so that you can wait in line even before the train gets there, knowing exactly where it's going to stop. If the train is arriving from another station, allow those getting off to leave first;
Get on the train (Mind the Gap) and look for your seat. Once you find your seat or bed, put your bags safely away;

Keep your tickets handy, as the staff might come by and check again. If you've booked a bed, the staff will take your ticket and give you a card with the same number of your bed. This operation is necessary so that the staff can alert you in advance when you're about to arrive at your destination (especially if traveling at night and you're sleeping). At that point you'll be given your ticket in exchange for the card. If you lose the card, you'll have to pay a penalty.

At your destination, take your bags and get off the train (the train will only stop long enough to let passengers off and let the new ones on. This is a matter of minutes, so don't waste time or get off if it's not your destination, not even to take a drag on a cigarette). Follow the directions that will bring you to the exit (Chuzhan kou 出站口) or follow the crowds (watch out for the sea of people, especially on the stairs). If you have to change trains or make a transfer, follow the writing Bianjie huancheng 便捷换乘;
Get your ticket again because you'll need it to check-out of the station, with the same differences between the blue and pink tickets you saw at check-in;
At this point follow the signs to get to a bus (gonggongqiche 公共汽车), a taxi (Chuzuche 出租车), a metro ticket office (Ditie shoupiaochu 地铁售票处), the restrooms (Weishengjian 卫生间), the police (Gongan zhiban shi 公安值班室), etc. and enjoy the new destination.
Note that not all stations have bilingual signs or announcements, so always keep an eye on the big screens or displays on the train.
Tips to travel by train in China
In order to buy your ticket at the train station or in a ticket office, you'll have to show your passport. Also, when you buy your ticket online, the agency will require a scanned copy of your passport. You'll also have to bring your passport every time you travel by train, as they may ask for it and refuse to let you on if you don't have it. Welcome to China!
Keep your ticket until the end, as they often check it at the arrival station.
You get free hot water on the train, so a thermos/flask may be useful.
Long distance trains have a restaurant carriage but it's overcrowded, expensive (by Chinese standards) and the food is awful (by Italian standards). My suggestion is that you buy some food before departing, which should be quite easy, as all the main train stations look like a huge food market.
Breakfast and lunch time are a bit dangerous, especially if you are sleeping in the aisle, as everybody will be walking around with a pot of instant noodles full of boiling water.
If you can't live without smoking, don't pay too much attention to the "no smoking" signs and go to the space between the carriages to smoke your cigarette, like the Chinese people do.
Book your train ticket now!
Photo Credits: Photos by Sapore di Cina