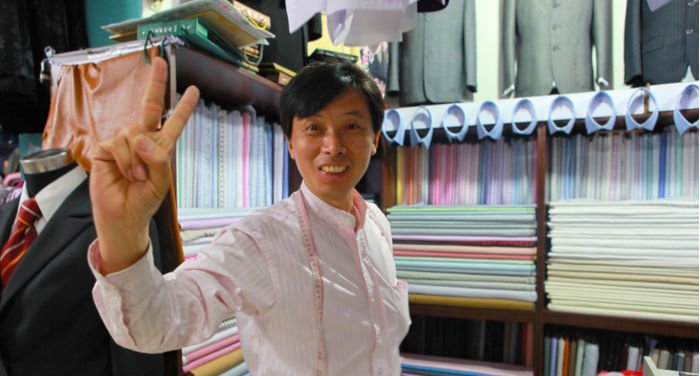 Best Tailor Markets in China – Index
Foreigners who visit China rarely leave without making a set of clothes at local tailor-markets. It's not strange, as prices are incomparable to tailors in Western countries. Quality suits can cost as little as 600 RMB (85 US dollars), which is 10 to 20 percent of the prices back home.
Not to forget, the tailors are generally friendly and efficient. You can make suits, dresses, and shirts in as little as 2 to 3 days. The tailors also allow a couple of fittings and can often send the clothes to your home country, if you don't have enough luggage or simply don't have the time to pick up the clothes.
However, before you visit any of China's acclaimed tailor-markets, you first need to do some research. Where are the best tailor markets located? Can I pay by credit card? These are just a couple of questions that you shouldn't leave unanswered.
Tailor Markets in Shanghai
South Bund Fabric Market
Located in Huangpu District, South Bund Fabric Market opened in 2005 and is a three-floor tailor market with many foreign tourists and expats. It's one of the biggest markets in Shanghai, having more than 300 stores and seamstresses.
Here, they help foreigners to make tailor-made suits, shirts, coats, dresses, costumes, and various accessories, like hats and scarves. Outside, you can also buy branded fake-products such as bags, sunglasses, and shoes.
Suits generally start from 600 RMB, but can reach over a thousand RMB, depending on the fabric and style. Shirts usually cost 150 RMB to 300 RMB, again, depending on the style and fabric. Yet, many tailors offer discounts or even gifts. For example, you sometimes get a couple of shirts and ties for free.
Don't be surprised if a tailor invites you to their home to try out the clothes, if you can't manage to arrive before the market closes.
It doesn't take more than 2-3 days to make clothes in most shops, but you usually need one to three fittings. Keep in mind that the clothes aren't made on-site, but in other locations and later sent to the stores. As such, you should preferably visit the market at least one week before departure.
Walking around in South Bund Fabric Market can almost be like a labyrinth and the best tailors are not necessarily close to the entrance, but deeper down the hallways. I recommend you to ask any of your Chinese or foreign friends what tailors they prefer if they have experience of visiting the market.
Also, be prepared to pay by cash. Some stores accept WeChat Pay and AliPay, but it's rarely used by foreign travelers. Depending on what clothes you plan to make, prepare a sufficient amount so that you can pay for the deposit, which is generally 30% to 50% of the total sales price.
If you want to make a couple of suits and some shirts, I would recommend you to bring at least 1,000 RMB (140 US dollars) for your first visit.
Summary:
Tailor-stores: 300+
Opening hours: 9:00 AM – 6:00 PM
Closest subway station: Nanpu Bridge, Line 4 (5 mins walk)
Address: No.399 Lujiabang Road, Huangpu District, Shanghai 200000, China
A.P. Plaza (Xinyang Market)
AP Plaza has more than 1,000 stores and located in the underground of the Shanghai Science and Technology Museum subway station in Pudong district. Compared to South Bund Tailor Market, A.P. Plaza has many shops selling accessories and branded fake-products, but you'll also find a bunch of good tailors.
Here, you can make shirts, dresses, coats, and suits for reasonable prices. The same as it goes in South Bund Tailor Market suits normally start from around 600 RMB and shirts from around 150 RMB.
It generally takes 2-3 days to make clothes, but you should set aside at least a week if additional fittings are needed. This is normally done free of charge and the tailors can sometimes send the clothes to your home country if you prefer.
As the market hosts many stores that sell accessories and fake-products, you also have the opportunity to buy complementary items for your tailor-made clothes, like belts, shoes, jackets, and scarves.
Many foreigners get excited due to the many shopping opportunities and you can easily spend 3 hours or more at the market. Thus, you should preferably arrive before 4 PM to 5 PM, when it's less crowded and before the stores start to close down.
Vendors aren't embarrassed to add insultingly high mark-ups for fake-products. Shoes that are worth 50 RMB can easily cost ten times as much. Be prepared to haggle and try to bring a Chinese friend who can help you in the negotiations and to communicate with the vendors in Chinese.
They tend to become more humble if you speak their language.
Summary:
Stores: 1,000+ (tailors and fake stores)
Opening hours: 10:00 AM – 8:00 PM
Closest subway station: Shanghai Science & Technology Museum, Line 2
Address: Inside Metro Line 2, Shanghai Science & Technology Museum, 2000 Century Avenue, near Yingchun Lu
Tailor Markets in Beijing
The Silk Market
The Silk Market is one of the most famous in Beijing and you rarely hear about foreigners who leave the city without paying a visit to the market. It opened in 2005 and replaced the infamous Xiushui market, which was located outdoors.
Since it opened, the Silk Market has become one of the most visited shopping areas with 1,700 vendors and more than 3,000 salespeople. Around 20,000 visitors, including everything from foreign celebrities to locals, go to the market on weekdays. The amount of daily visitors can reach as much as 60,000 on weekends.
Prices are on a similar level to tailors in Shanghai where suits start from around 600 RMB and shirts from 150 RMB. Keep in mind that many stores offer discounts and gifts, the more you buy the more you get.
Having 6 floors all with different products on display, you'll find the tailors and sellers of clothes on the 3rd floor. Here, you can also find ATMs, if you're short of cash, you can conveniently withdraw money to pay for deposits or outstanding fees.
The tailors are generally friendly, but won't hesitate to prop up the price a bit if you're a foreigner. Be sure to haggle and preferably bring a local Chinese person who has a good knowledge of costs, they also tend to have better (more aggressive) haggling skills.
Summary:
Stores: 1,000+ retailers
Opening hours: 9:00 AM ~ 9:00 PM
Closest subway station: Yonganli, Line 1
Address: No. 8 East Xiushui Street, Chaoyang District
Yashow Market
Yashow Market went through a complete overhaul and renovation some years back, which turned it to the worse in many foreigners' opinions. With fewer fake products on display, some popular tailors remain, such as Sally's and Wendy's.
The prices have increased since the renovation and suits start from around 800 RMB. Shirts, on the other hand, usually cost 150 RMB to 300 RMB, depending on the style and fabric.
The Yashow Market is still far beyond the Silk Market in terms of visitors, in a way, it has lost its soul after the renovation. If you went there before the renovation, you'll notice that many stores are closed or empty.
That said, it can be worth to give it a try as some foreigners have managed to get good deals for quality tailor-made clothing.
Summary:
Stores: Unknown
Opening hours: 9.30 AM – 9 PM
Closest subway station: Tuanjiehu, Line 10
Address: 58 Gongti Beilu, Chaoyang District
Tips when visiting tailor markets
Bring a Chinese person if you can, who's familiar with the local price levels. Stores often add a mark-up for foreigners and communication is often done with the numbers on calculators. Vendors and tailors can sometimes be pushy, take your time and don't feel stressed. If you don't bring a local, be prepared to haggle.
Bring cash. Most tailor-stores won't accept credit cards, even if they sometimes accept WeChat Pay and AliPay. You normally need to pay 30% to 50% as a deposit during your first visit and the remainder when picking up the clothes.
Don't be in a rush and pick the first tailor closest to the entrance, they're not necessarily the best. Instead, spend some time inside the market and see if other foreigners visit different stores. If you can, you should also ask local Chinese or foreigners who live in China for recommendations.
Set aside at least one week to make the clothes. Often, you need one or two fittings.
Tailors have clothes on display, thus, you can check the quality quite easily. Touch the fabric to see if it's high or low quality. If you make shirts, the fabric should be 100% cotton or linen. Be sure to confirm this with the tailor. Also, check the stitches on shirts. Are the stitches uneven? Are there loose threads hanging from buttons? These can be warning signs.
Photo Credits:

Inside the fabric markets by Kris Krüg