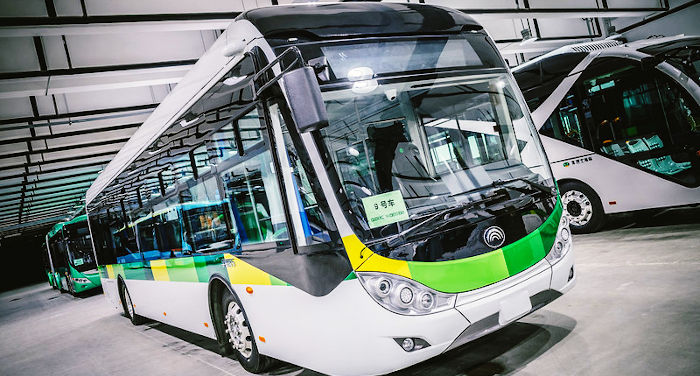 Traveling by bus in China is normally the cheapest way, and is sometimes the only way to get around. Despite that, traveling by bus also involves multiple complications, and it's not very recommendable for inexperienced travelers.
In this article, you'll find all of the information you need to travel by this means of transportation. Below are the subjects that we will cover (you can click to skip directly to the section you're interested in):
Pros and cons of traveling by bus in China
Pros
Price: Without a doubt, by bus is the cheapest way to travel in China, and in the majority of cases, it's even cheaper than traveling by train, which is cheap on its own.
Availability of tickets: As opposed to what happens with other means of transportation, bus tickets are rarely sold out and you don't have to book them weeks in advance, as is the case with trains.
Destinations: The bus network in China is very extensive and allows you to access many areas that are impossible access with other means of public transportation.
Frequency: For many routes, the frequency of buses is much greater than for other types of transportation.
Access to bus stations: As opposed to airports and many train stations (especially high-speed trains), bus stations tend to be located quite close to the downtown of cities.
Cons
Language barrier: If you don't speak Chinese, taking a bus can be relatively difficult. Bus stations are not very frequented by foreigners, which means that they generally don't have signs translated into English, and even less so staff that can speak a language other than Chinese.
Arbitrary hours and delays: In many cases, schedules (including the travel time) for buses are not well specified, can vary depending on the season, or sometimes buses only leave once a certain number of passengers has been reached. Also, delays are common, whether due to traffic or other reasons.
Comfort: Many buses are old and not exactly comfortable. In addition, you have to keep in mind that due to their low price, they are commonly used by rural populations with little resources. Although the rural population tends to be very friendly to foreigners, their customs may be annoying to some travelers at times.
How to buy tickets
Just like for trains, to buy a bus ticket, you will have to show your passport.
At the station
Normally, the simplest way to buy bus tickets is to go directly to the bus station and buy them at the window. The majority of the time, you don't need to go early; you can just go the same day that you want to travel and ask for the first bus that follows the route you want (especially for medium and short routes).
Remember to bring the destination written in Chinese characters to be able to show it to the ticket salesperson so that they can understand you.
Online
Currently, there are multiple websites on which it's possible to buy bus tickets online (paying a small commission for the processing). However, you should keep in mind that these websites do not cover all possible routes (many bus lines are not included). Below, I list some websites where you can buy bus tickets:
cTrip: Even though cTrip has pages in other languages, only the Chinese page allows you to buy bus tickets, and for the time being, it appears that it only accepts bookings with a Chinese ID card. The commission is 10 Yuan per ticket.
China Bus Guide: This is a very useful webpage for checking schedules and some of the most common routes. You can also book tickets, but the system isn't automatic and the commission isn't specified. To book a ticket, you will have to request a ticket via the contact form.
Etrip China: Website where you can easily buy bus tickets in real time and then pick them up at the station later. The service costs between 3 and 5 USD per ticket.
Note: We have never used these websites mentioned to book bus tickets, which means we can't guarantee the quality of the service offered.
Types of buses
City buses
Although this article is mainly focused on medium and long-distance buses, we have also decided to mention intercity buses.
In China, the large majority of cities have a very extensive and efficient network of intercity buses at a very low price (they tend to be no more than 2 Yuan per route). Despite the fact that a huge subway network has been developed in the main Chinese cities over the past years, buses continue to be the most convenient means of transportation to get to many places in the city.
The problem with buses is that at stops, the itinerary is only given in Chinese. Despite that, if you have a VPN installed on your cell phone, you can check Google maps to see what bus to take for the trip. One alternative is Baidu Ditu, which works without a VPN. Its information tends to be more updated, but it's only available in Chinese.
Tourist buses
With the large growth in the tourist industry, over the past years, the majority of cities have set up regular tourist bus lines. These buses connect urban centers with tourist attractions that are located in the suburbs or outside of the city. This type of transportation tends to be identified because the number of the line is preceded by the character 游 (you).
These buses tend to be very convenient for tourists, but on many occasions, their frequency can vary depending on the time of year, and schedules tend to be not very well specified. Before taking these types of buses, it's recommended that you confirm their schedules at your hotel.
Medium and long-distance buses
In China, there is a large network of buses that connect the different urban centers. These buses normally have two rows of two seats separated by an aisle. Tickets all cost the same and normally they are not numbered.
Although many buses have air conditioning and heating, some of them don't. Seats are normally spacious enough for all types of people. Even so, it's not strange to run into some older buses with seats that aren't exactly in optimal conditions. Also, it's common for buses to have a TV where entertainment programs are broadcasted.
Night buses
Although night buses are not as common as in other Asian countries, in China, there are also buses with beds instead of seats. These buses tend to have three rows of bunk beds separated by two aisles.
If you are somewhat tall, you might not fit well into the bed, as they tend to be small. In this case, tickets do tend to be numbered, and the upper beds tend to be more expensive than the lower ones.
Bus stations
Something very important that you have to know before going to the bus station is that the majority of cities tend to have more than one bus station. Normally, they are designated by cardinal points, by the region in which they operate, or if they are long-distance or tourism buses. Because of this, before going to the bus station, you have to make sure what station you need to go to.
To find out what station you have to go to, you can check our guides or other websites (careful, because some information might not be updated), ask your hotel, or even asking a taxi driver (the majority of taxi drivers tend to know this information) can be a good option.
Bus schedules
As we've mentioned throughout this article, one of the major complications of traveling in China by bus is how to check schedules. Generally, the majority of buses that connect urban centers leave at least once per hour (often much more frequently). Keep in mind that it's possible that tourist buses and connections to remote areas will be less frequent (one per day).
Below, we detail how you can check bus schedules
At the station
Normally, at bus stations, you will find a panel (whether electronic or not) with the destinations of buses and their departure schedule. Normally, these panels are only in Chinese and tend to be somewhat complicated to understand, even for people who can read Chinese.
You can always show the destination at the ticket window. The salesperson is going to understand it and will show you a computer screen with the schedules of the next buses to the destination that you showed.
Online
It's possible to find schedules online, although you have to keep in mind that often the information is confusing, not updated, and sometimes even incorrect. Although information tends to be more updated if you look in Chinese, that's not always the case.
The websites mentioned in how to buy tickets can be useful, but remember that not all routes are listed on them. Our recommendation, especially if you can read a bit of Chinese, is that you look on baidu.com (Chinese Google).
If you don't speak Chinese, with a bit of patience (and the help of a translator) you can also find the information, just go to baidu.com and look up the following:
City of origin (in Chinese*) + Destination city (in Chinese*) + 汽车
For example:
From Shanghai (上海) to Suzhou (苏州) would be:
上海苏州汽车
*You can easily find the Chinese name by looking up the city on Wikipedia
Suggestions and frequently asked questions
Suggestions
Ask for help: As we mention in the article, traveling by bus in China isn't always easy, so ask for all the help that you can get at the hotel where you're staying, or if you speak a bit of Mandarin, ask a taxi driver. Ask for the bus station that you have to go to, the schedules, and everything that you think might be useful.
Bring a dictionary
Although it's a general recommendation to travel to China with a dictionary, whether physical or a cell phone app, in this case, it's necessary. The large majority of Chinese people are unable to understand anything written in pinyin (the phonetic transcription of Mandarin into Latin characters), which means that if you want to be able to communicate, a dictionary will be very useful for showing instructions or destinations to your Chinese interlocutors.
Take something to eat and drink
Buses tend to stop every two hours so that passengers can go to the bathroom and the driver can rest. Even so, you can't always buy food at the stops (or drinks), and even if you can buy it, there might not be something acceptable for many travelers. For these reasons, it is recommended that you bring something to eat and drink, especially if the trip is somewhat long.
Be careful with your things
Although the number of robberies in China is relatively low compared to other countries, they aren't nonexistent. Because of this, don't take risks and just take your valuables with you, as you can leave big items in the luggage storage.
Frequently asked questions
How many suitcases can I bring?
As far as we know, there's no specific regulation regarding how many suitcases you can take on a bus, and I have seen all types of packages being taken, so the only thing you need to worry about is if you're bags will fit into the luggage storage or not.
What can't I take on the bus?
For the majority of buses, there aren't many restrictions in terms of what you can't take. The only prohibited articles are weapons or sharp objects and inflammable articles.
Can I get off halfway?
Normally, yes. Although the majority of buses have designated stops, if the route includes rural areas, often it's possible to ask the driver to stop at a place where there's no stop.
Can I stop a bus without being at a stop?
As we explain in the previous section, normally, yes. Especially in rural areas, it's possible to get on a bus even though you're not at a stop specified on the route.
Photo Credits:

YUTONG ZK6125BEVG17_Prototype_1 by hans-johnson