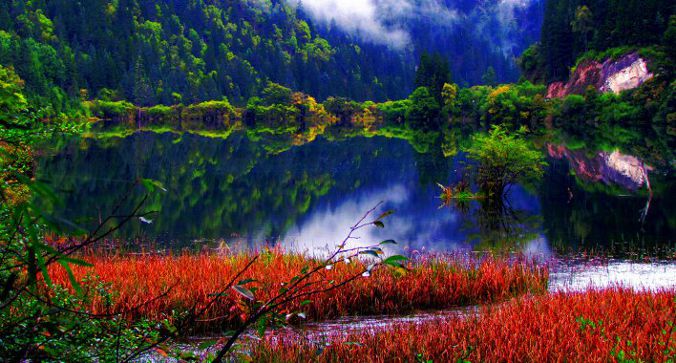 Jiuzhaigou National Park
Jiuzhaigou along with Tibet it is one of the two most popular destinations in western China.
This article was written by Harley Greenberg, who lives in Chengdu, Sichuan, and works with a local travel agency. It's a guide to visit Northern Sichuan and is going to focus on the following points:
Challenges of getting in and out of Jiuzhaigou.
Who is Jiuzhaigou for and why visit it?
How long should I spend at Jiuzhaigou National Park?
When is the best time to visit Jiuzhaigou National Park.
Tour or no Tour? Different ways to reach Jiuzhaigou National Park.
Activities and things to do in and around Jiuzhaigou National Park.
Other plances to visit near Jiuzhaigou: Songpan, Huanglong National Park, Munigou and Aba grassland.
Entrance ticket and times to visit Jiuzhaigou National Park.
Other "special" things you should know.
Depending on your travel plan, a trip to Jiuzhaigou could be as short as just three days. But in most cases, I encourage people to spend at least six days in the beautiful Aba area of Northern Sichuan.
Update March 2018: On 8 August 2017 a 7.0 earthquake damaged considerably the Jiuzhaigou National Park and forced the Chinese government to close the park to visitors. On 3 March 2018 some parts of the National Park were reopened to visitors, including Shuzheng Valley and Zechawa Valley (the Rize Valley still remains closed).
At the present moment, there are some restrictions. To visit the National Park you need to book the tickets in advance, the number of visitors per day is limited to 2,000, and you can't visit the park as freely as before. The entrance ticket and the sightseeing bus costs 200 Yuan per person.
Additionally, the Airport remains closed (the only way to access the area is by train or bus), and only a few big hotels are open outside the National Park (a lot of other hotels are still waiting to see how the situation will evolve).
Challenges of getting in and out of Jiuzhaigou
One of the challenges for any trip to Jiuzhaigou is the transportation in and out of the Northern Sichuan as, unlike most other destinations in China, the choice is quite limited.
Many people that visit Jiuzhaigou will fly in. There are daily flights from the most popular airports in the country. The three most popular cities that international travelers use when departing for Jiuzhaigou are Chengdu in Sichuan Province, Chongqing and Xi'an in Shaanxi Province.
The airport that services the area is called the Jiuzhai Huanglong Airport. It is about a two-hour drive to Jiuzhaigou National Park. There are buses from the airport to the park, but they are limited and not always reliable. The other choice is to grab a taxi, which will cost several hundred yuan.
Huanglong National Park, another nearby attraction, shares the airport with Jiuzhaigou and it's closer by about an hour's drive.
When planning to fly out of Jiuzhaigou it is important to schedule any connections with a long connecting window. It is not uncommon for flights to be significantly delayed upon arrival or departure due to fog that occurs frequently in this mountainous airport. The fog and delays are worse during the summer rains.
There is no train station in Jiuzhaigou, due to the terrain. Beside the plane, there are Tourist Buses that run from Chengdu with a few departures each day. The most popular is the early morning bus. Also, you can hire a private vehicle and driver.
Once arriving in Jiuzhaigou, there are taxis to help navigate around, along with some shuttle buses, but in general, the local transportation is poor. Many people choose to book a private tour so they can easily include some of the nearby attractions (more on those in a bit). The other common choice is to go alone and limit your exploration to areas within walking or taxis near Jiuzhaigou National Park exclusively.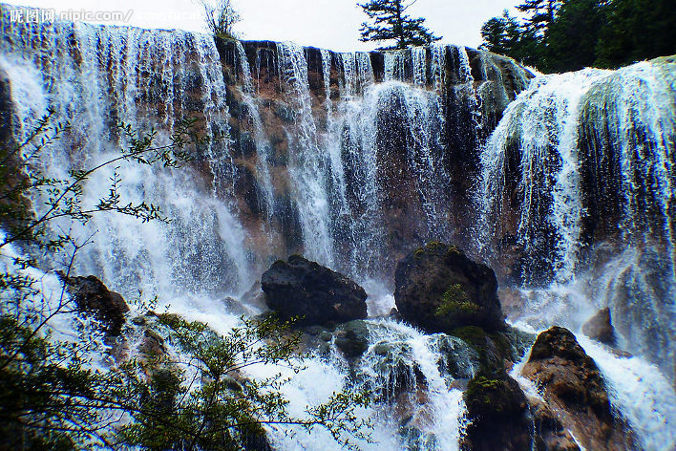 Jiuzhaigou National Park
Who is Jiuzhaigou for and why visit it?
Jiuzhaigou is for any lover of nature. It is perhaps the most spectacular natural site in China. Its Chinese name is 九寨沟 and it can be translated as the "Valley of Nine Villages."
This sacred land lies on the edge of the Tibetan Plateau and it's famous for its many multi-level waterfalls, colorful lakes, and dense forest that are all encapsulated by snow-capped peaks that range in elevation from 2,000 to 4,500 m. (6,600 to 14,800 ft).
Declared a UNESCO world heritage site in 1992 it now attracts millions of visitors annually.
The park is constructed of several valleys, each offering a unique experience. Of the several valleys, only three are open to tourists. They are called Zechawa, Rize, and Shuzheng. There is a fourth valley named Zharu that is accessible only with special permits and is the only valley that allows camping.
To help minimize the impact of the millions of visitors that Jiuzhaigou attracts each year and preserve the pristine nature of this environment the Chinese National Park Service prohibits private vehicles from entering and has restricted where visitors are allowed to walk. There are several footbridges, elevated walkways, paved paths that travelers are expected to stay on.
It is not permitted to enter into the natural settings unless you have arranged entry into Zharu Valley.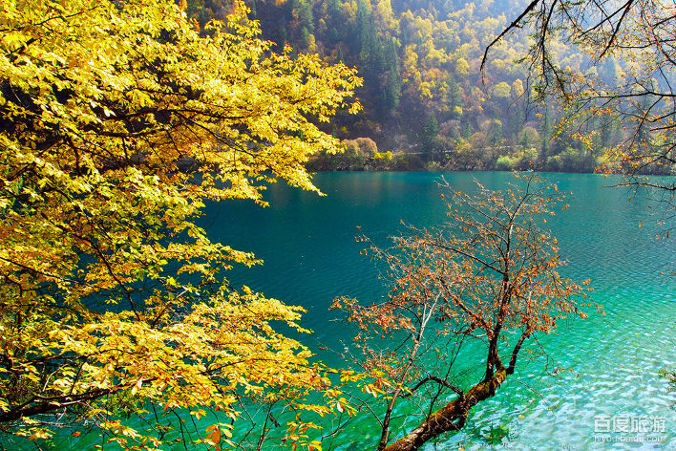 Jiuzhaigou National Park
How long should I spend at Jiuzhaigou National Park?
For most people, one day will feel a bit rushed especially if you do not have a guide who knows where the best spots are. The most popular tours include two full days in the park. However, if you are a photographer or painter, you may choose to never leave.
When is the best time to visit Jiuzhaigou National Park
In my eyes, a visit to Jiuzhaigou is rewarding almost any time during the year, with a few exceptions. The most popular time is the autumn months of September and October.
Be warned that during the Chinese National Day, which occurs the first week of October, the population of Jiuzhaigou explodes. There is a massive influx of domestic tourists and money. The locals that work in the tourism trade love it, but it creates pressure and stress on the environment that the government has struggled to manage.
I would advise you to avoid Jiuzhaigou at all costs during this week. Unless you enjoy swimming through a sea of people.
I would also encourage a winter trip when the temperature will range from 0° to 3°C (32 to 37.4F). However, you need to prepare well as it will be cold. This includes a winter hat, gloves, boots, etc. Also, note that many of the hotels are closed during the winter or have reduced staff.
If hot water and heat are important to you, be certain to ask and verify several times that the hotel you choose can provide it. Otherwise, book a tour with a reputable travel agency that knows which hotels are more reliable in the winter months.
As the snow melts the spring offers a lively time as the trees bud their leaves and the lakes thaw.
During the summer months, the scenery is lush and deep green. Unfortunately, many travelers are turned off by the unpredictable summer rains and wait till September or beyond to plan their trip.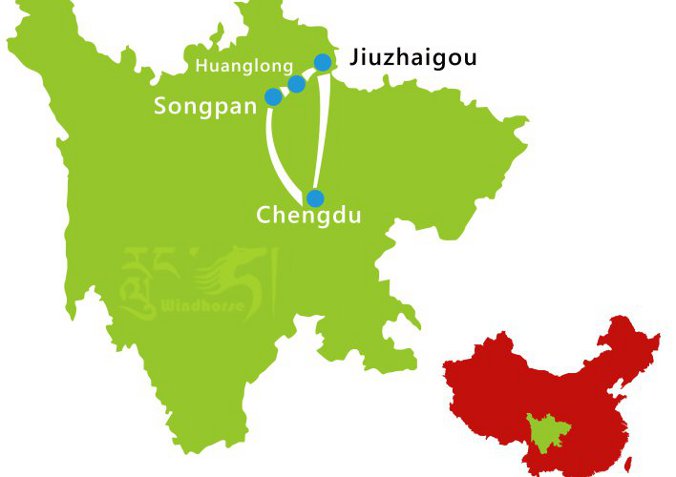 One of the possible itineraries to visit Northern Sichuan
Tour or no tour? Different ways to reach Jiuzhaigou National Park
There are three main ways that we see people traveling to Northern Sichuan:
Take a Private Tour
For travelers that have a finite amount of time, this is the most popular and best choice. It does have the highest cost but offers the greatest flexibility.
With a private tour, you will have a dedicated car and driver. Along with free unrestricted travel to and from Jiuzhaigou, this freedom makes it possible to visit many of the nearby sites, which will introduce later in this article.
Best private tours include a local guide. This helps to ensure that your time within the Jiuzhaigou National Park's maze of valleys and trails is optimized to fit your time. Depending on what your interests are, from photography, bird watching, waterfalls, etc. these guides have current personal insight that is not likely to be found in a guidebook or an online travel forum.
Arranging a China private tour to Jiuzhaigou also helps to ensure that your hotels, entrance tickets, and other sundry items are managed. Making the trip more worry-free. During the peak seasons, it can be almost impossible to get a hotel room. So a local travel agency has a greater chance of securing you a comfortable room.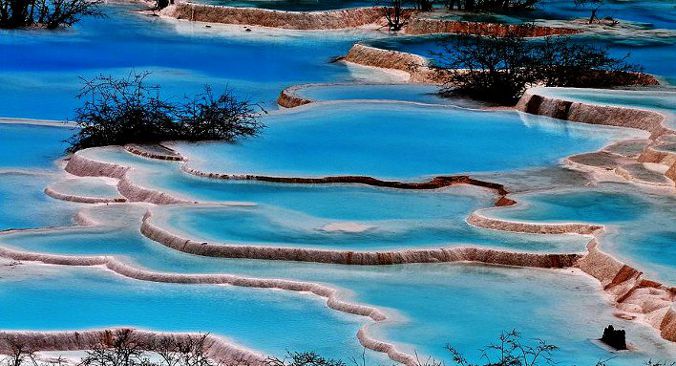 The colorful lakes of Huanglong
Take a Group Tour
There are really no group tours to Jiuzhaigou that are targeted at international or western travelers. You will see bus tours from overseas but in most cases, they are large group private tours and not a domestic Join In Group Tour.
The biggest problem with a Jiuzhaigou group tour is, they make their profit from the 'mandatory' shopping stops. Yes, they are 'mandatory' and in some cases, the pressure to buy can be rather intense.
These tours shift away from the focus of visiting Jiuzhaigou National Park to what the next shopping stop will be. While a Group Tour is the cheapest way to visit Jiuzhaigou, I would not suggest it at any course.
A Group Tour is normally three or four days and most depart from Chengdu.
The first day is driving up to Jiuzhaigou from Chengdu. Where the guide and driver will begin to talk about the herbs, teas, meats, etc. that will be lined up for the third day's shopping stops.
The second day is focused on you visiting within the National Park, and in most cases, your entrance ticket is included. This is a plus, as the entrance tickets are expensive by Chinese standards. In most cases, the guide and driver will help you enter the park and arrange a time to meet again at the main gate. Then suddenly vanish.
The third day, or return to Chengdu, will include scheduled stops at selected stores. The staff there is well conditioned on how best to extract cash from travelers' wallets. Pay attention to the colored id card they will give you an entrance. Try to change it and watch the guide go crazy: the color helps the store know who gets the commission from your purchase.
Please don't get me wrong, there are some pretty cool stores that people stop at. But having personally traveled all different styles, a group tour to Jiuzhaigou is not an experience I would want for even my foe.
One of the last points that you will hear, is everyone on the trip will complain that food rations are too small! And somehow there is never enough meat.
Travel Independently
An independent trip to Jiuzhaigou is more for the adventure-minded traveler than the faint heart. I say this given the travel situation I noted above. If you just wish to visit Jiuzhaigou National Park only, then it can be fairly straightforward. If not during the rush of peak season, where it can be very hard or impossible to get a hotel or hostel room.
However, there are so many other attractions that will likely be missed in a Group Tour or traveling independently.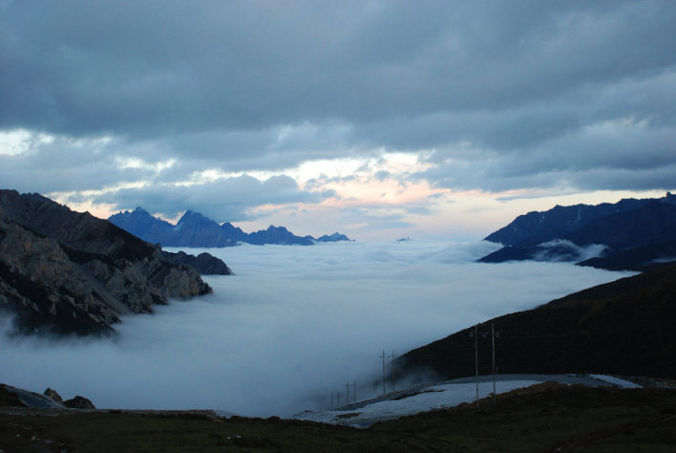 Jiuzhaigou clouds' sea
Activities and things to do in and around Jiuzhaigou National Park
Much of what to do at Jiuzhaigou is to admire in awe at the wonders of Mother Nature. From the multi-colored lakes to the lush foliage during the autumn.
For photographers, it truly is a paradise, an endless selection of natural landscapes. Annually many Sichuan brides and grooms will travel to Jiuzhaigou to take their wedding photos. Being a photographer myself, I would strongly encourage you to bring a tripod, but be warned that at times it can be difficult to keep others from bumping into it.
If you have time and plan ahead, hiking in Zharu valley is an endeavor that few have ever experienced. This type of trip can only be arranged when joining a private tour.
For the "polar bears," that is people who enjoy swimming in cold weather, the lakes are off-limits. So do not get any crazy ideas.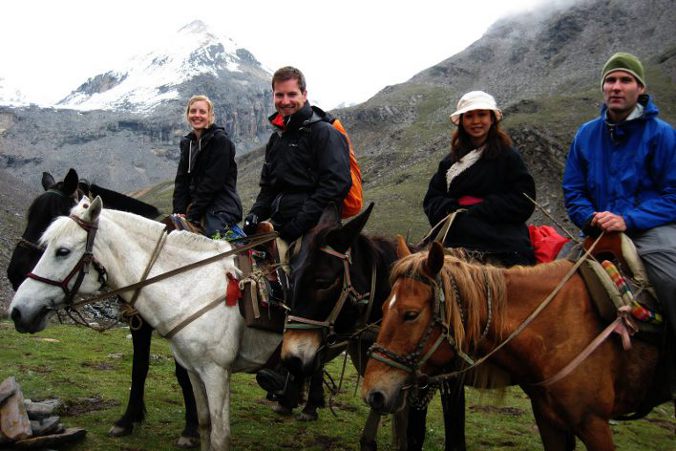 Horse trekking in Songpan
Other things to do near Jiuzhaigou that should not be missed
Along with Jiuzhaigou, there are several other attractions and activities that are not to be missed in Northern Sichuan. They range in the physical exertion level but again without the aid of a private car most independent travelers will be left struggling to find transportation from one place to the next.
Songpan Horse Trekking
Songpan is located southwest of Jiuzhaigou, about 100 km. (62 mi.), on the way back to Chengdu and offers a much more accessible outdoor experience.
Here you can choose to hike or ride a horse into some of the lush valleys. While not as spectacular as Jiuzhaigou it offers an outdoors experience that is otherwise not accessible in Northern Sichuan.
The horse is outfitted with Tibetan styles saddles and trips can be arranged for as short as an afternoon ride to several days of camping.
Huanglong National Park
Huanglong National Park or Yellow Dragon is the clear winner as the second most popular attraction after Jiuzhaigou. Likes its sister it is a paradise of natural beauty and its' popular for its spectacular Five Colored Ponds.
Like Jiuzhaigou, Huanglong has pathways to help preserve the environment from erosion from the vast number of travelers it experiences each year.
Unlike Jiuzhaigou, there is a cable car, that you can choose to buy a one-way ticket for 80 Yuan that will take you up to the Five-Color Ponds. Many choose to ride up and walk the 5 km (3 mi.) down.
Once you are off the cable car it is still an additional 2 km. (1 mi.) to see the Five-Color Ponds.
One important note is the Huanglong is closed during the winter as there is a tremendous amount of snow and the pools are all covered.
Given that Huanglong is much closer to the Jiuzhai Huanglong Airport it provides some flexibility on which attraction to visit first based upon when your flight is scheduled to land.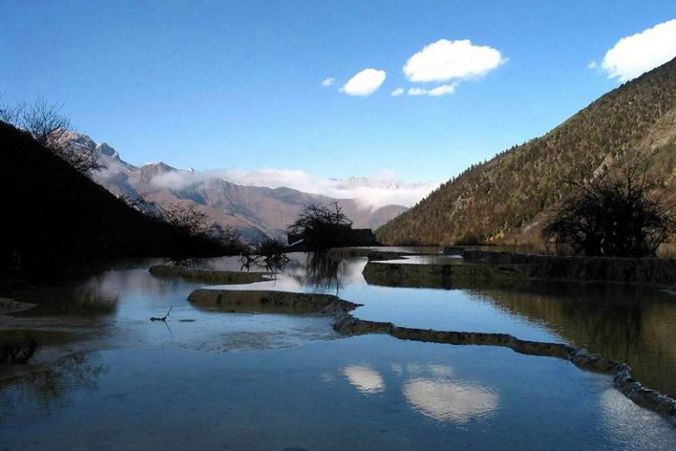 Erdao Hai
Munigou
Munigou is a good alternate plan for people looking to spend more time in Northern Sichuan. While not as popular as Huanglong it is accessible in the winter months and offers several natural landscapes.
The two main features of Munigou are different from Jiuzhaigou and offer a greater sense of diversity. They include Zhaga Waterfall and Erdao Lake. It's mixed with the local minority cultures and it's less crowded than the other destinations.
Aba Grasslands
The Aba Grasslands (Zoige) is perhaps the most challenging and therefore rewarding nearby attraction. Located a full day drive northwest from Jiuzhaigou these grasslands offer a stunning view with the Tibetan Plateau in the distance.
Here it is common to see Tibetan nomads living off the land with their yaks.
At times the government will limit foreigners' ability to travel to this portion of Aba. If you are planning to travel here please contact me for the latest conditions and assistance in planning your trip.
Chengdu Panda Breeding and Research Center
The final nearby attraction to share resides back in Chengdu, home of the Chengdu Panda Breeding and Research Center.
Here you can spend the morning or whole day admiring the adorable animals. While they are indigenous to Northern Sichuan, it is uncommon these days to see a panda in its natural environment of Jiuzhaigou and Huanglong.
There are many other attractions to consider during any trip to Sichuan, but perhaps that is a topic for another blog post.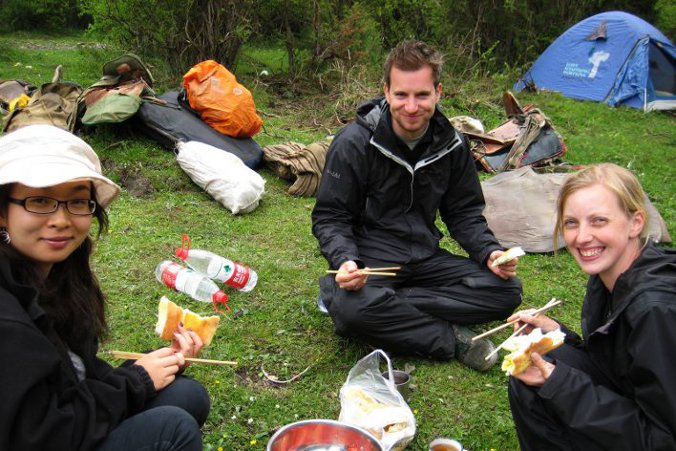 Picnic in Songpan!
Entrance ticket and times to visit Jiuzhaigou National Park
The entrance ticket to Jiuzhaigou is one of the most expensive in China at 310 Yuan. The ticket is made up of two different parts:
Entrance Ticket of 220 Yuan

This is the compulsory ticket that everybody is required to purchase. If you wish to visit the park for more than a day you will need to purchase a new ticket each day.
Sightseeing bus ticket of 90 Yuan

While this is not required to buy, you are kind of stuck without it. The park is just too large to walk around, and since private vehicles are not permitted there is little choice. You should also note that bicycles are not permitted in the park.
The park opens daily at 7 am in the summer and 8 am in the winter. It closes all seasons at 6 pm.
There is a discount available in the wintertime on entry tickets. Generally speaking the winter is the offseason as less people will travel to China. For many domestic travelers, the colder weather is a major turn-off.
However, the frozen waterfalls and lakes with the snow-covered trees offer a great spectacle, perhaps equal to that autumn foliage.
Other "special" things you should know
There are a few more things you should take into consideration when planning your trip to Northern Sichuan and Jiuzhaigou.
High Altitude Sickness is something you should be alert to. The elevation can easily change from 2,000 to 4,500 m. (6,600 to 14,800 ft). For reference, the Airport is at 3,500 m. (11,500 ft.), Huanglong at 3,400 m. (11,200 ft.) and Jiuzhaigou at 2,000 m. (6,600 ft.) above sea level.
If you have any heart or other health conditions, I would advise you to talk with your doctor first to ensure there is no personal risk to your health.
Also, you are not allowed to sleep in the park and there is only a restaurant inside of Jiuzhaigou National Park. The food there is more expensive and lower quality than outside.
I advise you to pack your favorite snacks as you are permitted to bring food and drinks into the park. There are places throughout the park where you can purchase bottled water.
Some suggested things to include in your bag when visiting the park: sunscreen, lip balm, raincoat, toilet paper, and hand sanitizer.
Next steps
A trip to Jiuzhaigou should be on everyone's bucket list as the scenery is truly breathtaking. If you are planning to travel to Western China any time soon please do not hesitate to a href="https://www.saporedicina.com/english/china-tours-guide/#contact>contact us
Photo Credits: Photos by Harley Greenberg from Windhorse Tours