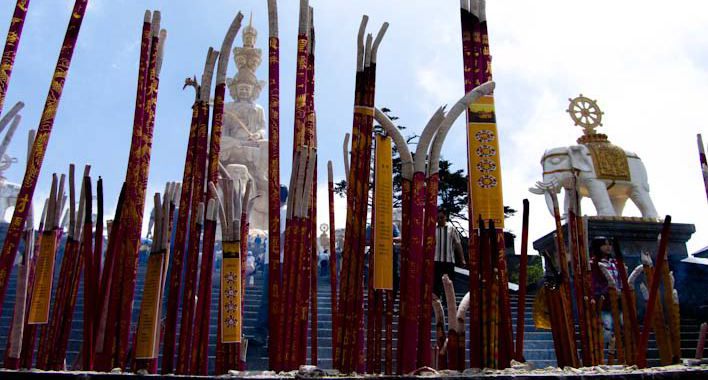 The top of Emei Shan
Mount Emei (or Emei Shan, in Chinese) is a 3099 m. mountain located 150 Km South of Chengdu, Sichuan Province. As the title says, it's a sacred Buddhist mountains and, moreover, an UNESCO World Heritage Site.
I must say that climbing this mountain was quite an experience. But before let's see how to get there.
You can get there from Chengdu by bus (buses depart from Xinnanmen Station every twenty minutes and the ticket costs around 50 RMB) or by train (20 RMB). The trip takes about ninety minutes. Another popular option is to take the overnight train from Kunming, the capital of Yunnan Province. It will cost you around 190 RMB for an hard sleeper ticket and it will take around twelve hours.
What route did I choose? I came here directly from Lugu Lake, which is located at the border between Yunnan and Sichuan.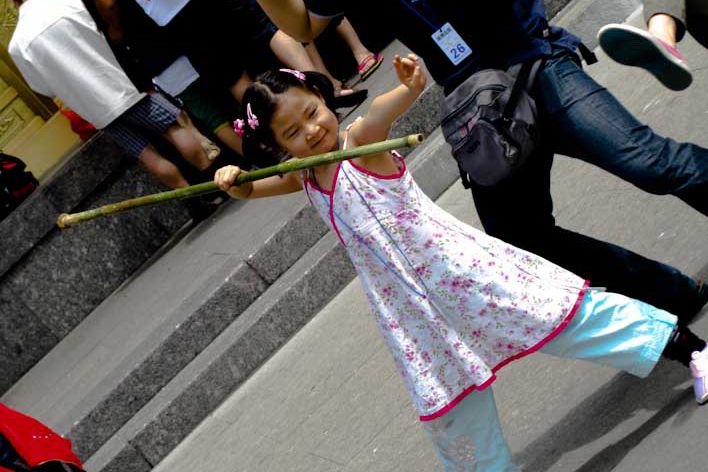 A super cute tourist
Getting to Emei Shan: The hard way
I wake up at five a.m. in Lige, say goodbye to Feng, who has to go back to Shanghai, and get on the minivan that brings me to Lugu Lake City. Here I get on a bus that, after seven hours, lets me in Xichang, a small town in Southern Sichuan.
The good thing about Xichang is that here I can take the train Kunming-Chengdu to reach Emei Shan. But it's high season and all the tickets are sold out. I can choose between wait here – that is in the middle of nowhere – for two days or take a hard seat ticket on the train that stops at 10:20 p.m. and lets me at Emei Shan at 6 a.m.
What the hell, I choose the later option. I will spend the following eight hours reading The Art of Seduction (great book!) and waiting for my train.
Getting on a Chinese train is never easy, especially in second and third tiers towns where you are usually surrounded by farmers. Nothing against farmers, my grandfather was a farmer too. However Chinese farmers have no fuckin' idea of what "waiting in a line" or "don't spit on my feet" means. So yeah, getting on a Chinese hard seat carriage, where there aren't assigned seats and the law of the jungle rules, it's a big deal. Especially when you carry a backpack.
But it's after I got on the train that I realize that this ain't going to be a pleasant night. Not only there aren't free seats (I was expecting it), it's so crowded that there isn't even space to seat on the floor, which by the way is covered by chicken bones, leftover noodles, cigarettes' filters and spit.
I spend the following eight hours standing and talking with the farmers that ask me a lot of questions, smoke on my face and offer me some of the apples that they are going to sell in Chengdu. The real problem is that there is no way to reach the toilet and I don't know about your, but my bladder isn't that strong, especially after I spent all the afternoon drinking Longjing tea at the station.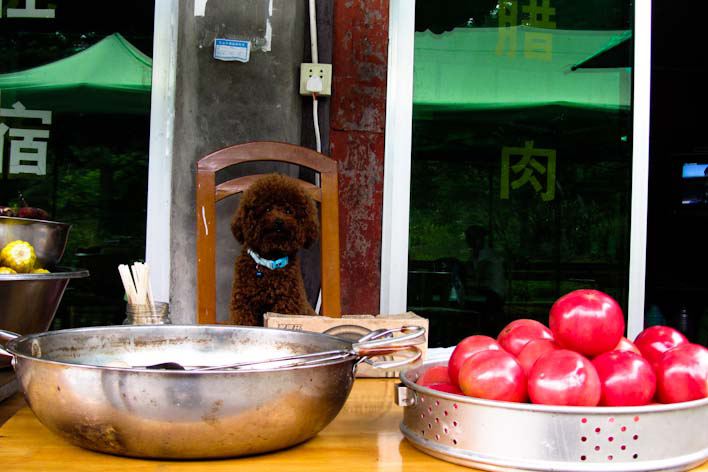 A Buddhist dog?
Finally Emei Shan
At 6 a.m. I get off at Emei's station and run to the toilet. Then I get on a cab to the Teddy Bear Hostel, which I highly recommend because is located in Baogou Village (报国寺), that is 500 meters away from Mount Emei. Also, they have free wifi, they offer a decent choice of (not free) food and rooms are clean.
The cab took about ten minutes to get there and the taxi driver refused to switch on the taximeter. I'm too tired to discuss or look for another cab so I give him 20 RMB to make him shut up. Alternatively, you can take a bus. It will cost 1 RMB.
When I arrive to the hostel isn't even 7 a.m. I'll have to wait till 10 a.m. to check in. Fair enough. I seat on the nice common room, order a breakfast and keep reading the Art of Seduction.
I planned to stay two nights at the hostel, so I spend the first day looking around, understanding where to take my bus to Leshan (my next destination, the bus leaves from the bus station located 100 meters on the left side of the hostel) and visiting Baogou Buddhist Temple.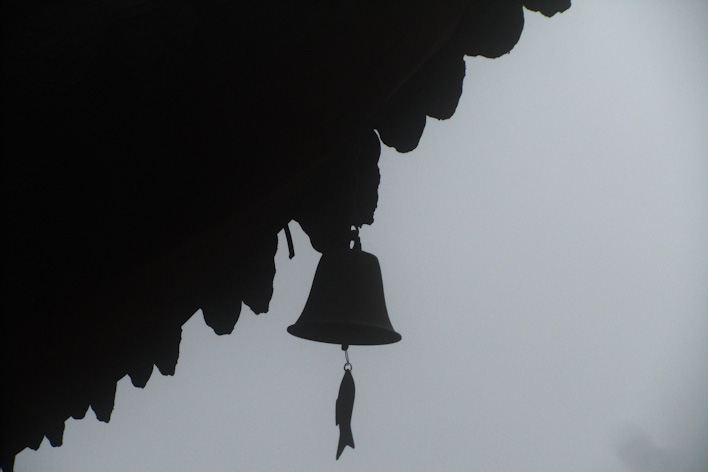 It's foggy close to the top!
How to climb Emei Shan
Stupid me.
As usual I didn't plan my exploration so I discover only at dinner time, discussing with a French guy that is just back from the mountain, that one day isn't enough to reach the top of Emei Shan by feet. It's a looong way and I just wasted my first day walking around.
See, I write a lot of travel advices but I don't read too many travel articles. Not when I'm on exploration mode, at least. I don't see the point of knowing things before to discover them. It usually works out fine, but sometimes I make mistakes.
The BEST way to climb Emei Shan is to start on the morning, slowly walk up and, when you feel too tired, stop at one of the many monasteries that you'll encounter on the way. They will provide you accommodation and basic food (rice, noodles, vegetables, nothing fancy) for an honest price (50 RMB for a bed, if I remember well).
The day after you can walk up to the top. If you have time you can stay there to see there a second night to see the sunset and the sunrise, which are amazing (I only saw photos though). If you don't have time you can climb down to the first bus station (it takes about two-three hours from the top) and take a bus back to Baogou (it costs 50 RMB and takes about 45 minutes).
Unfortunately I have already bought my bus ticket to Leshan and booked my hotel there. Moreover, there are still many other places that I want to visit before the end of my holiday. So I decide to do not stay a third night in Emei.
This means that I can't climb the mountain from the starting point (in Baogou) to top as I only have one day and isn't enough.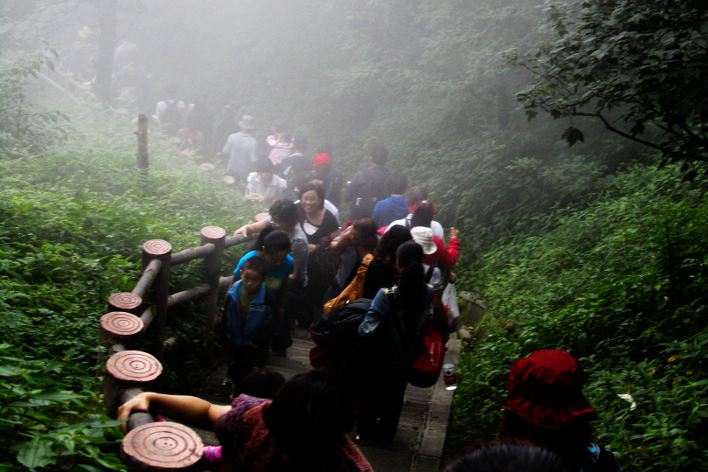 How I climbed Emei Shan
The morning after I take a bus that lets me half way (they depart every 20 minutes from the station 100 meters away from the hostel) and start to climb from there. I plan to climb to the top, stay there a while and then climb down before the sunset (half by walking and half by bus).
Mount Emei is weird…
There are three things I notice straight away. First, it's quite foggy, I hope that at the top the sky will be clean. Second, the mountain is pretty busy: it looks like Nanjing Road, the only pedestrian road in Shanghai. Third, everybody is carrying a cane. What's that? A new fashion?
I keep climbing and I see a panel that says: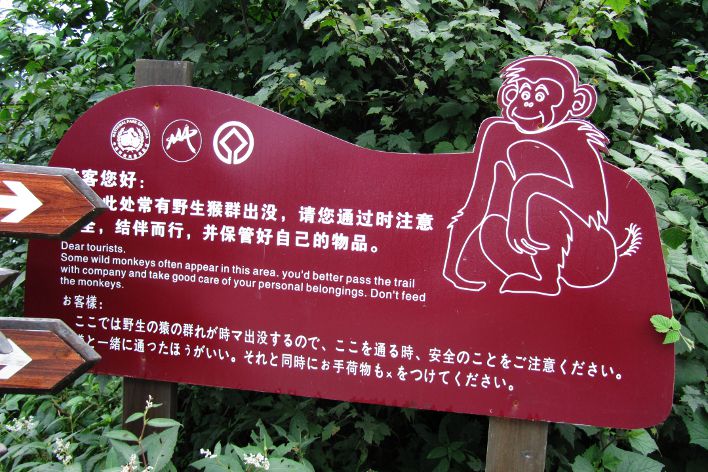 OK, now I understand why everybody is carrying a cane. They want to beat the dangerous monkeys…
After a while the number of people decreases. It's not by chance: Chinese tourists love cable cars and I just went past one that promises to bring you to the top. But not only Chinese tourists love cable cars. They also love to pay someone to bring you to the top in a gurney.
What the fuck… it's getting weirder and weirder. Invisible monkeys, cable cars, canes and now gurneys.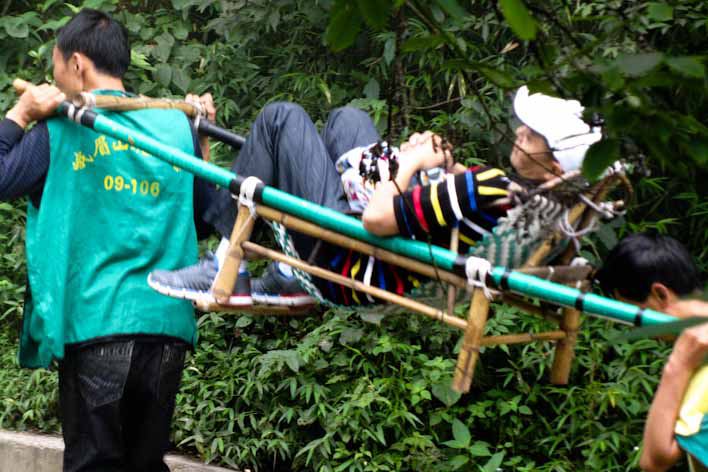 I keep going. No monkeys. However I learn the prices to get to the top by gurney. Awesome!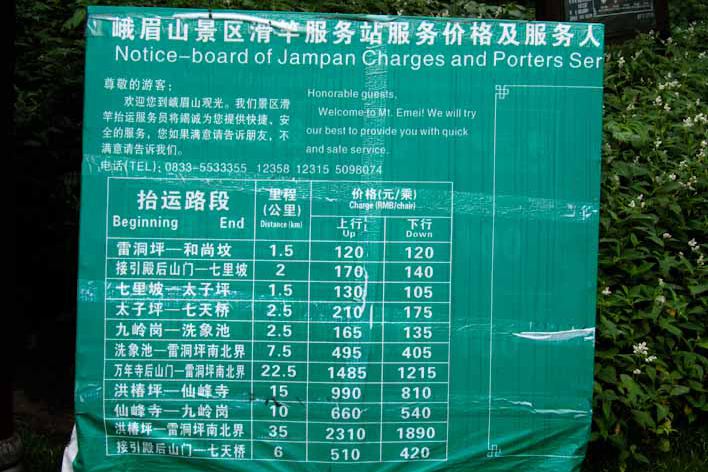 As you can see prices range from 120 RMB for 1.5 Km to 2310 RMB for 35 Km, which I assume to be the distance between Baogou and the top of the Emei Shan.
After some hours I finally get to the top. No, I didn't take a gurney-taxi.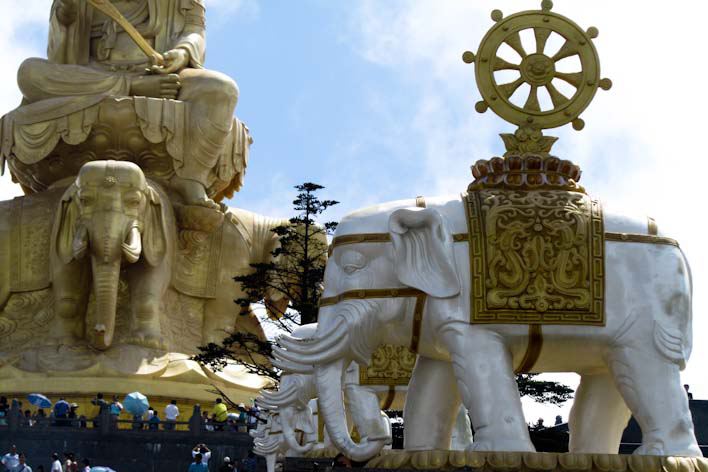 I must say that the elephants and stuff are quite impressive, however I'm upset because I didn't see a single monkey. I guess they all gathered at the bottom of mountain for a party. Since I cheated taking the bus for the first part of the trip I'm punished. No monkey will bite me. The interesting thing is that here there is no fog and I can take some nice pictures.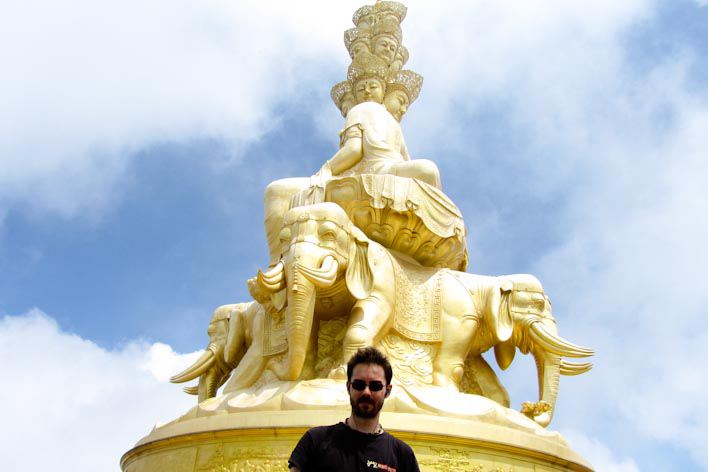 That's me, so you don't think I've dreamed all the trip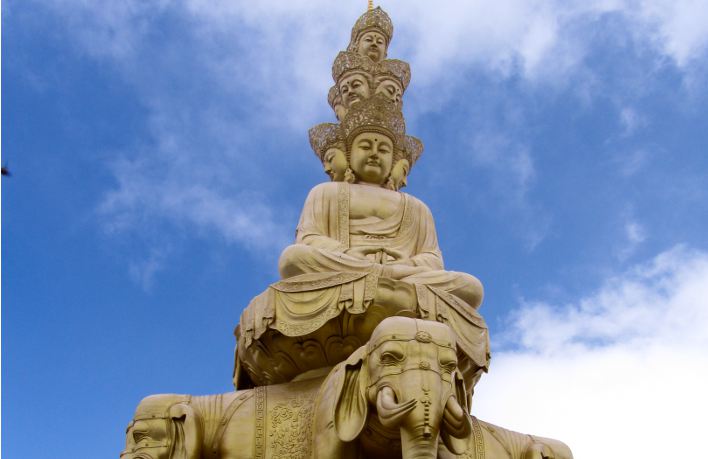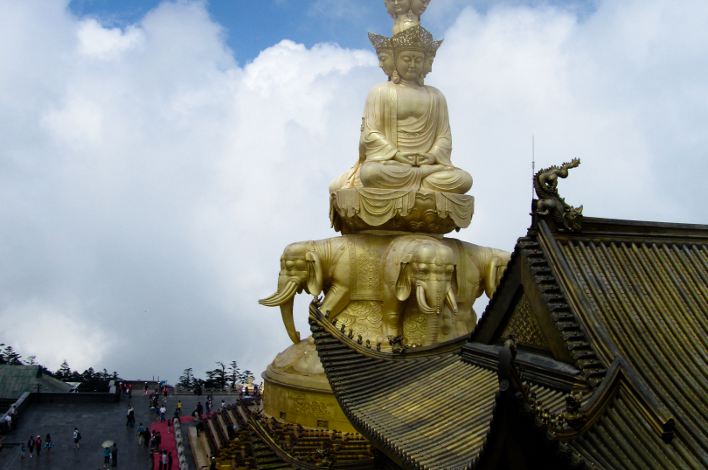 My hero…
She's my hero because, even if there are about 35 Celsius degree, i.e. it's bloody hot, she keeps her coat with stoicism. Why? I dunno, but she's carrying two canes… Probably she's scared by the monkeys!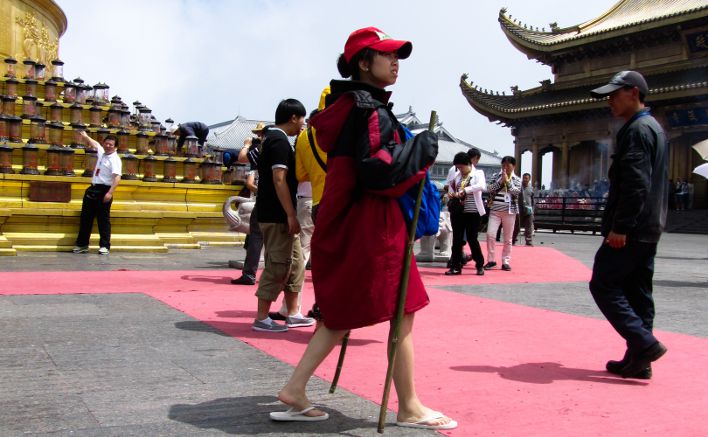 OK, that's all for today! If you go to Chengdu I invite you to take two days and come to this beautiful mountain. It's worth every second of your time. Ah, and if you see a monkey take a picture and send it to me via e-mail : )
Photo Credits: Photos by Sapore di Cina