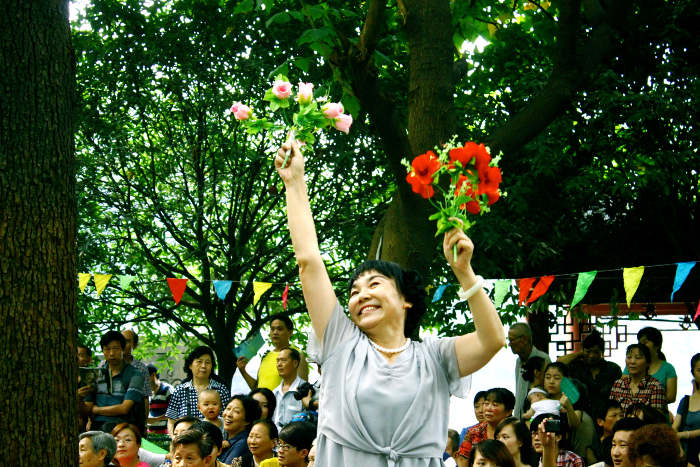 Photos by Kristen Ng
Chéngdū (成都), the provincial capital of Sichuan, where the clattering of mahjong blocks fills the air from morning till night. and the evening hours see a ritual emergence of clothed dogs, twist dancers, tai chi troupes, spinning top whippers and China's ubiquitous herds of dancing ayis.
Chengdu is a proud and fiery city, where "better put your toilet paper in the freezer" is a fond joke for tourists and visitors. The pungent aroma of chilli-filled hot pot, eau de Chengdu, lingers in virtually every street, while the distinct local dialect Chengduhua is their lingua franca. In my opinion, the people of Chengdu have more pride and identification with their city than the nomadic metropolises of Beijing and Shanghai.
Dubbed as an up-and-coming city with the government's 'facing west' policy, Chengdu has undertaken a dramatic facelift in recent years with the construction of several enormous overpasses, countless high rises, shopping malls and a city-wide subway system. However amidst all the heavy machinery and upheaval, Chengdu still has pockets of traditional architecture, local food and culture which retain the relaxed, grassroots atmosphere the city is known for.
Panda-monium
The automated lady voice in Chengdu's distinctive lime-green taxis will chirp upon your arrival to the Land of Plenty (tiānfǔ zhī guó 天府之国), "Welcome to Chengdu – home of pandas."
Sichuan, namely Chengdu, has a worldwide reputation for its adorable, bamboo-munching Ailuropoda melanoleuca. Panda paintings, panda statues, panda animations, panda plush toys, panda hats, panda bars, panda post offices, a slightly disturbing panda policewoman safety campaign…. It is fair to say, Chengdu has really gone to town on the panda thing.
While the Panda Breeding Research Base (Chéngdū Dà Xióngmāo Fányù Yánjiū Jīdì 成都大熊猫繁育研究基地) certainly is a wonderful place to visit, there is other stuff to see and do in this awesome city.
(Definitely go check out the pandas though!)
Eat with the monks at Wenshu Monastery (Wénshū Yuàn 文殊院)
Wenshu Monastery is a peaceful place to find some quiet in the north of the city. Inhabited by monks, the monastery is frequented by worshippers of Buddha, local leisure seekers and tourists alike. The monastery gardens are home to ponds of fish and turtles, while you can also see locals bring their bird cages to the trees. In the summer, you might see monks playing ping-pong in the courtyard. The large prayer hall offers space for meditation.
At 11am and 5pm each day, a free basic meal is served from the monastery canteen to the monks and the public. To experience the modest eating practices of Buddhist monks, queue up for the simple fare of rice porridge (zhōu 粥),preserved vegetables (páocài 泡菜) and steam buns (mántou 馒头). Sometimes you may be able to sit and eat with the monks, use your discretion and only enter if you are welcomed.
The area surrounding Wenshu Monastery is also worth checking out. Those carnivores hankering for something other than the vegetarian fare of the monastery will be pleased to find Xinjiang lamb skewers and other meats available on the slightly tokenised Cultural Experience Zone (Mínsú Wénhuà Tǐyàn qū 民俗文化体验区), as well as an array of local noodle snacks, sweets and more. Souvenirs and trinkets are sold by Tibetan street vendors around the monastery, bargain wisely.
Free entry.
Subway to Wenshu Monastery:
Line 1 (blue) to Wenshu Monastery, exit K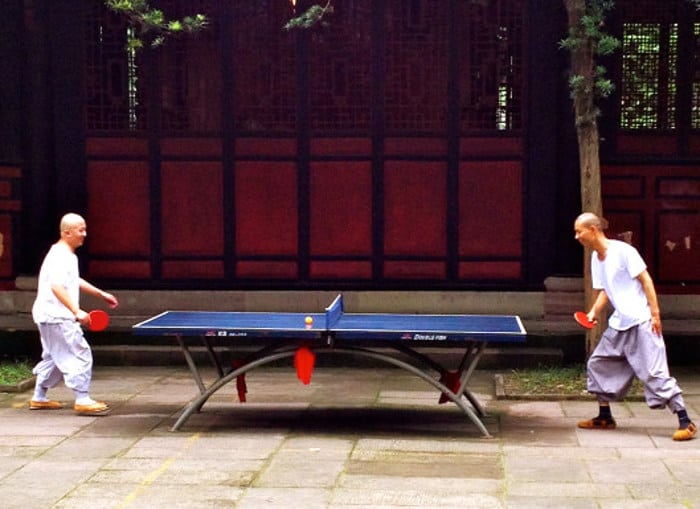 Courtyard at Wenshu Monastery
Visit People's Park (Rénmín Gōngyuán 人民公园) on the weekend
The first time I visited People's Park on a Sunday, my foreign understanding of a 'park' meant I'd planned to find a quiet place to sit and read. Little did I know, as a central performance spot for local choirs, musicians and dancers, People's Park must be one of the loudest places in the city. With a cacophony of people and percussion, there is plenty of local Chengdu culture to see, hear and taste at People's Park. In other words, it is completely bonkers.
People's Park is bustling with all kinds of activity: watercolour painting, a koi pond where you can feed fish with milk bottles, candy animals made of drip caramel, portrait sketchers, caricature artists, water calligraphers, badminton, tai chi, mahjong, paddle boating, men playing Go, parents advertising their children for prospective marriage… but it is probably most well known for its eclectic range of performers.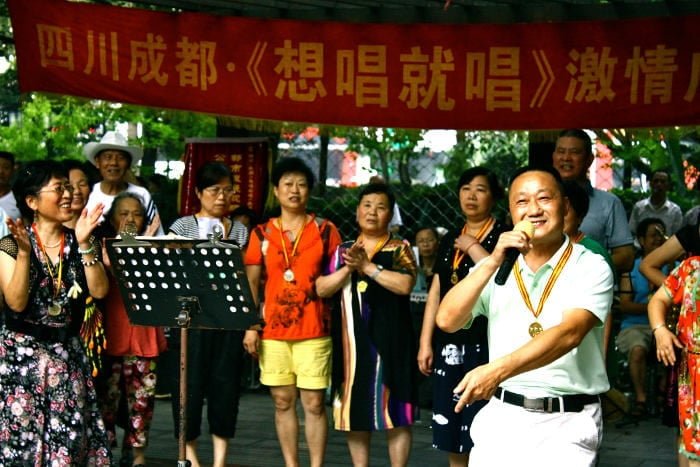 People's Park Open Mic. The sign reads: Chengdu, Sichuan 'Sing as You Like'
There are nearly a dozen performance areas within the park, all clustered together and simultaneously blasting their music. On the weekends, these areas attract large and appreciative audiences who stand, sit or participate in the weekly jam. Locals from infant to elderly circulate the stages and pass bouquets of fake flowers to performers when deemed appropriate. Some acts you might witness include traditional Sichuan Opera featuring a cross-dressing bride in orange heels, the intergenerational Zumba Dance Club, elderly women square dancing to bass-heavy club tunes, traditional choir, drama and song, and one time, a catwalk where people strut up and down with a pose at each end, as a form of entertainment and/or fitness.
The surrounding lanes also have little karaoke set ups, where people can choose their song and have it amplified at loud volumes to the masses. This year, each zone has been installed with a decibel monitor and with alarms that go off when the maximum volume is exceeded. Not sure if people view this as a buzz kill or a welcome respite.
The Park is also home to several outdoor teahouses with sprawls of tables and bamboo chairs of people playing mahjong and cards, reading newspapers and chatting over tea. My personal favourite is the Shao Cheng Tea House 少城茶馆, though they are all fairly similar in price. You can have a cup of covered tea (gai wan cha 盖碗茶) from 15 Yuan onwards, which is served with a large thermos of hot water so you can refill over and over again. The tea menus are also written in English.
The Park is also inhabited by ear cleaners, who let their approach known by the idiosyncratic clanging of metal rods. Palm readers may approach with a menu of their services while you are drinking tea. As with everywhere in Chengdu, beware of pesky mosquitos in the warmer months!
There's a huge lake where you can choose to rent a paddle-boat or motorized boat, or simply sit around the edges with the card players, families and tea drinkers.
Near the back entrance of People's Park is a children's theme park, which features bumper cars, a cruddy rollercoaster that looks like it belongs in the 1950s, various carousel-type rides for kids and best of all… a pedal powered rotating sky buggie. What is a pedal powered rotating sky buggie? You'll have to try it and see. In-built buggie stereo. 10 Yuan per person.
Local snack food can be found within and around People's Park. The teahouses and other licensed vendors sell snacks ranging from spicy rabbit heads, fried squid skewers, cold noodles, glass noodles, roast potato sticks, dumplings, sweets and more, while the streets outside the park are inhabited by wheeled vendors selling all sorts, such as Xinjiang dried fruits and nang, fried pancakes, deep-fried potatoes, Taiwanese tofu and steamed corn. Most snacks can be purchased around the 5-6 Yuan mark.
Free entry.
Subway to People's Park:
Line 2 (orange) to People's Park, any exit
Wander the Wide and Narrow Alleys (Kuānzhǎi Xiàngzi 宽窄巷子)
While the history and architecture of the Wide and Narrow Alleys date back to the Qing Dynasty, it is here you will be able to witness some of the greatest hallmarks of modern Chinese culture. Chengdu's Selfie Stick Paradise, Kuanzhai is bustling with tourists all angling for that perfect snap of themselves basking in faux ancient chic.
As my friend joked on Kuanzhai the other day: "that saleslady yelling about milk is more representative of China than that chick playing a guzheng."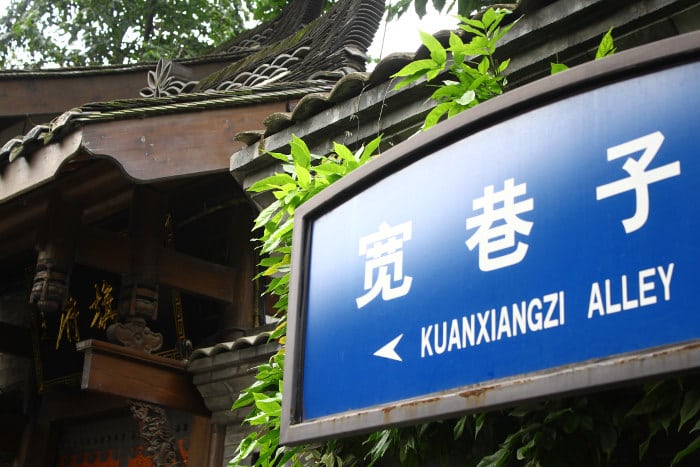 Starbucks aside – Kuanzhai does a pretty good job at preserving and reviving the feel of old Chengdu. The alleys are made of three lanes and can be easily navigated by foot. You will need to leave your bike outside, as the lanes are completely pedestrian. There is much to shop for on the alleys, home to dozens of teahouses, gelato, bookstores, designer clothes, leather, ceramics, pubs, restaurants, snack stalls, souvenirs, hostels, though be aware that prices here tend to be higher than other parts of the city. Like People's Park, you can have your ears cleaned with the steel vibrations of metal rods and cotton buds.
Kuanzhai is a snack mecca, with dozens of snack bars offering a wide range of sweet and savoury delights from fried to steamed, meat to vegetarian and candy-coated to flaming hot spicy magma.
For literature buffs, the bar and former-poetry reading spot White Night 白夜 was originally started by Zhai Yongming, oft-considered China's first feminist poet. Recommend the coffee at UM! Takeaway Coffee for when those walking legs get tired!
Free entry.

Subway to Wide and Narrow Alleys:
– Line 4 (green) to Kuanzhai Xiangzi, any exit
– Line 2 (orange) to Tonghuimen, exit C and walk left up Xiatong Ren Lu 下同仁路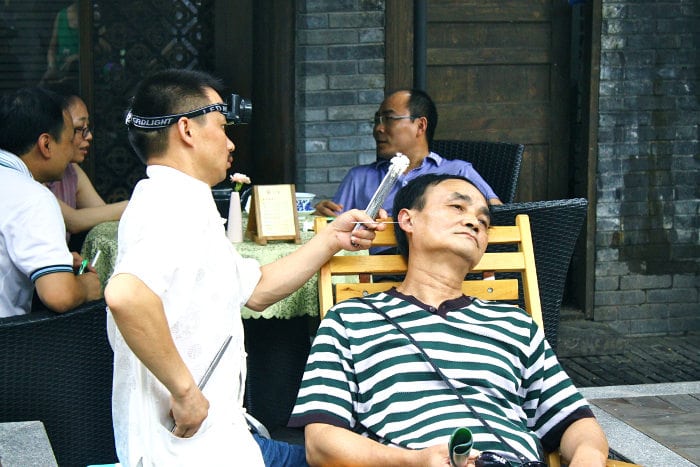 Drink coffee on Kui Xing Lou Street and Xiaotong Street (Kuí Xīng Lóu Jiē 魁星楼街, Xiǎotòng Jiē 小痛街)
A short walk up Xiatong Ren Lu 下同仁路 from the Wide and Narrow Alleys will bring you to Zhongtong Ren Lu 中同仁路, which turns right onto the peaceful, coffeeshop filled streets of Xiaotong Jie and Kuixing Lou Jie.
As yet untouched by the 'cultural street' revamping treatment of Wide and Narrow Alleys, these two streets are inhabited by local Chengduers and street life.
NU Cafe on Kuixing Lou offers a range of coffee, tea, beer, wine and spirits, as well as a beautiful front courtyard shaded by gingko trees. Behind NU Cafe is MiNTOWN Art Space, a refurbished primary school home to various open-door studios, art spaces, bars and nightly films projected onto the opposite building.
NUART Festival is a free annual music, design and arts festival held on Kuixing Lou and Xiaotong Jie during the National Holiday break in October, which features performances and exhibitions from a mix of local, national and international creatives alike.
Neighbouring Xiaotong Jie is lined with several peaceful coffeeshops. Recommend coming here to get away from the hustle and bustle of the Wide and Narrow Alleys.
Both streets are home to hundreds of local people young and old, meaning there is an abundance of cheap, local food and restaurants available to try.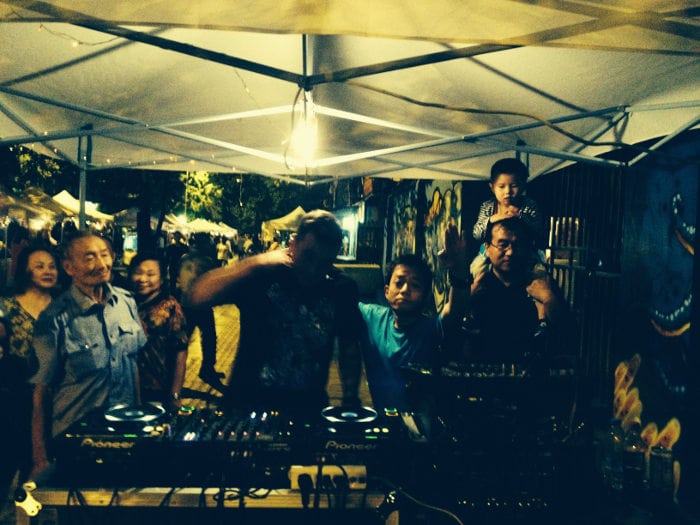 The street stage at NUART Festival 2014
Shop at Chunxi Lu and Taikoo Li (Chūnxī Lù 春熙路, Tài Gǔ Lǐ 太古里)
Famed shopping street Chunxi Lu and its glam, upmarket sister Taikoo Li are the places to go for retail therapy in Chengdu. The two areas are connected by a square inhabited by modern sculptures and promotional displays. Above ground are several impressive looking malls and department stores, while the subway station connects the areas seamlessly below ground.
Chunxi Lu is home to a multitude of international stores such as GAP, Nike, Adidas, Zara, H&M, Chinese sportswear stores, as well as the international supermarket Ito Yokado. The area is also packed with restaurants, from quick munchies such as local wontons (chāoshǒu 抄手), hot and spicy soup (malatang 麻辣烫) to full-on Sichuan dishes (chuāncài川菜) and the usual line up of fast-food chains such as McDonalds, KFC and Pizza Hut.
Taikoo Li is Chengdu's version of the popular Beijing Sanlitun shopping zone of the same name. Open for just over a year, Taikoo Li has already stolen much of the foot traffic from Chunxi Lu and continues to expand on a regular basis. Impeccable modern design meets traditional Chinese architectural motifs – Taikoo Li is an interesting place to wander around even if you will never be able to afford anything. This is luxury brand shopping: Gucci, Prada, Louis Vuitton, et al, as well as MAC, MUJI and dozens of other designer stores. An enormous flagship Apple Store has also opened in the center.
Personally, my favourite stores are bookstores. Fangsuo 方所 on the underground level of Taikoo Li made a splash when it opened last year. A beautiful store with an enormous range of English and Chinese books for sale, as well as library-suited ornaments, watches and bags. Fangsuo also sells a range of loose-fitting, subdued clothing, presumably to enhance the scholarly and well-read qualities of its customers. A pre-emptive face palm for the girls who come to Fangsuo to take selfies while pretending to read.
Page One on the fifth floor of the International Finance Centre Building (which is awkwardly called the IFS not the IFC?!) is also a wonderful bookstore, perhaps featuring an even better selection of English novels and a nice café in which to enjoy your purchases afterwards.
If you are in search of good quality international food and drink, Taikoo Li appeals to laowai and locals alike with its very strong bar and restaurant game. Beijing imports Moka Bros, Element Fresh, Blue Frog and Wagas have made themselves at home next to the bar/restaurant/luxury hotel Temple House while Baker & Spice will cater to your café hankerings. Decent Thai hot pot, Belgian beer, smoothies and Japanese cuisine can also be found here.
Unexpectedly, tucked amidst all the glamour and commercialism lies the beautifully restored Daci Temple, which is worth checking out just to see the juxtaposition of an ancient Buddhist place of worship and a modern, luxury shopping zone.
For something different, try the nearby second hand market at 58 Shuwa Street 暑袜中街58号 – an old concrete five-story apartment building with different clothing retailers in each room. Expect lots of locals, zero English speakers and lots of opportunity for second-hand clothes exploring.
Subway to Chunxi Lu:
Line 1 to Chunxi Lu, any exit
Drink, dance and be merry at the Poly Center (Bǎolì Zhōngxīn 保利中心)
The great tower of debauchery – there is simply nowhere else quite like the Poly Center. By day it is a fairly unassuming office building – by night it is crawling with avid party-goers. Located in the center of town near the U.S. Consulate, the Poly Center is a must-do for any night owls visiting Chengdu. Expect electronic music, dancing and 10 kuai balloons.
At twenty-one double stories high, two elevators transport punters from floor to floor, which open out into fairly grungy corridors of spilt drinks, nos balloon vendors, occasional vomit and stunning cityscape views. Fridays and Saturdays are where it's at, but most clubs are open throughout the week with free entry DJ parties. Because of the unique structure of the building, each venue has a second story inside. Those who are bothered by cigarettes beware, smoking in bars and clubs is prevalent in China and the lack of ventilation means the air can get quite nasty.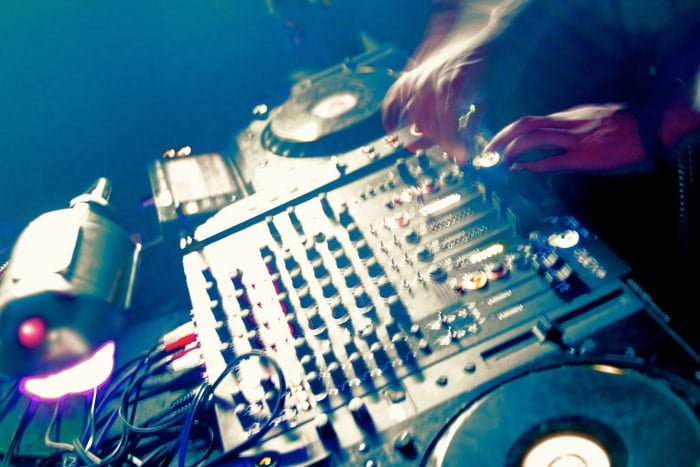 Most clubs will feature several DJs per night
The big one is the twenty-first floor. Ravers will enjoy the predominantly house and techno offerings at .TAG, a high quality Berlin and Amsterdam-inspired club at the end of the hallway. With a spacey dance floor, thumping sound system and great visuals as well as a room for smaller sets upstairs, .TAG is arguably the best club in Chengdu right now. With the typically more bass-heavy Here We Go located just a few doors up, one could happily ping back and forth between the two without even visiting the other floors. Both clubs regularly feature local and international talent across all genres of electronic music.
Other worthy mentions are 1602 on the sixteenth floor, which features an excellent sound system and upstairs area overlooking the DJ booth. NASA, also on 16, boasts a huge stage and lighting rig, which is popular with young locals and EDM fans.
Address:
成都市武侯区领事馆路7号保利中心3栋A座
Poly Center, Building A, Section 3, Linshiguan Road, Wuhou, Chengdu
Bike the Binjiang Greenway (Chéngdū Jiànkāng Lǜ Dào 成都健康绿道)
Chengdu is made up of wide, flat roads with special bike lanes, which in typical Chinese fashion are inhabited by a mélange of cyclists, scooters, motorized elderly mobiles, pedestrians, wheelchairs, snack carts, taxis and three-wheelers (sanlunche三轮车), moving in both directions. As mad as all that sounds, the bike lanes and greenways make Chengdu a very bike friendly city.
Most hostels will have bikes for hire with a daily flat fee. For something different, check out the custom bamboo bikes for sale and rent at Natooke, located just inside the South 1st ring road in the center of the city
Biking around the city will give you an insight into local life. Known as a city of leisure, Chengdu's street benches and parks are constantly chirping with mahjong, tea drinking, tai chi, dancing and playing children. On sunny days the green areas are home to picnics, hammocks, tents and ball games. Fishermen try their luck at the rivers each day. Snack carts of local produce linger around popular areas. Biking is the perfect way to absorb the leisurely lifestyle of Chengdu.
The Binjiang Greenway, or the 'Chengdu Fitness Greenway' as it is translated in Chinese, is a pleasant bike route which runs along the Jinjiang River, forged as part of the local government's plan to increase cycle routes in and around the city. The path is dotted with signage and maps to keep track of your location.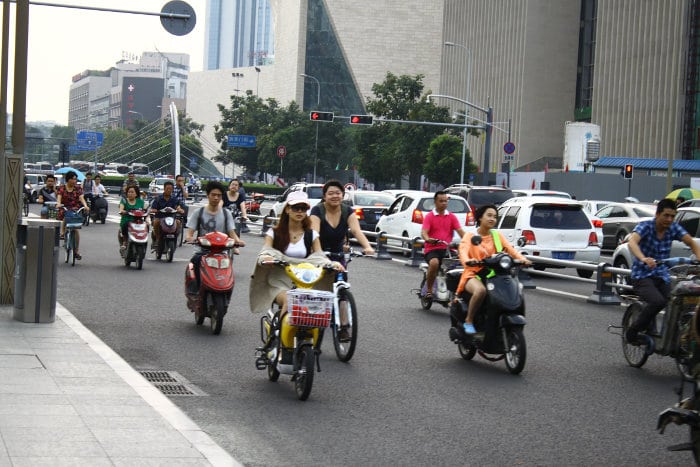 Cyclists at Tianfu Square
Picnic at East Lake Park (Dōnghú Gōngyuǎn 东湖公园)
This is one of my favourite spots in the city. Located along the Jinjiang River, East Lake Park boasts a flourishing spread of flowers, trees, grassy knolls, sitting areas and a lake home to ducks and herons. More of a 'park' in the western sense of the word than People's Park, East Lake is a lovely place to relax, people watch, read, or snooze. Quiet in the weekdays, busy but still comfortable in the weekends. Pack a picnic, blanket and mosquito repellant in the warmer months!
Along with a redesign of the walking trails in recent years, East Lake Park is also home to two art galleries which regularly hold free entry exhibitions of better-than-usual modern Chinese art. There are also several modern teahouses within the park.
The park's north gate can be accessed from the second ring road. If you are biking the Binjiang Greenway, you will reach the west gate of the park along the Jinjiang River and can park for free at the entrance. This is an optimal spot to have a rest and chill out.
Address:
锦江区河滨路东湖公园西门
East Lake Park, Hebin Road, Jinjiang (west gate)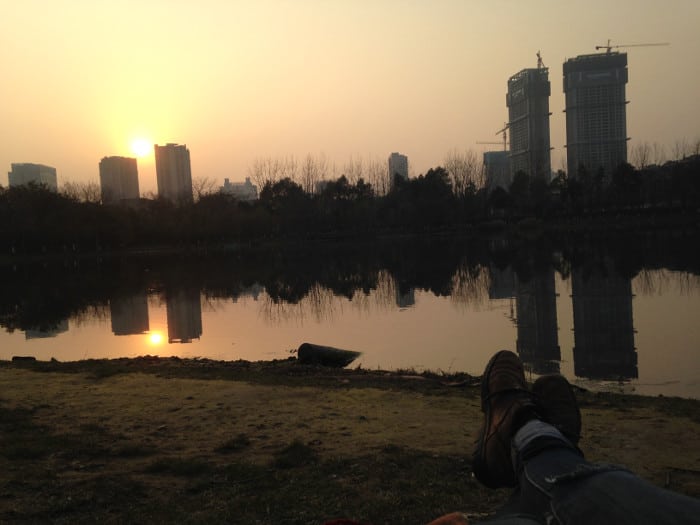 Sunset at East Lake Park
Conclusion
With an ever-growing population of around 15 million people and a reputation for leisure, Chengdu is an attractive alternative for both migrant workers from around the province and yuppies wanting to escape the push and shove of Beijing or Shanghai.
Chengdu is the last major city before heading west into the Tibetan Garze prefecture and also a key transit hub for northward travel to Gansu and Xi'an or southward travel to Yunnan and Guizhou.
While Chengdu lacks the typical tick-the-box photo opportunities of tourist attractions of other China travel spots, it is abundant with local culture, a friendly atmosphere and a unique, relaxed pace of life. Visiting Chengdu is a slow-release experience, those who take their time to soak it in will be pleasantly rewarded. Come to visit, you might just end up staying.
Photo Credits: Photos by Kristen Ng