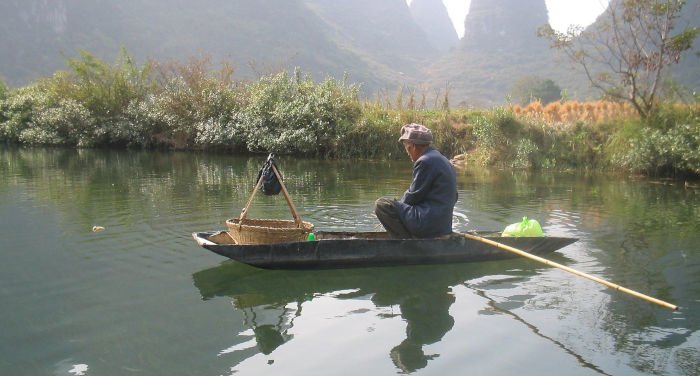 Guangxi is a relatively small province bordering to Vietnam in the South. It's famous for its rivers, hills, caves, and karst formations. The province is also home to many ethnic minorities and offers unique experiences with astonishing scenery.
If you plan to travel in Guangxi, then don't look any further. Today, I will start and share some brief key statistics and information about the province. Later, I continue explaining why you should visit Guangxi, how to reach there, which cities to visit, scenic spots, a little bit about the food, and more.
Key Information
Chinese Name: 广西
Location: South of China
Provincial capital: Nanning
Area: Around 236,700 sq. km.
Population: Around 48 million
Ethnic groups: Han, Zhuang, Yao, Miao, Dong
Famous cities: Nanning, Guilin, Beihai, Yangshuo, Liuzhou, Yulin
Borders to: Vietnam, Yunnan, Guizhou, Hunan, Guangdong
Why you should travel to Guangxi
Located in the Southern Parts of China, Guangxi offers spectacular scenery and landscapes, including rivers, mountains, rice paddies, and caves. It's also home to many ethnic minorities and offers much to see for foreign tourists.
Despite being an autonomous region, it's relatively easy to travel in Guangxi and you don't need any special permissions. The location of the province is also good as the weather is cool during the summers and winters are mild. The size of the province is not too big either for that matter and only around 15% of Xinjiang province. Yet, its population is almost twice as big as Xinjiang's.
The most popular cities are lined up in a row with a short distance in between each other. You won't need to sit on a train for 30 hours to simply reach a new destination, which is sometimes required in bigger provinces like Xinjiang.
As Guangxi borders to Vietnam, you can easily travel from northern Vietnam into China via Guangxi, or the other way around. Its landscapes and culture are similar to that of northern Vietnam, which is not strange as the region is known as the Baiyue ("Hundred Yue", Vietnamese: Bách Việt) to the Chinese.
The region first became part of China during the Qin dynasty.
How to get to Guangxi?
It's most common that travelers go to Guangxi after they have finished traveling in Vietnam, or they start traveling elsewhere in China first, before continuing to Guangxi.
Most travelers start in some of the bigger cities as it's cheaper to fly there from overseas and later move around China by train or domestic flights. Let's start and see how you can reach Guangxi by flight from within China or from overseas.
Going to Guangxi by flight
If you're overseas or a province too far away from Guangxi, you might want to take an international or domestic flight. When taking the flight, you'll most likely arrive in Guilin or Nanning, at least if you fly from overseas.
These cities are the only ones that have international airports.
If you fly domestically, you will most likely arrive in any of these cities as well, even if you can find domestic airports in other cities, including Baise, Beihai, Wuzhou, and Hechi.
If you fly to China from Vietnam (Hanoi) you might want to start in Nanning and continue your way upwards in China, towards Guilin. On the way, you'll find most of the scenic spots, cities, and counties you should visit in Guangxi.
Going to Guangxi by train
I like to travel by train in China as it's cheaper and you'll be able to enjoy astonishing scenery on the way. Simply put, it's an experience on its own.
Luckily, you can reach Guangxi by train from Hanoi, Guangzhou, Hunan, and plenty of other places in China.
If you travel from Guangzhou, you can take the Guangzhou-Nanning high-speed train which will take you to Guangxi in a bit more than 3 hours. The distance is around 570 kilometers and the train stops in Nanning, Binyang, Guigang, Guiping, and Wuzhou, for example. Train tickets start from 169 RMB (24 USD).
If you depart from Hanoi, you can take a direct train of China Railway and reach Nanning. It takes around 12 to 13 hours and will set you back 45 to 55 USD. During this ride, you'll see the beautiful landscapes of northern Vietnam and Southern China as you make your way through over the Dong Dang border, passing through Lang Son Province.
Another option is to take the bullet train from Changsha, which is the provincial capital of Hunan, to Nanning. The distance is around 870 kilometers and it will take you 5.5 to 6.5 hours to reach Nanning. Tickets start from 302 RMB (43 USD) for the standard class.
What's the best time to visit Guangxi Province?
You can travel to Guangxi pretty much all year round, but the summers have much rain and temperatures average at 27 to 29 degrees Celsius during hot days. At the same time, winters can be cold and temperatures can drop down to 6 degrees celsius.
Having said that, the best time to travel to Guangxi is during the spring and autumn. The best months are April, May, August, September, and October.
Looking at Guilin and Yangshuo, two of the most popular cities/counties (more about these later), the best time to go there is from late March to May and late September throughout November. During this time, the weather is mild and there's less precipitation.
Accommodations in Guangxi
There are many travel guides and online portals available online where you can book hotel nights. If you look for accommodation in Guangxi, I recommend you checking Agoda, Trip, and Booking. They have plenty of options available and with great discounts.
Agoda
Agoda is one of the most popular options among travelers in Asia as they provide the best offers for hotel-bookers in the region. The website also has a big hotel network in China and better than that of Booking. The only drawback of using Agoda is that you sometimes have difficulties finding accommodation in some parts of China, especially in smaller cities and remote areas.
Booking
Booking is a renowned hotel-booking website, it's one of the biggest in the world. Having said that, the coverage and hotel-network is generally smaller than Trip and Agoda. I still recommend you to check their website if you look for accommodation in Guangxi as they can have good offers on display.
Trip
There are plenty of hotel booking websites available in China and Trip is one of the biggest and most popular one. Some of the benefits of using Trip is that you can handle payments with non-Chinese banks and the layout it's nice. For the record, Trip offers the best coverage in all of China when comparing these three websites.
One of the disadvantages of using Trip is that some hotels listed cannot host foreigners and sometimes there are few international hostels available.
Hotel prices in Guangxi
According to Booking.com and its prices, 3-star hotels cost around 34 USD per night on average. 4-star hotels, on the other hand, cost 69 USD per night on average.
If you want a more luxurious experience, 5-star hotels cost around 132 USD per night on average, based on Booking.com prices.
If you're on a restricted budget, you should also have a look at hostels, which can be a great option if you want to interact with other travelers and save money.
What to see in Guangxi?
Guangxi is comparably small and the land area is around 236,700 square kilometers. Compare that yo Xinjiang, which is 1.6 million square kilometers. Thus, it will be easier for you to get around in Guangxi and you can travel the whole province in a couple of weeks.
Below I've listed some of the most popular cities and spots among travelers in Guangxi.
Nanning
Nanning is the provincial capital of Guangxi and located in the Southwestern parts of the province. The city has almost 7 million inhabitants and many tourists arrive here by plane.
There are plenty of things to see in Nanning and I recommend you to stay here for a couple of days to enjoy some of its local attractions. Below I've listed my top picks.
Detian Waterfall
Detian Waterfall is not actually in Nanning, but around 145 kilometers to the West and just at the border to Vietnam. It's easiest to reach the Detian waterfall by bus.
There's one shuttle bus that goes directly to the waterfall every day from Nanning Langdong Bus Station. The bus generally leaves at 9 AM and returns at 3:30 PM. The ride takes around 3 hours.
As Guilin, Yangshuo, and most other cities and counties are located in Northeastern Guangxi, you better visit Detian after you departed from Hanoi for China or after you arrived in Nanning.
The waterfall is 200 meters wide and the areas around it amazing. Not only can you enjoy this grand scenery, but also ride on bamboo rafts, passing into Vietnam. You can see rural parts of Vietnam on the other side and the ancient boundary marker.
Nanhu Lake Park
Nanhu Lake Park has a relaxed atmosphere, going here during the morning or sunset is probably your best option. The park is located in the southeast of Nanning City and the home many subtropical plants, including palm trees, Chinese fan palm, and cajeput.
You should also have a look at the Bonsai Garden and the Orchid Garden. Watch elders exercising and couples going for a romantic walk in this peaceful area, before heading back for lunch or dinner.
Mt. Qingxiu
Mt. Qingxiu is referred to as the green lungs of Nanning and offers a splendid view, it also has a big Chinese Pagoda on the top. Tourists flock the Mt. Qingxiu and other mountains around Nanning during spring and when the flowers are blooming. They also come here to watch the peach blossom.
Guilin
Guilin is located in Northeastern Guangxi and surrounded by various counties and cities that you should visit while in Guangxi. The city has around 5 million inhabitants and a land area of 27,809 square kilometers.
Commonly, travelers arrive either in Longsheng or in Guilin before continuing further into Guangxi province and to places like Yangshuo.
Li River
Li River stretches from Guilin to Yangshuo and many travelers ride on the river when going to the latter one. The cruise is around 83 kilometers long and takes 4 to 5 hours, it's a perfect activity and means of transportation when traveling between the cities.
According to National Geographic, it's one of "the world's top 10 watery wonders".
In the first section of the trip, you can enjoy the following scenery: Elephant Trunk Hill, Chuanshan Park, Daxu Ancient Town, and Ox Gorge.
A guide can explain more about the different scenery in each section, be sure to bring a camera and more than one camera memory card!
Longsheng's Longji Rice Terraces
The Longsheng Rice Terraces are located around 100 kilometers away from Guilin and a popular attraction among travelers. It's not strange, as it's probably one of the most beautiful places in the world.
The terraces cover many village areas in Longsheng, including Jinkeng (Dazhai), Pingan, Ancient Zhuang Village (Guzhuang Zhai), Huangluo Red Yao Village, and more. It's suitable for hiking and taking photographs.
Yangshuo
Yangshuo is located merely 65 kilometers from Guilin, travelers usually spend some days here before continuing to the next destination. Yangshuo is frequently featured in Chinese paintings due to its breathtaking nature and unique culture.
If you go to Yangshuo, you can ride on bamboo rafts on the Yulong River, bike by the rice paddies, attend local cooking classes, participate in outdoor activities, and more.
Yangshuo West Street
West Street is the oldest street in Yangshuo and has more than 1,400 years of history. The street has many small shops, a high density of foreigners, and offers a unique culture. From here, you can also see the beautiful views of the surrounding mountains.
Every year, around 100,000 foreigners visit this street.
Moonhill
Moonhill is located around 8 kilometers from Yangshuo and a popular site among travelers.
Simply put, it's a 230-meter high hilltop with a round hole throughout the hill, resembling a full moon, thereby its namesake. Many tourists visit this spot for rock climbing or hiking.
There's a lot of nature and vegetation around the hill that you can visit while there.
Beihai
Beihai is a seaport and has been an important city throughout China's trading history. Interestingly, it's projected that the city is the fastest-growing city in the world from 2006 to 2020.
Beihai is mostly famous for having the best beaches in China, Silver Beach, with fine sand and clean water.
Sanjiang Dong
Sanjiang Dong is an autonomous county and the region was originally inhabited by a local minority, the Dong people. The county is located 1.5 hours from Longsheng Rice Terrace and around 4.5 hours from Guilin by bus.
Weizhou Island
Weizhou Island is the biggest volcanic island in China and located some nautical miles from Beihai city center. Despite being a big desolate, the island is famous for its volcanic lava, coral, beaches, and sea erosion landscapes.
The Crocodile Crater Park along with the Great Church Tourism Zone are two of the must-see sites on the island.
Food in Guangxi
The food in Guangxi isn't as famous compared to Sichuan, that said, there are many tasty and interesting dishes that you should give a try.
It's light and sometimes spicy, but not as light and sweet as the food in Guangdong. From a personal point of view, the many dishes resemble the food in Vietnam.
Some of its most popular dishes include:
Yangshuo Beer Fish
Taro Pork and Fat Roll
Bitter Melon and Egg (goes perfect with rice)
Stuffed Li River Snails
Deep Fried Fish Hot Pot