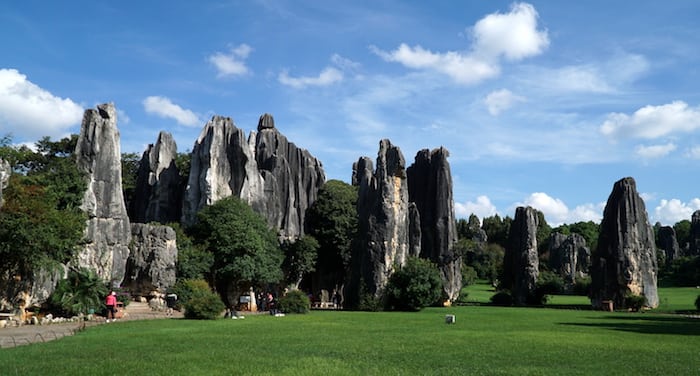 The Stone Forest near the entrance – photo by Matteo Bosi
Capital of the green province of Yunnan, Kunming has earned the title of Spring City, the city of eternal Spring, because it enjoys a mild climate all year long. But it's not just due to the climate that Kunming attracts visitors: among all the large cities, it is the most livable place in China, fully immersed in the country and its culture.
In other words, although almost 4 million people live there and it's in full modern development, it isn't as international a city as Shanghai: it has something more "provincial" that makes it pleasant on a human scale and the various ethnic groups weave together in a social mesh; it is most definitely not the inferno of smog that Beijing often turns into.
At the same time, moreover, a few dozen kilometers from the city center it will seem that you've gone beyond the borders of time to find villages where they still struggle with running water and electricity.
This and more is part of Yunnan: among the most varied regions in China in ethnic terms, where you can fully appreciate the proximity of Southeast Asia; but it's also a southern area battling to keep up with the developed East and boasts a breathtaking territory that has still been preserved. Perhaps for exactly this reason development has been delayed.
For a brief tour or long voyage in Yunnan, Kunming is the starting point.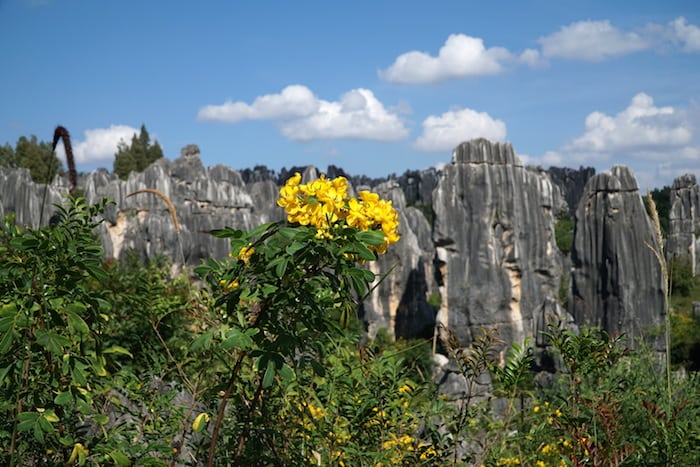 Flowers in the Stone Forest – photo by Rita Andreetti
When to go to Kunming
Kunming's climate is pleasantly welcome all year round. Even during winter the thermometer will almost never reach less than 8-10°, and this makes the city a perfect place to live without risking arthritis from the cold and incurable colds. The rainy season, which goes from May to October, is moderate in the sense that there are no monsoons.
This perfect weather is due to the city's position: at 1800 meters above sea level, in a well protected plain coddled by the mountains. Considering its position, I recommend that you keep in mind that the sun is strong at this altitude in all seasons. And how pronounced a difference there is in temperature between day and night, which favors sweet dreams even when the heat is in force.
Therefore, besides the usual recommendations about the Chinese holiday calendar which teaches us to avoid long stretches of February and October, all times are good to visit Kunming. Nevertheless, the shoulder seasons are the best: from April to May and from October to November.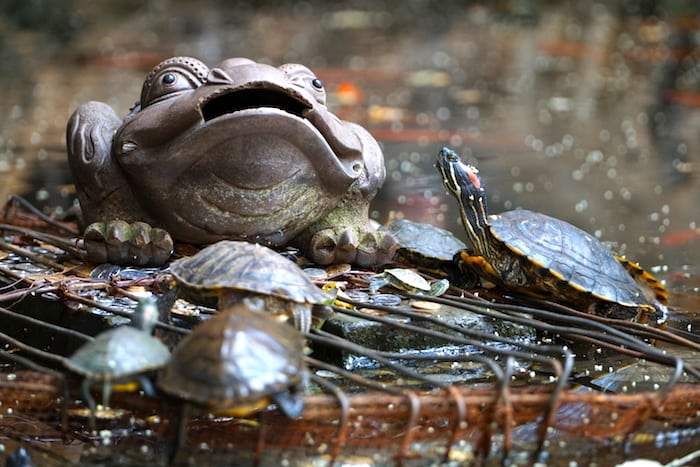 Singular turtles at Yuantong Temple – Photo by Matteo Bosi
How to get to Kunming
Arriving by air
Kunming is reached by a fabulous airport which as an architectural feat (signed by SOM) is already an appealing draw in and of itself; it is called Changshui International Airport (昆明长水国际机场). Being located at a strategic location for connections with Southeast Asia, Kunming is a main hub for the rest of Asia.
Internal flights to and from all China are available at all times. Among connections with other tourist sites in Yunnan they are quite efficient: given the distance and condition of some streets and the (current) lack of high speed rail lines, air is the main way for visiting Yunnan, so long as you aren't looking for an "adventure trip".
The airport is well served both by the metro (line 6) and shuttle bus. The shuttle bus lines cost 25 Yuan per trip and connect various points in the city.
The taxi takes a little more than a half hour without traffic and for less than 100 Yuan you'll get to your destination.
Arriving by train
Kunming is connected for a few years now to China's largest cities by a fast train that arrives at the high speed station Kunming South Railway Station (昆明南站). While internal connections with the gaotie are being built, vice versa, leaving from Beijing or Shanghai you can get there in a little more than 10 hours! Specifically:
from Beijing: two trains a day (G403 at 8:00 and G405 at 10:05) from ten to twelve hours for about 1.200 Yuan;
from Shanghai: four trains a day (G1371 at 7:22, G1373 at 8:55, G1377 at 9:28 and G1375 at 11:15) from eleven hours for less than 900 Yuan;
from Nanjing: two trains a day (G1377 and G1379 at 7:39) from about thirteen hours for less than 900 Yuan;
from Hangzhou: six trains a day (G1421 at 7:31, G1371 at 8:25, G1379 at 9:30, G1373 at 9:44, G1377 at 10:31 and G1375 at 12:10) from eleven hours for about 800 Yuan;
from Shenzhen: two trains a day (G2926 at 7:58 and G2922 at 15:25) from six hours for about 500 Yuan;
from Guangzhou: three trains a day (G2932 at 7:54, G2926 at 8:36 and G2922 at 16:07) for six and a half hours for about 500 Yuan.
Kunming South station is particularly outside the city. Using the subway it will take at least an hour to get to the city center. By bus it takes twice as long, we're not kidding. If you go by taxi, considering that traffic is a bit rough in Kunming, there's not much difference; a trip costs 80 Yuan.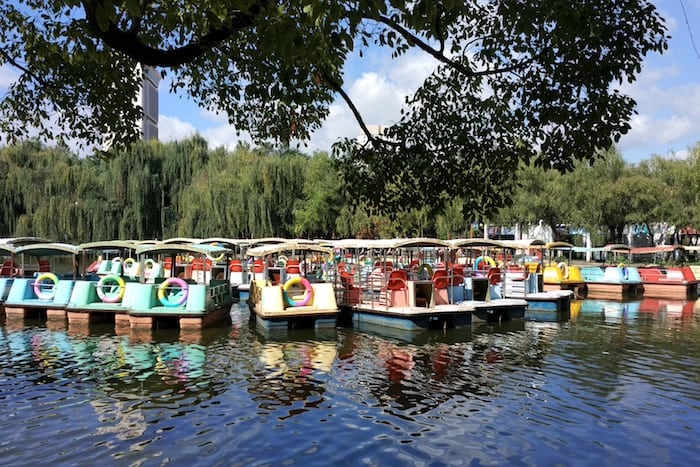 View of the park by Cui Lake – Photo by Rita Andreetti
How to get around Kunming
Ironically, I have to say that when visiting Kunming the best option for getting around is by foot or on bicycle! The problem is that a good part of the sites worth seeing aren't in the city.
Each time I visited Kunming in fact, I had terrible experience with traffic congestion that made me lose the desire to travel. These crowded roadways are due to the fact that the city is currently at the center of an urban development plan and mammoth metro system; and this will keep the roads full for a bit.
This development will bring the city up to six metro lines and new highway connections toward the interior of the region and abroad. For now however, while the ecological means are the best and most pleasant option for traveling brief distances (the city is flat and therefore easy to cover), for one part of your visit you'll have to consider using something else.
Bicycle
When it comes to getting around the center, in Kunming as in all other Chinese cities, has been colonized by public bicycles that require the use of a card or app and knowing the contact points.
Bus
They are very comfortable and run for 2 Yuan for your trip. Even without being an expert in Chinese, but with a map in hand, you can use it successfully. On very rainy days, when taxis are packed, they're a great alternative.
Buses are also a cheap alternative for getting to attractions outside of Kunming. A non-exhaustive reference list for helping you on your itinerary is listed below; but my advice is that if you don't speak Chinese, have a hotel help you out with a handwritten card with your destination on it to show the driver. You can then respond with gestures!
Jindian (金殿) the Golden Temple: line 10, 69 or 71, whose route ends in the parking lot for the park;
Xishan Mountain(西山): line 51 to the head of the line Gao Yao (高峣); NB: Line 3 of the metro runs here
Bamboo Temple (Qiongzhu Si 筇竹寺): line C61 and C62;
Museum of the Ethnic Minorities of Yunnan (云南民族博物馆): many lines, the fastest are 73 and A1 (Yunnan Minzucun 云南民族村 stop).
Taxi
Taxis, in Kunming as in the rest of China, are cheap and active 24/7. There's no reason to not trust this option for getting around the city and surrounding areas, unless it's high season or rainy days, when finding them can be difficult. Especially since by now the Chinese regularly book taxis by cell phone, so even taxis that you think are free are actually booked.
If you don't speak Chinese and can't use an App, you can rest easy using the hotel's concierge. However, in my latest experience in Kunming, even the hotel staff gave up on us: the distance was too short, it was raining and work on the metro made the road hard to pass. The result: my whole family, baby and stroller included, went by foot on the wet streets of Kunming! So they're really convenient, but proverbially never available when you need them.
Taxis are used to escorting tourists even outside the inhabited center, or sites like the Stone Forest, on the south banks of Lake Dai and tourist sites in the mountains. Figure out the price and negotiate if the taxi doesn't turn on the meter.
Long distance buses
The streets of Yunnan have gotten much better in recent years. Since, as was mentioned above, the high speed velocity still doesn't perfectly connect to Kunming, buses represent a workable choice for leaving the city and continuing your trip. It still remains a cheap and Spartan option which I would not recommend for families traveling together. Better to use more comfortable, less convenient transportation that's less subject to fast drivers and surprising roads.
Kunming has five stations, reachable by taxi; those that might interest you are:
West Bus Station (西部客运站): from here lines leave for Dali, Lijiang, Shanghri-la and Deqin;
East Bus Station (东部客运站): if you prefer a bus to the train, here is where you have to take transportation to get to the Stone Forest (Shilin Fengjing Qu 石林风景区), which is a Tourist Express Bus;
South Bus Station (南部客运站): at this station you'll find direct lines to the South (Puer, Xishuangbanna and even toward Laos and Burma).
Train
Another form of transportation that will allow you to get out of the city is the train. The majority of connections for other cities from Yunnan is via K trains, which shows the still relatively backwards state of the railroads compared to other means of transport. The reference station is Kunming Railway Station.
The train is the form of transportation (today) that is most convenient for reaching the Stone Forest: a dozen express trains a day arrive in 20 minutes to Shilin Xi Zhan. From there take a taxi to the entrance or bus 99.
While you can get to Shilin in a flash, traveling by train to Dali or Lijiang is certainly an experience for seeing Chinese society and the landscape, since the trip takes between 5 and 8 hours. A flight is better at this point!!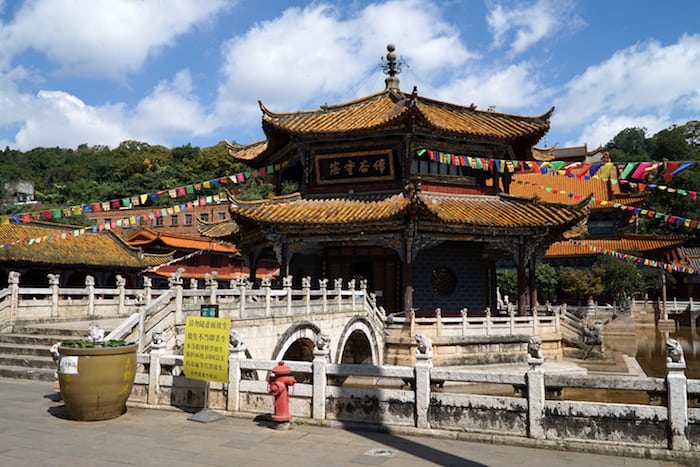 The central structure in Yuantong Temple was built on an octagonal plan – photo by Matteo Bosi
What to see in Kunming
Kunming isn't a city full of attractions; but it is an environment where it is quite pleasant to spend some time enjoying the slower rhythms and famous weather I already mentioned. If you're in a rush, you could also choose to only visit the Stone Forest and leave the center completely; or, keep your visit to Kunming to end your long trip into the interior of Yunnan, to reconnect a little with modern China, but not exaggerated and ultimately pleasant.
In the center of the city (and reachable by bike) I recommend you stop at:
Yuantong Temple (Yuantong Si 圆通寺): personally, is one of the city temples I appreciated the most in China. On one hand because human forays into renovation have held to the original without overdoing it, and on the other because the central structure of the temple is quite particular. There's a vegetarian restaurant (cafeteria) inside, but with limited hours.
Flower and bird market (Huaniao Shichang 花鸟市场), or what remains of the old Kunming: beyond the interest in stalls of knick knacks mixed with animals, by slipping into the streets you can still catch a glimpse of some homes (which are sadly run-down) yet are still the heart of the old castrum of the city. All is surrounded by the ultramodern buildings of Nanping Jie. I recommend that you have dinner at Kuming Lao Fangzi (昆明老房子) to have the illusion that the city still has the appearance it once did. In reality, there's a certain nostalgia in all this.
The East and West Pagodas (Xisi and Dongsi, 西寺塔 – 东寺塔), original Tang constructions that have however been largely retouched in the modern age; they're nothing spectacular, but it's a lively area when night falls and hosts worldly pleasures and physical activities typical of China.
Yunnan Provincial Museum (云南省博物馆), the best part of this exhibit is focused on the first human settlements of the area up to the Dian kingdom. There are also pieces from other Chinese dynasties that came to and conquered Yunnan.
What to see around Kunming
Outside of the city center, Kunming offers some sites and landscapes that are truly pleasant. The area around the city make it a base for refreshing day trips.
For suggestions on how to get to the sites, refer to the section "How to get around", though the lake and mountains are easily reachable by bike on an outing with a little more effort.
Stone Forest (Shilin 石林) if for sure the main tourist attraction. Inscribed as a World Heritage Site since 2007, the Stone Forest is an extensive area of rocky limestone formations that look like stalagmites but are really creations made by deposits that slowly emerged from the water then were modeled by the wind over time. The part that can be visited is really just a small percentage of the entire park, and preferably seen from marked (and stone-paved) routes). Nevertheless, I invite you if possible to go off the path. For some it might seem boring to pass endless rounded spikes: just let yourself be fascinated by these works of nature and fantasize about its improbable forms.

For families with children, I recommend a short visit and a cautious stay, especially on sunny days because there's no trace of shade.
Jindian (金殿) the Temple of Gold, located on a picturesque mountain ledge east of Kunming,is massive bronze Taoist Temple decorated in gold leaf; nearby there's also the botanical garden (Expo Garden) headquarters of the horticultural exhibit from 1999 that is still alive and thriving. In the complex there's a trail that is really nice and suitable also for little ones.
Yunnan Nationalities Museum (Yunnan Nationalities Museum, 云南民族博物馆), note that this is not the Ethnic Village, but the museum; the village is actually a reconstruction of the architecture as a tourist trap, and personally I would avoid it. The museum offers a comparative look of the numerous ethnic groups that populate the region and their respective traditions: musical instruments, objects of daily use and much more. If you're starting a trip in Yunnan, a quick stop here could be an effective introduction to the various ethnic groups that live in the area, with their traditions, dress and religions. In particular, if you visit the region without a guide, it's a help for getting your bearings on the Dai, Miao, Yi, Naxi, Mosu, Bai, Hani, Hui and Han, really, you can't go wrong!
Dongchuan Red Land (东川区), a destination for avid photographers and an area that should especially be visited between March and June an September and November for the best possible experience. The naturally red and mineral-rich ground of Dongchuan gives he landscape a unique alluring tint, enhanced by the terraced cultivation of the fields. The Dongchuan area has various observation points and I recommend that you get there by car get the most of the trip.
Where to stay in Kunming
Kunming is relatively small and not spread out over a large area (like almost all Chinese cities). Therefore in any corner you choose to stay, you'll always be close to sites of interest. In general, it's best to stay in the north, northeast of the center.
Around the lake, or a little to the south, near the Muslim quarter or Flower and Bird market there are excellent lodging options.
Click here to discover the best hotels in Kunming!
Another option is to choose Lake Dai or the West Mountains to escape the city and enjoy one of the many resorts. But I really don't recommend this option if you have limited time in Kunming or you're on route to other destinations. Staying in the center, you won't be far from the airport (30 minutes by car) and nearby to an escape.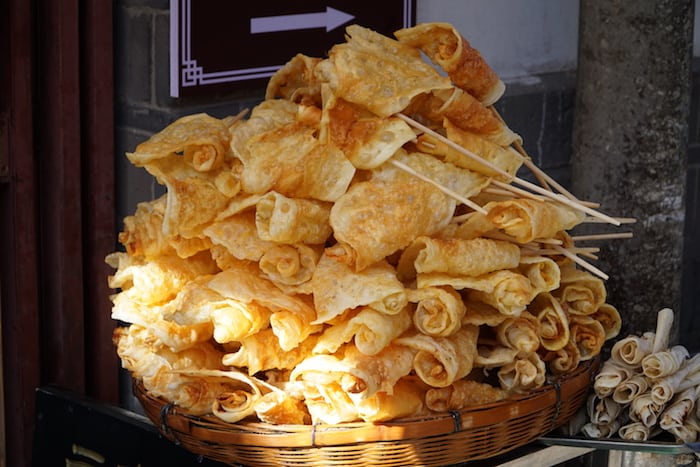 Ru Shan, fried goat cheese sold as street food – photo by Matteo Bosi
What to eat in Kunming
As the seat of the heterogenous region of Yunnan, Kunming offers all sorts of exquisite local food. Plus a discreet selection of international cuisine.
The typical dishes of Yunnan that I invite you to try in Kunming are the notorious "Rice noodles beyond the bridge" (guoqiao mixian 过桥米线): the Chinese go crazy for legends, and this bowl of noodles is the reminder of a nice story that has made it famous everywhere.
In practice, these are rice noodles served dry, accompanied by a bowl of steaming meat broth (at a temperature that reaches the fusion of the center and remains that way for dozens of minutes in a physical-chemical reaction that is still shrouded in mystery), and other raw ingredients such as meat and vegetables.
Everything is immersed in red-hot broth to allow it to cook. They say these noodles are the brilliant idea of a caring little wife who worked every day to transport a hot meal to her husband on an island "beyond the bridge" who was in isolated concentration in preparation for the imperial exams.
History has given a certain fame to this bowl of noodles which have nothing of note aside from the copious layer of fat that floats on the surface of the broth.
The guoqiao mi xian will certainly be your choice if you don't want to risk coming across something spicy by surprise. Many restaurants specialize in this, among which is Jianxing Yuan (建新园), that organize this type of self-service: first you pay at the register, ordering from a menu at the salesgirl's shoulder (only in Chinese!); after which you'll be given a little ticket that you'll use to pick up your side dishes from the window of the respective kitchen (for example cold antipasto or another type of noodles).
Choose a table among the mass of customers and the waiter will pick up your order ticket and your bridge noodles. After which you need this two bowls and other little cups with brother, noodles, fillets of raw meat, vegetable and at times a quail egg and other amenities.
Another great specialty of Yunnan that I recommend stuff your face with if you plan on staying in China for awhile since you'll rarely find it elsewhere, is goat cheese! Served in two dietary ways, one is a thin burned slice (rubing 乳饼), the other in a fried porous wrap (rushan 乳扇), famous also for its walking around food. The later are a specialty of Dali.
Another product widespread in Yunnan I recommend you get a belly-full of, are the mushrooms. There are lots of types, all of which are tasty; usually mixed with other vegetables or meat, or served to enhance a soup. Personally this is something I recommend you buy, dry mushrooms: because it's a local specialty and you'll rarely come across scams since it's so abundant, especially in the rainiest season.
Another typical local dish is steamed chicken (qiguoji 汽锅鸡). Really it's the terracotta pot where the cooking takes place that makes it special: with a tubular cavity in its center, during steaming it allows drops of condensation to form on the chicken and condiments, slowly creating a soup that takes up to four hours. Delicious.
Though Kunming is inhabited by all the region's ethnic groups, the area is originally inhabited by the Dian, so it is their cuisine that is the rage in common restaurants. Among the best of Dian cuisine, I'll mention a truly different treat: it's a cake filled with roses. You'll recognize the shops that sell them because in their windows they display these nice colored meatballs that you'll also find smell like roses.
Shopping
The most popular pedestrian street crammed with shopping malls is Nanping Jie (南屏街). Actually I would never recommend this area for purchases since there are mainly name-brand stores. However in the shopping malls you'll also find supermarkets and perfumeries like Watsons. And restaurants.
If you're looking for souvenirs, you can find things at a good price at the Flower and Bird Market without trouble. For more important gifts it's hard not to get ripped off: the silver of Dali, batik of Bai or Tibetan bells
Yes, you can find everything but it could be aluminum junk, Guizhou prints and tin rattles. So if you can, save purchases for outside the big cities where it's more likely you'll find real artisans.
The Dian are famous for their work with bamboo, their wood and textiles. However I remain of the opinion that the only purchase that I would risk without fearing being ripped off are the dried mushrooms or fruit since you can find rare and unique forms in Yunnan.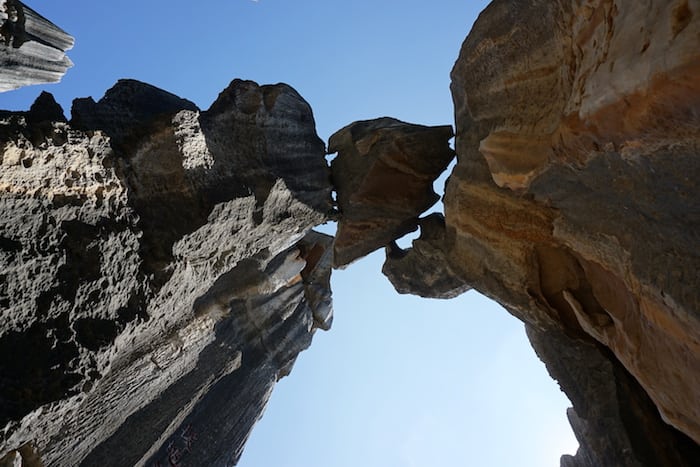 A stone hanging between peaks in the Stone Forest – photo by Fabio Andreetti
Night hangouts
When it comes to your desire for company and music, there are various areas for spending a Saturday night. The most popular district is Kundu: loud music, no dance floors, smoky clubs with elongated giraffes of beer dice players draining liters of baijiu. But it's the night of a good Chinese, and if you have time I invite you to try the experience (watch out for fake alcohol!).
Towards the north, in the direction of Jindian, there's the pedestrian area of Beicheng, located near the subway stop of the same name. Calmer than Kundu, you'll also find among many clubs and restaurants an O'Reilly's (see below).
If instead you haven't had enough of Yunnan's food or you can't deal with spicy food, perhaps you'll want to eat something a little more Western. In that case head to Wenlin Jie, north of the lake, if you don't know where to bang your head. You'll find refuge to your wandering at Salvador's Coffee House, or the French Café or Prague Café, or also Dune Café.
Not far from there, there's an English pub that's a starting place for the foreign community in Kunming where you can also eat; it's called O'Reilly's and it contends for expat customers with another mainstay, the Moondog, further south toward the Muslim Quarter. Actually, the Muslim Quarter is full of halal restaurants, obviously, around Jinbi Square, where there's also a mosque; near the Hostel Bar The Hump, you'll see friendly faces and have something to drink in company.
Click here if you want to stay at The Hump.
Practical advice
A great help for your stay in Kunming can be found on the website Go Kunming. Here there are local reviews, news about current activities and events, outdoor tours and all you need to know about Kunming.
For any other doubts, leave a comment below!
And happy travels
PS: Thanks to Martino Cipriani for his great city tips.
[Photo Credits (Creative Commons License): https://Jovanka Bruno (Dragon Gate), https://Nathanael Wilkins (Birds and flowers market)]