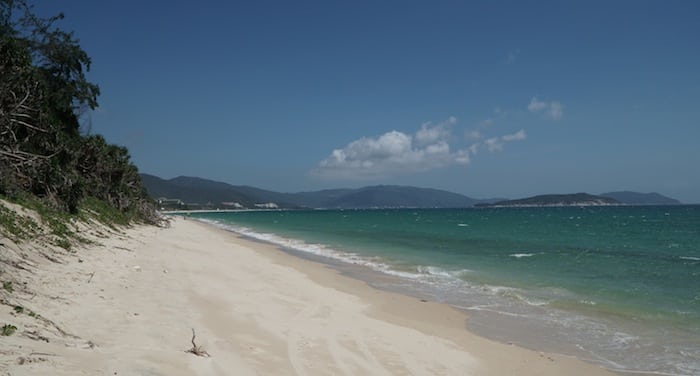 Yalong Bay
If you're tired of the city and the Yellow Mountain doesn't work for you, then you can't miss the very famous tropical island of Hainan, in the far south of China. Right around the corner from Vietnam, Hainan (海南)is a place that belongs to China but really is an island of the world: swarming with Russians to the point that many signs are bilingual, and will seem to be light years from the crowded traffic of metropolises like Shanghai and Beijing.
Hainan is often remembered because it's here where the seed of communist China sprouted and organized its first cell. Today the island is at the center of massive investment, obviously directed toward tourism. For the Chinese, it is also the best place to take wedding pictures!
In this paradise inhabited primarily by the Li and Miao ethnic groups, the southernmost point, facing the open sea is the small city of Sanya (三亚), where crystal waters, fine sand and fresh fish make it a luxury destination, although with still-affordable prices.
After this "idyllic" introduction, let's say instead what Sanya is not. Look, the island is certainly not a place to spend a lot of time unless you're obsessed with golf or willing to submit to the tacit rules of this tropical playground. All the activity is hard to escape, the big echo that surrounds the tourist attractions is widely known as … smoke in your eyes. Moreover, large areas of the island have been disturbed by the building machine that will likely not stop anytime soon.
Nevertheless, Sanya remains a tropical treat, from the views dominated by blue that will stay in your eyes, deep fruit flavors that will stay in your heart and the informal atmosphere that will welcome you with open arms.
How to get to Sanya
Sanya has a very comfortable airport, the Sanya Phoenix International Airport, which will allow you to avoid the stopover in Haikou (海口), the capital of the region, situated toward the north of the island. In fact, since the island is characterized by a central promontory that is a national park covered by jungle, the only connection between the north and south passes around the island itself, following the perimeter: the two cities are 300 km away from each other.
There are train connections between Haikou and Sanya (from an hour and a half of travel to two and a half, depending on the stops). Some special trains even cross all of China, leaving respectively from Beijing and Shanghai, with Hainan as a destination: 34 hours of travel from top to bottom, passing through Guangzhou, for about 1,000 Yuan in soft bunks (there's also wooden bank option at half price, for those who love Spartan conditions).
Therefore the optimal solution for getting to Sanya is definitely by air,landing there directly: international flights from Italy connect there with a stop in Beijing, other options require multiple stops. From Hong Kong and Shanghai flights are extremely frequent through low cost companies; but in general, Sanya is well connected to all primary destinations, with direct flights: Beijing, Guangzhou, Nanjing, Ningbo, Qingdao, Chengdu, Chongqing.
From the airport there are shuttle buses and taxis. The shuttle bus costs around 30 Yuan, leaves from the arrival gate on the first floor (it also arrives there, in case you take it to the airport as well). It also operates on very flexible hours and usually goes only to the larger hotels. A taxi from the airport to Yalong Bay costs 120 Yuan, figure on much less for Sanya Bay, almost the same price for Dadonghai Bay and more for Haitang Bay. Some hotels run a shuttle bus service, find out before you leave.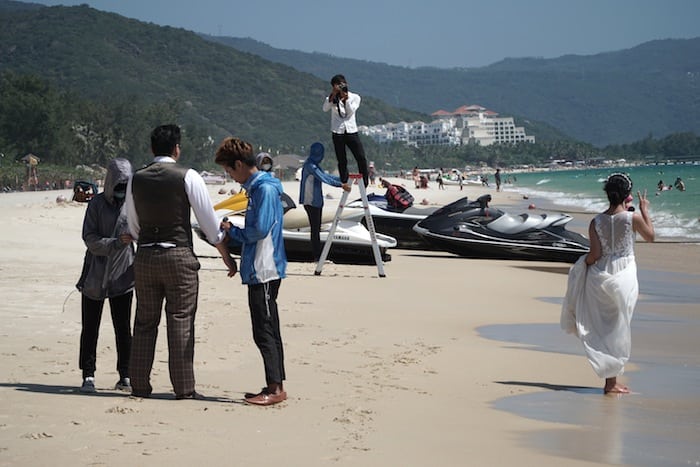 Newlyweds in Sanya
Where to stay in Sanya?
The main lodging options in Sanya can be found:
between Sanya Bay up to Dadonghai Bay, facing Vietnam, to the west;
in Yalong Bay, from the opposite part of the city, which faces south;
in Haitang Bay, relatively farther out, which faces east.
Click here to read reviews on the most popular hotels in Sanya.
Or, click here to find the best hotels in Sanya Bay, Dadonghai Bay, Yalong Bay and Haitang Bay.
Personally I stayed at the Huayu Resort hotel & Spa Yalong Bay, with a good blend of quality and price. Budget options exist, but they're often far from the beach or only have access to the narrow strand of public beach.
In fact Sanya's coastline is divided between resorts that also offer bathing services: on one hand it's small, equipped paradises where shade is guaranteed, given the Chinese aversion to the sun, next to a series of imaginative games and sports activites; but on the other hand, there's no great freedom to break free from these pay services, and the space left by the deadbeats is always less and less. So if you're willing to pay for a night in a resort, you'll enjoy a much more peaceful Sanya.
The beach around the Cactus Resort is usually the most crowded.
What to do in Sanya
I'm tempted to summarize this paragraph in one essential word: nothing.
But I will go on to argue my point of view.
The most recommended activity for the south of the Chinese tropical island is lounging around, the alternative is to take in the sun, read a book, take a dip and a walk. The beach deserves intense observation, with morning meditation and picture taking at any hour. It's even better if you choose Yalong Bay, from whose bay you can appreciate both the sunrise and sunset.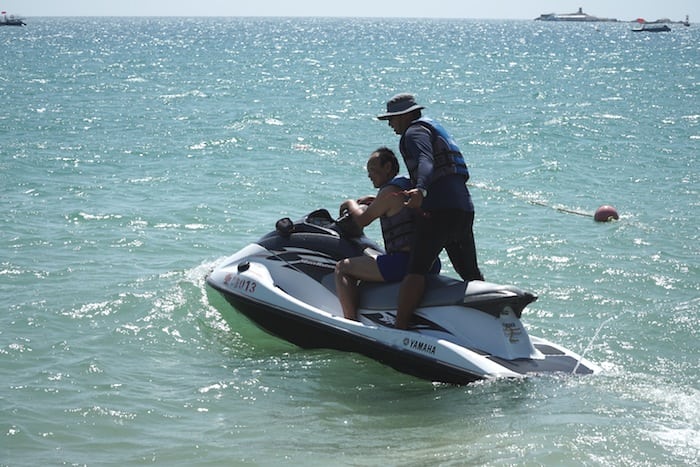 Jet ski on Sanya
Now, if reading isn't your thing and after an hour in a lizard's position you start having nervous tics, know that your lounging around can be colored by: jet skis, snorkeling, bike tours, banana boat rides; but also catamaran tours, underwater tours in a diving bell, trekking in the jungle.
These pastimes are accessible to everyone; but be careful, dear hyperactive enthusiast: you pay for everything, and not just a little. Just as an example, 15 minutes on a jet ski costs about 200 Yuan, with fluctuations and offers. A banana boat ride can be had for 180 Yuan for 15 minutes.
If you want a foot massage by small fish that eat dry skin (they're called Garra Rufa and are skin gluttons), it's 60 Yuan, still just for 15 minutes (who knows how much of a cut goes to the fish…). And let's also throw in the bike tour for 180 Yuan for 20 minutes.
Look, for your hour of entertainment you've invested 620 Yuan.
If you're more in search for tropical atmosphere, you can choose from among several recommended excursions:
The Yanoda Rain Forest (呀诺达雨林)
Moving to the hinterland, as the name indicates, the Yanoda Rain Forest is an intact tropical environment because it's a natural park. Here too you can choose from among sport activities or walks between enormous banana trees while you admire the view.
To get to Yanoda, there's a shuttle bus service from the city of Sanya that includes the price of the entrance ticket and isn't all that different than the guided day trips: these leave from lots of hotels and offer visits starting from 170 Yuan. If you want to be more independent, a taxi from Yalong Bay to Sanya Bay costs over 100 Yuan each way, while from Haitang Bay you'll save something. For a private driver figure on 300 Yuan.
My advice is to go only if you've never had another rain forest experience and your plans don't include another stop in Southeast Asia (especially Thailand), where this type of habitat is widespread and the excursions are better organized and more authentic.
Nanshan Temple(南山寺)
Another day trip to break up the monotony of the beach. Nanshan Temple shows up in Chinese guidebooks because it boasts an enormous Buddha of 108 mt. Obviously, there's an entrance fee, 150 Yuan, and after seeing the Buddha you can take a look around at the other statues and temples. Guided tours are always available: from Yalong Bay, the price starts at 238 Yuan with lunch.
The interest level for those who understand little about Buddhism and aren't easily impressed by size: almost nothing.
Wuzhizhou Island (蜈支洲岛)
This little island facing the Bay of Haitang is known as a little pearl of the area. But as such, it fits in perfectly with the "cash machine" mechanism of Hainan.
Wuzhizhou is truly a lovely island reachable from terra ferma via a twenty minute ferry ride, but the wonder of the place is demolished by the pay activities that here reach almost intolerable levels. I pause to speak about scuba diving, since Wuzhizhou is surrounded by coral reefs and is therefore a great spot for admiring the interesting seabed; nevertheless, I invite you to pay attention.
The crew performs under most crowded conditions and handles things a bit sloppily because of the frequent turnover of clients. 45 minutes underwater will cost from 580 to 980 Yuan.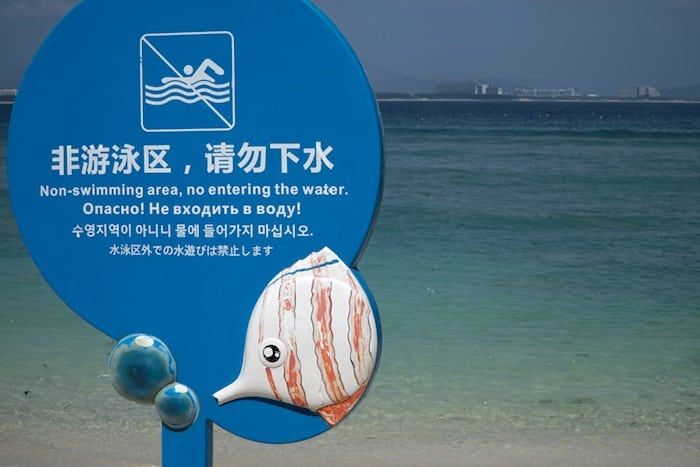 Prohibited on Wuzhizhou
Wuzhizhou is a green island and is therefore it isn't only forbidden to smoke, but there's also a separate collection. However the real nerve has to do with the use of the beach: few areas are accessible, but bathing is allowed only on a strip of land around the dock. Any attempt at taking a dip will be immediately interrupted by a legion of private guards (since the island is private) who, armed with a megaphone, scream at tourists at the top of their lungs.
It's evident that the position of the island exposes it to the currents; it's clear that the preservation of the coral implies a particular care of tourism and access; moreover it's clear that the swimming ability of the majority of Chinese tourists is largely overestimated by themselves. But the result of these factors is that since the place is nice, it's like a prison.
We also tried to walk on foot around the island and to forget about the blue sea that we couldn't enter, but the foot path was closed and the walkway reserved for golf carts and obviously inaccessible. So, if once you step foot on the island you want to explore it, the options are golf cart or island hotels.
Click here if you wish to consult a list of hotels on Wuzhizhou Island.
From hotels they organize the usual guided tours: buses, entrance tickets and ferry ride are offered for about 200 Yuan. The only ferry/entrance ticket combination is 168 Yuan; it's possible to use taxis to reach the departure point: a trip to Yalong Bay costs 110 Yuan.
If you're interested in "ethnic tourism", Hainan offers the possibility to peek at the Li and Miao traditions, passing through their villages: the east coast and hinterland are in reality the least commercialized areas. But generally, the most renowned villages are also the best organized for satisfying the curiosity of the tourists.
Food and other little problems
If you're used to stuffing yourself with grilled fish and expect to do so on the island, you'd better think again. There are fish on Hainan, lots of them, but kaoyu (烤鱼), grilled fish, isn't widely known. There are other just as juicy ways that fish are prepared, such as the liberal use of ginger. A fish dinner for two varies from 250 Yuan to 500 Yuan, depending on the plate. I recommend the frutti di mare, if you're not allergic, and especially the clams. Tropical fruit, is obviously the crown jewel of these regions, and mangoes win every competition.
To conclude, I want to warn you about a few little problems on the island.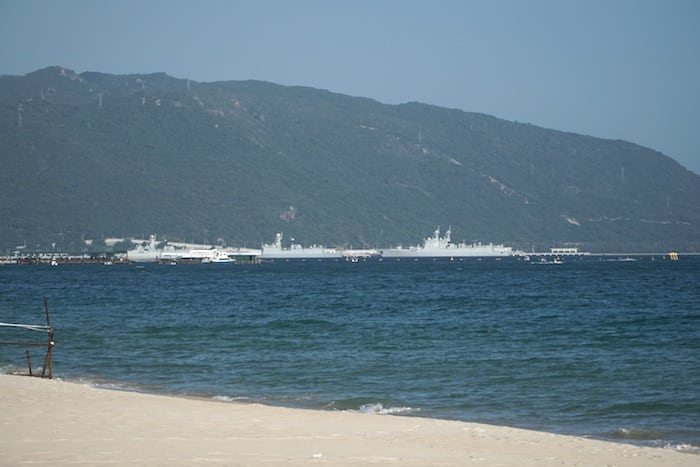 Military naval base in Yalong Bay
The island is truly under assault by human presence; forget about settings like Thailand and similar. Construction is everywhere, views are blighted by cement, sometimes by bad taste, and at times the work makes it impossible to even use the beach. If you stay in Yalong Bay, you can't help but notice that the profile of the coastline to the left is completely occupied by a military naval base. It isn't rare to see massive warships going back and forth on the horizon instead of fishermen.
But worse than this, is the problem of mice. Or rats. Or I don't exactly know what they are, but that's the shape: potatoes with a tail that dart between hotel pools and unprotected places where they find food.
I doubt it's the only place in China where they hang out, but it's certainly the only place where I've seen them so alert and courageous, venturing out into the open. Choose well when seeking a place to stay, even more so where you choose to eat. You've been warned.
Photo Credits: Photos by Rita Andreetti