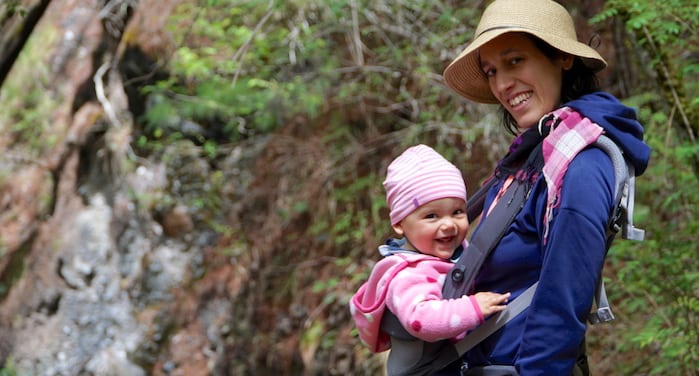 The use of a sling for traveling in China is highly recommended! (My family and I in Jiuzhaigou) – Photo by Matteo Bosi
This article is for couples who are planning a trip to China with their baby, and really wish to do so with the same levity that they had before: namely two hearts and a backpack.
I'll be speaking to you in particular about my recent experience: I traveled with my one-year-old since she was three months old all around the country, on completely different planes. There are feasible choices and others worth taking another look at. Changing diapers and preparing food need not necessarily be an obstacle for discovering the Middle Kingdom.
Carrying around a screaming baby need not be a reason to worry. And you don't necessarily have to go crazy thinking you'll have to do it on your own. Mamma China will take care of some things!
The basics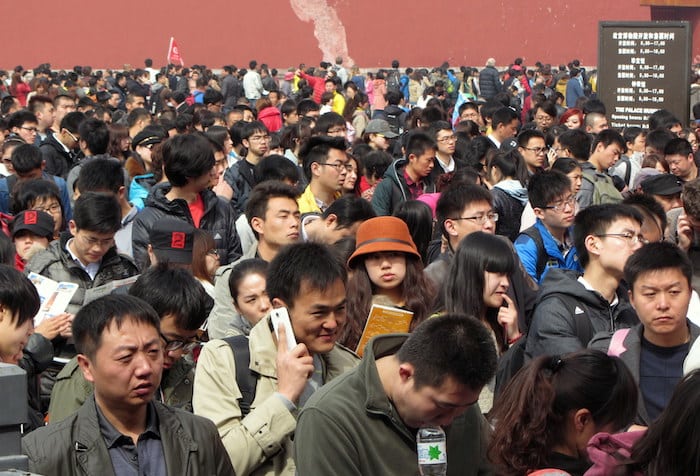 Be careful of crowds with kids! This is the line at the entrance to the Forbidden City in Beijing
My first piece of advice is to stock up on basic medicines for your little one: on one hand they use drugs differently in China, so often if doctors need to administer antibiotics for example, they use an IV. Moreover, foreign guests are treated with consideration and it's preferable to use another drug than miss a dose. The little problems encountered while traveling can be easily cured with Chinese medicine, but if you don't trust it or know it, you'll have to take care of yourself independently. Moreover, you won't find homeopathy.
If your baby boy or girl is still nursing, you'll be interested in knowing what the general attitude is toward nursing mothers.
Generally, Chinese mothers don't nurse in public, even less so in large cities. If they do so, they use scarves to cover themselves. Things are more relaxed in the countryside and in places where modernity hasn't affected the natural gesture of nursing.
What's my experience? I never used a cover but always looked for someplace out of the way. Asking for help in local places, it wasn't unusual to be offered a seat in the cleaning lady's closet, which isn't all that tremendous and is the right place to find a little privacy. While shopping malls don't have nursing rooms, you'll find them in airports and stores that sell products for children (often).
When it comes to feeding, for kids being weaned: there are a few brands for newborns, such as Heinz. There is not however the same variety of which we're used to in the West. All shopping malls have at least one store with products for infants, but supermarkets of the Chinese chain Suguo also have a basic supply.
Baby food is without a doubt more convenient when traveling and spending a long time away from the kitchen. You can buy fruit flavors easily but it's practically impossible to find pasta or wheat-based foods, meat baby foods (especially the white meats you can get in europe like turkey or rabbit) or freeze-dried foods to change up the menu. The Chinese custom is in fact to add well-cooked rice as a first course, and it's an option you can always consider if you can't manage to prepare something yourself. In addition you also have to keep in mind the language difference: packages rarely offer wording in other languages.
But don't let that get you down: presumably your travels will take you to large cities like Beijing and Shanghai where, if you're low on supplies, you can easily find imported products in supermarkets. So it's closer to what you're used to. Moreover, Western restaurants in large cities are frequently equipped to handle the food needs of newborns (so long as you don't make any absurd requests…).
When it comes to diapers, the main foreign brands are widely used in China as well, so this shouldn't be a problem. But if you can, go for the Japanese diapers! After having tried almost all brands, both in Europe and China, I still think that they're the best. All other baby products can be found without a problem.
Getting around: what's your destination?
China is a collective name that includes an infinite number of places that are completely different from one another. Usually the more popular tourist destinations present no problems of isolation or availability (for food, medicine, diapers…). However, if you intend to get off the beaten path or head out to the western regions, then you'll have to prepare differently and with more attention.
That said, how should you plan on getting around? If you want to enjoy your vacation, then obviously you'll have to keep your newborn serene and comfortable.
Mountains and natural landscapes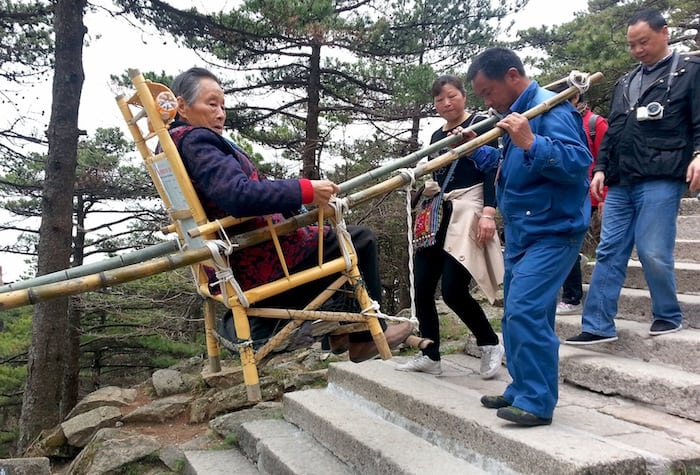 The porters of Huang Shan at work: they bring tourists unable to walk both up and down
In China the routes for trekking through the mountains are almost all designed as stairways. There are less paths, and if they do exist, it's likely that they also offer a more comfortable alternative: paved roads that can be covered on wheels, organized shuttles or simple chair-lifts. Actually, at the Three Gorges I found escalators! This doesn't mean that they're easy to get to: for example, you can only get to the top of Huangshan on foot, or by taking advantage of the porters. Yes, you can always put your stroller and little one on the untiring shoulders of the two transporters…
To summarize: a stroller is a big hassle everywhere. But, if it's an ultra-light model, you might consider it, especially if you want to give your baby a break or have him sleep. Personally I always opted for the sling with excellent results when it came to ease of transport. Clearly this is only a feasible solution to the point that the weight of the one being transported is tolerable…
The same thing applies if you visit the routes through the terraced rice paddies: on more popular routes (like Ping'An for example) you could risk the use of a stroller. But if you're looking for something less crowded, then the sling is the smartest choice (to the point where some really panoramic trails become totally impassable for strollers).
The big cities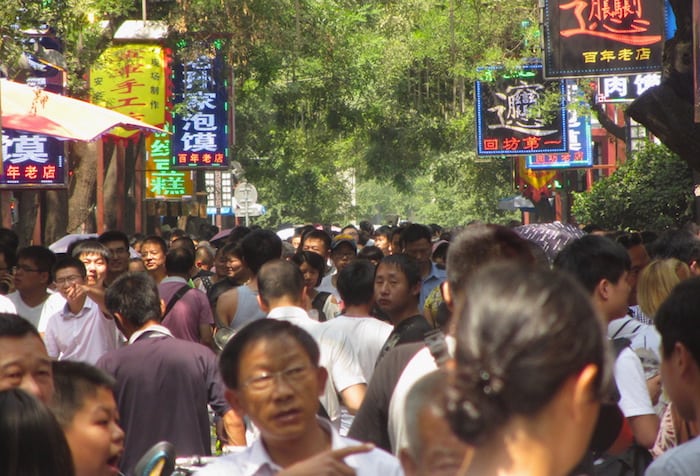 An ordinary day's crowd in the Muslim Quarter of Xi'An – Photo by Matteo Bosi
Presumably, if you travel around the big cities you'll have to take the metro. I insist that the cost of taxis is manageable everywhere, and is definitely the most comfortable option if you're traveling laden down like a mule.
That said, if you find yourself in the position where you have to use the metro, it's good to keep in mind that not all stations have elevators. Moreover, mastering the use of escalators in advance is a wise option so as not to find yourself caught amid the pressing lines or having to go it alone. Beyond this, what might frighten you more when taking along your little one, is the rush hour stampede. The uninterrupted flow of passengers has no consideration for mothers with their young.
Keep an eye on the lanes reserved for motorbikes that are just as crowded as the streets and are often governed by rules that are less predictable. I recommend that you pay attention because the sidewalks are filled with obstacles, so you'll have to go up and down between the main road and the pedestrian areas.
In this section I'll also add a note on high chairs: while you'll definitely find them in international restaurants in the big cities and Chinese restaurants, don't expect to be able to accommodate your little squirt just anywhere. Noodle restaurants or street food, little places with "a dish of dumplings" and the like, are not set up for an audience of little ones. At the same time, considering the level of cleanliness in these places, it's best to have three eyes open and pay attention to the movements of our young explorers.
Cycling vacation routes
Better yet, travel by bicycle with your kid. Though there aren't any true cycling vacation routes…
Nevertheless there are cities, like Hangzhou, where the best way of seeing the beauty of the place is by bicycle. While I write today, public bicycles for rent are not equipped with baby seats. The majority of parents use seats with a metal frame that are presumably available at the better-equipped rental agencies. I have not seen in all my years there, front seats and new models with enclosed structures and straps are still not widely used.
If you intend to use a bike, you'll probably by better off organizing it in advance through your hotel or agency, and look into the possibility of getting a seat. At that point, even more up and down trips like Guangxi, would become more manageable and enjoyable for a little one of 10-12 months.
My little girl traveled by bike with her daddy, wrapped in the sling, when she was just 5 months old. We moved the sling to the back at 11 months just because she didn't have a seat. This was a town outing that wasn't very difficult, but it worked great.
Car itineraries
Another problem has to do with the use ofcars. Chinese street laws still don't require the use of a car seat, although it's recommended. Drivers therefore overlook the issue (like the taxi drivers). For my last trip to Sichuan, in Jiuzhaigou, I had to provide my own car seat. So I brought it on the plane, so as to avoid having to hold the 9 kg of my daughter's weight during the long car trip that awaited me; but above all to guarantee her a safe trip. There was no way to find a a car with a seat with the driver we requested, apparently since at the time of my trip the region was still not in step with the times when it came to these accessories.
Fast train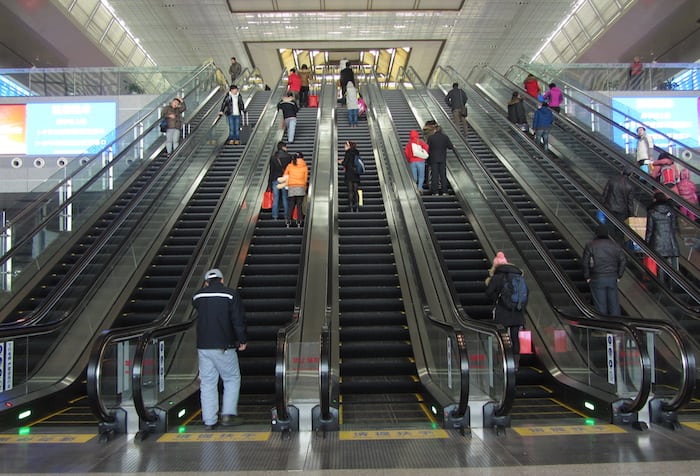 The flights of stairs at the entrance of Hongqiao Station in Shanghai, after the entry checkpoint
High speed services are largely more efficient than most countries in Europe. Second class (the basic ticket) is slightly more comfortable than its european counterpart and offers places for baggage and folded strollers. Children up to 1.2 meters don't occupy a seat, so they don't pay for a ticket.
Second class however is a very noisy place, so if you're nursing I don't recommend that you travel for long in this situation. Spending a little bit more you can go up to first class, where the comfort of the seat makes a difference when it comes to nursing. Business class (which is the luxury car in China) is better than your living room at home (but costs the same as all of its furnishings).
On the train there is a bathroom with changing tables, but it's one per train. You could ask the staff to help you with an alternative solution if you don't want to walk for kilometers on the train while looking for the changing table. On board you won't find food suited for babies, with perhaps the exception of fruit.
When it comes to stations: they are immense places and easily traversed with strollers. Ask in advance which side of the track the elevator is located on, so you won't have to go back once the doors open. Usually at the entrance controls to the stations, mothers and babies are allowed to pass through the cumbersome equipment with only a quick search. And when it's time to get onto the train there are at times special lines to give them precedence.
My advice is to completely avoid getting in line with the rushing masses of Chinese who'll push you aside to get to the platform: choose to enter first, if the hostess can open the gate for you; or wait until the crowd has passed and take it more easily. Many gates open twenty minutes before the train arrives, so there's plenty of time to get comfortable and situated.
Both on trains (between each wagon) and in the stations (near the bathrooms), there are machines with drinking water. These machines usually dispense hot water, so again it shouldn't be a problem for baby bottles.
Obviously I concentrated on this section of the high speed train because I doubt you'll use the periwinkle K, also called "trips of hope". It must certainly be an interesting anthropological experience, but I don't recommend you focus on human observation if you don't speak Chinese and are traveling with a newborn.
Prepare yourself for the best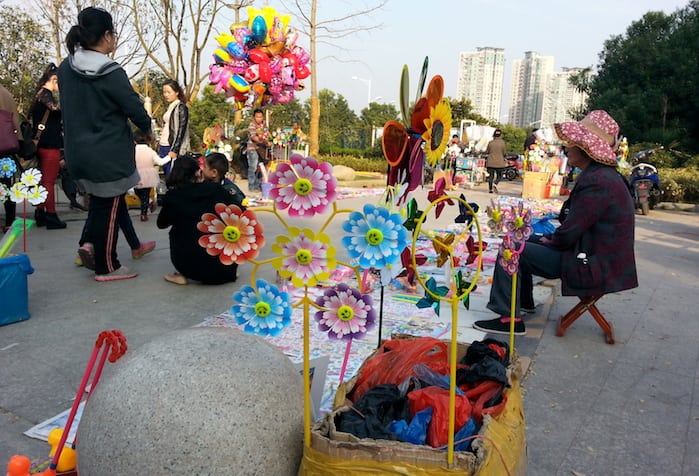 Traveling game sellers at the entrance to a park in Nanking
In China, no one is denied hot water. So, anywhere you go, you'll find a teakettle. Where there's no kettle, there's usually an electric water dispenser or full thermos. So preparing milk shouldn't be a problem.
Whatever your level of desperation, you'll find someone disposed to help you when it comes to kids. Chinese women are very, very warm. To the point where their readiness and presence, in my experience, surpassed the effectiveness of the airline staff, who were too busy to remember me, the mother traveling alone!
At restaurants, you can count on an included baby sitting service, provided by the waiters (still due to the carefree warmth of the Chinese ayi). In addition, no one will look at you weird if your baby has doused the floor with half-eaten food or turned the table into a Klimt canvas. Actually, my little 10 month eater had a terrible experience at a restaurant by throwing up everything, and I mean everything, that she greedily swallowed. The waiters: they felt worse for her than for the terrible amount of cleaning they'd have to do.
In public places your child will be free to unleash their energy without receiving warning looks in return. A child has priority on the social scale and the rules for them are very, very flexible. This also goes for when your kid is in the middle of a crying fit that could disturb other people: no one will judge your work as a parent! If they have to pee and they can't hold it, and you're in H&M and don't know what to do? If you find a bin nearby you can use it as a last resort and…have them go inside.

Speaking of H&M, I nursed in the men's changing rooms with a salesgirl standing guard outside…
If there's a stranger that insists on giving food to your baby, especially if they think they're cute and smiling, don't worry about it: they're not trying to poison him. Considering the importance snacks have in the local diet, giving a candy bar or package of something to a little kid is purely a sign of affection!

Sadly the kindness isn't commensurate with the rules of Western feeding, so don't be surprised if the nice girl offers your six month old a sausage, nor the lady that sticks a packet of salted crackers filled with red fruit cream in your bag.
If you're desperate and don't know what to do for a meal for your newly-weaned kid, remember that everywhere, really, everywhere, there's white rice. And Chinese rice is generally soft enough to be eaten as is. Or, various places prepare little soups of rice or beans, flat, which are fine for children. It's an extraordinary thing and kids go crazy for it!
Many of the activities offered in tourist areas are designed for little ones: a little noisy and very colorful, they're an excellent diversion for kids bored with their strollers. You won't be able to explain the reasoning behind this forced kitsch flowing into trash, but yeah: even this absurd entertainment, with exaggerated colors, lights and sounds, will win the hearts of little ones. Moreover, in the big cities, shopping malls and parks are quite often equipped with entertainment activities for the young public.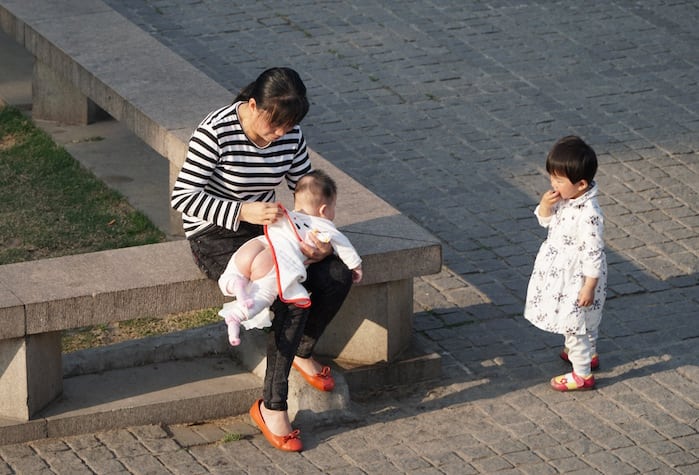 The Chinese child care tradition of keeping newborns without a diaper – Photo by Matteo Bosi
If you, daddy, are the first in line to change a diaper, you will draw the approval of the Chinese female audience. They may even open the doors of business class on the train, just to allow you to comfortably clean the dirty bottom of your little bundle of joy – even if it lets loose the stench of an adult with a stomachache -. Or, you'll be welcome in the VIP lounge of the worst-equipped airport that doesn't guarantee a changing table for the paupers in economy… (cfr.: Guangzhou!!). But only if you're a father and a foreigner!
As a parent, you surely won't fail to observe children everywhere. Especially Chinese children, which are really soft as newborns. You'll also notice that many of them normally travel with their little tushes in the air: there are those who might consider that an archaic and uncivil custom. On the contrary, this, dear parent of the XXII° century used to Pampers, is the method used by grandmothers to get children accustomed before first using the toilet. It works like this: at the first sign, the adult reacts and offers the child a condition for taking care of their need. Clearly this isn't scheduled, and kids are where they are. It's up to the grandmother to find an appropriate destination! Slowly though, the little ones get used to reacting on "command" and this allows the one who has to control the leakage to be less creative.

Whatever you might think about this exhibition of little behinds, we must thank these colorful customs for allowing us to avoid being covered by used diapers from the various billions of Chinese that populate the Earth… Not all bottoms in the wind are exhibitionists you know.
Prepare yourself for the worst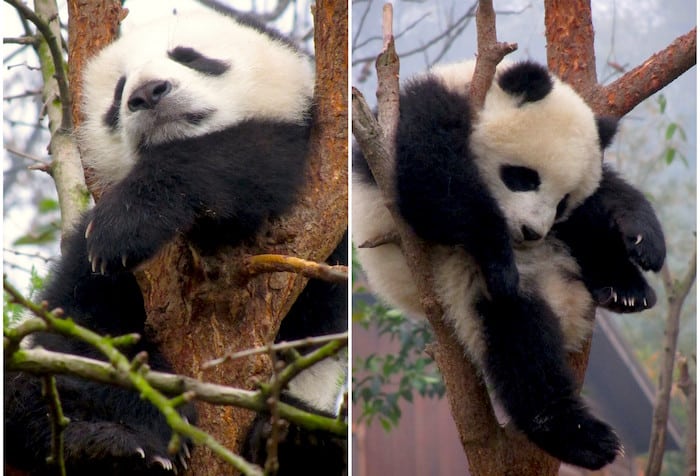 The panda reserve in Chengdu is a special occasion for children, even the youngest ones – Photo by Matteo Bosi
The Chinese warmth when meeting Western babies is always lavishly demonstrated. The hundreds of comments of passersby will make you want to throw up; generally there are two types: "Xiao baobao, hao kehai" or "Xiao baby, hao piaoliang": we would say, look how cuuute that baby is or look how beauuuutiful. The problem with the freely made comments is that they're normally made at decibels that are too high to pass unnoticed.
To aggravate the expansive and hardly-contained reception, is the fact that anyone, even the ones you least expect will seek to put their hands on your baby: if it's OK with you, on their little foot, if it's not OK, on the hands and face. And all this, EVEN IF THEY'RE ASLEEP! If you don't know Chinese, a healthy and well-placed NO! is enough; but if you want to be clearer in your explanation, you can say "bie dong" which means "don't touch".
Due to this unconditional love for little Western babies, the encounters are usually documented with photos and video, even without asking permission from the parents. This isn't an artistic photo, but a recording of everything they can so as to post a laowai (foreigner's) face on social media, with the same comments as above. On this I was always adamantly opposed, unless it was someone I knew or who explicitly asked permission to take the photo (very few).
The hard reality is that Chinese public bathrooms can test even the strongest stomachs. The level of cleanliness leaves much to be desired, especially outside of the big cities. Services for young ones are only found in airports or the latest generation shopping malls. It's not infrequent to see nurseries used as a campfire for cleaning ladies… If you're traveling by car, don't expect anything at the rest stops. They are generally under assault by wild groups of tourists and babies are changed on the buses!
As was said above, access to the metro is guaranteed mostly because of the escalators, while elevators are found on the newer lines. Nevertheless, Shanghai's old red line, already very crowded, has various transfer ramps without any alternatives to the stairs: and here, where haste is king, it's hard to find a pious soul that will help you. In my sad, personal experience, I carried a suitcase by myself for more than one staircase when I was 7 months pregnant; and no one lifted a finger. And I saw grandmothers making risky maneuvers to move both the infants and strollers! Kudos, I wouldn't be able to do any better, but it's well known that Chinese grandmothers don't stop for anything!
During rush hours in the big cities, it's not just the public transportation that isn't recommended for strollers or holding your little ones by the hand, but also the sidewalks and gathering points. The same goes for large events (foremost, the Bund on New Years!): because the concept of proxemics in China has different connotations than it does for us, and the law of survival prevails, so don't be surprised if on these occasions children don't get the same attention and precautions that they're normally given.
Outside of major cities, if you need a doctor, you'll have to settle for clinics or Chinese doctors; so, it's rare that you'll be able to communicate with the doctors and it's rare that you'll be able to give your preferences regarding the treatment offered to your child. For this reason, as I specified above, bringing a stockpile of medicine is recommended. If you need treatment for serious illnesses, go to a large city or better yet one of the provincial capitals.
It's a golden rule to immediately learn how to use the escalators, if you want to survive in the shopping malls. There are various techniques, study them on your own on Youtube before leaving; also because the Chinese escalators are slightly quicker than ours.
Chinese hotels, even the "luxury" ones, aren't always equipped with additional bassinets and cribs. You can rest easy in the big cities. In China, in fact, normally children, even those that are a little too big, sleep in the same bed as their parents to save something on the price of the room. Perhaps your idea of a vacation doesn't necessarily include sharing a bed…but you can take consolation in the fact that in 3 star hotels and above, the bed is king size. So your baby of a few months will certainly find a free corner. Click here to find the best hotels in China.
Do you have any doubts? Any dilemmas? A question for the Sphinx? Leave a comment or question below!
And may you and your little explorer have a great trip:-)
Photo Credits: Photos by Rita Andreetti