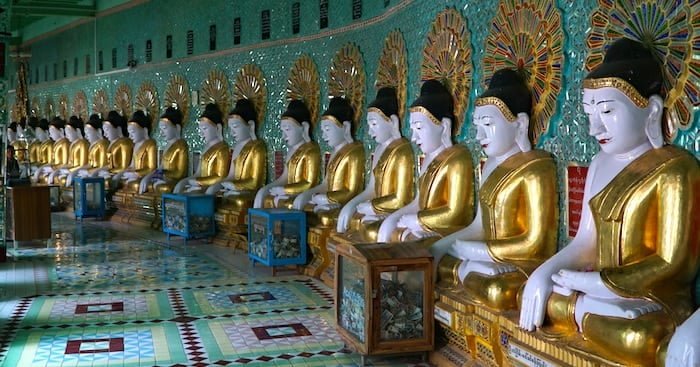 Sagaing, near Mandalay – Photo by Matteo Bosi
Here's all the information you'll need to take on a trip to Burma, Myanmar: here we will refer to it as Burma, just as the locals call it, being a bit adverse to the recent name forced on it by the military junta in power.
We'll cover visas, travel insurance, security, transportation, hotels, internet and telephone; together with a bunch of advice for best planning your trip and avoid running into problems.
How to get a visa
Do you need help to get your visa for Myanmar?
Click here to see the agencies that we recommend!
If you want to visit Burma you'll need a visa. Also, if you move for work or other necessary reasons to a controlled access zone, you'll also need a special permit.
The application for a Burmese Tourist visa can be gotten through the embassy or online through the official Ministry of Immigration site, not more than 90 days before your expected date of entry.
You will need:
a passport that is valid for at least six months after your expected arrival date in the country
a digital color photograph sized 4.8 x 3.8 cm to upload during the application process
a major credit card (Visa, Mastercard, American Express, JCB) for payment
A tourist visa costs 50 American dollars and lasts 28 days for one entry. The online procedure provides for the release of a letter that allows for the procurement of a visa on arrival. For a "Visa on Arrival" an additional payment is required, so the first online payment does not represent the entire cost necessary to access the country. For a tourist visa the following procedure is always necessary; only the Business Visa can be entirely performed upon arrival (or online with the application letter like above, at the cost of 70 Dollars).
Warning: entrance for tourists carrying eVisas are only admitted in the following airports Yangon (Yangon International Airport), Mandalay (Mandalay International Airport), e Naypyidaw (Nay Pyi Taw International Aiport). If though you enter into Burma by ship or land, you can only apply at the embassy for a visa.
These are the addresses for the Burmese embassy and consulates in US and UK:
Permanent Mission of the Republic of the Union Myanmar, New York
Address: 10 East 77th Street, New York, NY. 10075
Website: www.mmnewyork.org
E-mail: [email protected]
Telephone: +1 (212) 744 1279
Fax: +1 (212) 744 1290
Consulate General of Myanmar in Los Angeles
Address: 3435 Wilshire Boulevard, Suite 1590, Los Angeles, CA 90010
E-mail: [email protected]
Telephone: (+1) (213) 387-0043 / 1 / 0
Fax: (+1) (213) 387-0042
Embassy of the Republic of the Union Myanmar Washington
Address: 2300 S Street. N.W Washington, DC 20008.
website: www.mewashingtondc.com
E-mail: [email protected]
Telephone: (+1) (202) 332-3344, (+1) (202) 332-4250
Fax: (+1) (202) 332-4351
Embassy of the Republic of the Union Myanmar London
Address: 19A Charles Street, W1J5DX London
Website: www.myanmarembassylondon.com
E-mail: genera[email protected], [email protected]
Telephone: (+44) 020 7148 0740, (+44) 020 7499 4340
Fax: (+44) 020 7409 7043
A visa through the consulate is less expensive. You'll need two photographs and a filled-out form. I recommend that you consult the site before applying to verify possible variations.
If you'd be interested in learning how you can visit other countries in Southeast Asia, here you'll find information on Laos.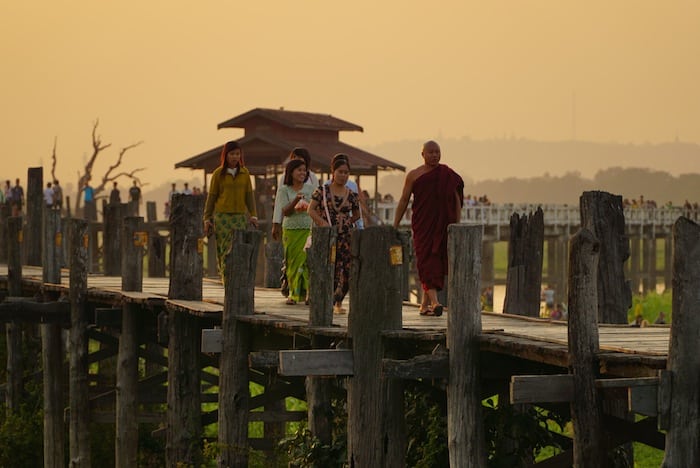 U Bein Bridge of Amarapura – Photo by Matteo Bosi
Alone or with others
Burma doesn't allow extreme freedom of travel, although officially the rigid restrictions once imposed have greatly been relaxed. There are a ton of services geared toward tourists and means of transport that travel the route of principal sites, but any deviation from the beaten path is subject to "Spartan travel". In one way, the flow of tourists is still channeled into the "permitted" zones: though certain transfers can easily change into travels of hope instead of pleasant escapade.
In addition, while drafting this guide, all regions (called States) of Burma presents access restrictions; some in particular are still prohibited to foreigners, especially among states on the border with Thailand And China (Kachin, Shan and Karen) and the world-famous Golden Triangle all in the state of Shan. The Ministry of Foreign Affairs has recently renewed their alert even for the areas of Rakhine and Chin states on the border with Bangladesh. In all these areas series social problems exist, to the point that attacks continue to decimate the population and tarnish relations and the peace of ethnic groups that live here. For an updated list of permitted zones, check the official site of the Burma Ministry of Tourism under the heading: Tourist Information > Permitted Areas.
The country is socially secure as far as the beaten paths go and there aren't any communication difficulties since the majority of those who orbit around the tourism industry speak English, sometimes French or another language. Again, outside these areas it gets more complex. The cost for services, which are still few in this country compared to the growing demand, is extremely high if your basis for comparison are the other countries of Southeast Asia.
I just want to remind you that Burma is a country with a dramatic social gap; this increases the risk of popular discontent and social problems, so even if, as I just mentioned, it's a secure place, a tourist will do well if they use good sense to avoid small-time crime.
Planning through a travel agency will save you the time necessary to search for hotels and arrange transfers. Agencies usually recommend a classic route that I'll now outline for you: a tour organized on your own isn't all that different. You need to know that through the local hotels you can easily organize all internal transportation, perhaps with a couple of days in advance to be sure to find a place. The exception are the planes: those need to be booked well in advance because they fill up at the speed of light.
The most popular tours and itineraries
Below is a list of some of the most popular routes and the approximate price of a tour (for a complete tour in a small group not including luxuries):
Classic Burma
This type of tour is the most popular, and consists of comfortably visiting the most interesting areas of the country.
Approximate price: 1,700 USD/person
Route: Yangon (including the visit to Kyaiktiyo), Mandalay, Bagan, Kalaw, Inle Lake, Yangon.
Click here for more information on this route
Burma from Thailand
Due to the country's poor international communication systems, it is very common for people traveling to Burma to take advantage of the trip to also visit Thailand. This route is designed so that you can combine the two visits, including a hike to see the rice fields and the natural beauty of Southeast Asia.
Approximate price: 1,500 USD/person
Route:Chiang Mai (Thailand), Kengtung (including hiking), Inle Lake, Bagan, Mandalay, Yangon, Bangkok (Thailand).
Click here for more information on this route
Burma for avid cyclists
One of the best ways to visit a country like Burma is to do it by bike. This route is designed so that you can follow various routes via this form of transportation.
Approximate price: 2,800 USD/person
Route: Yangon, Nyaungshwe, Inle Lake, Heho, Pindaya, Mandalay, Myingyan, Popa Hill, Bagan, Yangon.
Click here for more information on this route
Do you want more? Click here to view more tours in Burma and Southeast Asia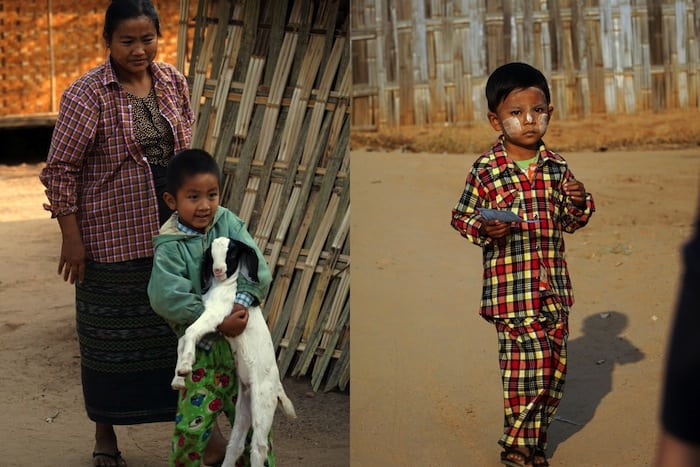 Kids in a village near Bagan – Photo by Matteo Bosi
Travel insurance and medicine
Travel insurance is necessary and fundamental in a place like Burma where, for anything more serious than a minor incident, the advice still remains to head to Bangkok. So, make sure also you're covered for any travel outside the borders of the country you're going to, such as repatriation for more delicate situations.
Here you'll find very useful information for choosing travel insurance.
In the big cities (Mandalay, Yangon and Naypyidaw) you'll find hospital, whereas in the smaller regions there are clinics. The biggest problems are supplies and obviously the level of hygiene.
It is always good to travel with enough of a supply of medicine to handle first aid yourself, or the little problems that come with travel in tropical climates: from heatstroke to sunburn, to insect bites and mild allergic reactions. What I absolutely recommend are intestinal disinfectants, at least an wide spectrum antibiotic and anti-mosquito lotions.
In Burma there are still problems with medicinal counterfeiting, so for good reason you'll want to leave space for a complete health kit in your suitcase, so as not to have to fight off the painful collateral effects.
Vaccinations
I recommend that you get or renew, if necessary, the DPT vaccine (diphtheria – whooping cough – tetanus), polio, typhus, hepatitus A & B. If you need more detailed information you can find it in the Burma section of the wwwnc.cdc.gov/, the portal cared for by the Center of Decise Control and Prevention (CDC).
The best way to tackle a trip to southeast Asia, especially in Burma, is to book a consultation with a doctor and competent ASL. Also because information about vaccinations and correct behavior while traveling, change in relations to the phase of tropical climate that holds the possibility, although quite rare, of the outbreak of an epidemic. The remote areas, in fact, barely receive adequate subsistence and if you decide to adventure outside of your traditional itinerary you must absolutely leave informed and prepared.
Internet and telephone
Internet in Burma clearly has problems. Connection is very slow to the point of being practically unusable. Skype is extremely hard to use even in hotels.
The telephone roaming situation in Burma is continually evolving. When I traveled, not all international telephone companies had arrangements with local providers. So the best advice would be that in the event that you want to exclusively use your international number, check far enough in advance with your mobile telephone provider about which conditions apply. Near the borders, I can tell you that the two biggest Chinese telephone companies, China Mobile and China Unicom, work perfectly (with roaming enabled).
It's also possible to get a local telephone card to get around some of these snags, although they don't work all that well outside of major cities. In fact, at the time of my trip, even instant messaging was limited. Nevertheless, it's an evolving business that in the past two years has gone from rigid government control to a timid form of free market. The major operators are currently MPT (government), Ooredoo and Telenor.
At the airport and in the cities you'll find small shops on every corner, but SIM cards are even sold on the street: in the first case, bring your passport with visa attached. Prices are similar; you're best off checking on the coverage for your specific itinerary and the guaranteed speed of navigation.
In Burma, as in Thailand, the use of internet is controlled and the information is filtered so that people can't have access to information "dangerous for the country". Here some of most popular website that are blocked occasionally (or filtered): Yahoo! Mail, MSN Mail, Gmail, YouTube, Facebook and Google's Blogspot. In order to avoid this problem, you can always get a VPN!
Money, ATMs and credit cards
In the big cities you won't have trouble finding ATMs and banks. In smaller towns, they are much less numerous and you'll have to ask at your hotel where to find them. Mid-range hotels and higher generally have a POS but charge a percentage to use them. Clearly, forget about paying with a card in small restaurants and also for transportation.
The currency used is called Kyat, although dollars are normally accepted, but…there's a but. It is indispensable, necessary and unavoidable that any American dollar bills you wish to use on Burmese soil are new and unmarked. It's even better if you have the new version of the dollar. A dog-ear, a crumpled edge, smudged ink, a tiny hole the size of a pin, are all reasons for banks and stores to categorically refuse to accept the banknote, both for the 100 or 1 dollar bills. They won't change them for you except in certain rare agencies that are a bit shady, where they have shamefully high exchange rates.
If you have an imperfect banknote, try right away to pawn it off on someone. In certain situations they might not nitpick that much or simply have worse vision than you do…But, you should absolutely not risk saving it for last and depending on this exchange in order to survive on Burmese soil!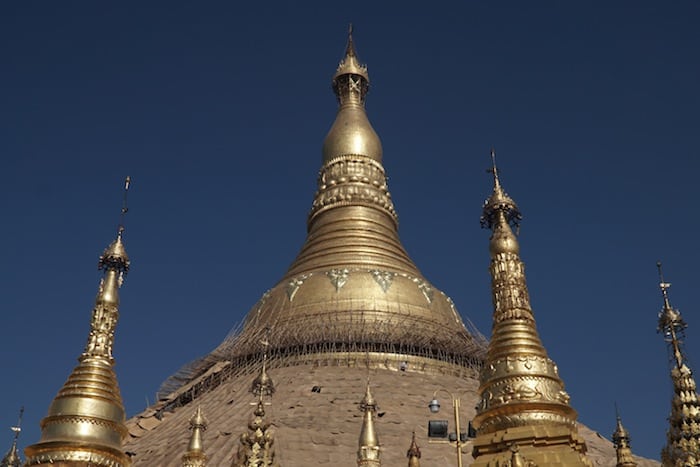 The top of the Shwedagon Pagoda in Yangon – Photo by Matteo Bosi
Besides this small inconvenience, Burma can be considered a country with two currencies because wherever you go, they're willing to accept (or exchange) the dollar, sometimes with a more favorable exchange; so take care with your calculations!
Regarding credit cards: in my personal experience, traveling with a Chinese card Union Pay, we never had any problems. The card almost beats out Visa & Mastercard; when in trouble, Visa has substituted Union Pay. Regardless, bank machines are not so widespread and sometimes don't work even if they look to be in good condition or have the company sticker on it. You might want to change a part of your money into dollars before leaving so that you don't run into any unpleasant situations.
Remember not to run short on Kyat or dollars because some reservations, or trips, or payments are explicitly required in one or the other.
Methods of transportation
Burma has all methods of transport: train, plane, bus of various sizes and even boats on the heavily trafficked waters of the great Irrawaddy.
By air
There are no direct flights from most countries; the most popular route includes at least one stop in Bangkok. Internally, Burma is serviced by several local companies, many of which are run by the "government": this is a choice you'll also be faced with when it comes to hotels, since much of this industry is in the hands of the military ruling class, which has been tarnished by the (numerous) blows of the State and recent decades and all the rest. For those wishing to travel ethically, this is a detail to keep in mind: if on one hand traveling by air is extremely convenient and useful to cut down travel times, on the other hand you'll probably be contributing to those who to this day have taken advantage of the local population.
All airlines have a website where it's possible to book flights if you don't want to go to an agency, and they are Air Mandaly, Yangon Airways, KBZ, Asian Wings e Air Bagan.
Warning! Don't expect new and professional airports… Aside from international terminals, domestic airports are small, the runway is a mess of concrete with holes and cracks, and formalities are handled manually (with passenger lists crossed off in pen). Just to be clear: Burma is the only country I've traveled to in southeast Asia where the unloading of baggage takes place at the exit in front of passengers' feet. In reality apart form this folklore-type aspect and the miniature airplanes, air travel was rather peaceful (though expensive).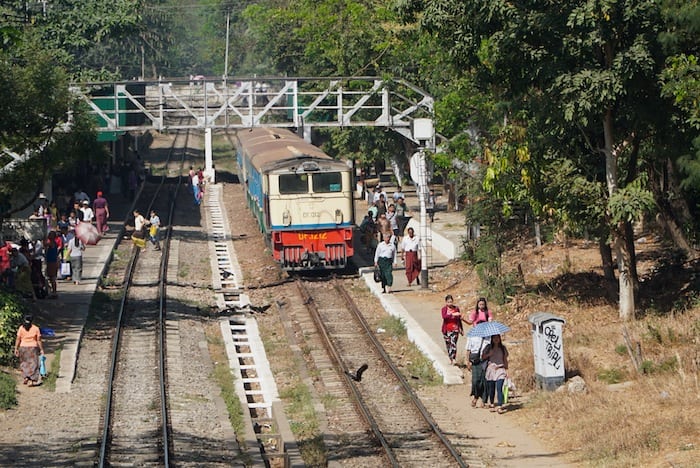 A train in Yangon – Photo by Matteo Bosi
Train
This is the least recommended method of transport since the timetables are unpredictable and delays are the order of the day. Moreover the equipment is often pretty bad. On the other hand, they are particularly used by locals, so if you're looking for a vacation immersed in the typical experiences of a place, this is a marvelous way to experience that.
Transport on wheels
The method you'll find easiest to use if you want avoid air travel are the buses: from short rides to long overnight crossings, it's worth opting for the slightly more expensive companies to be sure you have air conditioning on board and can count on a departure close enough to the schedule. Also very widely in use are the minibuses with 7-10 places, that cram people in until the very last seat: it's recommended that you arrive early enough so that you don't have to sir on one of those small folding seats that are very uncomfortable in the middle of the aisle. This is also the most popular method for getting from the airport to the center of town.
When it comes to renting a car, in Burma foreigners are not allowed to do so. You can however reserve a driver and private car for even somewhat long rides.
Cities offer taxi service. A basic rule: set your price before getting in. Equip yourself with the hotel's business card as soon as you arrive, since may taxi drivers don't know any English aside from hello and thank you and what number.
Boat
Water is the most popular means of transport for the Mandalay-Bagan connection on the Irrawaddy River. You've got two choices, a fast boat or a slow one: it's a long and difficult trip to deal with if you don't love the sun, so keep this in mind when you're buying a ticket. You should book your boat trip well in advance because the best times go quickly. You can book at the boarding points or at your hotel for a small mark-up.
Bicycle and electric bike
For moving around the city and other areas, I personally used a bicycle: the cities aren't so big and the traffic is relatively light (even if it's a bit unregulated). Alternately, there are electric bikes of Chinese manufacture that infuriate in Bagan.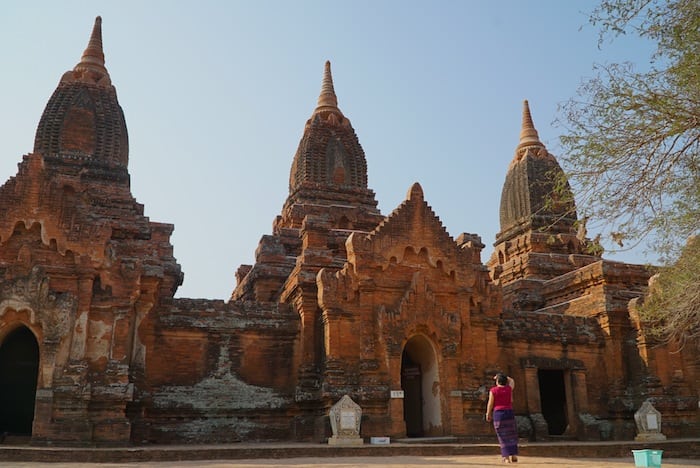 Bagan – Photo by Matteo Bosi
Lodging
As was mentioned just a little bit before, the tourism business is for the most part in the hands of those of the military junta. If this is a theme that interests you, I can't help but recommend you consult the elaborate guide by Routard that is selected and verified.
The biggest problem with lodging in Burma is that they sell out quickly. Supply is not commensurate with demand especially in high season. So you should book well in advance,at least for Lake Inle, which is a very popular destination that is only moderately served. As far as budget goes, there's something for everyone.
On Agoda.it you can find the best prices even for hotels listed by Routard. Don't expect a working internet connection or particularly chic rooms if you stick to the 3 star category. Hotel staff usually speak English; to register you'll need your passport. Someone may ask to check your visa, so keep it safe but within arm's reach.
Click here for a list of hotels in Burma.
The classic itinerary
Yangon: the ex capital, is a city that conserves a buzz difficult to find elsewhere in Burma. Shwedagon Pagoda is a majestic spectacle;
Bagan: is a mythical place, and enchanted valley that is slowly giving in to the commercialization of its beauty. It should be crossed silently up until sundown, seeking to dodge the crowds;
Lake Inle: a lake inhabited by the ethnic Intha who have populated it with stilts and floating gardens; the appeal is on the water, but also the surrounding mountains;
Mandalay and its environs: is the other large city in the country, from here some of the peaceful revolt movements led by monks have begun; it is a more laid-back center than Yangon, but just as interesting and rich in history. In the surrounding areas, Inwa, Sagaing and Mingun are a taste of Burmese Buddhism.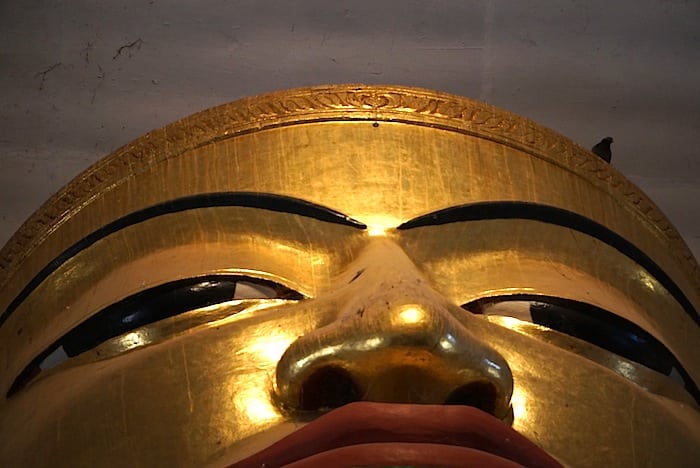 One of the many Buddhas of Bagan – Photo by Matteo Bosi
In addition to these classic sites that you can visit from north to south, there are other areas that are often included in itineraries:
The coastal region. or the state of Rakhine: here there are breathtaking beaches (like Ngapali Beach) and one of the richest and least cared for archaeological sites in the nation, Mrauk-U;
The southeast, or Bago, Mawlamyine and the Golden Rock: are areas marked by a noticeable spirituality, among these the Golden Rock attracts many local pilgrims and the largest reclining Buddhas in the world.
What to bring
Here are recommendations regarding what to bring, or not to forget:
A flashlight: if you decide to use a bicycle or take a walk at night outside of the main arteries of the big cities, public lighting is nonexistent; this is an object you'll prefer to always keep in your bag, dear friend;
Those famous perfectly formed dollars: maybe I already told you?
A multiple adapter: in Burma there is a great variety of plugs; in general European cellular battery chargers fit with Burmese plugs; rather, you might find yourself in a room with just a single working outlet, so I recommend a multiple plug for support;
Mosquito repellent: transmitted sicknesses reoccur after the monsoon rains; an adequate mosquito and tropical insect repellent will save you a ton of trouble;
Sunblock: use it copiously;
Comfortable shoes that are easy to slip off: entrance to any temple you will visit prohibit wearing shoes; so no difficult laces to open and close because after the third visit you'll lose the will to live; I don't recommend flip flops because on Burmese streets I saw everything from half dead mice to used syringes. Be very careful!
Hotel business cards: this is the first thing to get once you arrive at any sire, you can save yourself from a full-out "lost in translation" experience.
Click here for more advice on what to put in your backpack.
When to go
Figuring out when would be the best time to visit Burma is first of all tied to the climate: the majority of Burmese territory is tied to the monsoon rain cycles. Besides the discomfort of a river of water falling from the sky, there are evident consequences on the most delicate balance of health that the torrential rain undermines. Moreover, it's right in these periods that the Anopheles mosquito reoccur.
The best period coincides with the winter, up until February. And I can guarantee you that by February the sun begins to beat like a jackhammer and get ready for temperatures that reach even 40° in April, before the beginning of the rainy season.
You should also adopt (still) a certain caution during periods in which the nation faces times of political tension. Finding yourself in Yangon or Mandalay in the middle of a protest in a land where the military junta still lay down the rules can't be very pleasant. The best solution is to consult the Foreign Ministry website specifically for travelers, and the Myanmar Ministry of Tourism website in the Latest News or Tourist Information section.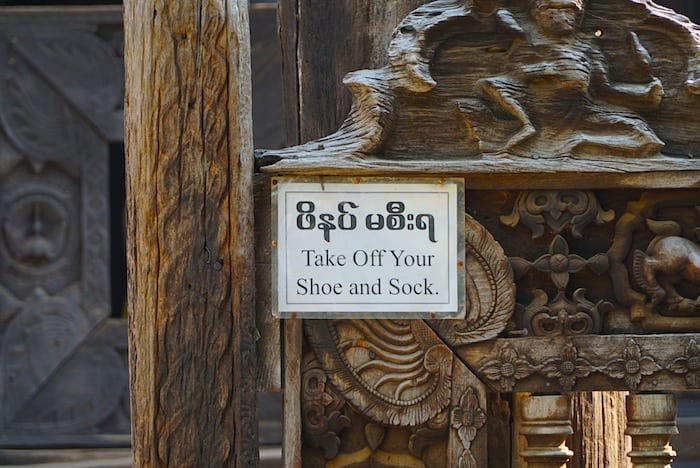 The rules at the entrance of a temple – Photo by Matteo Bosi
Good sense and cultural issues
A visit to Burma requires a basic preparation of the rules of conduct to follow. If you've been to Thailand, for example, then you'll know the customs associated with Buddhist temples; but in Burma they're more conservative in other things. Here is a list of rules for the responsible traveler:
Monls are not to be touched, especially if you're a woman;
Children are not to be touched on the head;
Entering temples, you need to take off your shoes and leave them at the entrance; it's preferable to also take off your socks, but I never saw anyone hassled for that (beware of the flooring!);
Inside a temple, feet should never directly face the statues, so usually women sit sideways and men kneel down;
You should never point, neither with your finger and especially not with your feet;
Clothing should always be decent, especially for women; even shorts down to the knee are not looked upon kindly. I solved this by always putting on a longy, the typical Burmese skirt;
Public displays of affection of any nature are not permitted among couples on the street, not even shaking hands;
You must treat authorities and officials respectfully;
Be very discreet when taking photos; pregnant women, women and children while they bathe should never be forgotten;
Learn to greet and thanks others by copying Burmese customs;
Drug use and prostitution are severely punished; in country serious problems persist regarding the transmission of venereal diseases.
Food and drink
First of all you should know that tap water is not drinkable. Only think bottled water. During my trip I normally used running water for showering and brushing my teeth; if you're afraid, you can always fall back on bottled water for teeth brushing.
Although Burmese cuisine is simple and exquisite, composed of fresh and tasty ingredients, the food also suffers from a lack of safety. The best advice is to avoid anything not cooked, but unfortunately various delicious offerings, such as the local tomato salad (with peanuts!), are served raw. Choose safer restaurants frequented by groups of tourists, or if you adventure into local places, avoid raw food at that point.
Don't forget to try at least once the typical Burmese buffet: a table of little plates of various delicacies, accompanied by a classic pot of rice. All this in an "all you can eat" format for a great price.
If you're not a fan of tofu, the Burmese version will convert you! Local tofu is made from chickpeas and is cooked in truly tasty ways.
Night life
If you're looking for a little night action, you'll definitely find it in Mandalay and Yangon. However, as far as other places go, a walk after dinner is the most you can hope for. If you're fortunate you might run into a group of local housewives, but usually both girls and women aren't allowed any type of worldly life (not even alcohol, and little Betel).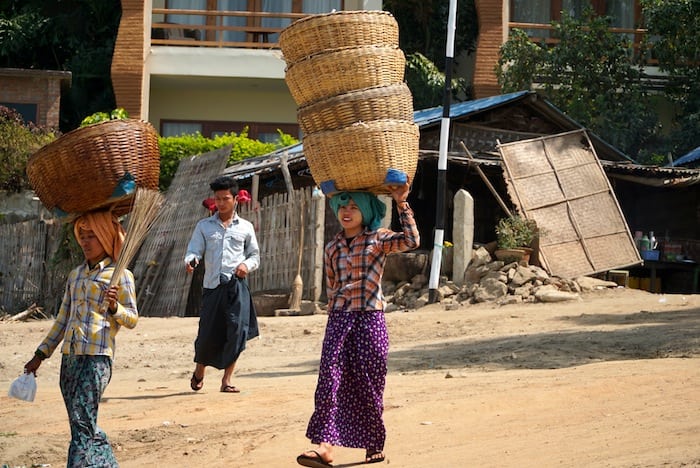 Women in longy along the banks of the Irrawaddy – Photo by Matteo Bosi
Fraud, rip-offs and bargaining
The greatest recommendation for dealing with taxi drivers is that you need to fix a price before leaving, as has already been said.
You can run into counterfeit goods any time you look into precious stones and metals, to indigenous artifacts or lacquer: in all this, Burma is very rich and tourists often given in to the temptation. With stones and metals, there are authorized vendors that provide a certificate of acquisition. For local artifacts, in the markets of Yangon and Mandalay there are vendors who consider themselves each more serious than they other: here objectively it is a question of competence.
Finally, lacquer: the general rule is that outside the production labs, they're all junk. If you don't care that much about the purity of the material, then buy it from the local markets. The price compared to true manufacturers of lacquer, which takes an eternity to be modeled, has an abyssal difference.
When it comes to buying longy, obviously imports are the rage. There it is more than a question of quality and design of the cloth, local goods are few and I would say almost impossible to find. You can bargain, especially in the markets, but don't expect the flexibility of Chinese vendors.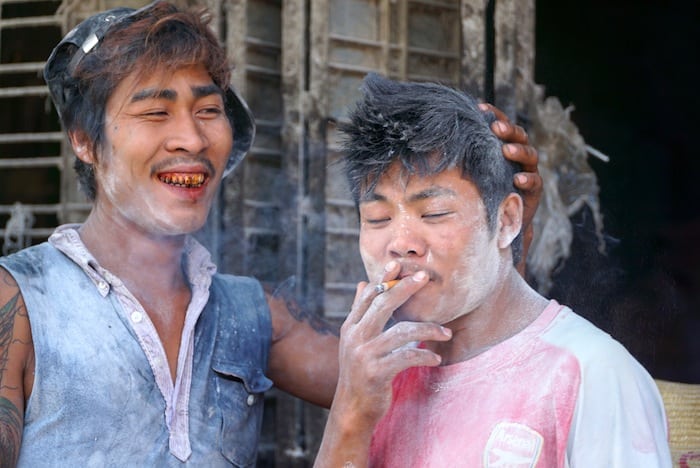 Red teeth from Betel – Photo by Matteo Bosi
Particular signs
The three things you'll notice as soon as you arrive in Burma are everyone wears a skirt, all men have red teeth, all women have yellow cheeks.
These are unique and distinctive traits of the local culture. First of all, the longy, the Burmese skirt, a long strip of cloth whose designs differ between men and women (for men they come in little squares). For women, they close it in front by wrapping it into a type of tube: fresh but with limited movement. Men instead close it like a wallet with a double fold and a knot in the front. Don't watch if they need to re-knot because they don't use underwear…
If you notice an incalculable number of red spots on the ground, these are the tracks of betel, this tremendous vice of chewing the leaves of this tree that wraps a strip of lime enriched by tobacco and other natural aromas. It is a vice on par with tobacco, producing a large quantity of saliva…red saliva… and in the long term it corrodes the teeth of those who chew it.
If the men are red, the women are gold. They tint their cheeks with a paste obtained from the root of thanakha, which is first of all a fine cosmetic, but also serves to protect the skin from the burning sun. In fact, children are often covered in it.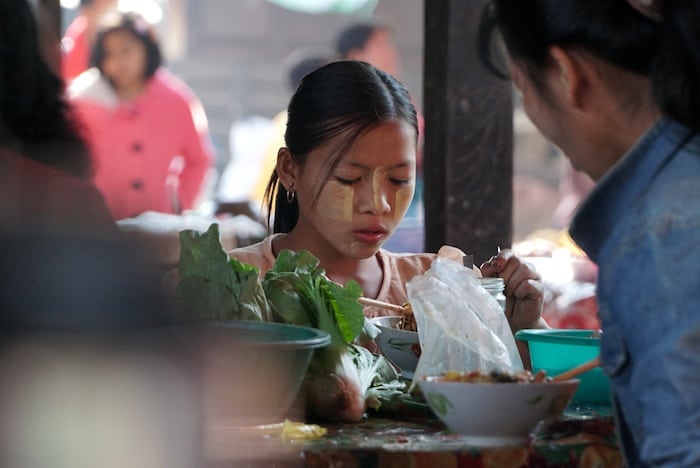 Thanakha on the cheeks of a little girl – Photo by Matteo Bosi
Yes, it's a particularly colored and golden world, and the Burmese are very beautiful despite the deprivations that many have been subjected to. There's an incredible serene dignity in that nation, that will strike you just as it has all those who have been there before you.
So have a good trip, and if you're looking for other information or just want to share your opinion, leave a comment below!
South East Asia Tour Search
Select the country you want to travel to see the tours we recommend.

Multi-city tours in Cambodia
Adventure tours in Cambodia
City Tours in Cambodia
Thailand, Cambodia and Vietnam Tours
Other Tours
Custom Tours in China
Group Tours in China
City Tours in China
Adventure Tours in China
Other Tours in China
Multi-City Tours in Vietnam
Adventure Tours in Vietnam
City Tours in Vietnam
Vietnam and Cambodia Tours
Other Tours in Vietnam
Multi-City Tours in Thailand
City Tours in Thailand
Adventure Tours in Thailand
Beach Tours in Thailand
Other Tours in Thailand
Multi-City Tours in Laos
Adventure Tours in Laos
City Tours in Laos
Thailand and Laos Tours
Other Tours in Laos
Multi-City Tours in Indonesia
City Tours in Indonesia
Adventure Tours in Indonesia
Other Tours in Indonesia
Multi-City Tours in Malaysia
City Tours in Malaysia
Adventure Tours in Malaysia
Other Tours in Malaysia