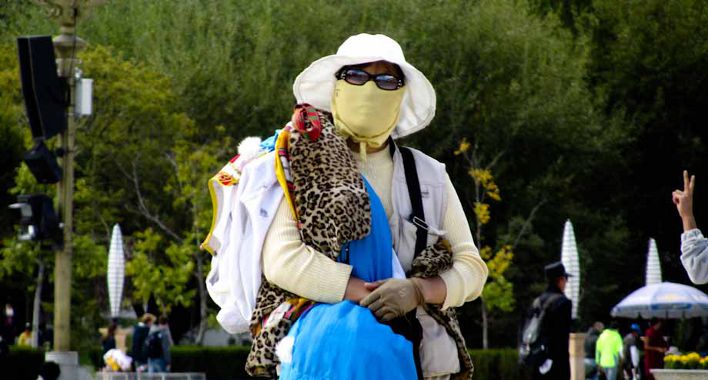 I wonder whether in my situation she would lose face or not…
Even if I wrote this article in 2012, we're republishing it today because the topic is quite interesting
This year I find my April fools joke on Repubblica.it, one of the most important Italian newspapers, while I taste my coffee and delete the usual spam from my email account: The prime minister Monti to China "Invest in Italia."
I smile and think when, in the middle of the European debt storm, I attended the last work dinner of the Rabbit's Year: one of those endless banquets full of resounding speeches, twenty-seven main courses, the bittersweet cucumbers that – I don't know why – are always there and the 白酒 (bai jiu) that flows as never before.
No, this is not the usual article about how do NOT "offend" Chinese people during official dinners, why you cannot plunge your chopsticks on the rice, or how you should let some food on your bowl so that the host will not think that your are still hungry and will not order another egg soup and other twelve giant squids. Nope, today I want to talk about something else.
Today I want to tell you what happens when are the Chinese, during the official banquet, make you lose face! (面子, mianzi)!
Fast forward.
Although it is the day of the big banquet one of the vice presidents, having maybe to assist to an even more important meeting, only joins us about nine pm, when the dinner is finishing. You can get from far away he drunk too much bai jiu and he feels like it's showtime.
看看我是老板, (kan kan wo shi laoban, look at me, I'm the boss!)
Then he notices me – it's not that hard, I'm the only white devil in the room – and talks to me from the other side of the hall. The conversation is as boring as ever: he asks me whether I can speak Chinese or not (he never saw me before), I answer "一点点" (yi dian dian, only a bit), he asks me where do I come from, I tell him "意大利" (Yidali, Italy). I'm now ready for the following up, a "我喜欢AC米兰," (Wo xihuan AC milan, I like Milan Football Club) or maybe a "我喜欢Michelangelo," if he has a major aesthetic taste.
But I'm wrong. Maybe because of the baijiu that makes him a bit more self-confident, it happens what you do not expect, at least not at the dinner of the year. Always screaming from the other side of the room and with most of the people tuned to the frequency that broadcasts the conversation between the boss and that laowai that talks with a weird accent, the vice president Yu smiles again and then speaks up:
"意大利很穷,欧元不太好" (yidali hen qiong, ouyuan bu tai hao, Italy is poor, the Euro useless). He laughs out loud, then concludes:
"Everybody wants Renminbi, no one wants Euro anymore!" The background buzz suddenly stops and lets space into a blank silence.
This is when I understand I'm not living in France anymore (or in Italy, for what it matters), where my boss used to call me le grand tricheur (the big cheater), referring to the epic headbutt of Zidane to Materazzi: everybody used to laugh a bit – me too, we are the ones that won that world cup after all: – P – and then the topic changed. But here we are at another longitude: according to the Chinese code the vice president Yu made me lose face : – O
Let's make it clear: make a mistake – and then lose face – in my opinion (and cultural background) it's the most important step on the continuous learning process we call "life". Or, to speak Latin, I don't give a f*ck about (my) face.
Furthermore, emigrants are used to getting teased. The most common teases an Italian emigrant hears are mafioso, falloso (foul, referred to football players), pizzaiolo (pizzamaker), and playboy. But in the last seven years of living abroad, I heard whatever "insult" you can think about. And I must say I'm proud of all of them (well, let's exclude the "mafioso" thing, which BTW only very ignorant people ever told me). You will ask: even foul? Yes, I'm also proud of "foul"! Do you think that Claudio Gentile during Italy-Argentina 1982 used poetry to stop "El Diego," como lo llama Luis. Nope! In order to stop Maradona there was only one way: beat him hard! Ask the English players : – P
But I'm going out of the track, as usual…
Getting back to the vice president Yu, if an American CEO would have said the same thing
("Italy is poor, Euro useless") in front of 1,000 Yankees, I would have taken it as a simple tease as the other ones (mafioso, pizzaiolo, Mario Bros,…)
The problem was that all the Chinese on the hall took the "tease" extremely seriously: the silence about the fact, the change of atmosphere from jovial to tense, the gazes that started to study the floor and the hands that switched on a cigarette after the other.
It was like they felt the boss made me lose face, and as a consequence, there was no harmony anymore…
At least this is what I felt on the spot. Then I just answered with a neutral "好吧" (hao ba), which you can translate as "ok".
The vice president Yu, at this point quite embarrassed, switches interlocutor, tries to talk about another subject, but then doesn't resist: he comes to my table, makes a taste to me, and seats down to talk with me for about ten minutes. He never apologizes, which would be equivalent to admitting he made me lose face, however, he grants me the attention and the time necessary to "give me back" the face that he "took" from me before.
Well, this article is just a chronicle of an everyday situation you may encounter living and work in China; with this post, I had in no way the ambition to describe the complexity of Asian "face culture", which would require a much more in-deep study than the eight hundred words I taped while I was drinking my coffee (two cups, I admit).
I hope I was able to make you "feel" a bit how complex the "face culture" maybe.
For a more general analysis on "face culture", you can read this long and well-thought article by China-Mike.com: The cult of face.
And you, what do you do when Chinese make you lose face?
Photo Credits: Photos by Sapore di Cina