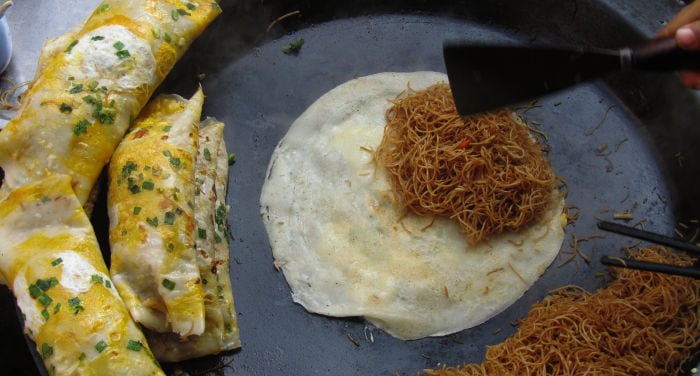 The first time you go to China you'll hear recommendations of what not to eat from friends and relatives. According to many people, you shouldn't even go near street food, but it's so delicious that it would be a real shame not to!
With a little prudence and a little good sense (a good rule would be to only eat cooked foods), you should survive street food without any problems.
Walking down Chinese streets you'll soon realize that finding food is really easy: everywhere in the city you'll find cheap little restaurants. But even more characteristic and unique are those that I would define as "mobile restaurants". You can say that there's no lack of ingenuity, and if you want to sell, why settle for a fixed location?
Anywhere in China you can admire little trucks, wagons, tricycles or bicycles equipped for the transport, and even the cooking of food. At the end of the evening these hardworking mobile vendors can then take all their equipment and comfortable return home.
The variety of street foods are numerous and depend on the region you're in.
包子 (bāozi) – Buns
If you're starving at 3 at night, all you have to do is go into a 7 / Eleven, or stop into a street stall to have a good 包子. 包子, steamed buns are usually filled with pork (but specialized shops have them in all flavors), they're also a great way to start the day, eating them for breakfast.
包子 is usually prepared as two versions, on the basis of size. There are very small 包子, similar to a ravioli for the purpose of comparison, and other sizes that are almost quadruple that. A portion of the small ones you get by the dozen, while with the bigger ones you can choose how many you want to order and the price will vary according to the filling.
Not only can you find stir fried 包子, full of vegetables (potatoes, eggplants, cabbage or more), and meat (pork, beef, mutton), but also sweets. Particularly good are the red strawberry cream-filled ones. Here you'll find a list of different types of 包子,and their fillings.
But if you want to try a really special filling, then don't miss out on trying a 小笼包!
小笼包 (xiǎo lóng bāo) – Broth filled Baozi
Why are 小笼包 so unique? Because this specialty from Shanghai, besides being filled with pork (usually), is also filled with broth!
The giant version of 小笼包 will also be served with a straw to make it easier to eat: first you drink the broth, and then taste the 包子. But watch out for your tongue, it's hot!
煎饼 (jiānbing) – Stir fried Pancake
When my Canadian friend told me for the first time that they found a little place that serves pancakes, my expectations went through the roof: Canada and Maple syrup go together and in China I never saw anything like it.
But when my pancake was brought to the table, it wasn't anything like what I was expecting.
The ultimate street food is 煎饼, a type of stir fried pancake that comes from Shandong and Tianjin made of egg, and full of sausage, meat, salad, egg, greens and above all sauces, some of which are spicy. All this is normal, if it wasn't that 煎饼 is usually eaten for breakfast.
Cooked with stir fried crepes, on an oiled grill, it is a tasty and delicious dish.
夹肉饼 (jiā ròu bǐng) – Chinese hamburger
夹肉饼 the most famous are from Shaanxi. They are sandwiches full of ground-up. seasoned cooked pork. To the traditional variant there are also those with mutton and donkey meat. Cheap and tasty, they're a very practical and tasty snack.
串 (chuàn) – Skewers
What's better than sitting at a plastic table on the sidewalk eating skewers and drinking beer on a hot summer's day?
When the heat comes knocking, little stalls – mobile or not – pop up like mushrooms everywhere where you can eat marvelous skewers of roasted meat, especially typical of Inner Mongolia and Xinjiang (here's a list of dishes from Xinjiang), vegetables, fish, tofu and bread.
Depending on the type of restaurant you go to, you can choose food from the menu or take it directly from an enormous counter where it has been placed, put it in your pot and cook it. If you're not a big fan of spicy food, remember to specify that your skewers should be 不辣!
Among the skewers you'll surely encounter are the following:
Meat skewers
羊肉串 (yángròu chuàn) – Skewers of mutton
牛脆骨 (niú cuìgú) – Cow cartilage
鸡中翅 (jī zhōng chì) – Chicken wings
鸡心 (jīxīn) Little chicken hearts
鸡爪 (jī zhuǎ) – Chicken legs
猪小肚 (zhū xiǎodù) – Pork tripe
菇香培根卷 (gū xiāng péigēn juǎn) – Bacon roll filled with mushrooms
Fish skewers
鱿鱼 (yóuyú) – Calamari
大虾 (dà xiā) – Shrimp
Vegetable, tofu and bread skewers
大蒜 (dàsuàn) – Garlic
土豆 (tǔdòu) – Potatoes
茄子 (qiézi) – Eggplant
金针菇 (jīnzhēngū) – "See you tomorrow" mushrooms (you'll only discover how it got its name the following day when you're hit with a ferocious attack of 拉肚子,which is…diarrhea!)
香菇 (xiānggū) – Mushrooms
蜜香玉米 (mì xiāng yùmǐ) – Sweet corn with honey
鱼豆腐 (yú dòufu) – Fish flavored tofu
烤馒头 (kǎo mántou) – Bread
臭豆腐 (chòu dòufu) – Stinky tofu
There's no need to go looking for stinky tofu (臭 "odor", "stink" and 豆腐 "tofu"), it will find you! Its penetrating odor will go right up your nostrils and there will be no escape.
Once you overcome your disgust at the smell, step forward with courage and try a piece of 臭豆腐, there are those who are surprised (not me), for it pleasant taste.
Stinky tofu is a Chinese specialty, and in different areas, it is prepared in slightly different ways. Particularly famous is the Changsha stinky tofu, in Hunan, and from Shaoxing in Zhejiang. To cook it the tofu is passed through the curds of green beans and then it is fried.
麻辣烫 (málà tàng) – Malatang
There are different versions of 麻辣烫, but the original and most famous is from Sichuan. In it's spicy soup (麻辣 "spicy", 烫 "soup") you can cook it with what you want: vegetables, tofu, meat, or fish, the choice is rather varied.
If you want more detailed information on this fabulous dish, click here!
烤红薯 (kǎo hóngshǔ) – Roasted sweet potatoes
If in summer the streets are filled with mobile stalls of 串,in winter the same thing happens with the roasted sweet potatoes (烤 "roast", 红 "red", 薯 "potato")
If you don't want to do like I did, hanging around the counters between the ecstatic laughter of the vendors asking for a 甜的土豆, my very personal version of sweet potato, you'd do well to learn this name because you'll certainly want to use it!
The roasted sweet potatoes are in fact a very simple street food, with a soft and tasty flavor. And it shouldn't be underestimated that they warm your hands on frozen winter days!
油条 (yóutiáo) – Fried breadstick
Famous throughout China and also in a few other places in Asia, 油条 (油 "oil" 条 "strip") is a widespread breakfast product. It's an elongated fritter, fried in lots of oil and a delicious side dish for a nice bowl of hot soy milk.
冰糖葫芦 (bīngtánghúlu) – Skewers of caramelized fruit
冰糖葫芦 this is nothing more than a skewer of fruit covered with white sugar and then caramelized, stuck on a stick of bamboo. The most traditional would be the caramelized bat thorn skewer (山楂 – shānzhā) from Beijing.
Photo Credits: Photos by Giorgia Borza