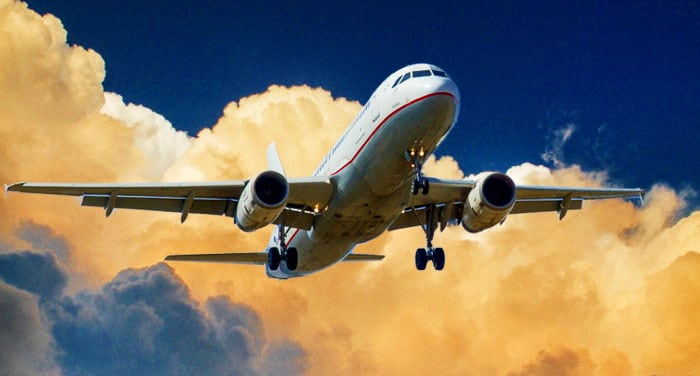 General advice for finding cheap flights
The price of flights varies in such a way that it often seems arbitrary. There are many studies that try to predict ticket price trends. Below, I detail some of the main conclusions of these studies, which will let you save money when purchasing plane tickets:

When are the cheapest and most expensive times to fly: As a general rule, July and above all August are the most expensive months to travel, whereas January tends to be the cheapest. However, this can vary greatly depending on the destination. As we detail below, January may or may not be a cheap month to travel to China or Asia, especially if the Chinese New Year falls in this month. For Asia, the cheapest prices tend to be from the end of September to November.
When to buy tickets: The majority of studies agree that normally the best deals are found two months before traveling (neither before nor after); however, sometimes you can find very good deals at the last minute, although I wouldn't take that risk.
What day of the week to travel: Normally, the cheapest days to fly are from Tuesday to Thursday, although the difference is a lot less for intercontinental flights.
What day of the week has the best offers: The majority of studies highlight that the prices of tickets purchased on the weekend are less than those purchased during the week. Even so, you have to be careful, because certain companies have started to offer deals on other days of the week, so if you find a good deal on Wednesday, don't wait until Saturday to buy the flight.
Changing prices: Sometimes the prices for the same flight go up from one day to the next or even in a few hours. This is often because the platform recognizes that you have already searched for that flight and inflates prices artificially to give you the impression that prices are going up in order to force you to buy. Sometimes, it will even show you that only a few seats are left (when it's not true). If this happens to you, I recommend that you change devices to do the search or even change platforms.
How can I find the best price on a domestic flight in China?
This section of the article is dedicated to domestic flights (for example Beijing-Shanghai). Please note that what I recommend also goes for flights to and from Hong Kong, Macao, and Taipei. If instead you're interested in an international flight (such as  Los Angeles-Beijing) go right to the next section!
For domestic flights, I recommend Trip, a Chinese agency that offers excellent prices and has the advantage of having its website in English and accepts payment via certain credit (or debit) cards like MasterCard, Visa or Union Pay (Chinese network).
The only websites that we know of where it's possible to find domestic flights for a lower price than Trip are Spring Airlines and Qunar.
Spring is a "budget" airline, which means that they offer limited flights and itineraries. Thus, you will have less flexibility. The problem with Qunar is that the site is only in Chinese.
How can I find the best price on a flight to China?
It's hard to suggest a company with the best prices to China since prices vary according to time period, airport, departure and arrival cities. Here are my suggestions to find the best possible price on a flight:
To find the best price by visiting airline web sites can take days. My advice is always to use various search engines such as Expedia or eDreams. Click here to see the comparative of these platforms.
As I said before, if you are able to, purchase your flights at least a few months before departure, since usually, the closer you get to departure date the higher the prices go. You should also avoid dates surrounding major vacation periods such as Christmas or Chinese New Year as prices will be inflated. Consider too that at times the price of flights can vary from one day to another (in the sense that if you want to fly on Monday it's more expensive than flying on Sunday).
Check out flights that land in Beijing, Shanghai and Hong Kong because prices can differ greatly. For example, once I noticed that flights between Shanghai-Milan and Rome-Beijing were always cheaper than Milan-Beijing and  Rome-Shanghai. My theory is that both "Milan" and "Shanghai" are two cities that are business destinations and therefore the majority of the businessmen (and women) choose this route. This allows you to choose the best route and therefore lower the price. I won't dwell too much on seeking a logical explanation because there are too many factors to keep in mind. By not ruling any option out at first glance, you'll be sure to find the cheapest flight. At the same time, if you need to go to Beijing it doesn't make any sense landing in Hong Kong, especially considering you'll find yourself a 3-4 hour flight away.
Flights that make at least one stop (possibly in Dubai or Istanbul, depending on the airline you choose) are normally less expensive than direct flights.
Problems with price comparison websites
Here at SDC we don't recommend using price comparison websites, such as Momondo, Kayak, or Skyscanner, among others. Instead, we suggest using search engines such as eDreams, Expedia, or Kiwi.
Price comparison websites are platforms that compare the price of flights from multiple platforms and travel agencies. In other words, they don't let you purchase plane tickets directly, but rather use third parties that offer this service.
In theory, these platforms let you find the travel agency or platform that offers the lowest price for the same ticket. However, often this is not the case. Many platforms have decided to artificially lower their prices and hide their commissions in order to show up in the first results. Because of this, tickets end up being much more expensive than those sold on "clear" platforms, which do show the final price when someone does a search.
Comparison of the most popular platforms
Features
The best platform

The best
Complete and easy-to-use platform
Lowest commissions
Allows comparing different dates
The worst
Commissions lack transparency
Doesn't include low-cost airlines
Doesn't sell tickets directly
Booking commission
Not specified (up to 50 EUR?)
from 0 to 12 USD
Doesn't sell tickets
Payment commission
With certain cards
Normally no
Doesn't sell tickets
Flexible dates
No
No
Yes (after the search)
Number of airlines
450+
400+
0 (Price comparison website)
Low-cost airlines
Yes
No
Doesn't compare airlines
Cancellation fee
from 7 to 50 EUR
No cost
Doesn't sell tickets
Price includes commission
Yes
Yes
Sometimes it doesn't
Payment methods
Visa, MasterCard, American Express, Paypal
Visa, MasterCard, American Express
Doesn't sell tickets
Try
eDreams
Try Expedia US Expedia UK
Try Momondo



Table description
Booking commission: Plane ticket search platforms are travel agencies and therefore offer a service that they are going to charge for somehow, whether directly or indirectly. Knowing when they are charging you for their service can sometimes be difficult, as they tend to hide these amounts in other costs (some of them even include them in airport fees).
Payment commission: Some platforms charge you based on the payment method that you use or the country of the card you are using.
Flexible dates: One of the easiest ways to save money is to compare different travel dates. Few platforms offer this possibility, as it requires huge data analysis capabilities. The majority of the platforms that do it don't do it in real time, but rather aggregate data from previous searches by other users. My recommendation is to use platforms that let you look up flights on different dates (such as Google flights) and then do a simple search with your preferred platform on the dates that you want.
Number of airlines: It's important that the platform is able to compare the largest number of combinations possible among different airlines, as this is the secret behind why these platforms can offer lower prices than by searching directly on the websites of airline companies.
Low-cost airlines: Many platforms don't include low-cost airlines, which are important if you are going to change flights during your trip because not many direct flights exist.
Cancellation fee: You should keep in mind that the majority of low-cost tickets don't allow cancellations or changes. If you want to buy a ticket with a certain amount of flexibility, it's important to use a platform that doesn't charge you for making changes or cancellations (on top of what the airline charges).
Price includes commission: Many platforms show prices without fees or commissions in order to appear in the first results on price comparison websites such as Skyscanner, Kayak or Momondo. Normally, these platforms hide commissions because they tend to be a lot higher than those of their competitors, so be careful that you don't get surprised by additional charges when booking your ticket.
Other advice
Keep in mind that if you choose to fly with a Chinese airline such as Air China or China Eastern,  90% of the passengers will be Chinese nationals. I prefer to travel with Chinese tourists returning from Europe with horrendous boxes full of souvenirs under their arms rather than a bunch of stuffy German businessmen. So I often willingly choose Air China. But if traveling in the company of 1,000 Chinese – we're talking about enormous jets – makes you uncomfortable, I recommend you choose another airline that isn't Chinese.
Often when speaking with other international "commuters", I get the sense that in general, Turkish Airlines and Emirates may be a step above the other airlines, both in terms of price and service.
Frequently asked questions
How long is a flight to China from the UK?
First of all, it depends on where you're traveling in the UK and to which destination in China. While flights from London to Hong Kong take around 11.5 hours, flights from Manchester to Shanghai take almost 13 hours. In general, the flight time is 11 – 14 hours from the UK to China.
How long is a flight from the US to China?
The US is far bigger than the UK, again, it depends where you travel from. You can reach Beijing from Los Angeles in a little more than 12 hours with a non-stop flight. Be prepared to add 2-3 hours if you have a transit. Flights from New York to Beijing takes around 13.5 hours non-stop and a bit more than 16 hours with one transit.
Which is the best China airline company?
The best China airlines include Cathay Pacific, China Southern Airlines, Air China, Spring Airlines, Juneyao Airlines, West Air, Tianjin Airlines, Xiamen Airlines, Shenzhen Airlines and Hainan Airways
Is Air China and China Airlines the same thing?
No. Air China was founded in 1988 and is the biggest airline in Mainland China. China Airlines, on the other hand, was founded in 1959 and the biggest Airline in Taiwan ROC.
What is the best way to travel from Shanghai to Beijing?
China has a new high-speed train running between Shanghai and Beijing, which is highly convenient. The travel time is only 4 hours and 18 minutes, so you don't necessarily need to go by air.
How much do Chinese pilots earn?
According to CNN, pilots can make as much as 300,000 US dollars in China, tax-free. The reason why the salaries are so high is that the demand has gone up drastically over the years.
How much do Chinese pilots earn?
According to CNN, pilots can make as much as 300,000 US dollars in China, tax-free. The reason why the salaries are so high is that the demand has gone up drastically over the years.
What is the busiest airport in China?
Beijing Capital International Airport is the busiest in China, having almost 96 million passengers annually. Shanghai Pudong is ranked on a second spot, having around 70 million passengers a year.
How many airports are there in China?
As of 2017, there were 229 civil airports in China, but with dozens under construction.