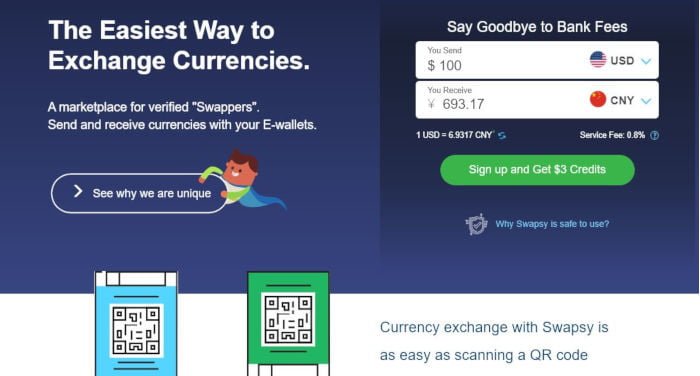 At times, living in China can be more costly than you might think, and always requires a certain amount of money. Unless you have a fixed income such as a scholarship (for foreign students), a salary (for foreign workers) or if that's simply not enough, you'll need to turn to the savings that are resting comfortably in your home country. Or (I wish you the best with it), you'll need to transfer the money you have in China directly to your home account.
In the majority of cases, trying to transfer money from China abroad can be very frustrating because you'll have to deal with a large number of limitations imposed by the government, endless questions about where the money came from and the eventual taxes you'll have to pay, added commissions and long lines at the bank.
The inverse process can at times be just as complex and/or costly, especially if you withdraw money from a Chinese ATM with a card not belonging to a Chinese circuit.
Besides the methods that you perhaps already know (such as Wise (formerly Transferwise), for example) there's also Swapsy, a money-transfer P2P service.
In this short guide I will explain what Swapsy is, how it works, and other bits of useful information about this new platform.
What is Swapsy?
Swapsy is a financial technology start-up launched in 2017 and based in California, which offers its adult users a (in English and Chinese) money-transfer P2P service that's able to exchange money by means of electronic wallets (e-wallet).
The designers of this platform's objective (mostly foreign ex-students who are experts in finance and technology, frustrated by the difficulty of transferring money to and from their country) was to create a market where everyone can enjoy a money-exchange experience without complications.
This is a P2P platform (peer-to-peer), and what's more, the money that's transferred doesn't remain "stalled" on the platform but arrives directly to the other user without any deviation (in most cases within 24h).
This service depends on the most famous and widely used e-wallets in America and China: PayPal, Zelle (recommended by Swapsy for quicker transactions), Alipay, and WeChat Pay.
At the moment, Swapsy has more than 30 thousand users and 500 thousand transactions and is still growing.
How to configure Swapsy?
It's very easy.
Connect to the official site and click on "Sign Up" to create a personal account. Enter an e-mail address and password, accept the conditions and go on.
At this point you should take three other steps: confirm your registration through the e-mail you'll receive in your inbox, upload your passport photo and enter your e-wallet.
Note that all information on the document must be clear and visible. You'll have to upload a photo of the front and back of the document, as well as a photo of yourself with the document in hand (basically an open-faced selfie).
Upload the required photos and wait for them to be approved (you'll receive an e-mail that will alert you to the approval and you'll see that under the heading "ID Verification" on the left-hand column of the homepage, the two windows "Your ID is verified" and "Your Selfie is verified" will have become green).
Note that, despite the specification that the acceptable documents should be American, English, Canadian and Chinese passports, you can also add an Italian passport.
Now you can add your preferred e-wallet.
Go to the heading "E-Wallets" in the left column and enter at least one Chinese one (between WeChat Pay and Alipay) and one western one (from PayPal and Zelle). Make sure that you enter the exact information, otherwise, you can't proceed to the "Swap", or "Exchange" of money.
In the case of western e-wallets, you'll be required to choose what to enter: for Zelle you'll have to indicate the name of the bank associated with it, the name of the account holder, and an e-mail address or telephone number associated with Zelle.
For PayPal you just have to indicate the e-mail address or telephone number associated with it or download the QR Code that you can directly download from your PayPal account.
For Chinese e-wallets: for WeChat Pay you'll have to download the QR Code you can get right from the App going to "+" in the upper right of the home page, "Money", "Receive money" and, lastly, "Save recipient's code" under the QR Code that is generated.
Also for Alipay you'll have to download the QR Code that you'll find directly on the App going under "Collect" at the top of the initial page and then on "Save Image" under the QR Code that is generated.
After saving the image of the QR Code, you can load it on Swapsy.
After finishing the registration, you'll receive 100 credits from Swapsy to use within 7 days as a gift for registering as a new user.
Now you're ready to take advantage of Swapsy's services.
How does Swapsy work?
Essentially the money exchange takes place with "strangers", or other Swapsy users searching for the currency that you want to change with the one that you're looking for.
Moreover, the money exchanged with the other user arrives right to the e-wallet you registered on the platform, without it going through banks or the like.
As was said before, you need to have an active, functioning Chinese e-wallet (WeChat Pay or Alipay) and a Western one (PayPal or Zelle).
Here's an example that will make it all much easier: you're in China and need to exchange 1,000 Chinese Yuan into American Dollars (CNY-USD). Using Swapsy, it will handle finding another registered user on the platform who needs to make the opposite transaction: exchanging American Dollars into Chinese Yuan (USD-CNY).
At this point, you'll send 1,000 Chinese Yuan to the other user's e-wallet (through WeChat Pay or Alipay, with Swapsy as the intermediary), while they will send the equivalent in American Dollars to your e-wallet (through PayPal or Zelle, with Swapsy as the intermediary). In practice, Swapsy will create a match based on the nature of the transaction.
As you can see, the money doesn't pass national borders: you send Chinese Yuan to the Chinese e-wallet of the other user, while they send American Dollars to your e-wallet. It stays perfectly within the borders!
Carrying out this operation is very simple.
First of all, go to the heading "Swap" in the left column, and in the new window that opens, choose the currency that you want to send and enter the amount you want. Click on "Submit".
At this point two columns will open (one for each e-wallet, Western or Chinese) and you'll have two choices:
Accept an existing request from another user that is looking for a similar amount in the opposite direction (if you're fortunate you'll find the same amount that you've requested. In any event you'll be shown the best options based on your needs under the writing "Recommended");
Create your request with the exact amount you want by clicking below on "Start your own Swap" in the e-wallet column that you've chosen.
In the first case the "match" will be immediate (you have 15 minutes to complete the operation) and, generally, you'll pay a small commission.
In the second, the commissions will be slightly higher and you'll have to wait for the "match" suited for you. If you create a request and the "match" takes more time than expected or you decide to go in a different direction, you can cancel the request at any time without losing your money by simply clicking on "Cancel Swap" in the left column of the "Swap" page.
A new request can only be requested when you've confirmed and concluded the previous one. One request at a time!
Based on the currency you entered, you can choose the e-wallet in which you wish to receive and send the money.
Once you choose your money-transfer options, you'll be shown useful information to send the money to the other user and a "proof of payment" (you'll have to enter a transaction code and a simple screenshot). The other user will do the same.
Note that, according to them, Swapsy will offer you one of the best exchange rates at the moment of the transaction.
After having sent the money to the other user, you just have to accept what they've sent you and confirm the transaction the same way he did with you.
To accelerate the "matching" process, it may be that Swapsy will divide the transaction into lots of smaller transactions. In that case, just accept them all and finish the procedure.
At this point the exchange is done and the respective e-wallets will contain the new amount of money you've requested.
Which currencies can be transferred with Swapsy?
Initially, it was only possible to transfer American Dollars (USD) and Chinese Yuan (CNY), but starting in August 2019 another two currencies have been added: British Sterling (GBP) and the Canadian Dollar (CAD).
At the moment, therefore, there are 4 available currencies, but it's probable that in the future the Euro (EUR) will also be added.
Which forms of payment are accepted by Swapsy?
As was already specified, at this time Swapsy "only" recognizes 4 e-wallets. Don't worry, these are the most commonly used ones in China and the West: PayPal, Zelle, WeChat Pay and Alipay.
Can I use Swapsy if I have a European bank account?
In theory, yes, if you have PayPal. As you well know, with PayPal you can connect a European bank account through a VISA or MasterCard or directly adding a bank account.
Obviously, the money you receive from PayPal by means of Swapsy will be in Dollars, but you can transfer them to your bank account by changing them first into Euro and paying the necessary PayPal commissions.
Is Swapsy safe?
Swapsy assures that all users, at the time of registration, are subject to a scrupulous phase of security control of their passport (or identification document) for the purpose of verifying your identity and to avoid allowing the exchange of money for terrorists or criminals. In addition, at the time of sending money, you'll be sending it to another previously verified user, so it is, therefore, "safe and reliable".
Lastly, to complete the transaction process, both users will receive codes to confirm the receipt of the money. If one of the two users doesn't enter the code to confirm the receipt of the money, the transaction will be suspended and you'll get your money back.
Note that Swapsy will not divulge your information to third parties, not even the user you'll make the transaction with. They will never know who you are, but will only receive the necessary information from your e-wallet to send the money.
Obviously, a certain level of trust in the other user never hurts.
How much money can be transferred with Swapsy?
Swapsy says that the maximum limit on daily transactions is 2,000 USD, for a maximum of 16,000 USD a month for every registered user on the platform.
How much does Swapsy cost?
Swapsy is very inexpensive and has a system of points called "Swapsy Credits". As was said earlier, each new user receives 100 points to spend and if you enroll through a link sent by a friend who is already a Swapsy user, you should receive another 500 points.
The only commissions taken out by Swapsy are, actually, these "credits" and there is no commission on the exchange rate. You only pay for the service.
If you use up all your available points, you can get some from the platform itself. The site specifies the cost of the credits only after the conclusion of the registration and after receiving the link of your "active" account.
You can get 1,000 points for $9.90 USD, 2,000 points for $18.90 USD, 5,000 points for $44.90 USD and 20,000 points for $169.90 USD.
The credits to "spend" will be a minimal percentage based on the amount of money to transfer (from 1% to 2.73%). This "commission", moreover, will also be based on your choices relative to the e-wallet that you use and whether you choose an existing request or create a new one.
Creating a new request, in fact, sees higher commissions than accepting an existing one.
Comparison with Wise (formerly Transferwise)
Swapsy's weak spot is that you might not find someone right away with whom you can exchange the same amount of money that you want. All depends on the needs of the other user.
Wise, instead, serves as the actual intermediary of the transaction, which, with the enormous amount of funds that they have, doesn't depend on any other users to complete the operation. You pay Wise in a particular currency and they pay in another. Wise, though, is more expensive.
Swapsy's limitations
Despite the platform's apparent innovation, Swapsy presents a few limitations and some deficiencies.
First of all, the customer service is rather slow to respond (after repeated e-mails in English, I received a response only in Chinese).
In addition, the system of credits is not very clear, especially compared to the percentage of commissions that you have to pay for each transaction.
Lastly, despite their claims of safety, you still have to deal with "strangers" and only have access to certain information after registering, without being able to first reflect on the actual convenience.
Swapsy claims to be totally in accordance to the laws and regulations that protect their clients. Also, through this platform you don't have to justify the source of the money you are transferring.
On the site, you'll see that Swapsy offers a discount of 50% for a year for all those who register on the site and can show that they are students by means of their university e-mail (".edu").
Lastly, since January 2019 Swapsy has launched "Scholarships" for off-site students that decide to participate in the contest they made by writing and sending in their own stories.
You can find all the information you need under the heading "Student" on Swapsy's homepage.
Obviously, a platform like Swapsy needs a large number of active users in order to offer a service of that type. As was said before, tens of thousands of users use Swapsy, including many international Chinese students.
The more people who use Swapsy, the easier it will be to easily transfer money. Finally, a valid alternative to the "classic" methods.
Now you just have to try it!