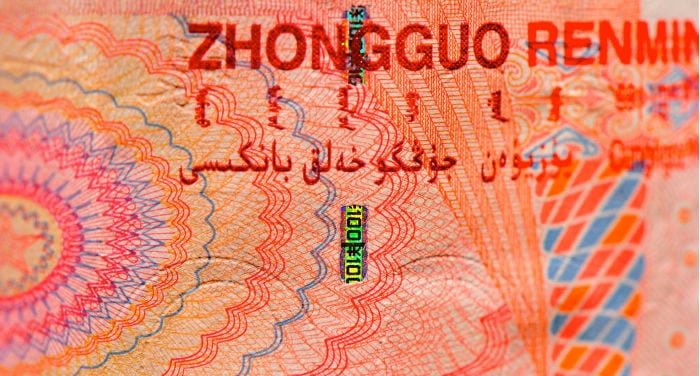 Do you have to send money to China, perhaps a travel agency, a Chinese school, or your supplier, but your bank asks for absurd commissions and tells you that it will take more than 5 working days?
Keep reading this guide to understand how to save time and money by using Wise (formerly Transferwise)!
What service should I use to save money on bank commissions?
At the moment we can't help but recommend TranserWise, since we've been using it for years – with savings we never thought possible, – both for our own private international expenses as well as for our business.
In few words, Wise (formerly Transferwise) allows you to send money abroad (not just to China), using the official currency transfer rate and having you pay only a percentage (which is more than reasonable) of the amount sent.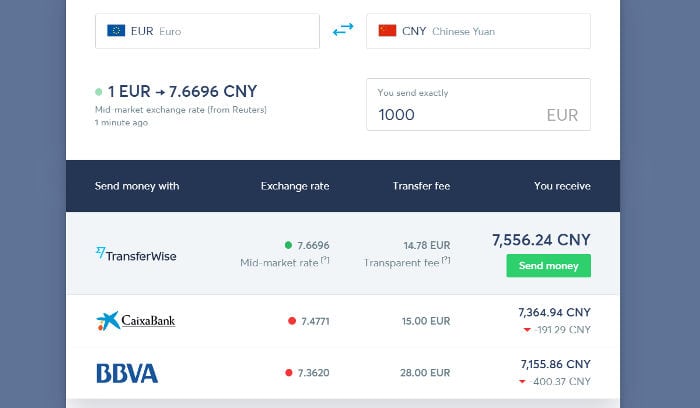 When transferring Euros to CNY (Chinese Yuan), Wise's commission is 1.5%. So, as you can see in the photo (taken from the Wise site at the time of my writing), if you send 1.000 Euro, Wise will make you pay a commission of about 15 Euro.
Note that there are other banks with similar commissions (others instead have much "higher" prices). The problem is that the banks don't make their money on commissions: the "real" earner for banks are in the exchange rates that they offer, which are really unfavorable for you (a little like the exchange rates at the airports, even if not to such extremes).
So, again referring to the photo above, while Wise offers the REAL exchange rate between Euro and CNY (1 Euro = 7,6696 CNY, at the time I took the photo), the banks offer a rate more favorable for them (in the example seen in the photo 1 Euro = 7,4771 CNY in the first instance and even 1 Euro = 7,3620 CNY in the second).
These means that, on 1.000 Euros, Wise will save you an average of about 300 CNY (or around 40 Euro), compared to what you'd pay by sending a typical international bank wire transfer. It may not seem to be much, but we're talking about a percentage of savings (you'll pay 1.5% instead of 4-5% that you'll pay using a wire transfer).
If instead you had to send 10.000 Euro, you'd save about 400 Euro (note that the amount of savings depends on the bank that you use).
Will I also save time by using Wise?
Yes, another advantage of Transerwise, besides saving on commissions, is that your transfer will arrive in China (or whichever country you're sending your money too) much more quickly than using traditional banking channels.
If you'd like to know in detail how all of that is possible, or how to enroll in Wise, you can read this article, or watch the video below.
Limitations of using Wise (when sending money to China)
Since China is a country where assets are controlled, there are a few limitations (which don't exist when sending money to more "open" countries like Hong Kong). Click here to read the details about the limitations directly on the Wise website.
Here are the most important ones (I repeat, for the complete list click on the link above):
If you plan on paying into an individual's bank account (not a business), you can send a maximum amount of 5.000 American Dollars (or an equivalent sum in another currency) per payment, a maximum of 10.000 Dollars a day, and a limit of 50.000 Dollars a year. If instead, you plan on sending money to a business bank account, the limit is higher;
If the recipient is a private individual, you can send money via Wise only if they have a Union Pay card (which is quite common, since in China the Union Pay circuit is the most widely used, even more than Visa and Mastercard);
You can only send payments to bank accounts opened in one of the main Chinese banks;
You can only send payments to bank accounts opened with a Chinese identity card as ID documentation; you can't send payments to bank accounts opened using a passport, driver's license, or other documents.
Alternate options to Wise
There are some services similar to Wise. Though I only have firsthand experience with Wise (which I habitually use), usually the limitations of such services are very similar to those of Wise. The reason for those limitations depends on Chinese laws, not Wise or Revolut.
If you think you're unable to use Wise or similar services, here are the most common options for sending money to China:
The "classic" international wire transfer (namely the one described in the first part of this article) which, as was already said, ends up being more expensive and slower than Wise (and similar services);
Paypal, which applies a commission that can vary between 3% and 4.4% (so long as the one selling the service or product doesn't decide to pay that expense in your place), and also usually offers an exchange rate different than the official one (which is not in your favor, as is the case with the banks);
Western Union, which is usually more expensive and is not trackable. This means that if you buy a service or product through Western Union, the seller can always say that they never received the payment (this is a rather common scam, so I don't feel comfortable recommending this method of payment unless you have to send money urgently or don't have any other options).
Frequently asked questions
What's the best way to send money to China?
As explained above, Wise is probably one of your best and cheapest options when transferring money to China. You should also check out Xoom, which is started by PayPal and becomes increasingly interesting.
How do I send money to China using PayPal?
You can use 'Money to PayPal Wallet', Bank Deposit (powered by Xoom), and Mobile Reload. Using Xoom can cost you as little as 0 US dollars for certain transactions, so it's something you should check out.
What are PayPal fees in China?
You can calculate the fees when using Xoom in China (see the link under the answer above) on PayPal's website. For example, if you transfer 100 US dollars to RMB, the beneficiary will receive 678.74 RMB, but there's also a transaction fee of 10 US dollars for credit and debit cards.
Paying with a bank account will only set you back 4.99 US dollars. The rates decrease, depending on how much you transfer. For example, if you transfer 1,000 US dollars, the beneficiary will receive 6,804.40 RMB and you'll be charged a transaction fee of 0 US dollars when using a bank account and 30 US dollars when using a credit card or debit card.
How do I send money in China using Western Union?
You can send the money online, via the app, or use any of the in-person offices. At the moment, there are more than
27,000 locations
across China!
How much is the Western Union fee to China?
You're charged a flat transfer fee of 8 US dollars when using Western Union's app. Transferring to Hong Kong, on the other hand, will only set you back 8 Hong Kong dollars.
How much cash should I take to China?
Personally, I never bring any cash at all, as there are ATMs when arriving at the airport. On the other hand, it can be good to withdraw 100 US dollars or so, before departing your home country.
Click here to take a look at the
Wise website