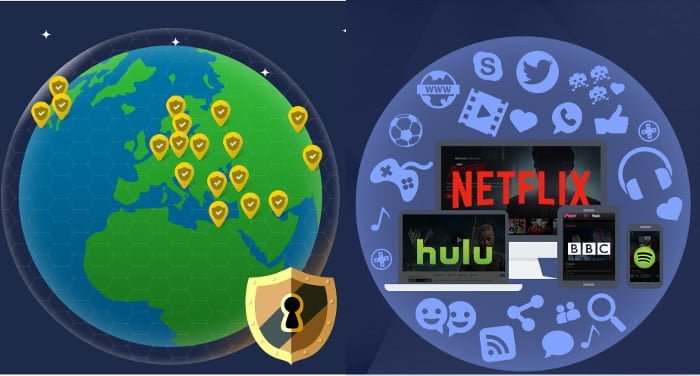 When you live or are traveling in Asia, having a good VPN is necessary to be able to browse the internet without restrictions and securely. Many Asian countries have put restrictions on internet use, with China being the most obvious example (although not the only one), as many website are blocked, including Google, Facebook, Twitter and YouTube.
Security is also important in Asia (although not only in Asia), as it is not rare for third parties to obtain sensitive information (such as bank accounts, contact information, etc.) when you are browsing the web, particularly on public networks.
This article is a review of a VPN that I have been using since 2012, StrongVPN, that has remained a reliable option during all of the time I have spent in China.
However, in the past few years, many VPNs with possibly better services have appeared. Click here to see the three best ones we are currently recommending..
Strong VPN's features
Money-back guarantee: 7 days.
Monthly plan: Not available.
Annual plan: From $6.58 to $28.50 USD (per month).
Countries with servers: 19.
Desktop applications: Windows, Mac.
Mobile applications: Android, iOS.
Simultaneous connections: No (but a discount on the second connection).
Customer support: 24/7/365.
Encryption protocols: PPTP, L2TP, SSTP, OpenVPN.
VPN location changes: 15-30 changes per month.
Supported languages: English.
Click here to try StrongVPN
The advantages of StrongVPN
It works: As I said before, I have used it for a long time in China and it has always been a reliable option to get past the Great Firewall.
Speed: I have tried a lot of VPNs and I have to admit that StrongVPN is one of the fastest I have used.
Stability: Once you are connected, it is rare for your connection to cut out (a common problem with many VPNs).
After-sale service: If you have any questions or problems, they offer 24 hour technical assistance.
Encryption protocols and different servers: Having different encryption protocols along with good after-sale service is necessary for your VPN to be able to do its job of unblocking websites and improving security.
The disadvantages of StrongVPN
Limit for changing the VPN server: In my opinion, one of the biggest drawbacks of StrongVPN is not being able to change the server as many times as you want. This is a significant limitation, as not all servers work equally all the time, and the server that is working the best right now might not be working so good tomorrow. In addition, this is added to the huge annoyance each time you change the server (see below). However, in my opinion, this is logical in that it ensures that people aren't constantly changing servers and because of that, makes it much harder for a server to go down due to excess connections.
No simultaneous connections: This is another one of the features that I am not keen on. Today, VPNs are useful for both laptops and mobile devices such as telephones and tablets, and because of this, having to connect and disconnect the VPN depending on the device you are using at that moment is quite annoying. While StrongVPN offers the possibility of getting a second connection at a much lower cost, this still seems like somewhat of an inconvenience to me.
Minimum three month subscription: While in my opinion, StrongVPN is a good product, its lack of flexibility is one of its biggest drawbacks. In addition to the previous points, the fact that you can only get it for a minimum of 3 months is a huge marketing error. Many people buy VPNs to use exclusively during a trip to certain destinations and because of this, buying a VPN for three months is not particularly suited to their needs.
What plan to choose
In my opinion, the plans that offer a good quality/price ratio are StrongVPN Lite and StrongVPN Special. In my opinion, the Deluxe Plan does not make sense, as there are VPNs that offer better services than the Deluxe for less money.
How to optimize your connection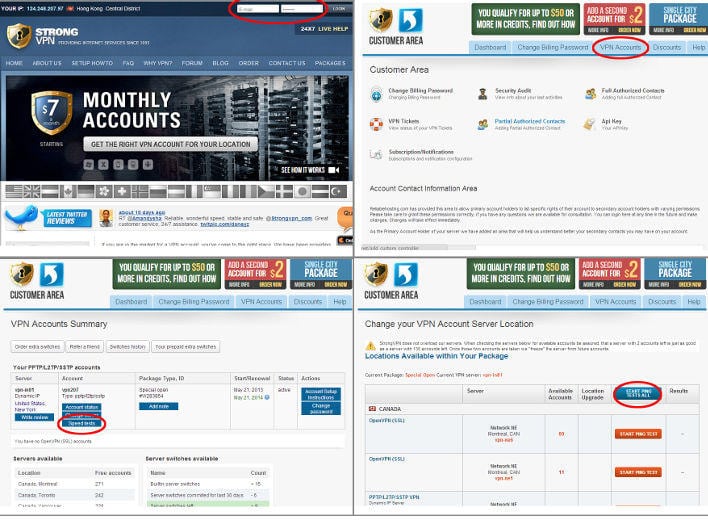 Optimizing my connection with StrongVPN
When you are at the place from which you are going to connect most frequently, go to the StrongVPN webpage, input your email and password, and enter the Customer Area.
After that, go to VPN Accounts –> VPN Accounts Summary and click on Speed Tests. Click on Start Ping test all (this will take a while), select the server that shows the smallest number and at the bottom of the page, click on Change Location (see the photo below for more details).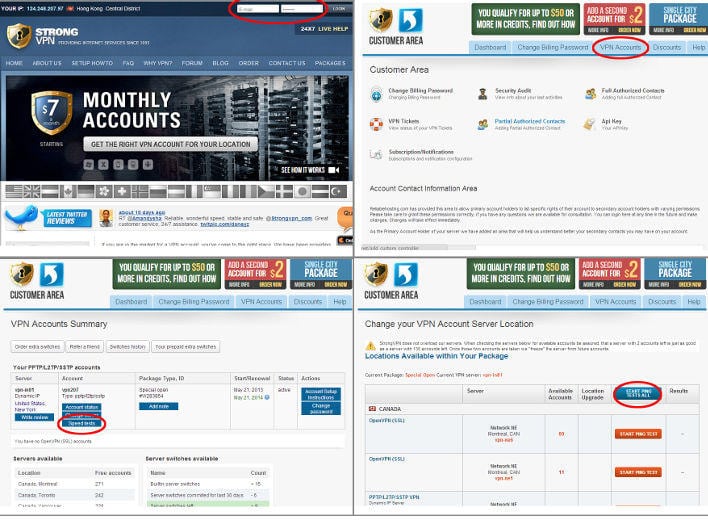 Optimizing my connection with StrongVPN
Click here to try StrongVPN