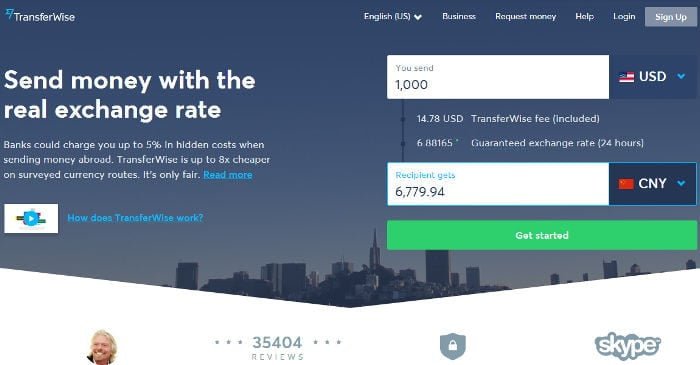 One of the most frequently heard problems of those who move to an Asian country such as Hong Kong, Thailand or Vietnam is that of sending the necessary money for initial expenses to their new country, without getting fleeced by the banks, who can make you pay up to 5% commission.
5% may seem "acceptable", but if you send 10.000 USD we're talking about a bank commission of 500 USD!
This goes not just for those who move for work, but above all for students, who not having a salary need to send the necessary funds from home to survive in their new country, such as Hong Kong for example, for the entire length of study (even six months or a year).
How can you solve this problem? By using TranserWise!
Ps. I lost a ton of money transferring it via wire transfers up until last year. The reason is that, even if I was aware of the existence of TransferWise, I never tried it because I thought it might be complicated and, moreover, I didn't understand how it worked.
This is why, at the end of this article, I will explain in detail both how to use the service and the strategy (all legal and safe) that TransferWise uses and similar platforms to lower costs.
What is TransferWise?
Simplifying it to the extreme, TranserWise is an online platform that allows you to send money abroad that could save you up to 8 times what you would spend on bank commissions sending the same amount via wire transfer or credit card.
TransferWise's commission is 0.5% for the majority of currencies; that commission can however increase depending on the currency.
To send USD from your bank account in US and receive Hong Kong Dollars in a Hong Kong bank account, for example, the commission is 0.5%.
If instead you wish to send Chinese Yuan in a bank account in China, the commission is 1.5%. Note that China is one of the countries with the highest commission, likely because the Chinese banking system is one of the most closed and complicated on the planet.
Important: Note that if want to transfer money in China, TransferWise only works if you send the money to a bank account opened using a Chinese ID card, not using a passport. This means that if the bank account was opened by a foreigner that lives in China, you can't use TransferWise.
Click here to find the commission rate for the currency you're interested in.
Even though I've tried to respond to the most common questions at the end of this article (especially the questions I was asking when I began using this service), the specific conditions can change depending on the country where you're sending the money from, where you're sending the money to, the method of payment used (credit card, wire transfer, etc) and other variables.
Here you'll find an extremely complete list of frequently asked questions on how to use TransferWise.
How do I sign up to use TransferWise?
All you have to do is go on TranserWise and open a free account by following the steps illustrated in the video above or, alternately, the following instructions:
Choose the currency in which you want to send money (such as "USD"), the currency in which you want to receive money (such as "CNY" – Chinese Yuan), and the amount you wish to send (such as "1.000" USD);
You can login through your Gmail, Facebook, or Paypal account or by inserting your email address and a password, and clicking on the blinking green button;
Fill in your personal data (name, date of birth, telephone, address, etc);
Decide where you want to send the money: you can send it to your foreign bank account (for example if you've already opened a bank account in the country where you've moved), the account of someone else (such as a friend's account in the country where you've moved in the even that you haven't yet opened an account), or a company if you intend to pay for a service in a foreign country;
Enter the receiver's information (name and bank details);
Pay for the transfer of the money you chose to send (via credit card or wire transfer). If you choose the "wire transfer" option, which is my favorite, you'll see the TransferWise bank account details appear (including the "reference number", which is important since it allows TransferWise to know that the money is yours);
Once you've sent your money to the bank account indicated by TransferWise, go back to the site and click on "I Sent Money on TransferWise". TransferWise will then send the money to the bank account you've specified as soon as they receive your wire transfer;
At this point you have to wait from 1 to 4 business days for your money to arrive (transfer times can vary depending on the country where you're sending the money). Note that you can check to see if your money arrived both on your TransferWise account (by logging in) or on the app (TransferWise offers an app, which is free, both for iOS and Android systems);
If you have doubts or problems, take a look at the section Frequently Asked Questions on the site or send a message to the TransferWise support team, who usually respond quickly!
Why do I save money with TransferWise?
If you have already tried to send money abroad (in a currency different than your own), you'll know that the banks use an unfavorable exchange rate (a little like they do at the money exchanges at the airport).
So, besides the fixed rate for the wire transfer (which is usually about 10-20 USD, depending on the bank and the country where you're sending the money), your bank will make you pay a "hidden" commission. This is why, as was already explained at the beginning of this article, you could pay up to 5% total commission.
TransferWise cuts those commissions by taking advantage of two factors:
They have many clients in all countries they service;
They have a bank account in the majority of countries in which they operate.
Let's say that tomorrow you want to send 10.000 USD to Hong Kong. If you use a traditional wire transfer, your bank will send the money directly to Hong Kong in a currency that's different than yours (Hong Kong Dollars), offering an unfavorable commission (compared to the official exchange rate).
TransferWise on the other hand, as was explained in the preceding section, allows you to send your money to their bank account in Europe (if you live in a country within the European Union), to their bank account in the United States (if you live in the U.S.), etc.
In this way, TransferWise receives your money without the banks applying a commission (since they receive the money in your same currency).
At this point, TransferWise sends the money in Hong Kong Dollars in the Hong Kong bank account you specified.
But, and here's he "secret", they do so by using their own Hong Kong bank account! So, even in this case, the banks can't charge any hidden commissions since there isn't any exchange of currency.
TransferWise makes you pay a commission (0.5%, in the majority of cases), because they obviously have to make something. However that commission is much less than what you'll pay in a traditional wire transfer.
Why is it that when using TransferWise the money arrives quicker than a normal wire transfer?
For the same reason illustrated in the preceding section: technically there isn't any international transaction, but rather two local transactions: you send your money to the TransferWise bank account in your country, and TransferWise then sends the money to the bank you indicate (in Hong Kong, for example), using their bank account in that country (like Hong Kong).
This method, besides saving you money, also saves you time (in most cases).
Note that the transfer times can vary between 1 to 4 business days depending on the countries of which you send and receive the money.
Sborto, who runs this site with me, just sent money from his bank account in Spain to the account in China of his wife, which is Chinese, through TransferWise: in his case the money got there in less than 24 hours.
Is it safe to send money to Asia through TransferWise?
TransferWise uses companies regulated according to the laws of the various countries in which they operate.
It also uses an HTTPS encryption system to protect your information and allows you to follow your money transfers but on its internet site and on its app, available for iOS and Android systems.
Personally I too transferred large amounts of money (last December I transferred more than 12.000 USD in just one transaction), and never had any problems.
In which Asian countries can you use TransferWise's services?
Since TransferWise operates through countries regulated according to the laws of each country, it can only operate in the countries that allow this type of transaction.
Here you'll find a complete list of countries from which (and in which) you can send money through TransferWise.
As far as China goes, at the moment it is possible to send money to China in all accounts that have a UnionPay card, that were opened using a Chinese ID card. The money can only be received in Chinese Yuan.
At the moment you can't send money from China to a foreign country.
Can I also use TransferWise for my business?
It depends on the country. Some countries allow the use of TransferWise even for "commercial" transfers (such as all countries of the European Union or Hong Kong), while others allow the use of TransferWise just for "personal" transactions.
Other than TransferWise, are there other similar services?
Yes, there are many such services. Here are a few: CurrencyFair, TransferGo, XE Trade, WorldFirst. Here on SDC we recommend TransferWise because it is one of the most widely used, because it allows you to send money to China (a detail not to be discounted) and, above all, because we have personally used it various times to send money from one country to another and never had any problems.
Other frequently asked questions
Is TransferWise cheaper than bank transfer?
Yes, it usually is. As mentioned, it can be up to 8 times cheaper. This is mainly due to the fact that banks add markups, charge you bad exchange rates, and more.
Is Transferwise faster than regular bank payments?
Yes, most transactions is done within 24 hours, and sometimes within seconds! Compare that with traditional banks, where transactions normally take 3-7 days.
Is TransferWise covered by FSCS?
It is not, and the reason is that Transferwise is an Electronic Money Institution, and not an official deposit taking bank institution. As such, your money is not guaranteed by FSCS.
Does TransferWise have a limit?
Transferwise has a limit of 199,999 US dollars per transfer per year for private persons, when sending money to the US. However, don't forget to check what your current bank's limits are.
Is TransferWise cheaper than PayPal?
Yes, Transferwise offers better exchange rates and the transaction fees are lower by comparison. Still, there are benefits of using PayPal, but we won't go into the details here.
Is TransferWise cheaper than Western Union?
It depends. Western Union charges a fixed fee of 5 US dollars, while Transferwise charges a percentage on the amount you transfer.
What are the benefits of using Transferwise?
Transferwise is famous for being easy to use and customer friendly. It takes you less than 5 minutes to sign up and make your first transaction. The exchange rates are significantly better than traditional banks and the transaction fees lower. Individuals can send up to $49,999 a day and $199,999 a year.
Where are TransferWise based?
Even if the founders are Estonians, Transferwise is currently based in London, UK.
Does TransferWise work in China?
China has introduced strict capital controls and you can only transfer a 500 US dollars a day out of China, without dealing with much paperwork and bureaucracy. I've been there myself, when I quit my job as an expat in 2016, and had to go to my bank (China Merchant Bank) every day to transfer 500 US dollars.
Chinese nationals, on the other hand, can send up to 50,000 US dollars a year, which is still pretty low, as the Chinese are keen buying overseas property, for example.
How can I transfer money with PayPal to Transferwise?
Go to Paypal.com and log in.
Select Wallet from the menu on PayPal.
Click 'Link a Card or Bank Account'.
Select the option "Add a Bank Account".
Choose your country.
Paypal Account is now ready to withdraw funds to Borderless!
Click Here to Immediately Open a Free Account on TransferWise