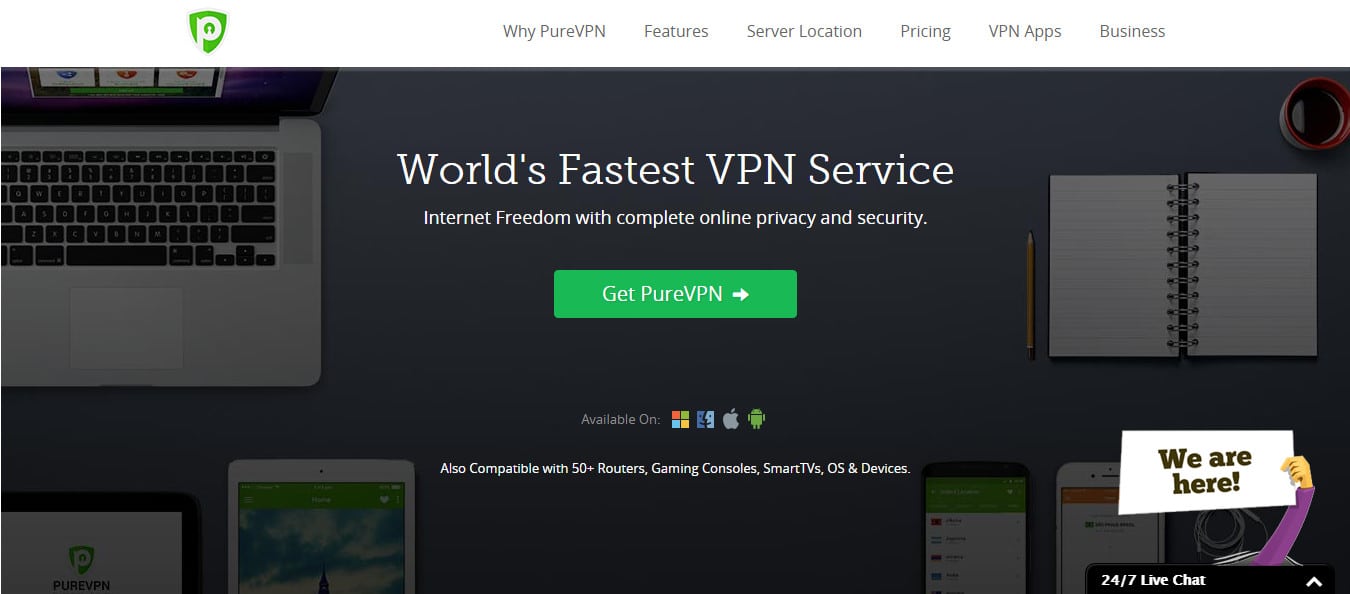 Recently, the use of VPNs is becoming more and more popular, most of all in countries where internet use restrictions exist, like China. Because of this, the number of companies offering these types of services has grown exponentially. Among these companies are many whose services are of doubtful quality and/or who include hidden services and clauses that are borderline illegal.
In this article, I am going to review PureVPN, a VPN that offers guarantees, is good quality, and has a very competitive quality and price.

PureVPN's guarantees
First of all, PureVPN offered guaranteed money back for 7 days, so you can try it and if you are not happy with the results, you can get them to return your money.
Second of all, and just as important, there are no hidden clauses or services. Personally, I have taken the time to read the whole Terms of Service (something that people never do and later on end up with surprises) and I have not found any weird clauses.
Why am I so worried about the Terms of Service? Maintaining a VPN is relatively expensive and what many companies have done is to greatly lower the price or even offer the service for free in exchange for obtaining benefits of another type. For example, there are companies that fill your browser with annoying ads, or even use your internet connection to sell bandwidth to other companies or customers, among many other things. Normally, this is specified in the Terms of Service, as that way, they avoid being reported for these practices.
Pros
The price: After having lived in China, I have had the "privilege" of having tried many VPNs, and as a result, I know how to tell a good VPN from a bad one. Of the many VPNs I have tried, PureVPN is one of the best as well as one of the cheapest.
Ease of use: PureVPN's software is designed to be easy to configure to optimize the connection depending on your use (secure connection, streaming, and speed, among other uses).
Number of servers: With more than 500 servers in 141 countries, PureVPN is one of the VPNs with the most servers on the market.
Personalization possibilities: While the software is designed in such a way that the least advanced users can use it, it also allows you to manually optimize your connection if you are a more advanced user (type of encryption protocol, IPv6 leak protection, Kill switch, DNS security, among others).
Simultaneous connections: Maybe one of the best things that PureVPN offers is the possibility of connecting up to five devices simultaneously. This is very useful if there are multiple computers, cell phones, and tablets in your house and you don't want to worry about connecting and disconnecting the VPN each time.
Cons
After-sale service: Even though the after-sale service is 24/7 and they normally respond quickly, in my experience, the technicians don't always efficiently resolve your problems and answer your questions. However, considering the price that you pay for the service, you can't expect the after-sale service to be perfect.
It's not the best VPN on the market: If you compare it to other VPNs, PureVPN is not the fastest, the most stable (it does not always hold up well to the Great Firewall of China), the most secure, or the one with the most servers. However, the VPNs with better services are also significantly more expensive.
Software errors: While PureVPN's software is well-designed to be intuitive, I have to admit that it is not perfect and at times, has given me errors (it has some bugs).
The add-ons are expensive: Although PureVPN has some very interesting extensions such as NAT Firewall (to improve security), Dedicated Streatming (increases connection speed) or Dedicated IP (so that your IP doesn't change every time you connect), the price of these add-ons is rather high (3 USD, 5 USD and 2USD per month respectively), and upon adding these to the base rate, it becomes a more expensive VPN than the others, which do include these services in the basic plan.
How to optimize the PureVPN connection
Open PureVPN software (don't use the beta version as in our experience it doesn't work properly) and insert your user name and password. Then go to the Settings tab and, in the Security section, select VPN Mode: Best of Both Worlds Mode and activate the IPv6 leak Protection.
At this point, go back to the Dashboard, select Protocol: Automatic –> Purpose Country: Optimum Anonymity/Security, then click on Quick Connect, choose a country in the map (only if needed) and, finally, click on Connect Now.
If there is any problem connecting the VPN, go back to the Dashboard and try one by one the different protocols (normally the OpenVPN should work). If it still doesn't work, go back to the Settings tab and select VPN Mode: High Security Mode.

Setting your PureVPN connection
Conclusion
If you are looking for a quality VPN that offers guarantees and that has be lowest price possible, without a doubt PureVPN should be your choice. However, if you don't mind paying a bit more money to get a VPN with better services, in this case, I recommend you read the articles where we review ExpressVPN and VyprVPN.
Click here to try PureVPN now