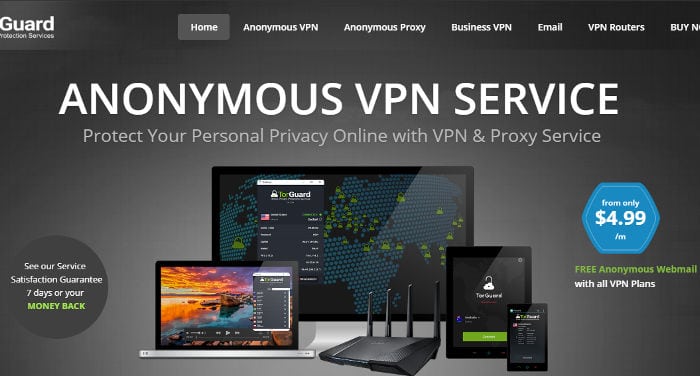 Update: TorGuard has stopped offering its server located in Mainland China due to new Chinese regulations on cyber security
TorGuard is one of the most robust VPN providers on the market. It has more than 20,000 IP addresses and well-designed stealth connections to get around the most powerful firewalls. It also offers intelligent DNS, encrypted email addresses, and of course, anonymous browsing.
In addition, TorGuard VPN has high-quality servers located in China that allow to access the Chinanet without restrictions from anywhere on the globe.
Features
Encryption protocols: PPTP, L2TP/IPSec, OpenVPN, no encryption (AES-256 bit encryption).
Simultaneous connections: 5 simultaneous connections per account (extra connections can be added for 1 USD per month).
Server count and location: 3000 servers in more than 55 countries.
Server changes: Unlimited.
Applications: Windows, Mac OS X, Debian, RedHat, Arch, iOS, DD-WRT, Tomato.
Trial period or guaranteed money back: There is no trial period, but there is a 7-day money back guarantee.
After-sale service: 24 hours a day all year round.
Extras: Add extra simultaneous connections (1 USD per month), OpenPGP email address encryption, stealth servers, a dedicated IP address (from 7.95 USD), DDOS protected IP (11.95 USD per month).
What I like the most about TorGuard VPN
Secure encryption protocols: TorGuard offers 4 encryption protocols: PPTP, L2TP/IPSec, OpenVPN, without encryption (AES-256 bit encryption) to adapt to user needs well (speed, anonymity, security).
Stealth VPN: The Stealth VPN helps to breach any firewall in the world (avoiding deep packet inspecting). This is very important to avoid internet use restrictions in countries like China.
5 simultaneous connections: You can connect up to 5 different devices simultaneously with your account, and can also buy more licenses.
What I don't like
No free trial: Although it offers guaranteed money back and its annual price is reasonable, the only way to try it is to purchase a one-month subscription at a minimum, which is expensive (compared to the annual price). In any event, the price is reasonable taking into account the VPN's technical features.
Performance in China could be improved: Despite the fact that the VPN works quite well in China, in our experience, its performance is still inferior to other VPNs with similar features.
Product information: I find the system of pricing and products to be quite confusing, as you don't know exactly which product you are buying.
How much does it cost and what option should I choose?
TorGuard has multiple rates Depending on the product and the billing cycle:
Monthly plan: The price to pay on a month-to-month basis is the following: VPN 9.99 USD; the anonymous proxy server costs 5.95 USD; the private anonymous email service costs 6.95 USD per month; and intelligent DNS 5.95 USD per month. If you want the Stealth VPN service, it costs 11.54 USD per month.
3-month plan: Includes the Stealth VPN and costs 19.99 USD (6.66 USD per month)
6-month plan: Includes the Stealth VPN and costs 29.99 USD (5 USD per month)
One-year plan: Includes the Stealth VPN and costs 59.99 USD (5 USD per month)
Two-year plan Includes the Stealth VPN and costs 99.99 USD (4.10 USD per month)
In addition to the three plans, it offers dedicated IP addresses starting at 7.99 USD per month.
We suggest not choosing monthly billing, as it's a lot more expensive than the other options. We also don't suggest using the proxy service, as a VPN is always more secure than a proxy.
Who do I recommend this VPN for?
TorGuard is a high quality and very versatile VPN with multiple extra options, so it is a VPN recommended for advanced users.
In addition, it is currently the VPN that we know that offers the cheapest dedicated IP address in the market. The dedicated IP allows a IP address that only is going to be used by one user, it is more difficult to detect and show less speed fluctuations.
Click here to try TorGuard VPN now!