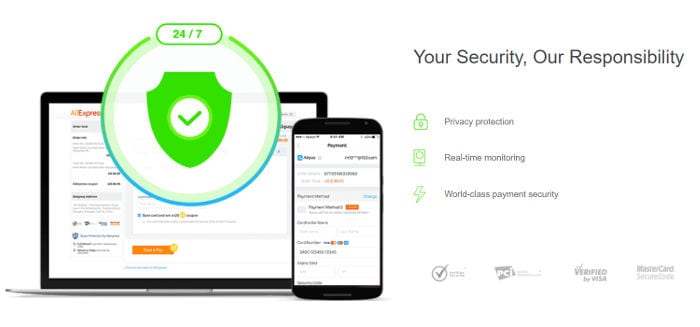 Banknotes seem destined to disappear in China: we've gotten to the point where even taxi drivers have begun refusing crumpled 10 Yuan bills at the end of a ride and shopkeepers raise their eyebrows as soon as you take out a 100 Yuan banknote because they don't have enough change to give you the rest.
Practically everywhere in China you can pay with 支付宝(Zhīfùbǎo), better known in the West as Alipay.
Alipay is a virtual payment platform launched in 2004 by the Chinese private firm Alibaba Group (阿里巴巴集团, Ālǐbābā Jítuán), founded by Jack Ma in 1999 with headquarters in Hangzhou, in the Zhejiang region.
The holding Alibaba Group is made up of various companies that operate in the electronic commerce sector: one of the first "children" of this large company was the online shopping platform Taobao, later Alipay was created, which was born from the need to give Taobao users a safe and practical method for making payments on this platform.
Entrepreneur Jack Ma, the firm's founder, was already placed in Time magazine's 100 most influential men in the world and is the second richest person in China as well as the thirty-ninth richest in the world. A few years after creating the Alibaba Group, Jack Ma described his company as "the crocodile of the Yangzi River", a strong winner in China, but still too insecure to extend its success beyond its own waters into the vast ocean of the West.
Alipay is the company's most popular payment service and by now has become an almost indispensable tool for anyone living in China, because it simplifies many of the chaotic aspects of living in a metropolis in this large country that is still growing economically.
It would seem that the "crocodile of the Yangzi River" is slowly coming out of its waters, arriving even as far as Europe. In Italy, for example, Alipay has literally "landed" at Rome's Fiumicino Airport in April 2017 to allow its numerous Chinese passengers in transit to be able to use its practical applications to make their Duty Free purchases.
What is Alipay and how does it work?
This is primarily a virtual payment platform that, protecting the consumer's privacy, allows you to make safe payments online similar to PayPal.
Alipay already cooperates with 65 financial institutions, among which are Visa and Mastercard, so if you already have a credit card all you have to do is download the Alipay app on your cell phone and register in a few simple steps. However, note that some of the functions only work if you use a Chinese credit (or debit) card.
Once you finish downloading the application, open it and proceed to the registration: you'll first be asked to enter your cell phone number, later you'll receive a message with a numeric code that you'll have to enter in the app to continue with your registration.
The Alipay home page will open, so now you will have to add your credit card: access your profile by clicking on "Me" and then click on "Bank Cards" and proceed with the compilation or requested information, such as credit card number and your name and last name. Later Alipay will ask you to also enter a password to allow you to make payments with this application.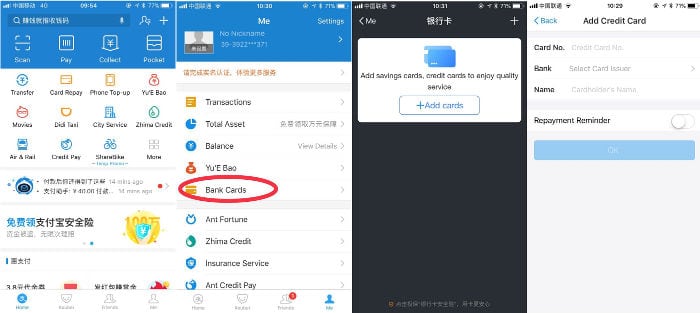 How to pay (or receive money) with Alipay
The application is very intuitive and the first useful buttons will be "Scan" and "Pay". The "Scan" button is for scanning QR codes: when paying at some stores and restaurants they'll ask you to scan their QR code on your phone to then enter the amount to pay along with your password to enable payment.
The "Pay" button, instead, will make a bar code appear on the display of your smartphone to show in restaurants and scanner-equipped stores for payment: it's a little like at supermarkets, your bar code will be scanned and without even having to enter your password the money will be directly transferred from your account.
It's incredible how everything happens with a simple "scan", even at the market, here in China, they almost never use the dear old banknotes and the 1 Kuai coins already seem like antique relics. But be careful because this method of payment can really cause you to lose track of the money you spend: each time I find it emotional to see that the payment went through without a problem!
This app has many other interesting uses, for example, the "Collect" button will open a new QR code to show people who owe you money. You can specify the amount that they owe you by clicking on "Specify an Amount" before having them scan your code or letting them enter the amount they have to pay you back.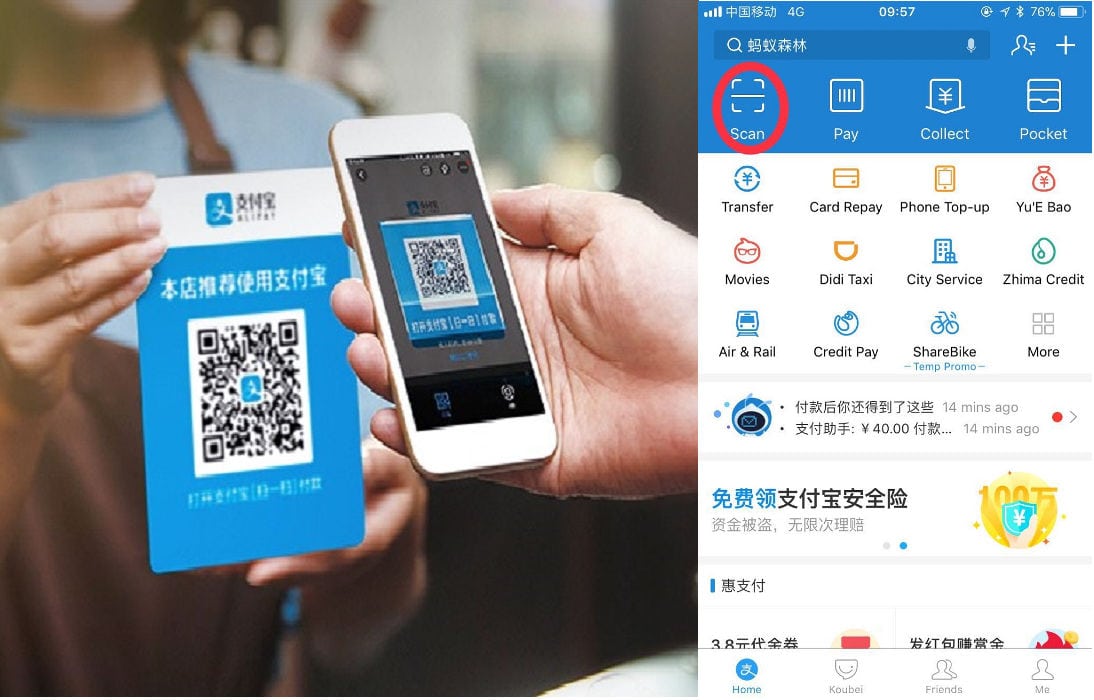 Alipay's other main functions
With the Alipay app you can also open a chat with friends: clicking on "Friends" will open up a page with your friends on Alipay, to add new friends it works similar to "Wechat", just scan the QR code of the person you want to add to your page. This chat is especially used for transferring money long distances by using the "Transfer" button inside the chat.
It seems a long time ago when I never had cash to repay my friend's money lent to buy a gift or a dinner: now there's no excuse so long as my bank account isn't in the red.
Proceeding on to explore other functions of the app, if you click on the "Me" button you can control your profile: inside our profile (a more sore point) clicking on "Transactions" we can see a history of transactions on Alipay, with a list of all the payments made.
The "Balance" button, still inside the profile page, indicates how much money is in your Alipay account: note that the application doesn't tell you how much money you have available on the credit card tied to Alipay, but only the money you have available in your Alipay account, a little like "WeChat Pay" by Wechat. For example, money sent from friends is collected in your app account.
Money can also easily be transferred from your Alipay account to your credit card, by first clicking on "Balance" and then "Withdraw", or vice versa, on the same screen, clicking on "Top Up" you can transfer money from the card to Alipay; a smart solution for keeping better control over your expenses with this application, since at present you can choose payment from Alipay or directly from the credit card.
Other interesting functions of Alipay
What I've listed above are just the primary functions of this app, but Alipay is also quite useful for lots of other reasons: through the application, you can take advantage of the "Didi Taxi" button for reserving and calling a taxi and then pay for it automatically with Alipay once you finish your ride, just indicate where you are and where you want to go in the app: thanks to a geo-locator like Google Maps the app will put you in contact with the nearest taxi.
With the same application it is also possible, conveniently from home, to buy airline tickets, movie or theater tickets or even have food sent home with Take Out, known in China as 饿了吗 (è le ma), which literally means "are you hungry?"
Opening the Take out category on Alipay you can see which restaurants and taverns are closest to you, find good sushi in the area or just satisfy a craving for Bubble Tea that's the latest rage in China. After choosing the drink or dish to add to your cart, you can move on to payment, if it's the first time you're ordering with this application you'll be asked to confirm your cell number with a code sent via SMS and insert your home address.
The app will lead you with a step-by-step map to your Bubble Tea or Chicken McNuggets down the street, your only job will be to respond to the messenger that will let you know that he's arrived with dinner. There are numerous functions of Alipay: just one application substitutes at least ten, for example you can also use the Bike Sharing service.
Moreover, just recently the Hangzhou Metro system, in Alibaba's hometown, you can pay for a ride on the metro with the Alipay app: say goodbye to tickets that you can't find in your pockets or bag when it's time to leave and those long waits at the machines to get those worn-out plastic cards.
They have installed QR scanners in 72 metro stations in Hangzhou at the entrance and exit booths: it's like having a metro card right on your phone, so if you find yourself in Hangzhou this link would be useful for learning how to get your metro card that never has to be recharged but withdraws money directly from your account at the metro exit.
Living in Hangzhou I tried this new method of payment right away and was impressed by the speed and practicality: soon this QR scanner at the entrances and exits of the metro will also be available in other Chinese cities.
Why choose Alipay?
WeChat Pay and Alipay are similar in many ways and have similar functions, so why use Alipay instead of the most popular social network in China?
It's simple: the platform provides a greater number of discounts, especially during the period of the Chinese New year, 春节 (Chūnjié) which falls around February, all stores and restaurants display QR codes for 红包 (Hóngbāo), the famous "red packages" containing money, a traditional gift during this holiday, now in a virtual version.
In China they are far more advanced than us when it comes to these "virtual" ways of payment: imagine that in China you can pay even just a few cents with these apps for a photocopy in a copy store without any additional costs, which is surreal considering that in Europe some stores always make you pay commissions when paying with a credit card for a sum less than 20 Euros.
Living in China for almost two years I can well say that Alipay has truly simplified many aspects of my daily life, I have kept my wallet forgotten in a box for months, but at the same time I increased my dependence on my phone, if the battery dies or it breaks, you're literally a goner!
Frequently asked questions
In what countries is Alipay available
Alipay is not only available in mainland China but has expanded to various countries since its launch. Being one of the highest-valued companies in the world, it's not strange. In addition to mainland China, you can find Alipay or partner-companies in Hong Kong SAR, Bangladesh, Japan, Singapore, South Korea, Vietnam, Australia, the US, Canada, and more.
What exchange-rates are used for cross-border payments?
According to Alipay's website, the current lists issued by partner banks show the exchange rates used. Generally, the exchange rates are updated on a daily basis. For more information, contact Alipay or any of their partner banks directly.
How many users does Alipay have?
Alipay has become an online payment giant and had 1.3 billion annual users as of June 2020. The company managed transactions worth around USD 17 trillion in mainland China alone and in just a year. With its overseas expansion and partners, the company is set to expand its user base.
What currencies are supported by Alipay?
Alipay currently supports the following currencies, according to Stripe, one of its partners:
CNY – Any country
AUD – Australia
CAD – Canada
EUR – Most EU countries
GBP – The UK
HKD – Hong Kong
JPY – Japan
MYR – Malaysia
NZD – New Zealand
SGD – Singapore
USD – United States
How is the process to sign up with Alipay?
The process to sign up with Alipay is fairly easy and can be divided into the following steps.
1. Download Alipay and sign up with your phone number: You can simply download the latest application on Alipay's website or through Apple Store or Google Play. You will then receive an application code.
2. Add your bank card: Tap on "Me" at the bottom of the right-hand side and then tap on "Bank Cards" inside the application. You can add a new card if you haven't done so before.
3. Enter your bank card information into the application: You must now enter your Chinese bank card number. Keep in mind that you cannot use a foreign bank card number. Fill in the remaining information required.
4. Confirm the phone number and other information: Confirm the information shown. This is important to avoid any payment issues later. You're now ready to go and you can start making payments!
How much is Alipay valued at?
According to CNBC, AliPay was valued at around USD 200 billion in July 2020, which is a significantly high number. By comparison, H&M is valued at around USD 14 billion, and Ford at around USD 27 billion.
Disclaimer
This website is not in any way affiliated with Alipay. Since it deals with a "sensitive" app (it in fact requires that you enter your personal bank information), use it cautiously (and at your own risk).