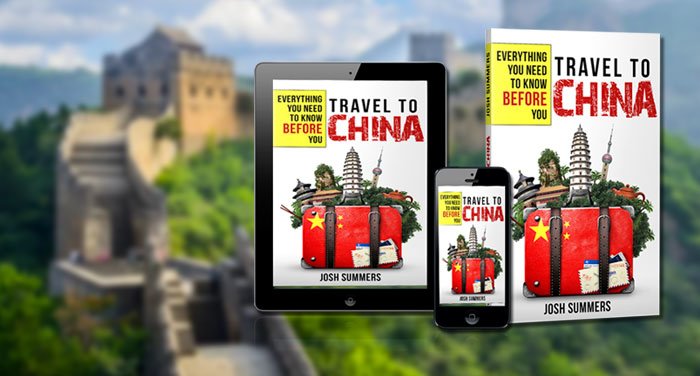 © Josh Summers
In this article I'm going to review Travel to China: Everything You Need to Know Before You Go, the new book (and ebook) written by Josh Summers.
Even though I have never personally met Josh, I know his website, Far West China, since 2012, as it's by far the most comprehensive website for people that want to travel to Xinjiang Province (and that's where I went in October 2012).
Since then, I have chatted with him a couple of times, and even interviewed him for SDC.
When he told me he published a new book about traveling to China, I went ahead and bought it on Amazon.com. Last week I found the time to read it during my trip from Ho Chi Minh to Hong Kong, and today I'm writing this short review.
What will you find in this book?
First of all, this is not a book where you will find information about any particular destination, i.e. do not expect the Lonely Planet.
This is a practical book, relatively short and to the point (around 206 pages) that will explain to you how to travel to China. Here a rough index of what you will find on it:
What to expect from a trip to China;
When you need a visa for China and how to get it;
How to prepare your trip (documents, vaccines, money, packing list, etc);
The different kind of accomodations;
Transportation systems in China;
Internet and mobile phones;
Suggestions on how to deal with the language;
Hospitals and travel insurance.
What do I like about this book?
I like the fact that it was written based on information collected this year, by somebody that knows China in and out, and lives a "normal" life in this country.
This may seem obvious, but believe me, it's not.
I read pretty much every "travel to China", "live in China", or "work in China" book that has been published during the last 15 years. I did so because, when it comes to China, I'm always curious, eager to learn more, and interested in different points of view.
And the problem is that most of these books are either completely outdated (China changes FAST), or target high end expats that live in a service apartment in San Li Tun, paid by their company back in US (which was common in the past, but now it's rather the exception, and thus is not relevant to most people).
I like the fact that Josh is an extremely analytic person (a bit like me), and thus breaks down each step of each procedure (for instance on how to get a visa exemption, or how to get a Chinese SIM card), in a way that is easy to understand.
Because, see, China is counter intuitive.
You might think that ordering food in a restaurant is difficult, because you don't speak Chinese. However, you will see that many restaurants include photos of the food in their menus (or even offer menus in English, in the most touristic spots).
And Chinese people are full or resources… if you don't understand, they will probably bring you to the kitchen and let you point at the food you want (it happened to me many times, in rural China).
Conversely, you might think that updating your Instagram account will be easy, as after all you will just need a wi-fi connection…. until you discover that it's blocked and you need a special software, called VPN, to access it.
I like the fact that he wrote this book with the goal or giving you a clear idea of what you will find once you land into China, and most important, he succeeded in his goal.
I like the fact that the book is short and to the point. As I said, I read it all in 3 hours, during my flight.
I like the fact that he rarely gets into the trap of "China clichés".
Finally, I like the fact that it's relatively cheap.
How could the book be improved?
As I said, the book is well-written and well-structured. And, unless you start to get into the specific of each destinations (what to see in Beijing, what hotel to book in Shanghai, etc), I think it covers all the main points.
The most important thing, in China, is that everything changes fast. Thus, it's important to update such a books at least once per year (but I guess Josh is aware of this point, and already planned to do so).
So, if you are still interested, you can grab your copy of the book (or ebook) on Amazon.com