This page is dedicated to my favorite Chinese movies.
Ocean Heaven (海洋天堂, Hǎiyáng Tiāntáng)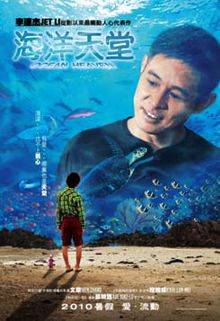 Ocean Heaven is a 2010 Chinese-Hong Kong drama directed by Xue Xiaolu.
Sam Wong has a terminal sickness and is going to die soon. Even if he has accepted it, he's worried for his son, Dafu, who is a 21 year old autistic guy. Sam works in an aquarium and, since his wife died fourteen years before, he has to look after his son alone.
Sam's deepest fear is that Dafu won't be able to look after for himself after he will die. Hence he's trying to teach to his soon how to learn the essential everyday tasks so that he will be able to survive once he will be alone.
An important part of the story is devoted to show the help that Sam and Dafu get from their community. In China there isn't the state welfare that you can get in Europe or Japan, so people learned how to take care of each other.
This is one of the few movies in Chinese that I was able to completely understand without English subtitles. The reason is that there isn't much dialogue going on. It's all about body language and face expressions.
Even if it's a sad story, Ocean Heaven does end up with an optimistic view of the future. But you have to watch the movie to discover it ; )
The Story of Qiu Ju (秋菊打官司, Qiū Jú dǎ guān sī)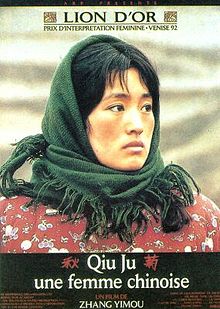 The story of Qiu Ju, a 1992 Chinese movie directed by Zhang Yimou, is an adaptation of the Chen Yuanbin's novel The Wan Family's Lawsuit.
The movie describes how Qiu Ju, a peasant interpreted by the beautiful Gong Li, travels from the countryside to a nearby town to obtain justice after that his husband got kicked right on his balls by the village head, who doesn't want apologize. But she doesn't get any results and, even if she's pregnant, Qiu Ju travels to Beijing to challenge the most tangled bureaucracy of the Earth: the bureaucracy of the capital of China.
I loved Qiu Ju and her stubbornness since the first time I watched the movie, many years ago. However, it has only been after I survived to the Chinese bureaucracy myself that I fully appreciated her courage. Also, I believe that the make up artist of this movie did a great job "transforming" Gong Li in a peasant!
Eat Drink Man Woman (饮食男女, Yǐn Shí Nán Nǚ)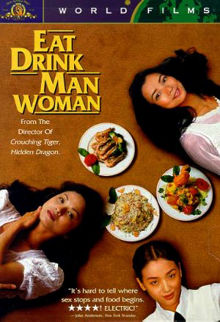 Eat Drink Man Woman is a 1994 Taiwanese film directed by Ang Lee.
Master chef Chu is a widower that works at the Taiwan Grand Hotel. He likes to organize sumptuous Sunday banquets for her three daughters. However, as the story progresses we understand that the girls are put off by this ceremony that they perceive as too traditional.
The movie, as the title suggests, has two main topics: food and sex. Ang Lee shows us several scenes of chef Chu busy in the kitchen and, at the same time, tells us the stories of the three girls. There is Jia Ning, who has several relationships and finally becomes pregnant; Jia Chen, a career woman that starts a relationship with a colleague and would love to become chef herself; and Jia Jen, the first-born, a sexual repressed teacher that at end becomes attracted to a gym coach that works at her same school.
What I really like about Eat Drink Man Woman is the way the main characters change as the story evolves, a bit as in American Beauty, the movie with Kevin Spacey.
Summer Palace (颐和园, Yíhé Yuán)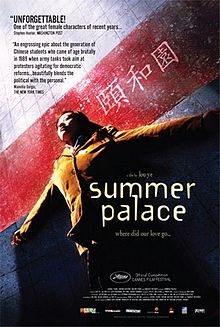 Summer Palace, a 2006 Chinese movie directed by Lou Ye, tells the story of Hao Lei, who leaves her small town for studying at "Beiqing" University (a fake name that remembers both Beida and Tsinghua, the two most important universities of China). The story flows among a tempestuous love, interrupted friendships and irrelevant lovers in the backdrop of the Tian An Men Square students riot.
I especially recommend the movie to who wants to know more about Chinese students life and to who, as me, lived it but never had the possibility to enter the female dorms, which are (sadly) forbidden to the guys.
The movie was quite controversial in China because of its sex scenes and the political tone, which however always stays on the background. After being presented to the Cannes Film Festival without the approval of the government, Summer Palace was banned in China and Lou Ye was censured for five years.
Raise the Red Lantern (大红灯笼高高挂, Dà hóng dēnglóng gāogāo guà)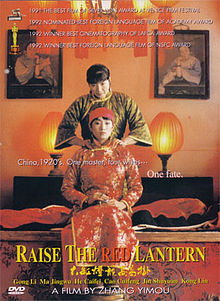 Raise the Red Lantern, a 1991 Chinese movie directed by Zhang Yimou, is an adaptation of Su Tong's novel Wives and Concubines.
The story is set some years before the Chinese civil war that started on 1927. The nineteen years old Songlian, interpreted by Gong Li, is forced to get married with the rich Chen Zuoqian when her father dies letting his family on bankruptcy. She becomes then the forth wife (or mistress, 四太太, Sì tàitai, as she's called on the movie) of Master Chen. When she arrives at the palace, Songlian is welcomed as a queen. However, she will discover very soon that not all the mistresses receive the same treatment: only the one with whom the Master decides to spend the night…
Raise the Red Lantern is a harsh movie that describes the fight between concubines to gain the approval of the Master between fake smiles, imaginary pregnancies, continuous betrayals and exasperate punishments.
Someone sees in Raise the Red Lantern a critique to the modern Chinese society. I cannot tell whether this is true or not. However having a hidden "second wife" (二奶, èrnăi) is still a common practice among the rich Chinese people (see my article Prostitution in China for the details).
The Flowers of War (金陵十三钗, Jīnlíng shísān chāi)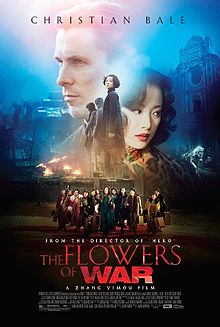 The Flowers of War, a 2011 Chinese movie directed by Zhang Yimou, is an adaptation of Geling Yan's novel Thirteen Flowers of Nanjing.
The movie tells of the arrival of a group of prostitutes to a convent. They are escaping from the Japanese troupes during "the rape of Nanjing." The cohabitation with the children locked on the convent is quite difficult but the main male character, an American that is also hiding from the Japanese, seems quite happy for the surprise…
I watched the movie mostly because here in China there was a huge advertising campaign about the movie and I got curious. Also, the story that preceded the movie was quite cool (probably it was also part of the marketing strategy). It seems that Zhang Yimou selected fifteen common girls and "locked" them together for a month so that they could establish the necessary feeling to play the "brothel comrades."
After watching The Flowers of War, I must say that the tactic was successful.
If I have to move a critique to the movie, I would say that there was no reason to use an American as main character.
In the Mood for Love (花樣年華, Fa yeung nin wa (cantonese))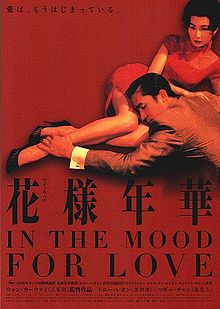 In the Mood for Love, a 2000 Hong Kong movie directed by Wong Kar-wai, is set in Hong Kong in 1962. Chow Mo-wan, journalist, lives in the same building of Su Li-zhen, secretary. They are both married with a partner that is always out working. Hence they spend most of their time alone. The director transmits this feeling of loneliness by often framing them eating alone.
With the time, Kar-wai and Li-zhen become friends and conclude that their respective partners became lovers longtime ago. They then start to fantasize about how their spouses affair might have began…
In the Mood for Love is one of those movies where almost nothing happens. However the music, the settings and Li-zhen gait ravish you, forcing you to follow the story to the end and letting you unfailingly unsatisfied.
Also, I think that this movie summarizes quite well how Asian people see love: you should be willing to sacrifice yourself for the well-being of your partner and community rather than going after your own fulfillment and happiness.
Lust, Caution (色,戒, Sè, Jiè)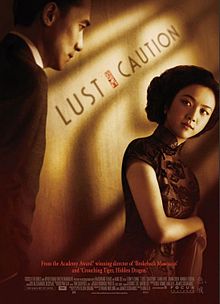 Lust, Caution, a 2007 Chinese thriller directed by Ang Lee, is an adaptation of Ailing Zhang's novel Lust, Caution.
The story is set during the occupation of the Japanese army. Wong Chia Chi, a shy student from Shanghai, arrives to Hong Kong in 1938 to study at Lingnan University. She gets involved in a patriotic group that wants to kill Mr Yee, a special agent recruited by the puppet government set up by the Japanese.
Chia Chi becomes then Mrs. Mai, the wife of a Hong Kong treader, with the intention of insinuate herself in the social circle of Mrs. Yee and seduce her husband. The plan fails when Mr. Yee has to come back to Shanghai.
Three years later, after Chia Chi is also back to Shanghai, she meets again with Mr. Yee…
Up the Yangtze (向上生长, Xiàng​shàng Shēng​zhǎng)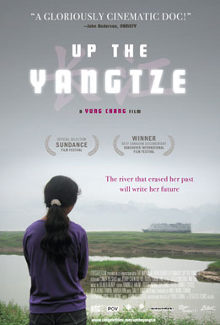 Up the Yangtze is a 2007 Chinese documentary directed by Yung Chang. It tells the story of Yu Shui, a sixteen year old girl that leaves her family – who lives near the Yangtze river, – to work in a cruise ships that targets rich (and fat) Western tourists.
The other main character of the movie is Chen Bo Yu, a nineteen year old guy that comes from a more well-off family and is trying to make a living as a singer in the cruises.
Through the adventures of Yu Shui and Chen Bo Yu, the movie tells us the story of the families that saw their houses and lands flooded during the construction of the Three Gorges Dam and had to move far away.
The other social theme raised by Up the Yangtze is concerned with the transition of China from a rural economy to mass tourism.
Farewell my Concubine (霸王别姬, Bàwáng Bié Jī)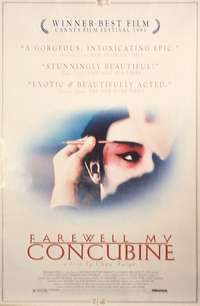 Farewell my Concubine, a 1993 Chinese drama directed by Chen Kaige, is an adaptation by Lilian Lee's novel Farewell my Concubine and so far it's the only Chinese movie that was able to win the Cannes Festival.
The movie tells the story of Dieyi and Xiaolou, the stars of Beijing's opera tragedy "Farewell my Concubine," on the background of the Chinese history of the 20th century: the invasion of the Japanese army, the end of the second world war and the arrival of the Communists in 1949. Dieyi and Xiaolou meet when they are children and, during the years, live a deep friendship and a turbulent homosexual love story, ending up betraying each other when, during the cultural revolution, the Beijing Opera is banned.
Shanghai Calling
Shanghai Calling is a 2012 American romantic-comedy, directed by Daniel Hsia.
In the movie, you follow a Chinese-American lawyer, Sam, who struggles with a culture-shock when being relocated from New York to Shanghai. You'll also follow other Americans who come from different backgrounds and ended up in the city.
While in Shanghai, he comes across different issues and legal problems with the brink of ruining his career. Thankfully, he meets a foreign businessman with connections, a journalist, street-smart assistant, and most importantly a pretty relocation specialist who comes for his aide.
During his time in Shanghai, Sam finds romance, start to appreciate Shanghai more and more, and eventually finds love. You should watch this movie if you have ever traveled to or lived in Shanghai and fell in love with the city!
Crouching Tiger, Hidden Dragon
Crouching Tiger, Hidden Dragon is a 2000 movie directed by Ang Lee. It's based on the book Crouching Tiger, Hidden Dragon, written by Wang Dulu.
It's a martial arts movie with much action and special effects and where we follow the martial arts master Li Mu Bai (Chow Yun-Fat) who's about to retire and dedicate his life to meditation. Yet, he can't let his mind go of avenging the death of his master, who Jade Fox (Cheng Pei-Pei) killed.
Li later moves to Beijing and finds Jen, a thief who's in cahoots with the evil Jade. Jen has good fighter skills that are soon recognized by Li and he decides to teach her in selflessness and martial arts. The movie has won many awards and was a favorite during the Academy Awards nominations in 2001.
The movie won for Best Cinematography, Score, Art Direction, and Foreign Language Film.
Red Sorghum
Red Sorghum is a 1988 Chinese movie directed by Zhang Yimou and originally a novel written by the Nobel laureate Mo Yan.
The movie takes place in the northern Chinese province of Shandong in the 1920s to the early 1930s where a young bride. In the movie, she's about to get married to a sick owner of a wine distillery but faces numerous challenges.
She manages to avoid abduction, rape, becomes seduced, takes over her husband's business, gets captured by the Japanese, and finally manages to escape the cruel ship by the Japanese during the war in Manchuria.
Li Gong, one of the most famous Chinese actresses of all time, plays in the movie along with the internationally acclaimed director and actors, Jiang Wen. The movie has won many awards, including 'Top Ten Chinese Language Films' during the Hong Kong International Film Festival, 1989.
Ip Man
Ip Man is an action-drama movie from 2009 and widely popular among the international audience. In short, the movie is about Wing Chun grandmaster Ip who has a lot of money, an astonishing wife, the best house in town, and a great martial arts academy in the city of Foshan.
However, later the Japanese army occupied the hometown in 1937 and he, along with the other locals, had to undergo harsh punishments and forced labor. They also have to participate in fights with each other, watched by the Japanese soldiers.
Thanks to his great skills, Ip soon gets attention from a Japanese Colonel called Mr. Miura who requests Ip to teach Wing Chun to his army. Yet, Ip refuses this and meets numerous challenges to his honor and training.
Chungking Express
Chungking Express is a 1994 comedy-drama film, written and directed by Wong Kar-wai. It's an internationally acclaimed movie where we follow two different stories told in sequence. The first story is about a cop, played by Takeshi Kaneshiro, who encounters a drug smuggler (Brigitte Lin) after becoming obsessed with a breakup.
The second story is about Tony Leung who plays a police officer who meets a quirky snack bar worker (Faye Wong) after grieving his dead flight attendant girlfriend. The name of the movie refers to Chungking Mansion, a famous building in the area of Tsi Sha Tsui where Wong grew up.
Express, on the other hand, refers to the food stand called Midnight Express in Lan Kwai Fong, Hong Kong Island.
Chungking Express is a movie you shouldn't miss to watch as it's one of the most acclaimed.
This post is dedicated to Memole and Tia Leti who handed down to me their passion for Asian movies.
Credits for the images: Wikipedia.
What's your favorite Chinese movie?
Photo Credits: Photos from Wikipedia.org