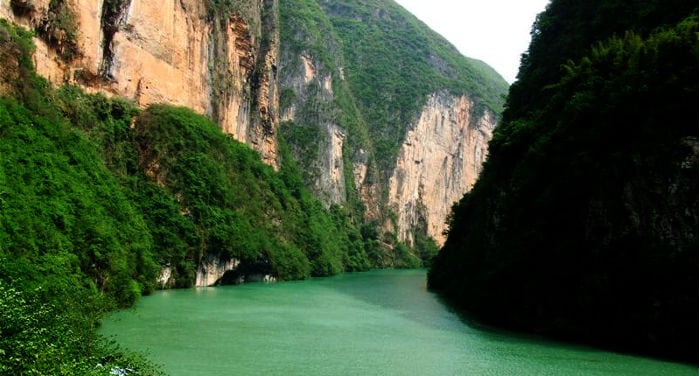 Lesser Three Gorges Boat Trip032 by Paul B Doherty
The capital of Hubei Province (湖北) is Wuhan (武汉). The abbreviated name for Hubei Province is 鄂 (E), a character mostly used on car license plates. The presence of the character 北 (bei) "north" shouldn't fool you, since Hubei is a province in central China.
The name comes from the fact that it's located north of the large and deep Dongting Lake (洞庭), just like Hunan (湖南) because, as opposed to Hubei, it's located south of Dongting Lake. On one shore of Dongting Lake there's the famous Yueyang Lou (岳阳楼), "Yueuang Tower".
Note too that the really ancient State of Chu (楚) is located in Hubei.
Why visit Hubei Province?
Some time ago, the general image of China was a place full of lakes, rivers, mountains, forests, animals, Chinese with straw hats on board little boats, and so on.
Well, Hubei is certainly one of the most fertile and lush Chinese provinces, thanks to the countless rivers and lakes to be found there. The most important river that goes through Hubei is Changjiang (长江), the "Long River", known in the West as the Yangzi or, Yangtze depending on the old phonetic transcription from Wade-Giles.
Although the literal translation of Changjiang is "Long River", it's conventionally called "Blue River" because there are clay-like substances present that allows it to reflect the blue of the sky like a mirror. The Changjiang is the longest river in Asia, and the third-longest in the world, surpassed only by the Amazon and Nile Rivers.
Although nature has an important role in Hubei, modernity has not failed to reach this wonderful province, with all the pros and cons that this brings. [Read more…]