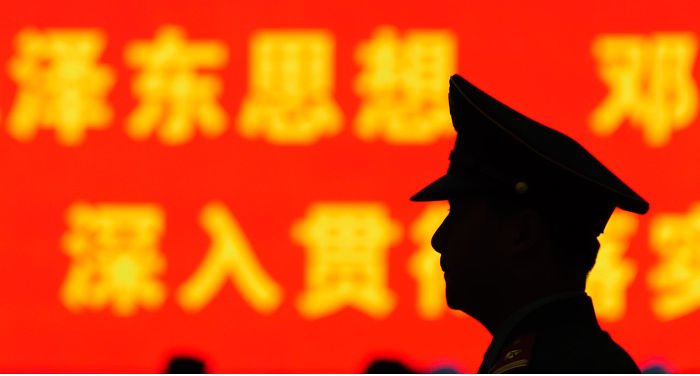 His life
A Yi 阿乙, pseudonym for Ai Guozhu 艾国柱, was born in 1976 in Ruichang 瑞昌, a county city in the province of Jiangxi 江西, in eastern China. Since he was little he always had a passion for writing, an idea that was not shared by his parents – especially his father – who wanted him to be a policeman.
After graduation, not getting a good enough grade on the gaokao 高考 (the final exam that give access to Chinese universities) so as to enroll in the university, he was forced to enroll in the Police Academy.
Once finished with the Academy he started working as a policeman, but this was never his dream. In his birth city he worked as a policeman for five years to then be transferred to the Central Department for Organization, working as a civil servant.
Later he worked as a literary journalist and then, after deciding to leave his hometown – because he had no success there and felt blocked and inhibited – going against the will of his parents, at 26 years old he moved to work at the Zhengzhou Wanbao 郑州晚报 (Zhengzhou Evening News) as a sports editor. He then changed jobs once again, this time definitively launching his career in the literary world as a professional writer.
These days A Yi is a still a little-studied author, perhaps because his themes are a little strong such as death, the fleeting nature of life and cruelty, which are not exactly part of a canonical list of literary genres.
The rest of his works can't be considered as mere police genre since the emphasis is not on how the police solve the case, but rather what brings the murderer to take such reprehensible actions.
He is still an author who has had little success compared to other colossuses in modern contemporary literature such as Cao Wenxuan 曹文轩 (born in 1954), in 2016 winner of the Hans Christian Andersen literary prize or the already famous Yu Hua 余华 (born in 1960) and Mo Yan 莫言 (born in 1955).
Despite this, A Yi is considered among the top twenty most important authors of contemporary Chinese literature and has additionally been listed as one of the nine authors who have not only had success in the number of books sold, but also on the basis of the impact that they've had on the reading public and an attentive evaluation and literary-stylistic analysis by experts and critics.
He was able to achieve this recognition thanks to the publication of his novel Zaoshang jiu dian jiaoxing wo 早上九点叫醒我 (Wake me at Nine in the Morning), translated into Italian by Paolo Magagnin in 2017. In 2012 he was awarded various prizes such as best talent and best Chinese writer of the year.
He has read and been inspired by many well-known writers from Camus to Sartre, from Kafka to Kundera, from Tolstoj to Dostoevskij and so on. Among the most capable writers, you'll surely recognize Jorge Luis Borges (1899-1986) and Gabriel García Márquez (1927-2014).
Although he was never passionate about being a policeman, he also took inspiration from this experience in many of his works and it could be considered a real launching pad for his flight into the literary world.
As an eyewitness, he always had dealings with cadavers, murders and judicial cases and perhaps his choice of these powerful themes was not an accident but it seems rather inevitable.
In 2008 his first work was published Hui gushi 灰故事 (Gray Stories), which is a collection of thirty short stories. Other than his profession as a writer, A Yi also enjoys publishing articles and stories in various Chinese literary magazines like Renmin Wenxue 人民文学 (Literature of the People), Tian Nan 天南 (Chutzpah), with whom he also collaborates with today, and even Tie hulu 贴葫芦, known in English by the name Iron Gourd, by the publishing house Xiron.
His most representative works
早上九点叫醒我 (Zaoshang jiu dian jiaoxing wo) "Wake Me at Nine in the Morning)"
Wake Me at Nine in the Morning is the first – and perhaps last – long novel by A Yi, who has already drawn not just a little attention from crime novel readers. A Yi chose this title after reading an interview from Jorge Luis Borges, the famous Argentinean writer, who said that he would have liked to write a short novel with the title Wake Me at Nine in the Morning.
The name of the main character is a certain Hongyang 宏阳, a mob boss, who for years had the country village of Aijiawan 艾家湾 in Jiangxi, in Southeastern China and its border regions, in his grip. He is then found dead the next day by his wife at a very lavish banquet.
The timeline of the narration takes place over four days, where the strong semantic impact is in the burial scene, steeped in cultural references with the ensuing funeral procession accompanied by displays of crying and pain described in a satirical vein.
The title also refers to the fact that Hongyang exhorts his wife to wake him up the next morning at nine AM when instead, she discovers that her husband is dead, perhaps because of drinking too much the night before at a lavish banquet.
Moreover, here the reader can immerse themselves in the details of the Chinese countryside – specifically the customs of southern China – from which emerges a slice of local life that's rather obscure and little covered by other writers, which seems more real than reality itself, or using a Chinese expression xuxurusheng 栩栩如生. We're then able to reconstruct an image of the political conditions in Chinese villages.
The skill of an author like A Yi is also in managing to introduce us to Hongyang through a series of events as a courageous, violent, libidinous, snobby person, and much more.
This novel is rather peculiar because there's no actual main character, but several characters with different roles, which allows us to define the novel as a fudiao xiashuo 复调小说. With fudiao, a musical term, it refers to the coexistence of several voices within a novel whose plot can't help but become fragmented. This novel's approach is found in the works of world famous authors like Kundera (n. 1929) and Faulkner (1897-1962).
下面,我该干些什么 (Xiamian, Wo gai gan xie shenme) "A Perfect Crime"
This short novel by A Yi – just 122 pages and sixteen chapters – has received noticeable international success since its publication in 2012. The main character is a nineteen year old boy who doesn't know his first or last name – narrated in the first person – who one day sets a trap for his classmate Kong Jie 孔洁, killing her in a macabre way with a good 37 stab wounds then putting her inside a washing machine, filling the bucket halfway with dripping blood.
After this the boy makes an escape plan that goes well until he decides to hand himself over to the police, and after a long court trial, he is condemned to death to the exclusion of political rights. As the protagonist repeatedly justifies, he acted out of boredom, because according to him life was tremendously boring and not knowing what to do he decided to kill his classmate. In addition, in his eyes people show themselves to be false and the world seems to be a paradise lost where the only way to blow off steam is to kill someone.
What A Yi seeks to transmit with this novel is the nihilism present in society, a sense of the absurd and the nothingness of life; there is no moral lesson in this novel or admonition of modern man. The original title was Mao he laoshu 猫和老鼠 (The cat and the mouse) to emphasize once again the protagonist's intent to play cat and mouse, motivated by boredom.
Then the title was changed to 下面,我该干些什么 which refers to the prologue of Clockwork Orange, the 1971 film directed by Stanley Kubrick (1928-1999). The game, motivated by boredom, essentially consists of the killing of Kong Jie, fleeing to be tracked down by the police who, unable to catch him, induce him to turn himself in, putting an end to the game that he enjoyed so much.
A Yi was strongly influenced during its writing by two western pieces: The Foreigner by Albert Camus (1913-1960) and The Lady of the Camellias by Alexandre Dumas (1824-1895).
The collection 鸟看见我了(Niao kanjian wo le) "The Bird Saw Me"
All the short novels in this collection – ten in total – published in 2011 have one characteristic in common: they deal with murders, bloodshed and investigations. The collections are similar to popular narrative or legal literature. Something similar about all these novels is that they're set in small cities or villages and the characters are usually policemen, prostitutes, teachers in desperate life situations, criminals and crazy people.
Among the short novels there's Ba He 巴赫 (Ba He) and Qingrenjie baozha an 情人节爆炸案 (Explosion at San Valentino) which both contain the characteristic element of deceit known as qipian 欺骗. In Ba He it tells of the disappearance of retired gym teacher. The narrative is as cold and dry as those found in newspaper crime columns.
This brief novel has about 40 pages, but the reveal only takes place in the last ten pages, so the reader remains in breathless suspense for practically the whole story, where in the beginning you can't tell what the plot is: the reader is almost pushed to breathlessly search for news that could undermine the development of the narration.
Consequently only at the end do you realize that the novel is about love and characters whose human nature is inhibited, blocked as if they were incapable of action. With Qingrenjie baozha an, you can say that it's another short novel of about 50 pages, where as usual you can't identify the plot's direction of events and the reader is forced to read up until the last four pages to fully understand the full general sense that the story seeks to transmit.
In Niao kanjian wo le 鸟看见我了 – which other than being the title of the collection, is also the title of a short novel – and Liang sheng 两生 (Double Life), you can still find a few typical expressions of the vernacular and at times the periods are very long and complex as in Xianzhi 先知 (The Prophet).
In the beginning of the novel Yinshi 隐士 (The Hermit) it describes typical village scenes in clear and dry language; in the second half there's a sort of monologue by the hermit, who disappointed by love, goes crazy. The presence of an immense power, which leaves the reader's mouths open, allows them to understand the character's spirit and nature through shallowness and madness.
Yiwai sharen shijian 意外杀人事件 (Unexpected Murders) tells of a true story that happened when A Yi was a policeman in Ruichang 瑞昌 in Jiangxi 江西, in Southeastern China when one day a farmer killed seven people. A Yi, having personally witnessed the ordeal, was inspired by the event, and we find the murderous chain of events that characterize the affair.
There's no one main character in this novel, but rather six – one for each chapter – and then in the last chapter they pull the thread of the subject of the murders that shake the quiet and security of Hongwu County 红乌.
Among the various characters we think of are the supermarket owner, Zhao Facai, a licentious and libidinous prostitue, Jin Qinhua, who assumes the appearance of a divinity, Lang Gou, ex-boss of Hongwu County, a young character who has the same original name as A Yi or Ai Guozhu and lastly, Li Jixi, the one who wreaks terror in Hongwu County and unexpectedly reaps six victims – the reason behind the title – after having lost three thousand Yuan that he needed to go to a private clinic to cure his impotence. After not being able to expose what happened, he goes crazy and kills – it would seem without any real motive – anyone who crosses his path.
The novella closes with all the inhabitants of Hongwu who, after a night full of unexpected murders and frightened by this unknown serial killer, are holding their wives and children so as to protect them.
模范青年 (Mofan qingnian) "Model Youth"
Unlike all the other publications, this is his first autobiographical novel where the history, characters and setting first of all are in the first person and aren't motivated by a work experience, but rather his own life being recounted.
The novel was published for the first time in the magazine Renmin wenxue 人民文学 (Literature of the People) November 20, 2011 and later in July 2012 by the publishing house Haitun shuguan 海豚书馆.
The author himself, A Yi, and his friend Zhou Qiyuan 周琪源 are the protagonists of this novel. In the book's nineteen chapters the reader gets to know the two characters and their lives which emerge into a constant comparison between their completely opposite lifestyles.
A Yi is always looking for a purpose in his life while Zhou Qiyuan is described by the author as the solitary type, studious with a well-defined life where he knows what he wants and how to get it. We're therefore in the presence of a continuous comparison between the restlessness of A Yi and the loneliness and determination of Zhou Qiyuan.
However the death of Zhou Qiyuan has a crucial impact on the author, who for the first time finds himself facing the pain caused by death and as a result touches on the precariousness of his own life.
Photo Credits:

Silhouette by Johnathan Nightingale