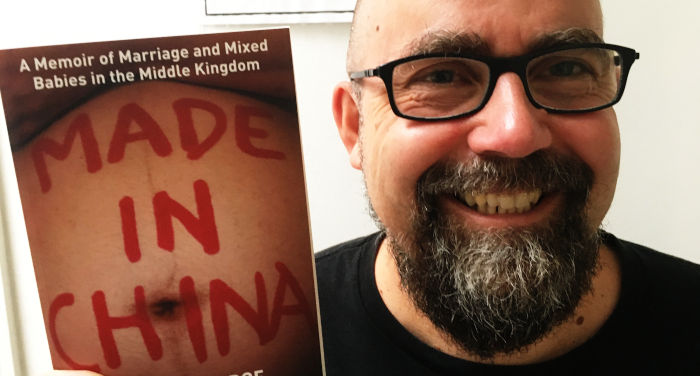 Today is an honor for me to interview Simon Gjeroe, a Danish long-time ex-pat and he has written articles and books on Chinese travel, food, culture, history, and politics.
Simon lived in China from 1995 to 1998 and again from 2003 to 2013 where he got married and raised two mixed boys. From his bibliography, I would like to mention Made in China: A Memoir of Marriage and Mixed-Babies in the Middle Kingdom a must-read book for anyone interested in Chinese society or is planning to move and maybe settle down and have children there.
Made in China book
First of all Simon, I would like to thank you for agreeing with this interview and congratulate you on your book.
In my opinion, Made in China is an easy-to-read and funny piece of work that shows, from the inside, the radical changes that China has undergone during the last three decades.
Once that's said, let's get started:

Why did you decide to write this book and what reaction do you expect from your readers?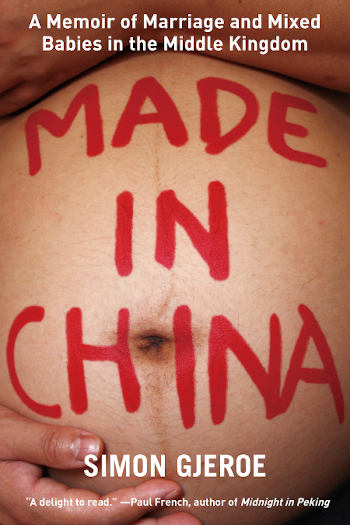 Quite early on in Fu's pregnancy, I realized that being "pregnant" in China was very different from what I had learned from friends in any other country I can think of. And why, of course, wouldn't it be? I had thought, obviously, naively, that cultural differences wouldn't be a cause for concern. It was "just" a pregnancy, something millions of fathers all around the world go through every year. But the questions quickly piled up: "Where can you go and who can you visit during the pregnancy?", "Can you take your wife seriously if she starts to wear overalls with teddy bears or oversized dresses looking like an X-ray apron from the local hospital?", "Do I have to eat the placenta?", "Can you live with your wife if she has not showered for a month after the delivery?"
I tried to find information for foreigners in China both online and in books but found it pretty much absent altogether. Since I hadn't seen anyone else write about their experience of becoming a father in China, I thought to myself: why not try and write one or two articles about the whole situation? Apart from anything else, it would be fun for our children to read one day. So that's exactly what I did. After many friends and acquaintances started to ask me to share my personal experiences, I decided to collate all of these experiences into a small book for the benefit of many more people both in China and around the world. And here it is.
I don't expect a specific reaction from my readers. I just hope they'll enjoy reading it and hopefully, in one way or the other, be able to relate our experiences with their own.
I appreciate that you were willing to share quite a lot of personal details, was it hard to expose yourself like that in the book?
At times, it was definitely quite difficult to write about such personal experiences. At the same time as it was very easy to write about because I had experienced it all first hand, it was also really difficult to write about, because it was so personal. It is also amazing how your memory plays tricks on you and how much I have forgotten or mixed up already. The book will probably be how we all remember it from now on.
One of my favorite anecdotes of the book is about your friend that gave birth in the streets of Beijing. I am curious to know more, can you tell me a bit more about the role of the two drunken beijingers that helped with the delivery?
As far as I know, the drunken beijingers helped by running to the hospital gate and alerting the hospital staff, and by assisting the delivery as best as they could. Probably they were mostly in a state of shock.
Giving birth in China
For Europeans, it is hard to understand how lucky we are with our public health system until we move abroad. What would be your suggestions for a couple who plans to deliver their baby in China?
I recommend them to prepare well ahead of time. Look around for the delivery options in the city you live in or the largest city close by. There are of course both private and public options which can all differ a lot in both quality and price range. Ask around among friends and family or colleagues for recommendations.
What will be your suggestions for the mixed parents to be? Do you think the Chinese superstitions and traditions are as present with the young generation?
The infamous "yuezi" (月子) can be a resilience test for mixed couples, in your experience what was the hardest part during the month after your wife gave birth to your boys? Would you suggest to mixed couples the "yuezi clinics" or hiring an expert "ayi"?
It is really difficult to generalize about young Chinese, but it is my experience that even very westernized young couples still swear by the 'yuezi'. Maybe some of the superstitions and traditions are on their way out, but I feel, at the same time, that many young Chinese are becoming more religious than their parents and grandparents. Traditions are also more clearly becoming identity markers and even experience a revival for many Chinese both in China as well as abroad.
I definitely suggest a mixed couple to adhere to at least some of the 'yuezi' traditions, but going all-in could probably really become a resilience test. For me, I think it was the way in which it wasn't really possible to bend any of the rules, at least not according to well-meaning friends, family members, neighbors, etc. That it has become 'the truth' only because we have done it this way for a long time. Like my father-in-law said: "How can you go against 5.000 years of culture and history?"
Although the yuesao was helping with many things during the first month, I never got used to having a stranger (the yuesao) in my house 24-7 just after we became parents. Her ideas and to-do-list and not-to-do-lists and ours also clashed several times. I will not recommend the 'yuezi'-hotel experience, but only because I believe that the bonding between parents and newborn children should come naturally and that it forms through all those good as well as difficult experiences you have as new parents. That being said, it could probably be a luxurious experience if you have the money for it.
Raising mixed kids
Now that you are living outside China, are your kids still studying Chinese? Are you concerned about their future skills with the language?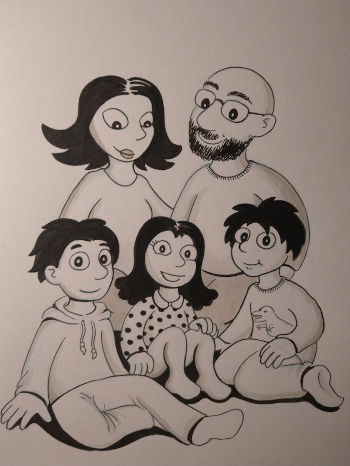 Ever since we moved to Denmark, my wife has tried to mostly speak Chinese with our children and also try to keep up their Chinese character skills, however, it is difficult to keep up when you compete with soccer, badminton, ballet, piano, guitar, gaming etc.
At home, we talk in a mix of Danish and Chinese, but the children always answer in Danish. But when we visit China, we can see that they all start speaking Chinese after a few weeks. So I am not too concerned about their skills. If they really want to learn to speak Chinese, I am confident that it will not be too difficult for them.

Living in China
If I am right, you opened a small shop in Beijing, how hard is it to run this kind of business for a foreigner in China?
Yes, that is correct. Together with a friend, we opened a small shop and business called Beijing Postcards in Beijing in 2006. We saw a hole in the market for high-end souvenirs and gifts, as well as the lack of accessible information about Beijing's history and incredible change through city walks and talks, which we made into our key products. During these 'wild west' entrepreneur years it was rather easy to start your own business in China as a foreigner, however, not easy to make it into a success.
I am very grateful for the experience, as everything was a 'first'. Doing everything ourselves. Researching for walks and talks, finding suppliers, hiring staff, quality checking products, making deals and promotions, finding sellers, etc., etc. We had no real plan, to begin with, just a lot of drive. My partner, Lars Ulrik is still in Beijing running the business, now called 'Public History Space', with his Chinese wife. Check it out: https://www.beijing-postcards.com/, it is in an old beautiful courtyard house in the Qianmen area, and Lars Ulrik leads great walks and gives many informative talks and educational tours on Beijing. I miss it!
Now, you are back in Denmark, what was the hardest part of your readaptation after so many years in China? What do you miss most of your life in China?
Of course, we miss Beijing and China and I especially miss my work there with Beijing Postcards. I miss the atmosphere, the energy, the spontaneousness, the people, and even the noise sometimes, but primarily I miss family, friends, and food, mostly in that order, and Chinese restaurants in Denmark are in general unfortunately really not very good. Luckily I married a true kitchen goddess.
If you had to move back to China again now, what city would you choose to live in? Would you consider another country in Asia?
It really is a difficult question to answer. I would definitely love to move back to Beijing if the opportunity comes up, but it all depends on the job, schools, health, pollution levels, and much more. If it was just the two of us, without children, and we could just live off writing books and painting, I would love to try and live somewhere in Southwest China, Sichuan, Yunnan, or Guizhou for a few years out in the mountains somewhere quiet and beautiful. I also really love Laos, and I would like to go back there again sometime, but probably not to live.
Learning Mandarin
As a fluent mandarin speaker, I don't want to miss the opportunity to ask one last question. What will be your suggestion to people that are starting to learn the language?
Before you start learning Chinese, my advice is to find out why you want to learn this language. Is it because you are doing business in China? Or are you interested in Chinese history and culture? It is essential to know your motives to set good and realistic goals.
The best way to learn Mandarin is to live it every day and then know that even though Chinese in some ways is very easy to pick up and learn, at the same time, it is also a headache and requires a lot of studying and repetition. But the day you start communicating with the guy on the street, in the shop or the market, in the restaurant or the museum, or anywhere else, it is so rewarding and you will be able to talk to their heart instead of their head (or not at all :-))
Thank you so much for your time Simon, please keep us posted with your new projects.