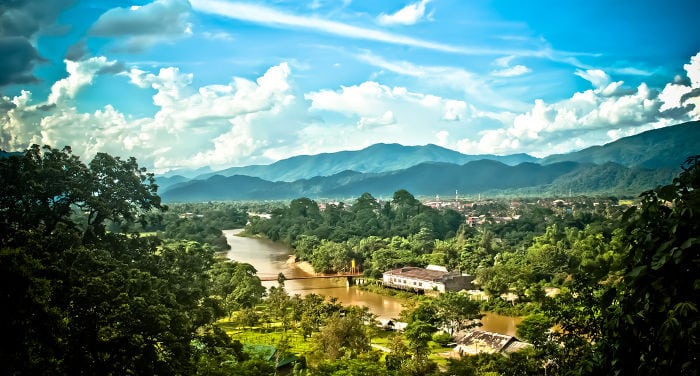 Vang Vieng (in Lao ວັງວຽງ)is a town of 25,000 inhabitants, located 156 kilometers north of the capital Vientiane.
Founded in 1353 with the name Mouang Song, Vang Vieng is today known mainly for its crazy parties that younger (and not) tourists have been having since 2012.
Before 2012, there were on average at least two young Westerners a month (mainly Australians) that died by drowning in the river, by diving into it after taking drugs of all sorts that were easily acquired in the city's shops, or restaurants, where shakes and pizzas were prepared with hallucinogenic mushrooms.
The Lao government then decided (also with the pressure of the Australian government) to close the bars and restaurants that sold drugs in Vang Vieng.
What was considered to be the favorite pastime during the tourist boom in Vang Vieng, was so-called "tubing". Tubing is nothing more than a truck tire put into the water like a doughnut, which you sit on and get taken by the river's current.
In addition, along the river there were bars where you could "dock" your doughnut and sit and drink beer or take some drugs.
Today the town is visited by many tourists each year, especially for its natural beauty like the Song River and the high mountains, a popular destination for international tourists into climbing.
The practice of tubing has instead lost its charm; and the bars and restaurants along the river near it are deserted other than happy hour when the sun goes down and you can enjoy a fantastic sunset on the river.
The perfect season for visiting Vang Vieng is from November to March, when it's dry and rainy days are rare. Despite an average temperature of 25 degrees, I recommend that you bring a sweatshirt with you for the evening.
I was in Vang Vieng in March and the nights were rather cool; such as in the early morning, especially when it has rained the night before.
Useful advice
Some important things to remember before going:
In Vang Vieng there aren't any well-equipped hospitals, the closest ones are in Vientiane. Even in the country's capital the medical institutions leave a lot to be desired, especially compared to European and American standards. If something serious should happen to you, the best option you have is to get to Bangkok, where hospitals and clinics have cutting edge staff and equipment. My advice is to leave with an insurance policy, and avoid activities on the Song River, since there are lots of bacteria that could cause you rashes or various infections, along with rocks, the major culprit (together with a mix of alcohol and drugs) in the death of several young tourists.
The official money for Laos is the "Kip". You can pay in local money, or also with Thai Baht and American Dollars. If you decide to opt for one of these two currencies, remember that the prices you'll pay will be noticeably higher. Hotels and the majority of restaurants accept credit cards, and in case you need cash there are several ATMs where you can make a withdrawal. Personally I don't recommend that last option, since in recent years in countries like Laos, Thailand, and Cambodia, the theft of credit card information is a common occurrence.
Even though the Lao government has tried to clean up the country's image by banning the sale and use of narcotics, today in Vang Vieng you can find pizza with marijuana or shakes made with hallucinogenic mushrooms. The so-called "happy bars" are much less visible compared to as before 2012, but are still around. Remember that according to Lao law the purchase and consumption of drugs is punishable by death. This was once abolished in 1975, then reintroduced in 2001.
To enter into Laos you'll need a visa (unless you have a passport from Switzerland, Japan, Korea, Russia or Luxembourg). A tourist visa can be easily be obtained in any Lao embassy close to you. Or, if you stay a few days in Bangkok, you can apply for a Lao visa in the city. The last option is to apply for a "visa on arrival", which is just a visa that gets issued as soon as you enter the country, both by air or land. A visa costs 35 USD and lasts for 30 days; if instead you want to pay with Thai currency it will cost you much more: 1,500 THB, which is more than 50 USD.
How to get to Vang Vieng
By air (via Vientiane)
Unlike cities like Vientiane or Luang Prabang, Vang Vieng does not have an airport. So if you want to get to Laos by air I recommend that you take a flight to Bangkok, and from there take a flight to Vientiane.
Depending if you decide to go directly to Laos, and are therefore looking for a connecting flight from the airport in Bangkok (Suvarnabhumi), or if you decide to spend a few days in the Thai capital before continuing with your trip, you can choose between airlines such as Thai Airways, or the Asian low cost airline: Air Asia.
There are essentially three differences between the two airlines:
Thai Airways has direct flights for Vientiane from Suvarnabhumi Airport. So you won't need to take a free taxi or shuttle to bring you to the other airport in Bangkok, Don Muang.
In fact it's from Don Muang that flights depart on low cost Air Asia. The airport is easy to get to by taxi, or a free bus (l'A1), which you can take from the fourth floor (exit G) from Suvarnabhumi Airport, and connects the two airports with runs every 30 minutes (or every 12 minutes during peak hours), from 5:00 to midnight. If you're in a rush and don't have a lot of time between flights, then I recommend that you take a direct flight from Suvarnabhumi Airport. Leaving the airport, passing through immigration and getting to the other airport to then go through immigration again will take a lot of time, and any little snag could cause you to miss your flight.
Another important difference is the price. With Thai Airways you'll pay about 6,000 THB a person, with Air Asia instead prices will be about 4,000 THB a person. Unlike Thai Airways though, Air Asia doesn't include the price of checked luggage in the cost of the ticket. Depending on the weight of your bag you'll be asked to pay a supplementary price.
Once you get to Vientiane you can take a direct bus for Vang Vieng. However, there's not connection from the airport that will take you directly to Vang Vieng from the airport; you'll have to take a taxi and have them take you to the north bus station in Vientiane.
There are two types of buses that go to Vang Vieng: regular or VIP. The biggest difference is that the VIP buses have air conditioning and numbered seats, regular ones instead don't have air conditioning or fans and are subject to the rule of "first come first serve".
For a price of 60,000 Kip a person, you can take a VIP bus that will take you from Vientiane to Vang Vieng in about 3-4 hours. The price for a regular bus is 30,000 Kip.
The same goes for the return; there are many options from Vang Vieng (thanks to all the travel agencies in the city). You can get to Vientiane by bus or minivan for a price of 80,000 Kip a person. Minivans leave every hour from 9:00 to 14:00. There are three VIP buses a day, which leave respectively at 10:00, 13:30, and 14:00.
Usually, if you book with a minivan, they'll bring you directly to from hotel; if instead you go by bus you'll be told where to go (most of the time in front of the agency where you bought your ticket).
By bus
From Vang Vieng you can also get to other Lao destinations:
Luang Prabang: there are VIP buses that leave at 10:00, 17:00, 19:00, and 21:00. The travel time is about 7-8 hours.
Pakse and the 4000 islands: can be reached in 12 and 18 hours, respectively. These routes are covered by "sleeping buses" usually once a day, with departures at 13:30.
Phonsavan: can only be reached by a daily trip of 6 hours by a minivan that leaves at 9:00.
Obviously you can take the reverse route from such destinations toward Vang Vieng
When it comes to international destinations we have:
Thailand: Bangkok can be reached by a VIP night bus that leaves at 13:30 and arrives 6:00 the next day. Even Chiang Mai has only one connection a day, which leaves at 12:00 and takes 20 hours. The last Thai destination is Pai, a city located in the northwest of the country. The minivan leaves at 13:00 arriving at 10:00 the next day.
Cambodia: Siem Reap and the capital Phnom Penh can be reached by night bus that leaves at 13:30 and takes 14 hours.
Where to stay in Vang Vieng
Vang Vieng has some sixty accommodations, between hotels, guest houses, and hostels. Prices can vary a lot depending on their location (buildings on the river cost more) and type of lodging (hostels are very cheap).
The lowest prices are probably the hostel Vang Vieng Rock Backpackers, where you'll pay about 8 USD a night. The highest are at the Riverside Boutique Resort: 150 USD a night per room.
A good compromise is Khamphone Guesthouse. It's not all that great a place but it has all you need, breakfast included. The location is excellent, since it's close to the center and near various restaurants. On the left you'll find various garages that rent bikes for just a few Dollars a day.
Click here for reviews of the best hotels and hostels in Vang Vieng.
Where to eat in Vang Vieng
There's no lack of places to eat in Vang Vieng. In the middle of town you can find Lao restaurants where you can have pancakes for breakfast and vegetarian noodles for dinner. The majority of restaurants are open air and have couches where you can even watch television, which is mostly TV series from the 90's such as Friends.
Prices are low, especially if you buy street food and go for one of the baguette or crepe vendors. A sandwich will cost between 1 and 2 USD depending on the ingredients.
Unlike Thailand, where cheese and bread are not that great, in Laos (thanks to the French influence during the Indochina kingdom) you can try excellent goat cheese, or actual European style sandwiches.
What to see in Vang Vieng
The city is small enough to be easily covered on foot or by bike. In the center there's practically nothing to see. It is interesting though to watch the sunset in one of the little restaurants that face the river and admire the city taking on a red-orange hue.
Just a few kilometers outside of Vang Vieng you'll fin lots of things to do and many places to see.
Tham Jang Cave and the Lusi and Pha Poak Caves, are caves located a few kilometers from the city center. You can get there both on bike or by tuk-tuk.
Tham Jang is the more famous one, and is located north of the center of Vang Vieng. You can visit the cave by following a path built for that reason and admire its walls illuminated with colored lights (which call to mind the caves found in one of the islands of Hua Long Bay, Vietnam).
Pha Poak caves are reachable on foot in about twenty minutes. The entrance price is 10,000 Kip, and once inside you can even climb the rocks for 20 minutes until you reach the top, where you can enjoy a great view of Vang Vieng.
The best place to visit in my opinion is the Blue Lagoon. To get there you can rent a bike in the middle of town and pedal for about a half hour amid the little roads that cross typical Lao villages.
If sports aren't your thing, you can also get to the lagoon by tuk-tuk, or rent a scooter. Pay attention though to the fact that the roads aren't paved.
Regardless of your choice of transport for getting to the lagoon, you can admire almost untouched nature where cows graze freely during the trip.
Entrance to the lagoon costs about 2 USD a person. Inside you'll find a meadow where you can lay out in the sun; a small restaurant where you can eat some local food (nothing special!); and obviously the lagoon, where you can find refreshment after a long pedal.
The ticket also includes entrance to the Tham Phu Khave Cave, also called the Golden Cave (in Italian: grotta dorata). This is an enormous cave, inside of which you'll find a reclining Buddha statue covered in gold.
Moreover, in the city you can also participate in organized tours of all sorts, such as tubing: a tuk-tuk will bring you 3 kilometers north to Vang Vieng, and from there you can go down the river in your inflatable doughnut.
A more interesting choice is to do a canoe tour visiting the Tham Nam caves. This activity lasts a full day, from 8:30 to about 16:30; the price is 20 USD a person, and the minivan will take you directly to your hotel.
The first thing you'll do is enter the Tham Nam caves. Since they're filled with water, you'll have to sit on a tube identical to the one used for tubing, and hang onto a cord that will serve as a handrail for your trip through the cave. This activity is done as a group so you'll be asked to leave all your personal effects in the minivan.
I don't recommend that you bring valuable objects like cameras or your passport, because despite what your guide might tell you, the minivan will be unattended for some time. Remember too to bring a change of clothes because once you get out of the cave (you'll be in the water for more or less an hour and a half), they'll arrange for a lunch on stone tables located at the entrance of the caves.
After eating you'll be accompanied along with your group to the banks of the Song River and from here, two by two, you'll go down the river in a canoe. The water is really low and there's lots of rocks at the surface and lots of eddies as well. It's still a nice activity to do, if only for admiring nature.
During this descent you'll certainly see people tubing, and notice the bars (almost totally empty!) along the banks of the river, where at a certain point your group guide will have you stop to rest and drink something.
Besides tubing, the canoe, and the caves, you can also find tours that offer tours like mountain climbing, yoga or pilates, and even ziplining (going between trees thanks to metal "vines"). This last activity has become very popular in Asia, especially in places like Thailand (especially Chiang Mai) and Huay Xai (in the north of Laos), thanks too Gibbon Experience.
An activity for the more daring is a hot air balloon tour. You can hover over Vang Vieng for about 40 minutes, for the price of 90 USD a person.
Hot air balloon tours leave twice a day: at sunrise and sunset. If you're a morning person you can choose the first option and enjoy the sunrise. A tuk-tuk will take you from your hotel at 5:40. For the sunset, the tuk-tuk will get you at your hotel at 16:40.
An agency offering this type of tour is Wonderful Tours Laos. The same agency also arranges transport from Vang Vieng for major Thai cities like Pattaya (2,100 THB), Bangkok (1,200 THB), Chiang Mai (1,500 THB), and many islands like Phi Phi Island (2,100 THB, for a good 43 hours by bus!), Koh Samui (2,100 TH), and Phuket (2,100 THB).
Final considerations
Vang Vieng is a relaxing and peaceful place to spend a few days during your stay in Southeast Asia. Personally I wouldn't put it on the same level of places like Luang Prabang, neither for the atmosphere or beauty or charm.
A major problem is that Vang Vieng has undergone (especially since before 2012) an enormous influx of Western tourists. The local population was and still is very concerned about the negative impact that low cost tourism (the so-called backpackers) is having on the city.
Because of the continuing deaths of drunken and drugged out tourist in the Song River, the population of Vang Vieng has decided to avoid carrying out any daily activities, like bathing or washing clothes, in the river. The belief is that due to so many deaths, the water of the river is infested by evil spirits.
The concerns of the local people has moved the Lao government and the department of tourism to begin an awareness campaign to teach tourists (especially Australians and Koreans) how to respect the local customs in Vang Vieng. It's not for nothing that the newspaper "The New Zealand Herald" wrote that "if teenagers ruled the world, it would look like Vang Vieng".
Photo Credits:

Vang Vieng by Emad Ghazipura