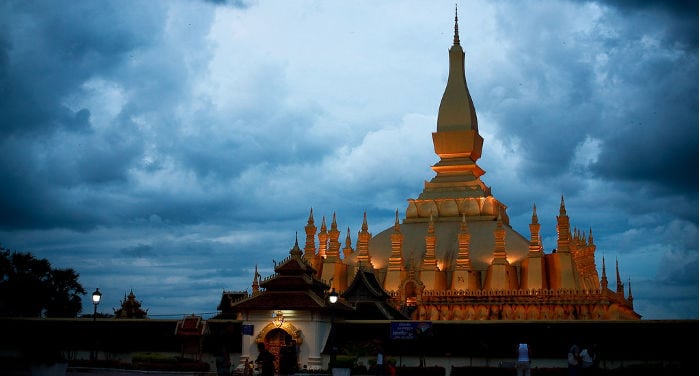 The city of Vientiane (in Lao: ວຽງຈັນ) is the capital of the Lao People's Democratic Republic. With its 200,000 inhabitants, Vientiane is a little atypical compared to other Southeast Asian capitals, especially as regards the landscape and tranquility that reigns in the center of the city.
The entire town is spread along the banks of the Mekong River, which serves as the border between Thailand and Laos. Thailand and Laos also share some traditions and customs. The Thai and Lao languages, for example, are more or less similar, and very often you'll find Laos that understand Thai and vice versa.
In 1994 the first friendship bridge between the countries was opened just twenty miles from Vientiane. This bridge is especially important due to the fact that it's the only rail line in the country, and also since it's a very popular route for tourists that arrive/leave from Thailand via train.
Besides the train, Vientiane is connected to the rest of Asia thanks to a new airport, the Vientiane-Wattay Airport. Located just 3 kilometers from the city center, it is used by airlines like in AirAsia, China Eastern Airlines, Lao Airlines, Thai Airways, and Vietnam Airlines.
Today the airport in Vientiane offers flights to different cities through Southeast Asia and beyond, such as China, South Korea, Japan, and even Australia.
The capital of Laos, besides being heavily visited by Chinese tourists (whose government is promoting an advertising campaign so that its citizens visit Laos and bring in other economic resources other than what Beijing is providing in projects like dams), is also visited by Thais and foreigners living in Thailand for the ease in which the Thai embassy in Vientiane issues student and tourist visas.
If you live in Thailand and need to renew your visa or change your visa type, then I recommend you go to the Thai embassy in Vientiane , where in 2-3 days tops, you'll have your new visa without any major problems.
As with the rest of Southeast Asia, it's best to visit Vientiane during the dry season: November to March. The average annual temperatures hover around 25 degrees; much lower than capitals like Bangkok where there's an average of 32 degrees.
Despite Chinese investments and growing international tourism in Laos, Vientiane is still a city where services like hospitals are still at a basic level.
The entire nation was the site of battles and unprecedented tragedy (an example is the war in Vietnam, where the Americans planted millions of antipersonnel mines on Lao soil), and over the centuries has been conquered by different empires.
This multiculturalism is evident in the variety of different architectural styles (from Khmer to European) and restaurants with very different influences (even if the French are the masters). From 1899 to 1953 in fact, Vientiane was the capital of French Indochina; a characteristic that is still quite visible in many buildings around the city and in the food habits of the country, especially: the baguette.
Unlike the northern part of Laos, Vientiane was spared American bombardment during the war in Vietnam, and with Washington's defeat, starting in 1975 it became part of the newly-constituted Lao People's Republic, under the leadership of the communist party "Pathet Lao".
How to get to Vientiane
From Laos
Getting around within Laos is cheap but very frustrating, especially if you have little time available. Roads are rough and many times aren't even paved.
Traveling by bus or by minivan will allow you to see landscapes that you'd completely miss traveling by air. Keep in mind that in Laos there are no highways, and the majority of routes are steep and mountainous. It will take you 14 hours just to go 300 kilometers!
Unless you have the time and willpower, my advice is that you take a domestic flight from cities like Luang Prabang, Pakse, Phonsavan, Luang Namtha, Muang Xay, and Savannakeht, which bring you to Vientiane in less than an hour of flight time. All these routes are served by Lao Airlines.
From Thailand
By air
The quickest way to get to Vientiane is by air. Both the airport in the north of Bangkok (Don Muang), and the new Suvarnabhumi Airport, can get you to the Lao capital quickly and cheaply.
The only two cities in which you can get to Vientiane by air are Bangkok and Chiang Mai. If you want to leave from the Thai capital, or if you're in Europe and want to go to Vientiane, the best option is to take a cheap flight with AirAsia from Don Muang Airport, or a connecting flight from Suvarnabhumi Airport.
In the first scenario there's a daily flight for Laos, for about 60 USD a ticket (one way). Another airline that serves this route is Lao Airlines. The cost is 200 USD for a round trip ticket.
Lao Airlines also offers flights from Chiang Mai, for a price of 200 USD a person, round trip, which can be purchased on the airline's official site, in travel agencies throughout the city, or right at the airport in Chiang Mai.
If instead you've just landed from Europe and are looking for a connecting flight that leaves from Suvarnabhumi Airport the same day, then take a look at companies like Thai Airways. In this case too there's only one direct flight a day, and for a round trip ticket you'll spend more or less 200 USD a person.
If you decide to fly with Nok Air from Don Muang Airport, the route you'll take is Bangkok-Udon Thani. Once you land in Udon Thani there will be a minivan run by Nok Air that will bring you to the Thai border. Once through the immigration controls, you'll find another minivan that will bring you to your hotel.
The main problem with this airline is that their minivan service is poorly organized!
Minivan schedules are prearranged by the airline, so once you get your air ticket make sure you know the minivan schedule so that you don't miss the plane.
The problem is that the line at customs is very long and you run the risk of missing the second minivan – which won't wait for you.
I'm speaking from personal experience, since it happened to me in 2016, when I was coming back from Vientiane. I missed the minivan that was to bring me to the airport, and I had to pay a taxi 700 THB (since obviously in these situations the Thai taxi drivers take more advantage of you than at any other time of the year), and managed to make my flight for Bangkok by just a few minutes.
Once I landed in Bangkok, I explained the situation at the customer counter for Nok Air st Don Muang Airport, but despite the fact that the agent understood English perfectly, my pleas fell on deaf ears and I was told that the 700 THB I had to spend on a taxi couldn't be reimbursed.
So I personally wouldn't recommend that you land in Udon Thani; instead take a direct flight for Vientiane to avoid any problems.
By train
Another way to get to Vientiane from Thailand is to take a train from the central station of Bangkok.
You can conveniently buy a ticket for Laos online, through the official Thai Railways site, or through third party sites like 12go.asia. The best option however is to buy a ticket directly at the ticket counter at the Hua Lampong station, at least a day before your departure. The Bangkok-Vientiane route is very popular!
When you go to the station remember to bring identification, preferably your passport. You'll have to show it to the agent at the counter, and your name, surname and sometimes your ID number will be written on your ticket.
The type of train you choose will determine how long it will take you to get to Vientiane. Third class trains take longest, up to even 14 hours since they stop at every station possible and imaginable. These trains have no air conditioning or fans and only have wooden benches, whether you choose a night or day train.
Second class trains have cars with air conditioners and cars with fans. Seats are more comfortable than those on third class trains and if you take a night train you can also sleep in bunks. The price for a ticket on sleeping trains are around 800 THB.
The train you'll take will be the train for Nong Khai, the last stop at the Thai border. Once you get to this town get off the train and walk for not even 800 meters to get to the Thai customs office. At the Nong Khai train station you'll see lots of tuk-tuks waiting to take tourists to the border. Don't be taken in by the high prices that they'll offer you; if you turn to the left you'll see the border with Laos, and in 10 minutes by foot you'll get there.
Once you get past the Thai immigration office you'll have to take a bus that will bring you to the other part of the bridge to the Loa custom office. You can't walk the bridge on foot, so you're forced to pay 20 THB for the ticket.
Once through Lao customs you have several options for getting to Vientiane:
Taking a tuk-tuk, your price will depend on your ability to negotiate;
Staying on the train for a cost of 20 THB in third class, and 30 THB in second class, toward the city of Thanaleng. Once you get off the train you can take a minivan which from the station will take you to the center of Vientiane. If you choose the train-minivan option it will cost you 300 THB.
From Vietnam
By bus
As was the case for getting around between Lao cities, for getting between Vietnam and Vientiane, I recommend you take a flight.
If you decide to take a bus, from Hanoi for example, travel time will be a good 24 hours for a price of 32 USD. Tickets are available on Baolau.
By air
Thanks to Lao Airlines you can get to Vientiane by air from Hanoi and even Ho Chi Minh, for a cost of 300 USD round trip. There are no direct flights from the same cities with AirAsia, your only option would be to make a stop in Bangkok.
Another option is to take a flight on Vietnam Airlines. The Vietnamese national carrier flies to Vientiane from three different destinations: Hanoi, Ho Chi Minh, and Vinh. The price for a round trip ticket is around 120 USD.
From China
By air
Getting to Vientiane from China is possible only from one city: Kunming.
the flight time between Vientiane and Kunming is just 45 minutes and a ticket costs 250 USD on China Eastern Airlines, and 150 on Lao Airlines.
What to do in Vientiane
Temples
The most important religious monument in all of Laos is Pha That Luang, which means "Great Stupa". This pagoda contains within it a large stupa, which has become the symbol (along with the whole building) of Laos in 1991.
Pha That Luang has been considered by UNESCO as an artifact to be inserted into the list of possible candidates as a world heritage site. Legend has it that inside the stupa are relics of the Buddha.
The golden stupa is 45 meters tall, and it is estimated that the first version (destroyed centuries ago and later rebuilt) was byuilt between the 9th and 15th centuries.
Like all other Lao cities, Vientiane also teems with Buddhist temples. Some of the most important are Wat That Luang Tai (which today serves as the home of the most important leader of Lao Buddhism), the Haw Pha Kaeo (converted into a museum), and Wat Si Saket.
This last one is one of the oldest and most visited temples in Vientiane. Its original construction goes back to 1818, but a few years later it was destroyed by the Thai army during the war of Siam. It's distinction is that it has more than 2,000 statues representing the Buddha.
Patuxai
Patuxai is a monument that looks a lot like the Arc de Triomphe in Paris, in fact the translation of its name is actually the Arch of Victory or Arch of Triumph. If you rent a bicycle (costs 1 USD a day), you can park in the spaces right across from it and take a tour of the nearby gardens. You can also climb up Patuxai and see all of Vientiane from above; a ticket costs just a few cents.
Patuxai was built to celebrate Lao independence from France. It looks like the arch in the French capital but is a little bit higher.
Buddha Park
So-called Buddha Park is an enormous park located 20 kilometers from the capital, reachable both by bus and tuk-tuk. The difference between the two options is substantial: take bus number 14 from Talad Sao station and you'll pay less than 1 USD, with a tuk-tuk you'll be asked for 20 USD or more.
Opened with the name Xieng Khuan, Buddha Park was created almost 60 years ago, as the idea of a Lao monk. Within are many statues of Buddha, both in Lao and Indian style, since the founding monk was interested in both religious visions during his studies.
Entrance to the park is less than 1 USD.
Night market and shopping centers
Each evening along the banks of the Mekong a small market is organized where you can find clothing, accessories, souvenirs and excellent Lao food at rock bottom prices. Right at sundown it seems as if the entire city moves to the banks of the river where besides the market you'll see outdoor activities taking place like aerobics.
Another place where you can buy things from 9 to 16, is Talat Sao, a daytime market located at the corner of Lan Xang street and Khu Vieng street. Inside this new shopping center you'll find clothes, watches, electronics and much more.
Next to Talat Sao is another shopping center that mainly sells merchandise imported from China: the Vientiane Department Store.
Museums in Vientiane
An interesting museum to visit is COPE. In this center you can visit free exhibits and learn more about the effect American antipersonnel mines have had, and continue to have, on the Lao population.
COPE is also the major supplier of prosthesis for Lao citizens injured by the mines, especially farmers and people who work in the fields, which go into areas considered unsafe since they're still full of mines.
Another museum to visit is the National Museum. In this building, located on Samsenthai Boulevard, near the Lao Plaza hotel, there are displays of collections of artifacts that document the history of Laos, particularly the efforts of the Lao population in seeking to preserve their independence despite the various conquests suffered during the colonial period onward.
Where to stay in Vientiane
My advice is to stay in a hotel or guest house located in the center of the city, so that you can peacefully tour on foot without renting a bicycle.
The city center is called "Chantabuli". The area of the city that could be defined as the center is marked by the territory that goes from the left bank of the Mekong (called Thanon Fa Ngum) to the parallel streets like Thanon Setthatilat and Thanon San Sen Thai.
Vientiane has about 150 hotels, with prices that vary from 10 USD for a spot in a dormitory, to a maximum of 200 USD for a room in a 5 star hotel.
A cute hotel, located in the center that doesn't cost much is the New Lao Silk Hotel. It's a 3 star hotel in one of the parallel streets to the main road. I stayed in this hotel in March 2016, rooms were clean and comfortable. If you don't want to book online you can go to reception and negotiate a price for a room.
Click here to see a list of the best hotels in Vientiane.
Where to eat in Vientiane
streets in the center teem with restaurants that offer all sorts of cuisines, including Italian wood-oven pizzerias. Unlike Thai cuisine, Lao food isn't so spicy and has milder flavors.
Something to absolutely not miss is a French style breakfast, where you can taste brioche and freshly-baked croissants and homemade strawberry jam. An excellent place to have this type of breakfast is Le Banneton.
Final recommendations
Hospitals in Vientiane
Let's start by saying that as in all of Southeast Asia, in Vientiane too, restaurants have no cleanliness controls. So use some good sense and avoid as much as possible eating uncooked foods, like salads, unpeeled fruit, and various sauces. The same goes for tap water, which like in Thailand in Laos is not potable.
Although Vientiane has an international hospital (Mahosot Hospital) is a clinic that is open 24 hours, neither of the two are at the level of European or American standards.
I recommend then that you pay attention to where you eat, and get a tetanus, yellow fever and hepatitis vaccination, since diseases like malaria and dengue fever are still present in Laos.
In the event that you come down with minor food poisoning or an illness that can be cured in just a few days, then you can calmly buy medicines from local pharmacies. If though your situation is more serious I recommend that you go to Bangkok and seek care in one of the city's many hospitals, where they have much higher standards.
Banks in Vientiane
The most accepted currency is the American Dollar and Thai Baht. I recommend though that you change you change your money into local currency, the Kip, so that you can pay the correct price. If you decide to pay in USD, for example, you'll always end up paying more than necessary.
Exchange offices are found in the center, and the two main banks are Phongsavanh Bank, started in March 2007, and Banque Pour le Commerce Extérieur.
Recently ATMs have been introduced (cash machines); they are however not recommended since they aren't trustworthy, especially when it comes to the possibility of your credit card being cloned.
Photo Credits:

Pha That Luang, Vientiane, Laos I by Samnang Danou