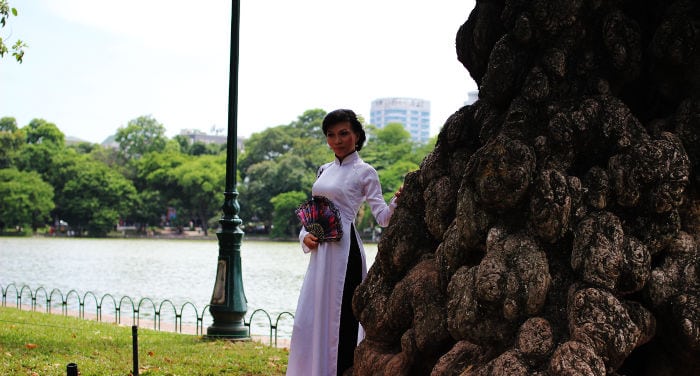 Unlike certain places you might visit around the world, Vietnam's capital still lives up to the hype, be it the postcards, the Instagram images, the Youtube videos or the TV travel shows.
With its scenic inner-city lakes and ponds, its pocket-sized temples billowing incense into tiny cobbled backstreets, and of course its ultra-modern skyscrapers and shopping malls, Hanoi is a metropolis that's about as enthralling as they come.
Just a two-hour flight from Hong Kong or Bangkok, or four hours from Shanghai or Singapore, a trip to Hanoi makes for an affordable and time-efficient weekend getaway.
For those with a few more days to spare, perhaps as they embark on a north-to-south exploration of Vietnam as a whole, Hanoi's endless backstreets hold enough secrets to warrant a week's stay or more.
P.s. Click here to read our guide to travel in Vietnam (visas, tours, money, etcetera).
Here's our guide on how to make your visit a success, including travel tips, sightseeing recommendations, eating and drinking suggestions in Hanoi, and ideas for your onward journey.
When to visit Hanoi
While Saigon sees just two seasons per year (wet and dry), Hanoi's northerly location provides a slightly more varied climate.
It still has a rainy season of sorts, with the heaviest rains arriving between the months of April and August, yet one should be prepared for a shower at any time of the year.
In addition to this, the four seasons are fully played out in Hanoi, with winter temperatures dropping as low as the early teens.
While it may not seem that cold, high humidity can make things feel far chillier than you might expect, especially between the months of December and February. Don't be fooled by the 'sub-tropical' label if visiting at this time. Wrap up warm!
Mid-summer temperatures can hit well above the 30-degree mark, with the ever-present humidity making the days feel even more sweltering.
It's also when precipitation is at its heaviest, particularly in August. Showers can be short and sharp, however, so with a decent umbrella or poncho you can easily avoid the rain and enjoy your explorations once the sun reappears.
Either side of the summer months are perhaps the most pleasant times to visit, yet do be prepared for the occasional drizzly, chilly day.
The Lunar New Year, known in Vietnam as 'Tet', is a time when the whole country comes to a standstill for up to a week (sometimes longer). Tet falls in January or February depending on the lunar cycle, and although a mid-Tet visit to Hanoi won't be entirely wasted, do expect to find many shops, restaurants and tourist attractions closed.
To experience the full force of Hanoi's energy, Tet is best avoided. That said, like anywhere in Vietnam, a visit at any time of year will reap its own uniquely seasonal rewards, even if you'd never expected them.
How to get there
By Air
Numerous airlines serve Hanoi's Noi Bai Airport, with direct flights arriving regularly from Thailand, Laos, Singapore, Malaysia, Japan, China, South Korea, Dubai, and now even several cities in Europe including London, Frankfurt and Istanbul.
Domestic and regional budget airlines such as VietJet Air and Jetstar Pacific also serve most of Vietnam's larger towns and cities, with extremely affordable direct flights from Ho Chi Minh City in the far south taking just over two hours.
By Train
Vietnam's train system may not be the most high-tech in the world, nor is it the fastest, but it certainly gives travellers a glimpse of Vietnam you just won't see from the air.
Hanoi acts as both the end point of the famous north-south 'Reunification Express' route (with trains taking around 35 hours to make the epic 1,700 kilometre journey), and as the hub of the rail network that serves Sapa in the far north, Halong and Haiphong to the east of the capital, and Dong Dang in the northeast for connecting trains to China.
A variety of coach and cabin types are available, and even then the standards from one train to another can vary. For a comprehensive guide on train travel in Vietnam, visit seat61.com.
By Bus
Sleeper and day coach services cover the entire length of Vietnam, often acting as a more affordable and, depending on where you're coming from, more convenient option to taking the train.
Again, the quality and comfort offered by each bus company can vary wildly, so make sure you know what you're paying for before parting with the cash. One firm might offer a seat over the red-hot engine, with live chickens in cages at your feet, another will have complimentary onboard wifi, in-seat tablet computers and hot meals.
Being the capital city, you'd be hard pushed to find a corner of Vietnam that doesn't land on or near a direct bus route to Hanoi, but do bear in mind the added safety factor before hitting the road. Numerous collisions, many fatal, occur on Vietnam's roads every day, and in the era of budget airlines, flying may be cheaper than you think.
Time is another factor to consider. The stated journey time may seem reasonable, yet Vietnam's roads are becoming more traffic-clogged each year.
Expect long tailbacks as you enter or leave major towns and cities. In many cases, road size has yet to catch up to traffic volume. If you can spare the time, however, the buses are a great way to see the countryside while making friends with your fellow passengers.
Upon arrival
Heading to the Old Quarter?
A small area in the centre of the Old Quarter is closed to traffic at specific times of day. However you arrive, you may need to walk the last leg. It is wise to contact your hotel or hostel beforehand to check. They may even be able to collect you or arrange a private car, thus ensuring the most hassle-free start to your trip.
A Note on Uber and Grab
Ridesharing apps are now hugely popular in Vietnam since arriving in 2015. While they are ideal for getting around the city once you've checked-in to your hotel, locating drivers in or around transport hubs like the airport, with its numerous terminals, exits and passenger levels, can be extremely troublesome, particularly if your driver doesn't speak English.
From the Train Station
A taxi is possibly the quickest and most convenient option for those arriving by train. The station is located just 1.5 km from the heart of the Old Quarter and always attracts a crowd of cab drivers when a train is due to arrive.
As far as reputable taxi firms go, Hanoi is a little less clear-cut than Saigon.
Look out for Mai Linh's green (or half green, half white) cars, or Hanoi Group Taxi which are white cars with a red stripe. Always check that the branding, the names and the logos are correct. Copycat firms have been known to prey on naive tourists.
From the station, the fare into the Old Quarter should be no more than VND50,000, possibly far less depending on the time of day and the location of your hotel.
With a map and a light load, it's also an easy walk for anyone who wants to stretch their legs.
For other parts of the city, check with your accommodation beforehand as to the best way to reach them.
From the Bus Station
Hanoi is served by four main bus stations, each covering different routes into and out of the city. Always check which station you are arriving at before making onward plans, and, if possible, contact your hotel or hostel to check the best transfer method and to get a rough estimate of the cost.
Taxis will be safest and easiest, providing you use a reputable firm. Alternatively, your accommodation provider may be able to arrange a private car service for a reasonable fee.
Public buses are a cheaper option if you have a sound knowledge of which routes and which stops you need. Again, your hotel or hostel should be able to advise you ahead of your arrival.
From the Airport
Noi Bai International Airport is located approximately 30 kilometres from the centre of Hanoi. The transfer time into the city was drastically cut in recent years by a new elevated highway which makes the journey a smooth, comfortable and speedy hop across the rice fields. Expect the transfer to take around 30 to 45 minutes (longer during rush hour).
A taxi or private car service from the airport is the safest, fastest and most efficient option, particularly if you are arriving late at night or very early in the morning.
Pre-booked hotels and hostels can usually arrange for a driver to meet you at the arrivals area for a pre-arranged fee (usually paid to the hotel). Expect to pay around US$20 for a standard car service.
Hailing a cab at the airport is another option, however, the 'off-meter' rate is completely negotiable and with numerous cab firms operating in Hanoi, it can be difficult to identify which are reputable and which are not. Many travellers complain of taxi scams at Not Bai Airport.
If taking an un-booked car is your only option, agree the rate before getting inside, write down or take a photo of any agreed price, and refuse to pay more if asked. Tolls should also be included in the price.
For a more affordable option, a minibus shuttle service is also available and runs between the airport and a small depot on Quang Trung Street close to the south west corner of Hoan Kiem Lake in the Old Quarter.
The current price is listed as VND32,000 for foreign passengers, although it is wise to double check this before boarding. Look for signs as you exit the airport.
For those on a tight budget, the cheapest option is to take the public bus for around VND5,000. The journey can take at least one hour, if not more, and unless you know the city well there may be no indication as to where you are and when you need to disembark.
Look for signs as you exit the airport. At present, route numbers 7 and 17 run between the airport and the city centre.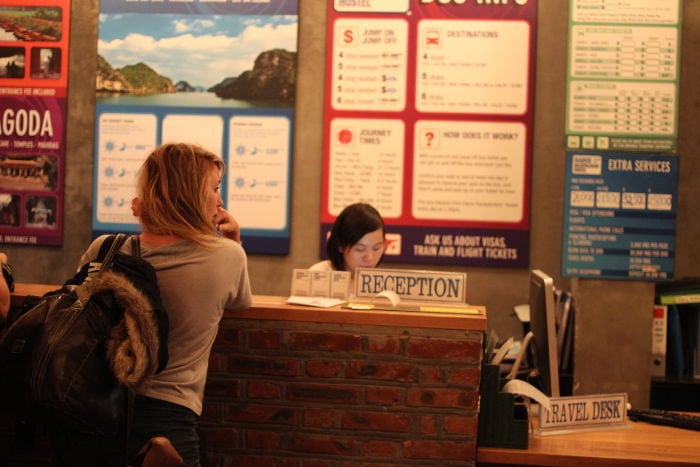 Where to stay in Hanoi
Which area?
The majority of first-time visitors will naturally gravitate towards the Old Quarter, and for good reason. This maze of streets and alleyways north of Hoan Kiem Lake is extremely tourist-friendly and offers a wide range of food, beverage and accommodation choices, not to mention the unique old-school charm that is now gone from many other parts of the city.
The Old Quarter caters equally well to all styles of traveller, from the young bargain-hunter backpacker brigade, to the older, wiser and more sedate tourist looking to spend a little more cash for a lot more luxury.
Southeast of Hoan Kiem Lake lies the French Quarter. It's not quite as romantic as it sounds, with many of the old French mansions now gone or lost behind the modern facades of shops and offices. Small pockets of the past still exist here, however, as do many of the French mansions which still preside along the wide, leafy, Parisian-style avenues.
The French Quarter is now more famous for its high-end shops, restaurants and hotels. The Hilton and the Sofitel are among its more renowned residents. After a day exploring the buzzing streets of the Old Quarter, a room at either of these properties will offer a much-needed respite.
Budget
Those travelling on a shoe string will almost certainly want to locate in the Old Quarter. With its countless guesthouses, hostels and budget hotels, all huddled around equally bargain-friendly restaurants and bars, it's no wonder this corner of Hanoi is so popular with backpackers.
One of our favourite places to stay offers comfortable rooms in a variety of sizes, from single to triple and even a dorm for larger groups. Hanoi Rendezvous Hotel (at 31 Hang Dieu Street, Hoan Kiem district) is not the absolute cheapest in town, with rooms starting at around US$25 per night, but for the space, the cleanliness and the warm welcome, it can't be beaten.
In addition to air-conditioning throughout and a superb complimentary breakfast (taken beneath a gallery of hand-painted war movie posters), Rendezvous has some of the friendliest staff you could ever hope to meet. Whether it's finding a great spot for dinner, or buying train tickets for your onward journey, the team at Rendezvous are always happy to help out.
The location, on the western edge of the Old Quarter, allows easy walking access to the action while still being far enough way from it to ensure a good night's sleep.
Mid-Range
Situated in a charming, sedate and picturesque backstreet directly overlooking the historic St. Joseph's Cathedral, just a short walk from Hoan Kiem Lake, is Cinnamon Cathedral Hotel at 38 Au Trieu Street, Hoan Kiem district.
Decorated using a tasteful blend of contemporary and traditional Vietnamese accents, and with some rooms offering flowery balconies looking out at the cathedral itself, Cinnamon is as pretty and as photogenic as the Old Quarter itself.
The hotel's wonderful team are dedicated to making guests welcome and ensuring their stay is a memorable one. Cooking classes, street food tours, guided multi-day excursions into the surrounding countryside, even plane and train tickets, Cinnamon's staff will help with it all.
Rooms start at around US$60 per night and are available as deluxe twins, doubles or a luxury suite, with breakfast (served in the on-site restaurant) included in the price.
Luxury
If it's a five-star experience you're after, Hanoi won't disappoint. Whether you choose the Hilton, the InterContinental, the Sofitel or any of the other international luxury brands on offer here, the level of service, quality and comfort will be exactly as you'd expect.
That said, this end of the market is dominated by the global chains, many of which have built their hotels outside of the Old Quarter (no doubt due to space restrictions). If you're looking for something uniquely Hanoi-an, with old-school charm and quirkiness, don't be afraid to spend a little less and head to a more independently-run establishment.
Many of Hanoi's smaller hotels and guesthouses have cleaned up their act in recent years as competition swells and travellers demand higher-quality accommodation. Look out for charming boutique hotels tucked in backstreets and alleyways, or even browse Airbnb for a private house or apartment. You may find something truly stunning.
That's not to say that the big chains should be overlooked if you've got deep pockets or simply want to splash out and live the rockstar lifestyle.
Renowned for its jaw-dropping portfolio of unique, boutique-style properties situated all around the world, MGallery's Hotel de l'Opera Hanoi (at 29 Trang Tien Street, Hoan Kiem district) hits the perfect balance of style, individuality and new-world decadence.
Drawing on local design influence, striking a sleek balance between colonial-era charm, contemporary minimalism and unparalleled comfort, with claw-foot bathtubs, designer amenities, pillow menus and plenty of boutique-esque features, it's the perfect middle-ground.
The location, a few minute's walk from the south edge of Hoan Kiem Lake, in the heart of the French Quarter, affords easy access to the Old Quarter (a 15 to 20 minute walk), and is within easy reach of restaurants, bars, cafes and sightseeing attractions.
Official room rates begin at around US$300, although online bargains can be found for as little as $160 per night.
For more information on where to stay in Hanoi, click here to view the other hotels that we recommend in the city.
Getting around
On foot
Once you've perfected your Vietnamese road-crossing technique (walk slow, steady and do not stop), exploring Hanoi on foot is easy and rewarding. When it comes to traversing the Old Quarter, with its narrow, winding and easily-blocked streets, taxis are a no-go. Cyclos can be hired but have become very much a tourist trap. Grab your sneakers, grab a map and head out.
Taxis
Hopping between the Old Quarter, the French Quarter, and the many sightseeing attractions beyond, taxis are the best way to get around (although Uber and Grab may now be preferred by the tech-savvy traveller). On the whole, taxis are safe, affordable and, during the summer months, offer an ideal opportunity to cool down and escape the sun.
Check with your accommodation as to which firms to use, although Mai Linh and Hanoi Group Taxi have always been reliable, safe and easy to spot.
Most reputable taxi drivers are knowledgeable about the city, especially if your destination is a popular tourist spot, however it is wise to have a rough idea of the route and/or approximate fare and journey time.
Vietnamese is notoriously difficult to pronounce, so always have your destination clearly written down. Even Western names and words can easily get lost in translation: saying something that is (to a foreigner) as simple and as recognisable as 'Hilton Hotel' can be met with looks of utter confusion.
Finally, always check that the meter is running, and is accurate. Should you encounter any problems, take a photo of the driver's photo licence and ID number and report them to your hotel.
Motorbike Taxi (xe om)
Look out for these guys stretched out across their motorbikes on any given street corner. Xe om translates as 'motorbike hug', and has been the cheaper and speedier alternative to taxis for decades. Unless you're Vietnamese, however, expect to pay a higher rate, or worse.
Always ensure you both know where you're going, agree the fee before climbing on board, and always wear a helmet. It's also wise to show the driver the money, or write the fare down first too. A word of warning: A common trick is for a driver to quote "five thousand, five thousand," (for example) at the start of a journey, and then switch that figure to five hundred thousand upon arrival.
Ridesharing Apps
Perhaps the biggest threat to Vietnam's taxi and xe om industries has been the arrival of ridesharing apps like Uber and Grab. These firms have changed the face of private transport in all of the country's major cities and towns. For tourists with a smartphone and access to 3G or wifi (free wifi is available everywhere), these are now the easiest, safest and, in many cases, cheapest ways to traverse Hanoi.
Both driver and passenger can see the route on their devices, with real-time GPS showing your exact current position. The estimated fare and ETA is shown, and with direct, cashless payment made by card, the days of being driven round Southeast Asian cities in circles by a dodgy taxi or tuk tuk driver, only to be charged an astronomical fee, are slowly disappearing behind us.
Both Uber and Grab offer economy and luxury cars (and all are either brand new or just a few years-old), as well as motorbikes (should you wish to get in among the two-wheeled craziness of Hanoi's streets and boulevards). Each firm also provides excellent customer service should you encounter any problems with a driver or their vehicle.
Safety in Hanoi
Hanoi, like all of Vietnam, is very safe compared to other major cities around the world. The usual rules apply when it comes to carrying valuable items like phones and cameras, but be especially vigilant beside roads and in busy alleyways.
There has been a rise in 'snatch and run' style robberies where thieves ride past on motorbikes (or run past on foot) and grab cameras, handbags, phones, and anything else that's on offer.
In crowded areas it also pays to be aware of your bags, particularly if they're slung behind you. In recent years some tourists have found holes discreetly cut into their bags with a razor blade, and, of course, their phones and wallets missing.
While Hanoi is a lively and dynamic city, things are a little more old-fashioned than Saigon. The nightly midnight curfew, first imposed during the war, is still very much in place in many respects, although you will notice that things start to die down from around 11pm onwards.
Until recently, it was not uncommon to find the streets of the Old Quarter deserted by 11:30. Things are changing, however, and in 2016 the law was relaxed to allow certain segments of the hospitality industry to remain open until 2 am.
The idea was to meet the demand from foreign tourists in and around the Old Quarter. Should you choose to head outside of this area, be aware that finding a taxi can become extremely difficult as midnight approaches. Otherwise busy streets can quickly become dark and deserted, and although still relatively safe, it's best to avoid becoming stranded.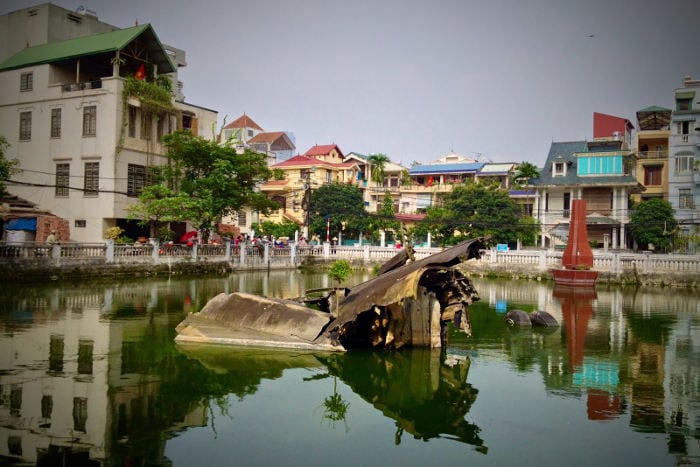 B52 – Photo Credits: Simon Stanley
What to see in Hanoi
The Old Quarter
This lively pocket of central Hanoi, hugging the north edge of Hoan Kiem Lake, is where it all began. As a centre of commercial activity for over a thousand years, its streets are a maze of temples, Chinese-style shop houses, souvenir outlets, street vendors, art galleries, backstreet cafes, hotels, hostels, and plenty of places to eat, drink and be merry. From the budget-friendly backpacker hangouts to luxury, high-end dining, the Old Quarter has something for everyone.
A guided walking tour is a great way to get your bearings while learning something of the area's fascinating history (see the section "What to do in Hanoi" in this article). Alternatively, let your eyes, your ears and your nose guide you, and just go get lost in the labyrinth. As long as you have a map and a rough idea of where the Old Quarter ends and the rest of Hanoi begins, you can't go far wrong.
Bia Hoi Corner
One cannot leave Hanoi without having sampled at least one glass of its favourite social lubricant – bia hoi, or 'fresh beer'. Brewed in people's homes and sold at the roadside for just a few cents a glass, this light, easy-going, low-strength lager is the main reason why Vietnam is famous for having the cheapest beer in the world.
The crossroads at Ta Hien Street and Luong Ngoc Quyen, in the centre of the Old Quarter, is the hub of bia hoi action in Hanoi, boasting a different bar on each corner and with countless watering holes lined up on each of the four approach roads.
Once an impossibly busy junction, crammed with bikes and pedestrians and tiny tables and chairs laden with revellers, the area, like much of the Old Quarter, has been given a makeover in recent years. Closed to traffic at peaks times, and with a heavy police presence to ensure things don't get out of hand, it's perhaps no longer the crazy, unchecked booze capital it once was.
It's still a blast, however. Head down on a weekend evening and you'll be elbow to elbow with tourists, beardy backpackers and locals alike. If you're looking for the party, Bia Hoi Corner is where it's at.
As famous as it is, this area is often packed to bursting point. Slightly more concerning is the lack of toilets at certain establishments. An alternative and slightly more sedate bia hoi spot pops up each evening north east of Bia Hoi Corner at the junction with Hang Buom and Dao Duy Tu.
And yes, they have a (very basic) toilet. Pull up a tiny plastic chair, raise one, two or five fingers to the friendly lady depending on how many glasses you'd like, grab a bite from one of the many passing food carts, and get settled in for a night of Hanoi-style fun.
Hoan Kiem Lake
Sitting in the heart of Hanoi, though by no means the largest body of water in the city, the 'Lake of the Restored Sword' is a must-see on any trip to Hanoi. Around its perimeter runs a leafy park, complete with street performers, joggers, dance groups and, in the early mornings, tai chi groups carving the cool air with their bright red ornamental fans.
At the centre of the lake, accessed by a beautiful wooden bridge, is Jade Island, home to the 18th-century Temple of the Jade Mountain. A small fee is charged to access the island and a small museum which tells the tale of the lake's famous former inhabitants: giant soft-shell turtles.
The Bomber in The Lake
Situated a short 15 to 20 minute walk from the entrance to Ho Chi Minh's mausoleum complex (see below), Huu Tiep lake (more of a large pond) is hidden away in a maze of backstreets and alleyways. It's worth finding for the journey alone, yet, at the centre of the lake lies a fragment of the wreckage from an American B-52 bomber famously shot down over Hanoi in 1972.
Just a few hundred metres south of the lake, on Doi Can Street, is the B-52 Victory Museum, built in honour of Hanoi's many anti-aircraft batteries that took town these flying fortresses. Outside of the museum, the rest of the aircraft's remains have been gathered and assembled into mangled sculptures of rust, rivets and steel.
Hoa Lo Prison
Built by the French in the late 1800s, what remains of this vast prison complex (it once covered an entire city block) is another of the 'must-see' in Hanoi. Now a museum site, with its old French name still carved across the thick entrance gates, the 'Maison Centrale' is a thought-provoking look into the dark history of Vietnam's struggle for independence.
Recalling the decades of French rule over Vietnam, rows of skeletal figurines are shown chained by their ankles to hard wooden beds in one of what was once many communal cells. Until 1954, these were home to hundreds of anti-French Vietnamese revolutionaries. A gruesome French guillotine is also on display in one hall, along with dozens of artefacts excavated from the prison site.
Other parts of the museum show the second chapter in the prison's history, when it became a Prisoner of War compound for captured American military personnel, many of whom were downed pilots. It was during this time that Hoa Lo earned its infamous nickname: 'The Hanoi Hilton'.
US Senator John McCain was one of the Hilton's now more famous former guests. His flight suit and parachute are proudly displayed here alongside photos of him being recovered from the wreckage of his aircraft in the middle of nearby Truc Bach Lake. Head to the lake today and you'll even see a memorial commemorating the event.
Hoa Lo Prison is easily accessed on foot from the Old Quarter and is best seen over the course of one or two hours. Tickets are approximately one dollar and photography is freely permitted.
Address: 1 Hoa Lo Street, Hoan Kiem district, 8 am to 5 pm daily.
The Vietnamese Women's Museum
Women have always played a key role in Vietnam's turbulent, often violent past, from female guerrillas and spies, to doctors, nurses, poets, revolutionaries and entertainers. The Women's Museum is an exploration and a celebration of Vietnamese women's contribution to the development of their country, their culture, and Vietnamese society as a whole.
Laid out over several floors, with each focussing on a particular topic such as fashion and traditional dress, ethnic rituals, marriage and martyrdom, it's advisable to allow two to three hours to take it all in.
Entrance is approximately two dollars, with an excellent audio guide available for a small extra fee.
Address: 36 Ly Thuong Kiet Street, Hoan Kiem district, 8 am to 5pm daily.
Ho Chi Minh's Mausoleum Complex
Not only is this the place to witness that oh-so-communist tradition of laying out the embalmed body of a beloved former leader, it also offers the chance to see into the life of the man himself, with Uncle Ho's modest stilt house and gardens, and a fascinating, award-wining museum about his life all included in the entrance fee.
As the final resting place of the most famous man in Vietnam's modern history, this is the most hallowed and sacred site in the whole country. Naturally, there are certain dos and don'ts to bear in mind.
Firstly, do not visit on a public holiday unless you're happy to spend the best part of a day queuing in the sun; and don't visit in September or October when Ho Chi Minh's body flies off to Russia to be cleaned. You can still see the museum and the stilt house, of course, but it saves disappointment to know this in advance.
Next, if you intend to file past Ho Chi Minh's body, do wear long trousers if you are a man, do dress respectfully and do keep your shoulders covered whatever your gender. Don't even think of taking in your camera; do shuffle slowly but not too slowly; don't stare, don't talk, and don't put your hands in your pockets. Security is airport style and the rules are strictly enforced. Don't even think of testing them.
Away from the mausoleum, the museum is not to be missed. Much more than a group of rooms filled with photos and descriptions, the displays and exhibitions here are like nothing you've ever seen before, telling the tale of the man who went from working as a kitchen porter in Europe to becoming one of the world's most famous revolutionary leaders.
From the Old Quarter, it's a moderate walk to the complex, but it may be best to take a taxi, especially in the hotter months. Simply show the driver "Lăng Chủ tịch Hồ Chí Minh". If he or she doesn't know where that is, they probably aren't Vietnamese.
The Mausoleum is open from 7:30 am to 11 am only (closed Mondays).
The Museum and stilt house are open from 8 am to 11.30 and from 2pm to 4.30pm every day except Monday and Friday when they open in the mornings only.
Entrance fees start at around US$0.50, depending on which parts of the site you wish to access.
Opening hours, entrance fees and public access can change at short notice, so it is best to ask your hotel or hostel before visiting to avoid disappointment.
The Temple of Literature
Located opposite the Fine Arts Museum, a short taxi journey from the Old Quarter, this ancient temple, founded in 1070 CE, is dedicated to Confucius. As Vietnam's first university, it has been a magnet for Vietnamese academics ever since. Even today it's a popular spot for graduation celebrations.
Wander around its many ornate ponds, grand halls and pavilions for a glimpse into Vietnam's illustrious past. So famous is this site that it is featured on the back of the 100,000 Dong bank note.
Address: 58 Quoc Tu Giam Street, Dong Da district, 8:30 am to 4pm daily.
Entrance fee: VND20,000
The Fine Arts Museum
Located inside an impressive colonial-era construction, this vast museum covers centuries of Vietnamese artistic heritage, from traditional folk art and religious idols, right up to 21st-century modernism. Don't miss the rooms containing paintings and lacquerwork from the 1950s, 60s and 70s, each showing one small element of Vietnam's wartime struggles and victories.
Address: 66 Nguyen Thai Hoc Street, Ba Dinh district, 8.30 am to 5pm daily.
Entrance fee: VND30,000.
What to do in Hanoi
Take a Food Tour
Hanoi is heaven for fans of tiny plastic chairs and delicious meals served up by old ladies in conical hats and traditional Vietnamese pyjamas. The Old Quarter hides numerous culinary secrets (as well as numerous tourist traps), so a street food tour is essential for hungry souls looking to sample the best of the bunch.
Hanoi Street Food Tour is one of the most popular and most respected firms operating in the capital, with both walking and scooter tours available depending on your preference.
Tour guides speak good English and are friendly, knowledgeable and happy to show you the best of what their city has to offer, and not just in terms of food. Tours like these are an ideal way to see parts of Hanoi you might otherwise miss, especially if you're only staying for a few nights.
Watch a Traditional Water Puppet Show
Okay, don't expect some Disney-style animatronics show here. Head to the popular water puppet theatre on the northeast corner of Hoan Kiem Lake to witness a tradition that dates back to the flooded rice fields of the 11th century. It has changed very little since, and while their repertoire may be limited, this is one uniquely Vietnamese sight you absolutely have to see at least once.
Accompanied by live music played from an adjacent stage, with the team of puppeteers hidden behind a screen, a cast of wooden, hand-carved men, women, children and animals perform a variety of sketches based on ancient Vietnamese legends and traditional rural customs.
The puppets are quite small, so try to grab seats close to the front, and be sure to pay the photography fee if you wish to use your camera. The show is also quite short, leaving you plenty of time to wander around the lake, grab a beer at a nearby rooftop bar, or dine at one of the countless restaurants nearby.
Address: 57B Dinh Tien Hoang Street, Hoan Kiem Lake.
Showtimes: 3 pm, 4:10 pm, 5:20 pm, 6:30 pm,8 pm.
Prices vary but expect to pay upwards of VND100,000.
Visit an Indoor Waterpark
Cool off in the summer and warm up in the winter at Vietnam's first and only indoor waterpark, located inside the immense Royal City Mega Mall shopping and entertainment complex approximately 6.5 km from the Old Quarter.
With slides, a lazy river, a static wave and plenty of water-based fun and games, this is an ideal spot for the kids (or even the adults) to blow off some steam. Elsewhere in the mall, find ten-pin bowing, ice skating, arcade games, bumper cars, karaoke, and even some shops.
Address: Vincom Mega Mall Royal City, No. 72A Nguyen Trai, Thanh Xuan.
Waterpark entrance fee: VND170,000.
Visit West Lake (Ho Tay)
Hire a bicycle and trundle along the 17 kilometre route which circles this immense body of water (officially Hanoi's largest lake) located just 2 kilometres from the Old Quarter. If you prefer two feet to two wheels, simply wander between the cafes, bars and restaurants that hug the lively southern shore.
The cool breezes and expansive views are the perfect antidote to the chaos and noise of the city, while historic temples and pagodas dotted along the lake's edge make for a varied tour no matter which direction you head in.
To extend your tour, Truc Bach is a smaller lake attached to Tay Ho's eastern edge by Thanh Nien Road. The small islet on Truc Bach is home to several idyllic rest stops including one of Hanoi's finest craft beer spots, Standing Bar. It's an ideal place to see the sunset.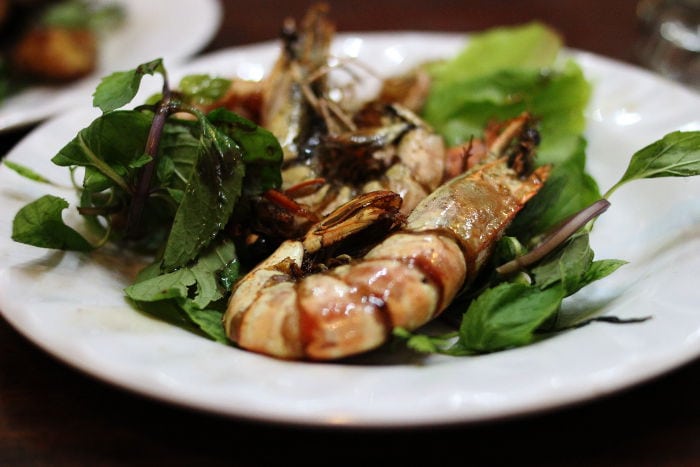 Where to Eat in Hanoi
Vietnamese
Bun Cha
Made world-famous in 2016 (when celebrity chef Anthony Bourdain sat down with President Obama in a tiny old-school restaurant in Hanoi to enjoy a bowl), bun cha is the classic noodle dish that everyone visiting the capital needs to enjoy.
Consisting of grilled pork belly, ground pork patties, refreshing rice noodles, a whole heap of fresh leaves and herbs, pickled papaya and a flavoursome broth for dipping, it's a grand feast that can be found being cooked up all over the city at any time of day. Most restaurant's serve the dish with crispy crab spring rolls too ('nem cua'). It's an essential addition.
Famous spots include, naturally, the restaurant Obama and Bourdain visited (which has of course capitalised on their new-found fame), and the 'original' bun cha restaurant on Hang Manh Street in the Old Quarter (or their next-door-neighbour depending on which you choose to believe).
Unfortunately, Hang Manh's 'original' bun cha joints have become yet another tourist trap, with high prices and low quality reported by many visitors.
Our favourite spot sits on the western edge of the Old Quarter at 67 Duong Thanh Street. It's less crowded, less touristy, the staff are friendly and the bun cha is amazing. Don't forget to order a bottle of Beer Hanoi too. The combo has become known as 'The Obama' all over Hanoi.
Bun Bo Nam Bo
A riff on a classic southern dish, bun bo nam bo (meaning southern beef noodles) is now, ironically, a thoroughly northern staple. It's a semi-dry noodle dish topped with slithers of tender beef, fresh leaves and herbs, crushed peanuts and a fish sauce broth. Mix it all up, add chilli to taste, and devour.
The most famous (and still the best) spot in the city sits at 67 Hang Dieu Street on the west side of the Old Quarter. Thoroughly old-school, the set up here is simple and straightforward. Their namesake dish will be served to you by default no matter what accompaniments you order. To pay, just ask your server for the bill and then take the slip of paper to the counter up front.
Bo Bit Tet
Taken from the French term for beef steak ('biftek'), this sizzling dish of tenderised beef, French fries, warm pate, a fried egg and lashings of gravy is a clear example of the colonial era influence that remains in Vietnamese cooking today. Despite being a popular breakfast dish (and really, why not eat steak and chips for breakfast?), it's available throughout the day all over the capital.
Hoe Nhai Street, a short hop northwest of the Old Quarter, is famous for its numerous bit tet restaurants. For one of the best, head to Bit Tet Ngon So 5 at number 20A Hoa Nhai Street. The tables and chairs are tiny and there's only one thing on the menu. Just watch your fingers on the cast-iron, cow-shaped skillets – they're extremely hot!
American Barbecue
Moose & Roo Smokehouse
Located in the leafy gardens of the American Club, this traditional American-style, semi open-air spot is a great excuse to escape the bedlam of the Old Quarter and enjoy some hearty, wholesome, classic American barbecue. It's casual, it's fun, there's baseball on the TV, the beer is ice cold and the food is out-of-this-world good.
The smokehouse is close to the south edge of Hoan Kiem Lake, but the Old Quarter is also home to their sister establishment, The Moose & Roo Pub & Grill.
International
Gecko
Lookout for branches of this backpacker-friendly eatery all over the Old Quarter. Gecko's amazing drink deals could easily put them in our Where to Drink section, but coupled with their menu of Western and Asian favourites, including great pizzas, burgers and sandwiches, it's no surprise why Gecko is so popular.
For a quick, cheap and reliable meal served in clean and comfortable surroundings, this is a top choice. Head in any direction through the Old Quarter and you're bound to spot one.
El Gaucho Argentinian Steakhouse
Like its sister restaurant in Saigon, El Gaucho is often hailed as having the best steaks in Hanoi (many of El Gaucho's fans might even say they're the best in the world). Prices are high, very high, even by Western standards, but one bite of their famous fillet steaks (available in a variety of sizes and gradings) is usually enough to loosen even the tightest of purse strings.
Booking is advisable, especially at weekends. Staff speak excellent English and the wine list is superb.
Address: 99 Xuan Dieu Street, Quang An Ward, West Lake district
Hanoi Social Club
For a chilled Old Quarter hangout that's discreetly tucked away from the armies of tourists, this beautiful cafe diner is a must. The interior is a stunning blend of colonial-era Vietnam and contemporary art, with a leafy roof garden perched on top. Food is fresh, healthy and delicious, all cooked up by past graduates of the KOTO street kids programme, and a rotating lineup of live music performances and social events makes this a firm favourite with the locals.
Address: 6 Hoi Vu Street, Hoan Kiem district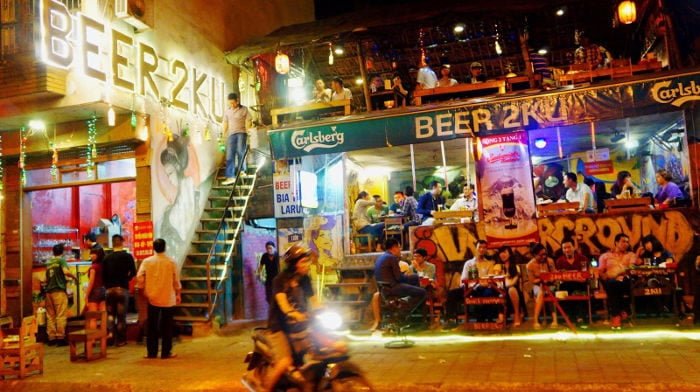 Photo Credits: Simon Stanley
Where to drink in Hanoi
For the Experience… Bia Hoi Corner
The cheapest beer in the world at the most famous crossroads in Hanoi. Lively, raucous and guaranteed to see you leave with a bunch of new friends. It's the social epicentre of the city and has to be seen to be believed.
For more information, see section "What to See in Hanoi".
Address: Junction of Ta Hien Street and Luong Ngoc Quyen Street.
For a Change of Scenery… Mao's Red Lounge
Located within earshot of Bia Hoi Corner, just north of the famous junction along the narrow and bustling Ta Hien Street, is Mao's Red Lounge, a classic dive bar with a communist-kitsch twist. Offering cheap beers, potent spirits and cocktails, and with fantastic happy hour discounts, it's the perfect place to hide from the bedlam outside.
Address: 7 Ta Hien Street, Hoan Kiem district
For the Party… Beer 2KU
The streets surrounding Bia Hoi Corner are no less boozy than the hallowed junction itself. Just 100 metres west along Hang Giay Street is another Hanoi institution.
Beer 2KU's 'pop-up' style drinking dens can be found in several locations around the capital. Often located in disused buildings and empty lots, made of little more than wooden pallet tables and a mishmash of chairs, and a lot of cheap, ice cold beer accompanied by a menu of grilled meat and carb-based sustenance.
Address: 12 Hang Giay, Hoan Kiem district (plus various locations around Hanoi)
For Craft Beer… Standing Bar
Vietnam's craft beer revolution began in Saigon in 2014 and has now officially arrived in the capital, with dozens of the country's top craft brewers now distributing their liquid nourishment throughout the city. Standing Bar, located on the shore of Truc Bach Lake, offers an informal yet stylish venue to sample the best craft ales the country has to offer, all served alongside a Japanese-inspired tapas menu.
With a total of 16 unique and interesting brews on tap, including offerings from Saigon's Pasteur Street Brewery and local favourite Furbrew (who recently released a pho-inspired ale), plus a stunning sunset view over the lake from the upstairs terrace, Standing Bar is a million miles from the icy, watered-down, lager-fuelled madness of Bia Hoi Corner.
Address: 170 Tran Vu Street, Truc Bach Ward, Ba Dinh District.
For The Best Views of Hoan Kiem Lake… Dinh Tien Street
In a city as compact and as compressed as Hanoi, sometimes you have to gain some altitude to find your head and take in all that stands beneath you. Running across the north shore of Hoan Kiem Lake, occupying the space between Dinh Tien Hoang Street and Cau Go Street, is a multi-storey block of shops, offices, restaurants, cafes and bars.
Spread out across the rooftop, with unobstructed views over the lake and the city beyond, is a varied menu of drinking and dining establishments that can be far too easy to miss from street level.
Most will stand a menu board on the sidewalk beside whichever discreet doorway leads to their lofty perches, and do bear in mind that entrances are dotted along both sides of the building.
Look out for happy hour deals as prices can be a little higher than you'd expect at street level, but it's often worth a few dollars more for the peace and serenity.
For a Special Occasion… Summit Lounge
For one of the best views of Hanoi, head to this refined rooftop cocktail bar perched way up on the 20th floor of the Sofitel Plaza Hanoi hotel. Sitting close to the shore of West Lake, looking south towards the city, the panoramas here are breathtaking.
The drinks, as you'd expect, are world-class and are almost as pretty as the scenery. Prices are high, though still extremely affordable on the global scale of five-star rooftop hangouts.
Ditch the flip-flops for a night, get dressed up, and watch the sunset in style.
Address: 20th Floor, Sofitel Plaza Hanoi, 1 Thanh Nien, Ba Dinh district.
For Convenience (and Communism)… Cong Caphe
These funky, military-esque themed cafes are dotted all over Hanoi and are extremely popular at all times of day. Antique sepia photographs, 1960s furnishings, propaganda posters and stacks of vintage literature all nod to a bygone era of austerity and hard-line communism. It seems the Vietnam of old is cool again. Cong Caphe is modern retro chic in all its ragged-edged glory.
Part cafe, part late-night bar, Cong's menu features numerous varieties of coffee-based drinks, plus teas, juices and smoothies. It then moves onto beers, cocktails and even a range of meals, snacks and desserts.
It may not be the authentic, old-school Vietnamese cafe you might be craving, but a visit to at least one of Cong's branches is an essential part of your trip.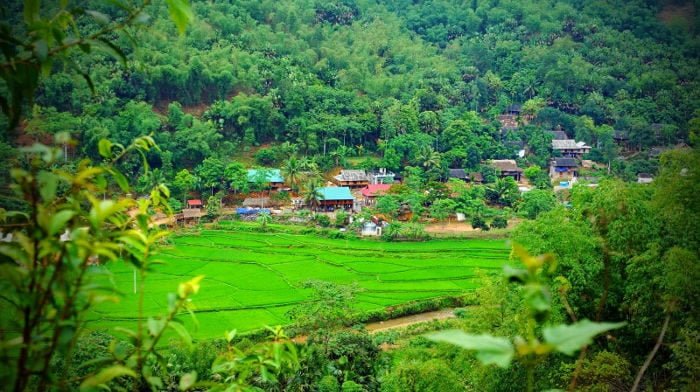 Mai Chau – Photo Credits: Simon Stanley
Where next?
Halong Bay
A visit to Vietnam is not complete without witnessing the majesty of this world-famous UNESCO World Heritage site. Made up of 1,600 limestone pillars stacked high over the sparkling turquoise waters of the Gulf of Tonkin, Ha Long is one of Vietnam's most instantly recognisable natural wonders.
Day trips to the bay are available from Hanoi, featuring an eight-hour roundtrip bus journey and a mad dash out to sea (and back), however a one, two or three night excursion is strongly recommended if you can spare the time.
Countless companies operate tours out of Hanoi, and there's no corner of the Old Quarter that doesn't feature at least one sign offering discount trips.
Like many things in life, you get what you pay for. As the top item on most traveller's wish lists, it's easy to find an option for every budget.
At the lower end of the price spectrum, expect crowded buses, old boats, small, damp cabins and a flotilla of vessels in front, behind and around you as you chug out to sea. The whole thing can start to feel like an oceanic cattle drive.
If you're prepared for it, it's never that bad, but many visitors return to Hanoi rather disappointed that the brochures didn't live up to the reality. If you've got the cash, the more high-end luxury experiences are worth every penny.
Indochina Junk Cruises offer tour routes that bypass the hundreds of other boats roaming the area, even taking guests to the company's private island for a beach barbecue.
Their boats are comfortable and well-equipped, the onboard meals are five-star, and the staff will do everything they can to make your experience unique. The road to Halong City from Hanoi is long and bumpy, but thankfully Indochina Junk Cruises now offer a VIP bus with super-comfy armchair seats, free wifi, TV screens and a chilled drinks cabinet.
For most travellers, a mid-range option will be just fine. Bear in mind, though, that the longer your trip, the deeper into the bay you will venture, and therefore the less traffic you'll see.
Sapa
Number two on many tourist's itineraries is the northern mountain town of Sapa, located approximately 350 kilometres from Hanoi. The area's dramatic terrain, its stepped rice terraces, and its numerous remote ethnic minority villages have been drawing backpackers here for years.
While the tourism boom has started to make its mark on the area, the scenery is still spectacular, and untouched corners still remain if you venture deep enough. Topas Ecolodge is one of our favourites, and is one of the best spots if you're looking to break away from the crowd.
The journey to Sapa can be made by train (around 8.5 hours) or road (around 5 to 6 hours) via private shuttle services. As part of their accommodation and tour packages, Topas offers a free bus shuttle from Hanoi (or a private car service an extra cost).
Mai Chau
For a more convenient, though equally stunning insight into rural life in Vietnam's rice bowl, the remote valley of Mai Chau is becoming an increasingly popular alternative to Sapa. Located just four hours by road from Hanoi (allowing those pushed for time the chance to see it and return to the city in a single day) it's an ideal quick getaway to add to your city break.
Sit on the veranda of your homestay and watch as bright white cranes take flight from the rice fields while farmers tend to their crops, or hike up into the rice terraces to visit the isolated mountain villages. Nearby national parks can be reached by motorbike, and be sure to take a pocketful of candy to befriend the local school children who will want to come and say hello.
Mai Chau is very tourist friendly, boasting numerous accommodation options and places to eat, yet retains the feel of a traditional rural village with all the warmth, friendliness and hospitality that goes with it.
Mai Chau Nature Place offers a quaint homestay set up with private riverside bungalows surrounding the family's traditional wooden stilt house. There's free bicycle hire, home-cooked meals included, and numerous day trips and fun activities available for the whole family.
Danang / Hoi An / Hué
Vietnam holds numerous secrets along its immense coastline, but the next stop for many travellers heading south out of Hanoi is the country's third city, Danang, gateway to the ancient imperial capital of Hué (100 km from Danang) and the immensely beautiful UNESCO Heritage Site of Hoi An (just 30 km from Danang).
The 15-hour train ride from Hanoi to Danang allows just enough time to savour the overnight sleeper experience (you have to do it at least once) while taking in the stunning scenery along the way (once the sun comes up, of course).
Saigon
For most visitors intending to travel the length of Vietnam, Saigon (officially known as Ho Chi Minh City) will mark either the end or the start point of their trip. Everyone has a preference – Hanoi or Saigon – and the two cities do indeed look and feel very different.
While Saigon, approximately two hours from Hanoi by air, may appear to be less tourist-friendly (don't expect to find the southern version of Hanoi's Old Quarter here), its energy and dynamism is almost addictive. As Vietnam propels itself into the future and away from its dark and violent past, the city of Saigon is most definitely behind the steering wheel.
Be sure to check out our guide on all that Vietnam's largest and most populous city has to offer.